Low carb lunch idea: Grilled Cauliflower Steaks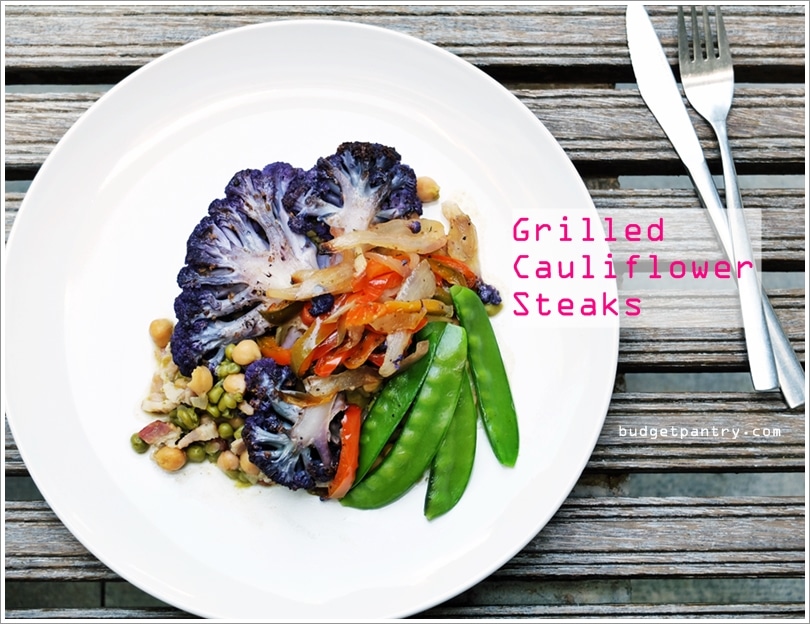 Do you have colleagues who snort at you bringing a salad to work, tease you for not eating carbs, or guilt-trip you for making healthier choices? IGNORE THEM. They just need to justify their own unhealthy eating habits by making YOU feel bad. At the end of the day, the body is ours, and we can do without that chicken rice.
I am very thankful that I have supportive colleagues who have similar eating habits. We discuss lunch ideas everyday and think of new ways to cook familiar ingredients. This way, eating healthy becomes fun and will never be boring. That said, we do enjoy a cupcake or two occasionally, and succumb defenselessly when it comes to waffles. *waves cash*

If you're one of those people who guilt-trip your colleagues for choosing to eat healthy, stop it. It just makes you look stupid. Luckily I don't have to deal with such nonsense! Some of our lunchboxes that have seen the light of day: stuffed Portobello mushrooms, grilled eggplants with tuna, kale and tuna omelettes, zucchini noodles, tofu noodles, spinach falafel with yogurt, curried lentils without coconut milk, and what I'm going to share today: Grilled Cauliflower Steaks.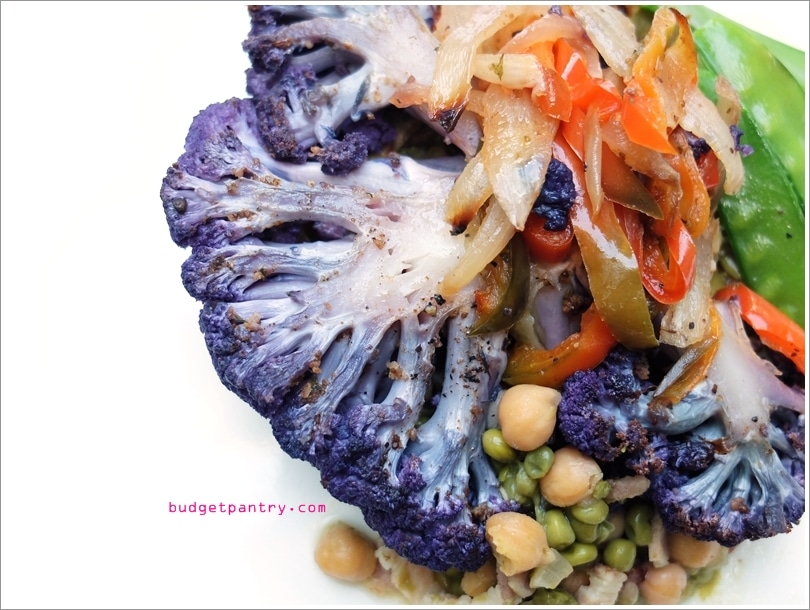 It all happened one afternoon after lunch where I bought a head of purple cauliflower. We're always discussing what to cook, me and the designer, so I asked her to give me some lunch ideas.
"Make cauliflower steaks!" the girl was excited.
I've never even heard of this before. Cauliflower, to me, is for Chinese stir-frys, and it's starting to get boring.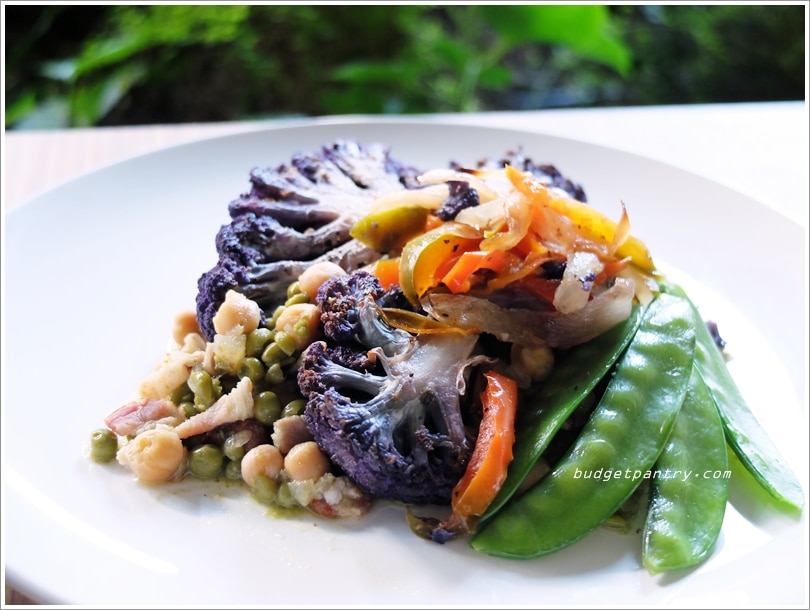 Her instructions: "Slice it right down the middle, then slice again to get a 1-inch slab. Season it how you would season a steak – salt and pepper, Cajun, anything, then grill or bake it."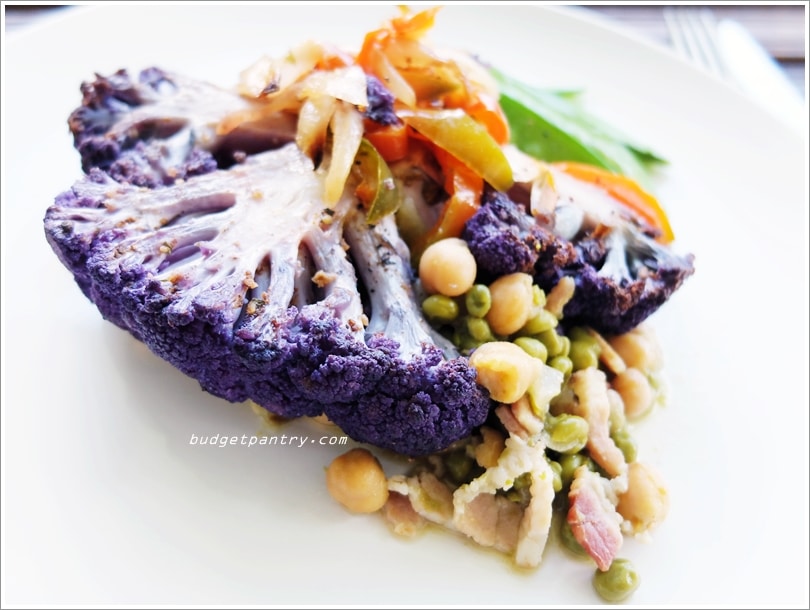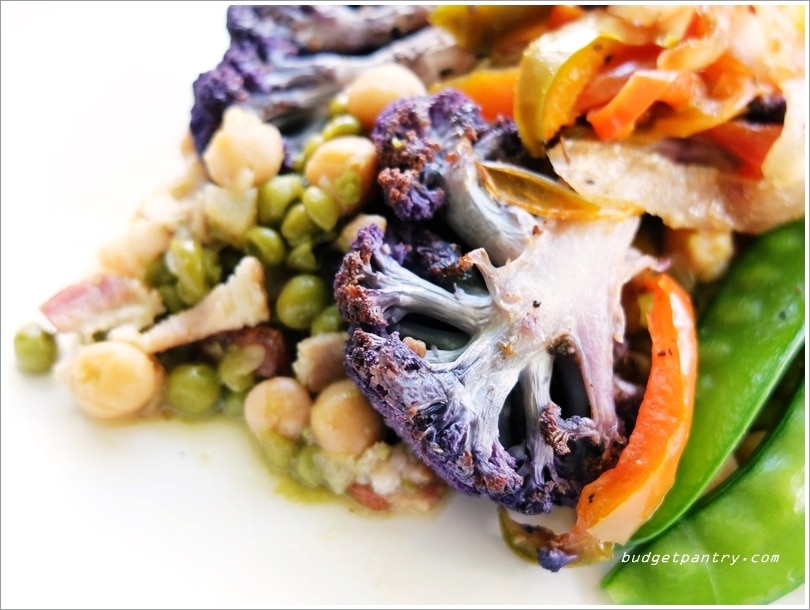 Sounds like a plan! I prepared this first thing after getting home. And I didn't regret it! When you slice the cauliflower right down the middle, the ones by the sides will break apart into loose florets. I kept those for an easy stir fry. For a whole head of cauliflower, I managed to get three decent "steak" slices.
The preparation for this was really easy. Drizzle with olive oil and preferred seasoning, then bake in the oven for 25 minutes, till tender. I used some truffle salt and Old Bay – you can most definitely use garlic onion seasoning or cajun, or simply just salt and pepper. The idea is to season these as you would steak.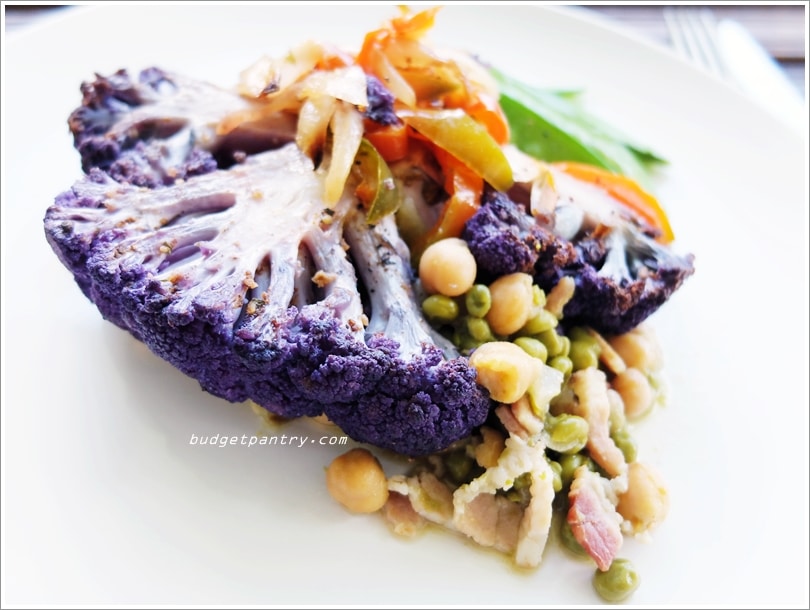 Taste wise, I didn't detect any difference between purple and regular cauliflower. Cauliflower is totally transformed when roasted, grilled or baked. It tastes nothing like the stir-fry or boiled versions, emitting a delicious, intense, nutty flavour. I baked these in the oven and then air fried it for the last few minutes for them to get slightly charred and sizzling. I served these with Bacon and Peas as I was making some for the husband's dinner that day. I must say these two go very well together! You can also have this with some beans or an egg salad. Try this – it's not as unimaginable as you think, more fun than just salad, and wayyy healthier than chicken rice. ;)
Grilled Cauliflower Steak

(budgetpantry.com)
Serves: 3
Total cost per serving: $2.75
What you need:
1 head purple cauliflower (you can use regular white ones for less than half the cost)
Sprinkle of truffle salt (optional, you can just use salt)
Cajun or Old Bay seasoning
Drizzle of olive oil
Half bell pepper, sliced thinly
Half yellow onion, sliced thinly
Steps:
Preheat your oven to 190C.
Slice your cauliflower right down the middle, then slice again carefully to get two to three 1-inch slices. The florets by the sides will crumble – I use those in another cauliflower dish.
Drizzle olive oil all over the cauliflower steaks, then sprinkle on truffle salt, garlic onion seasoning and either cajun or Old Bay seasoning. Scatter the bell peppers and onion all over.
Bake for 25 minutes till cauliflower steaks are tender. If your oven has a broiler function, broil for a few minutes till edges are just about crisp. I popped them into the airfryer for 3 minutes at 180C to get the slightly charred, sizzling effect. You can skip this step if you have neither.
Serve with bacon and peas, a salad, or any other sides that you like.
How much I spent:
$7.50 for purple cauliflower
$0.60 for half a bell pepper
$0.20 for yellow onion
Everything else from my pantry