Steamed Chinese Wine Chicken with Wolfberries
I've been wanting to make this dish for the longest time, ever since I re-introduced the Chinese wok back into my kitchen.
My wok has always been put away because it takes up so much space in my tiny stove top, but a couple of months back, I decided enough was enough. I cannot tahan vegetables cooked in the frying pan anymore! I love stir frying vegetables using the wok. The heat is distributed evenly and I can toss to my heart's content. The vegetables never turn out soggy and is always crunchy and beautiful.

Since then, I have never touched my Tefal frying pan. I cook almost everything in the wok. I used to avoid steaming food because I was too lazy to "figure out" how to use our table-top steamer, although it probably doesn't need much figuring out. With my Fujimaru wok now back in action, I really, really wanted to start steaming food again!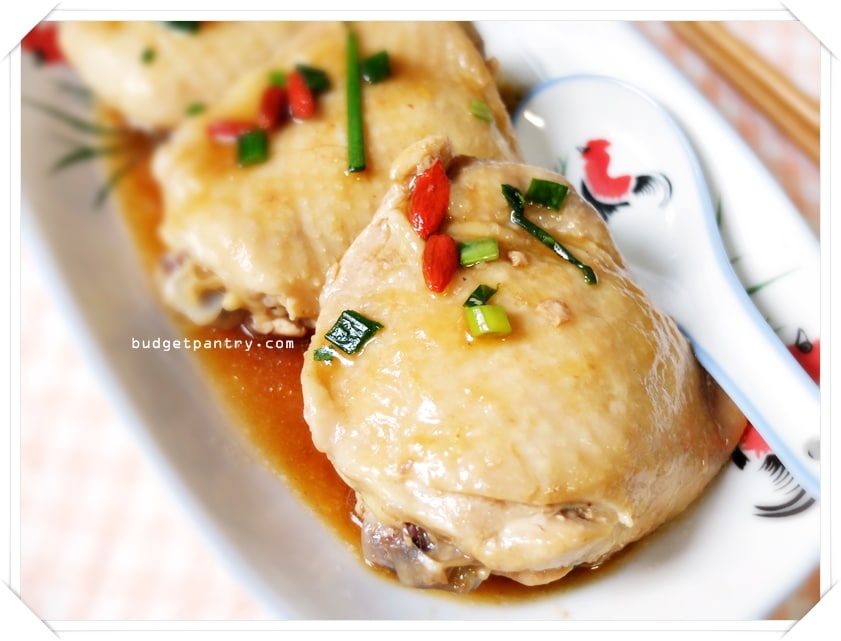 I decided to make something supremely easy but very tasty. Steamed chicken thighs in Chinese cooking wine. I swear by Plum Blossom brand, and it is the only brand I use. Many recipes use red dates in addition to wolfberries, but I'm not exactly a fan of red dates. I wanted to taste the ginger, the fragrance of hua diao wine, the hint of sweetness from the wolfberries and the savouriness of the sauces, without being distracted by red dates. Wolfberries (goji berries) are chockful of antioxidants and increase the nutritional benefits of this dish. They taste lightly sweet and tangy, and are said to be good for the eyes. Know more about their benefits here.
To prepare this dish, mix all the ingredients together, marinate, steam and eat. There are NO SKILLS REQUIRED, but of course, watch the steaming time, which is approximately 15-18 minutes depending on how thick the meat is. I usually prepare ingredients the night before, so this was left to marinate overnight in the fridge for maximum flavour. You should marinate it for at least thirty minutes before steaming. The flavour totally permeated the tender chicken meat. SO GOOD!
And now it's your turn to cook this!
Steamed Wine Chicken with Wolfberries

(budgetpantry.com)
Serves: 2-3 as part of a Chinese meal
Total cost per serving: $1.00
What you need:
3 pieces chicken thigh, cleaned and pat dry
3 tablespoons Chinese cooking wine
1 tablespoon light soy sauce
Half tablespoon oyster sauce
Half teaspoon sugar
8 slices ginger
1 tablespoon wolfberries, rinsed and pat dry
Chopped spring onion, for garnish
Steps:
In a deep dish or plate, combine the chicken, cooking wine, light soy sauce, oyster sauce, sugar, ginger and wolfberries. Marinate for at least 30 minutes. I left mine in the fridge overnight.
Prepare your wok or steamer. Steam on high heat for 15-18 minutes or til cooked.
Garnish with chopped spring onions before serving.
How much I spent:
$2.50 for chicken thighs (I used frozen, but they taste good anyway! You can use fresh.)
$0.50 for wolfberries, ginger and spring onions
Everything else from my pantry