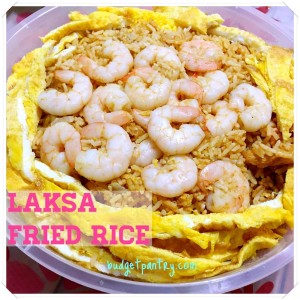 Today, I've decided to blog about a simple dish today: Laksa Fried Rice.
Of course, this dish is only simple if you use instant laksa mix. I've loved Prima Taste's Laksa Fried Rice paste since I started cooking (and that's more than ten years ago!), and as a poor university student then, all I could afford to contribute at reunion dinners was fried rice. I guess the "budgetness" in me started way back.

If you're visiting my blog from another part of the world and are not sure what Laksa is, Wikipedia has the answer for you. Out of alllll the delicious hawker food in Singapore, Laksa is my favourite, beating Char Kway Teow, Chicken Rice and Hokkien Mee to the top spot. I don't like Assam Laksa though. A sour fish-based soup with cucumber, onions, lemongrass and shrimp paste is hardly appetising to me.
I've tried a few brands of Laksa mix and Prima Taste is my favourite. If I were overseas for a long period for work or school, I will confirm chop plus guarantee pack cartons of the stuff. The paste is great for frying rice, noodles, meat or simply as Laksa gravy.
Although the cooking instructions say to use 1 packet for 2 servings of rice (500g), I always buy an extra packet. I mix half a packet with water, boil, and soak tau pok (tofu puff) in there til softened. This way, the tau pok will be juicy and infused with the flavour as opposed to being dry if simply mixed as it is into the stir fry. For a picture of the tau pok that I used, go to this recipe. You could add sliced fish cakes, prawns, chicken. crab meat (either real or imitation) and mixed vegetables if you wish. For this dish, I added fish cake, prawns, tau pok and topped the dish with sliced omelette.
This is truly one of my favourite easy dishes to cook. I hope you like it too!
Laksa Fried Rice
(budgetpantry.com)
Serves: 2-3
Total cost per serving: $2.91
What you need:
3 servings cooked rice (about 750g cooked)
2 packets Prima Taste Laksa Fried Rice Paste
12 pieces mini tau pok (fried tofu puff), sliced into 2 pieces per puff
1 large flat fish cake, sliced
10 prawns, shelled and cleaned
2 eggs, beaten (for omelette topping)
2 eggs, beaten (to mix and fry with rice)
4 tablespoons olive oil
1 tablespoon minced garlic
Steps:
Prepare the rice: In a large bowl, add two beaten eggs to the cooked rice. Mix well with a fork and let it sit.
Prepare the omelette: Heat up 1 tablespoon of olive oil and fry omelette. Slice into long strips when done. Set aside.
Prepare the tau pok: In a small pot, add half packet of laksa paste along with 200 ml boiling water to submerge the tau pok. When gravy boils, soak tau pok and cook til softened. Set aside. Do not discard gravy.
Fry the prawns: In a wok, add 1 tablespoon of olive oil and fry garlic til fragrant. Fry the prawns and fish cake til cooked and heated, remove from wok and set aside.
Fry the rice: Heat up the remaining 2 tablespoons olive oil. Add the egg-steeped rice and toss quickly. Add the remaining 1.5 packets of laksa paste and 6 tablespoons of tau pok gravy and stir fry to combine. If you find it too dry, add more of the gravy bit by bit.
Toss and eat: When the rice is coated with the laksa paste, toss in the cooked prawns, fish cake and tau pok (if you still have leftover gravy, don't add it as this will make the rice mushy). Do a quick stir fry to combine everything, top with sliced omelette and serve.
How much I spent:
$3.40 for laksa paste
$1.20 for eggs
$1.25 for tau pok
$2.50 for prawns
$0.40 for fish cake
Everything else from my pantry