Slow Cooker Creamy Leek and Chicken Stew
Of course, this is a dish which combines most of the leftover vegetables I have after cooking 七样菜 on Day 7 of CNY. Just add all the aromatics together, then toss in some mushrooms, and finally layer with chicken, and dinner is done!

I love my slow cooker (I use Takahi). I can prepare ingredients the night before and place the inner pot in my fridge. Then next day before I go to work, I add hot stock and turn the button to 'auto-shift'. And dinner is settled for the day. It's a mad rush every day for me. Let me tell you what I have to accomplish in 2 hours after work. Why 2 hours? Because 8pm is cbb's bed time and SHE GOES MAD IF I DON'T TUCK HER INTO BED!
5.15PM: Get off work
5.55PM: Pick cbb up from school
6.15PM: Reach home, prepare her dinner, feed her
6.55pm: Cook dinner for the family/husband, prepare my lunch box for the next day, EAT MY OWN DINNER AS I COOK
7.20-7.30PM: Bathe
7.35-7.50PM: Wipe down cbb while she struggles and cries bloody murder
8PM: Feed cbb milk and tuck her into bed
There are some days when my meetings end at 530 or 545.. that's when I am incredibly thankful for dinners like this. I basically skip the dinner preparation.. EVERY MINUTE COUNTS!
To make a nice stew, you need a base vegetable which melts beautifully to form the gravy, or impart yummy flavours into the gravy. Vegetables like onions, leeks, celery, potato, garlic.. all these are great. For bite and texture, you can add ingredients such as carrots, mushrooms and capsicums (they're yummy when cooked through, too!). And of course you need a protein.. chicken thighs, chicken wings, beef or pork shoulder are good choices.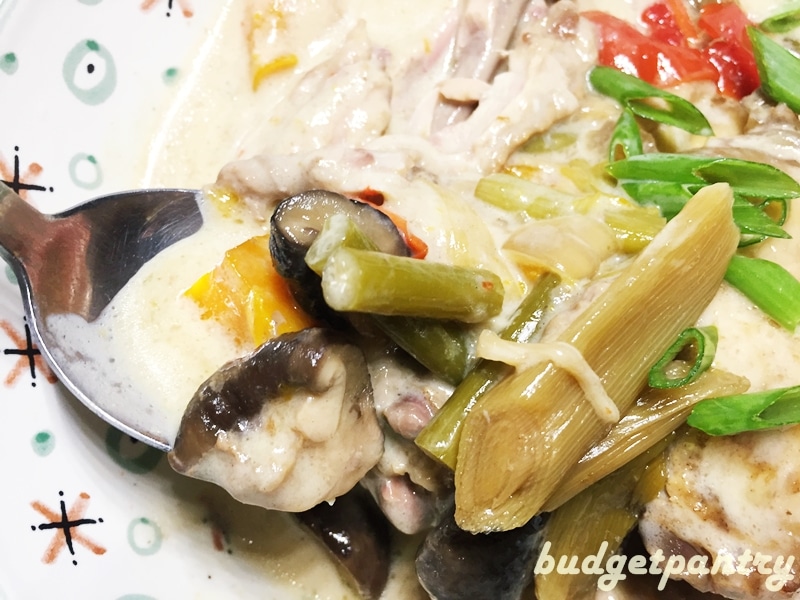 The thing about slow cookers is that you can't really thicken the gravy nicely at the end. So when I need to thicken my stew, I always ladle them into a cooking pan and add my cooking cream or coconut cream. For dishes like oyster sauce chicken, I thicken them with cornstarch slurry. I used cooking cream for this chicken stew, but you could use coconut cream instead (use 100ml instead of 150ml) for a different taste. And add some potatoes if you wish.
Enjoy!
If you like my posts and updates, or would like to be informed of baby/cooking-related giveaways and promos from time to time…..
Like my Facebook page or follow @budgetpantry or @chuabeebee on Instagram! Yes, I just started an Insta account for CBB too!
Slow-cooker Creamy Leek and Chicken Stew
(budgetpantry.com)
Serves 3-4
What you need:
15 mid joint wings
3-4 stalks leek, chopped into 1-inch stalks including stem
Handful of garlic sprouts (optional)
Half carrot, peeled and chopped
1 medium yellow onion, chopped into wedges
5-6 shitake mushrooms, stems removed and quartered
Half red bell pepper, chopped into bite-sized pieces
Half teaspoon salt
1 teaspoon ground black pepper
200ml chicken or dashi stock
150ml cooking cream
Steps:
Marinate the chicken wings with salt and black pepper and set aside.
Arrange the ingredients in your slow cooker in roughly this order: onion, carrot, bell pepper, leek, garlic sprouts, mushrooms, chicken wings.
Pour in the stock, until it reaches about halfway to your ingredients. Cover the slow cooker and cook on auto-shift for 6-7 hours.
Finally, ladle into cooking pan and place on stove (medium flame). Add the cooking cream and cook til thick and creamy. (depending on how big your pan is, you may need to do this in 2 batches). Add more ground black pepper if desired. Serve hot with rice!