家常便饭/Easy Homecooking: Sliced Pork with Garlic Sprouts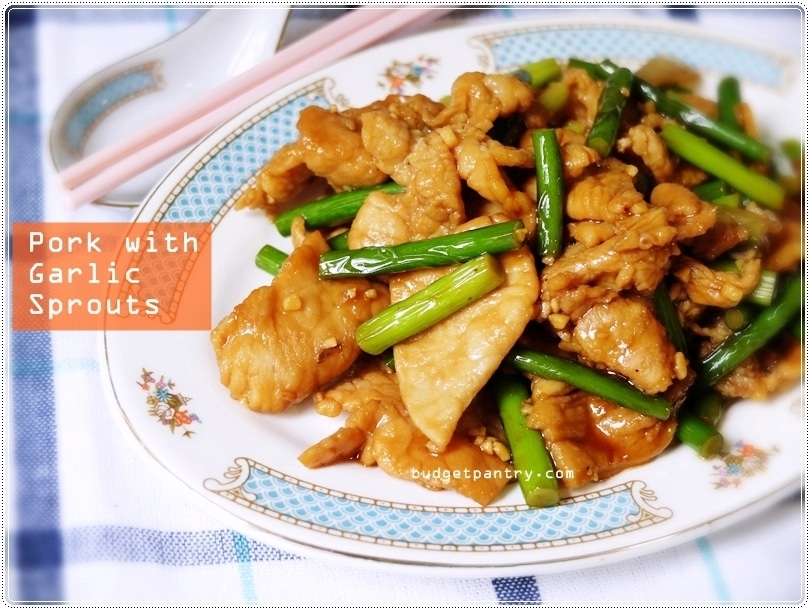 This is a popular dish you see at economical rice stalls. If you're not familiar with 'economical rice', it is simply rice eaten with small portions of side dishes. You select 2-3 dishes to go with your rice and a meal of 1 meat and 2 vegetables typically cost $2.80 – $3.20. I guess they're so named because it's a cheap way to eat.

What's your favourite combination at these 'zhup cai png' (literally translated as mixed vegetables rice) stalls? I almost always go for long beans with dried shrimps, brinjals and this sliced pork with garlic sprouts. And of course, must put curry gravy. I also like tomato egg, fried pork and fried meat balls. Super unhealthy sounding I know, but they're da bomb. If I say 'zhup cai png' is luxury food, will you believe me? Yes, I indulge in one whole packet of zhup cai png with my favourite ingredients once in a while.
To tenderise the meat, I use a combination of baking soda and corn starch. The bouncy texture you get at Chinese restaurants or zi-char stalls is baking soda in action. You can skip this step, and I sometimes do, but lean meat is tough and it has an extremely low fat %. I don't use baking soda if I'm cooking this dish with pork shoulder butt or pork collar shabu shabu. Be sure to rinse off all the baking soda before cooking to avoid a bitter aftertaste.
This dish isn't life changing but so comforting. I could eat this every day!
Sliced Pork with Garlic Sprouts

(budgetpantry.com)
Serves: 2
Total cost per serving: $2.20
What you need:
250g pork hind lean, sliced thinly (you can use pork shoulder or collar shabu shabu)
150g garlic sprouts, chopped into 1-inch length
1 teaspoon minced garlic
2 slices ginger
¾ teaspoon baking soda
1 teaspoon corn starch
¾ tablespoon oyster sauce
1 tablespoon premium light soy sauce
Half teaspoon sugar
A drizzle of chinese cooking wine (hua diao)
2 tablespoons oil for frying
Steps:
Marinate the sliced pork in baking soda for 20 minutes.
After 20 minutes, rinse the pork under running water and pat dry. Marinate with corn starch, oyster sauce, light soy sauce and sugar for half an hour.
In a wok, heat up the oil and add ginger slices. Fry for 2 minutes then add in the marinated pork slices. Stir fry over high heat til 90% cooked, then dish up and set aside.
In the same wok, add some more oil and fry the garlic til it is just starting to change colour. Add in the garlic sprout. Fry for 3 minutes, then return the pork to the wok. Stir well to combine, then cook for another few minutes til pork is cooked. Drizzle with Chinese cooking wine. Dish up and serve hot with rice.
How much I spent:
$3.20 for pork
$1.20 for garlic sprout
Everything else from my pantry