Low-carb lunch idea: Tofu "Pasta" – Pappardelle in Light Cream Sauce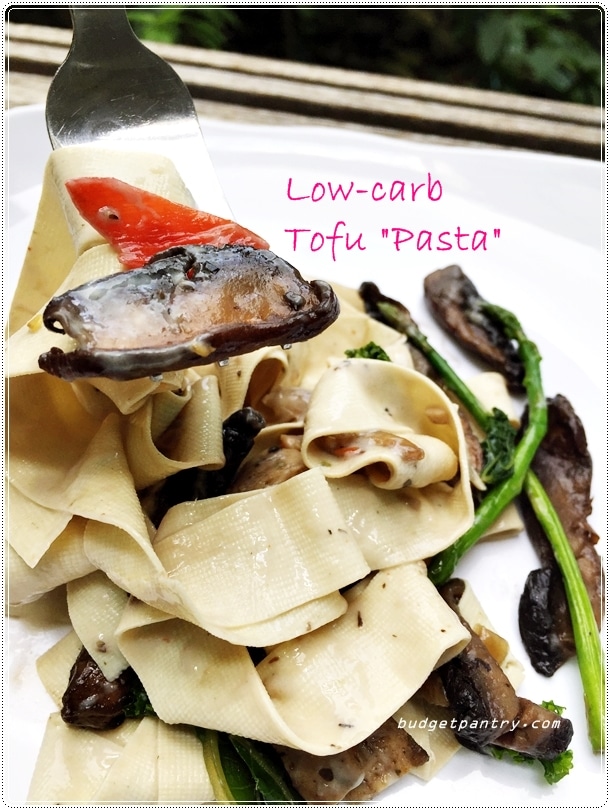 I'm going to Japan in a week! I made Jason promise he would only eat Yong Tau Foo (no carbs!) for lunch every day, so that he can eat his ramen, tempura, sushi and tonkatsu during the trip without worry.
His reply? Even if he doesn't eat Yong Tau Foo every day, he will still eat during the trip without worry. How can?! His face looks like it's going to explode. If it does then how? I gotta clean the floor! I cannot let that happen.

So we've come to a compromise. He will eat Yong Tau Foo or Fish Soup with half a bowl of rice every day. Once a week, he can have his Laksa Yong Tau Foo but cannot drink the gravy and if he opts for Laksa, he cannot eat rice. We'll see how it goes.
For me, I HAVE TO LAY OFF THE SNACKING. I love Muruku, but I love tonkatsu more. That only means more low-carb options these days.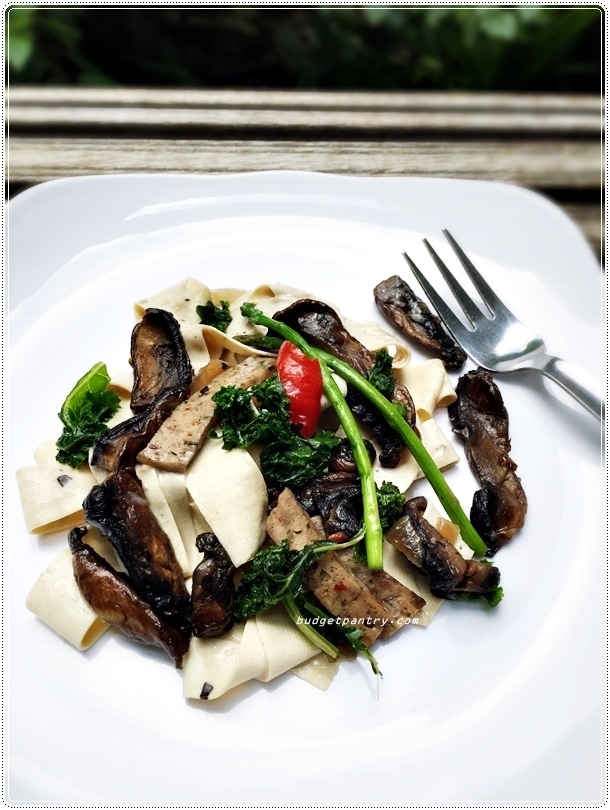 Today I have a recipe for Low Carb Pappardelle in Light Cream Sauce. How can pasta be low carb? Well it sure can, if we're using tofu in place of pasta. These are actually Baiye Tofu, sold in folded sheets, hygienically-packed for sale in the chiller sections of major supermarkets. I found mine in Giant for about $2.55 a packet, good for three servings. These weren't available before – I've only started noticing these a couple of months ago and thought they would make a great carbs substitution. Apparently, this is really popular with the Chinese from China (this is a factual description) and you can find these in Mala Xiang Guo too. This is what the packaging looks like: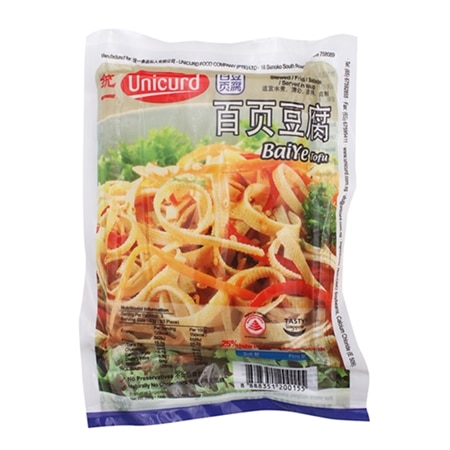 I was quite apprehensive that the husband wouldn't like it but he surprisingly was very receptive and said he would 'order' it again! Small win here. Slicing into broad strands, like Pappardelle: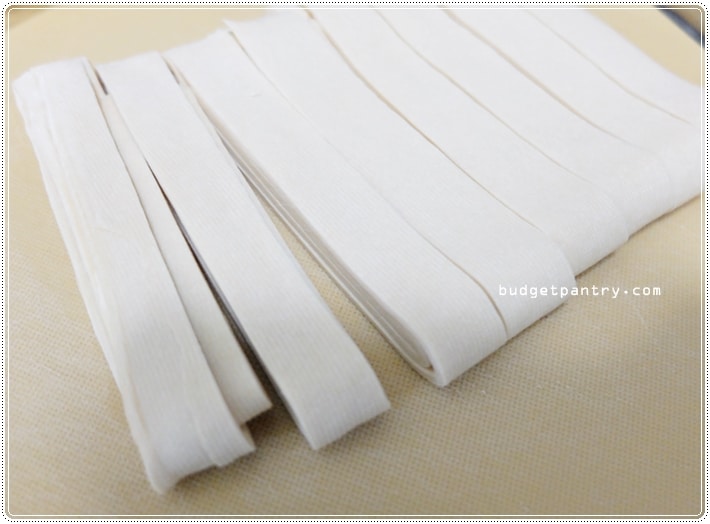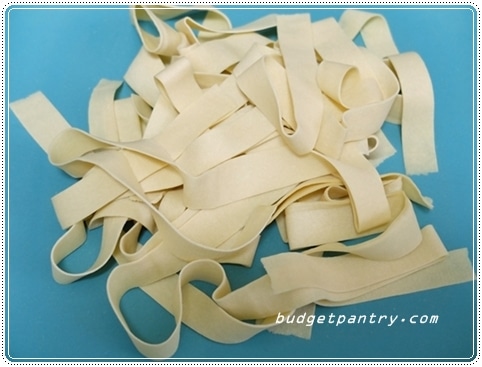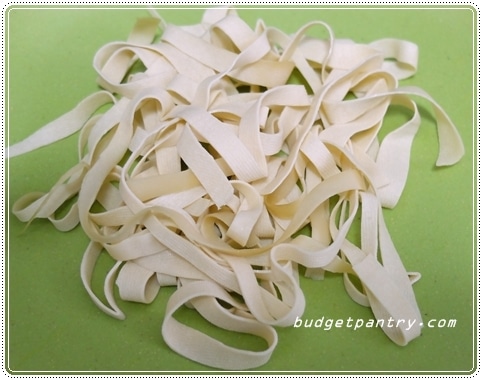 The best thing about these is that you can slice them however way you want them – as angel hair spaghetti, No. 5 spaghetti, fettucine, tagliatelle or even use them as lasagne sheets. In the local context, that means you mian, mee pok, kway teow or mee hoon kueh – you get the drift.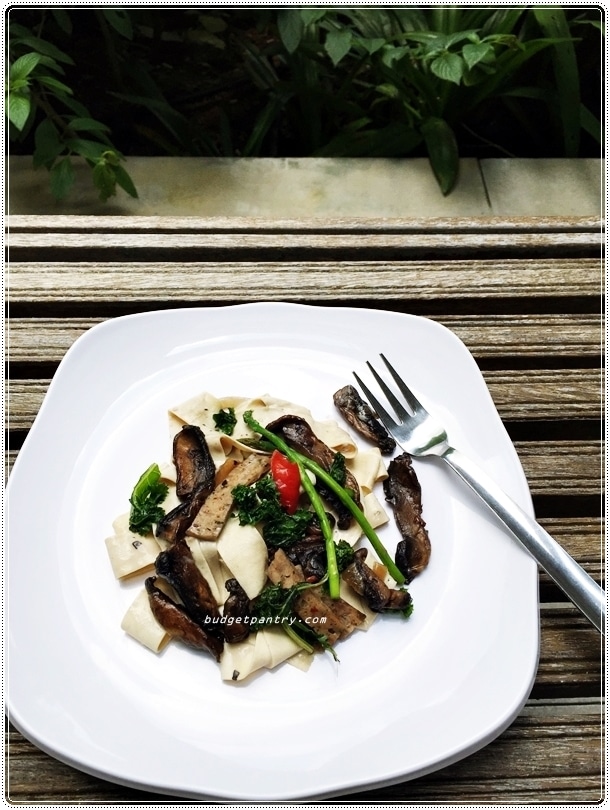 Ok so, verdict. Texture wise, these tofu noodles are slightly chewy with a nice bite. They aren't doughy or heavy, so don't expect them to satiate your carb cravings. Taste wise, they don't taste overwhelmingly of soy and don't absorb the taste of other ingredients – quite a neutral tasting ingredient, which isn't surprising at all. I actually think they will be best as fried noodles. For this recipe, I made them in pasta form with sliced Portobello, baby asparagus and ham in a light cream sauce. I also tried them in clear Chinese soups (like fish ball noodles soup) and liked them that way too. Quite positive I'm gonna cook Tofu Fried Noodles soon. Check back for the recipe! For now, I hope you like these in cream sauce. You can technically use any ingredients you want, but I find that this goes well with mushrooms and asparagus.
Tofu "Pasta" – Pappardelle in Light Cream Sauce

(budgetpantry.com)
Serves: 3
Total cost per serving: $2.55
What you need:
1 packet Baiye Tofu, sliced into desired width and separated into strands
1 large Portobello mushroom, sliced
200g baby asparagus, ends removed
A handful of kale (optional)
2 slices chicken ham, chopped into bite-sized pieces (you should preferably use fresh chicken, like chicken breast or fillet)
1 tablespoon olive oil
2 teaspoons garlic
180ml chicken stock
1 tablespoon cornstarch solution (dissolve 1 teaspoon cornstarch in 1 tablespoon water)
100ml cooking cream
Sprinkle of sea salt
Dash of black pepper
Half tablespoon lemon juice (optional)
Water for blanching
Steps:
Blanch the tofu noodles in boiling water for 3 minutes, then remove and drain.
Sauteed 1 teaspoon garlic in olive oil til fragrant, then add mushrooms, ham, asparagus and kale (if using). Fry for 4 minutes til done, season with a pinch of salt, then dish up and set aside.
In the same pan, fry the remaining garlic til fragrant. Add chicken stock and bring to boil. Add cornstarch solution, reduce flame and simmer til slightly thick, about a minute. Stir in the cream and lemon juice (if using), then add the black pepper.
Return the tofu pasta to pan and swirl to coat. Toss with mushrooms, ham and vegetables before serving.
Note: This is meant to be a very light sauce good enough to gently coat.
How much I spent:
$2.55 for Baiye Tofu
$2 for Portobello
$1.50 for asparagus
$1.60 for half a box of cooking cream
The chicken ham was a gift-with-purchase from CP
Everything else from my pantry