刀削面 Shaved Noodles "Chilli Pan Mee" Style
Hello! It's been a looooong while. I know I owe some of you recipes so I am trying to clear my back log ok! Today I'm sharing a simple dry 刀削面 Knife Shaved Noodles recipe, made Chilli Pan Mee style.
I LOVE 刀削面 dao xiao mian because it's qq and not as heavy as ban mian. It's great in steamboat too. I got mine in Sheng Siong but I think I've seen it around in Fairprice.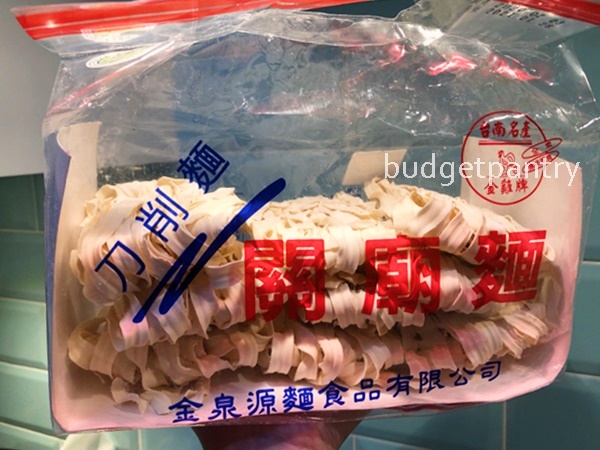 For the crispy prawn chilli, I use this brand also from SS. It's not that spicy even though it looks fiery. You can add chilli padi if you wish if you need more heat. The shallot oil I use is also ready-made. See what I mean when I say this is a simple recipe? Hahaha. Of course, home made shallot oil is the best but for the time-strapped cook, this is not bad too.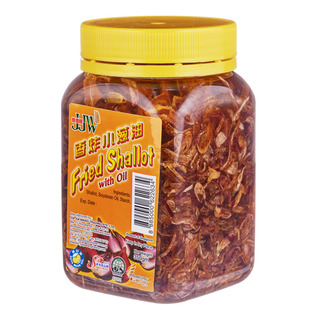 The recipe looks long but it's because there are so many toppings. Whatever you do, don't skip the braised minced meat and ikan bilis (and ikan bilis oil). Prawns, spring onions and vegetables are optional but nice to have.
Cbb took a mouthful (hers was without the crispy chilli) and kept exclaiming "it's so nice, mama!" I hope your little one and your family love it too!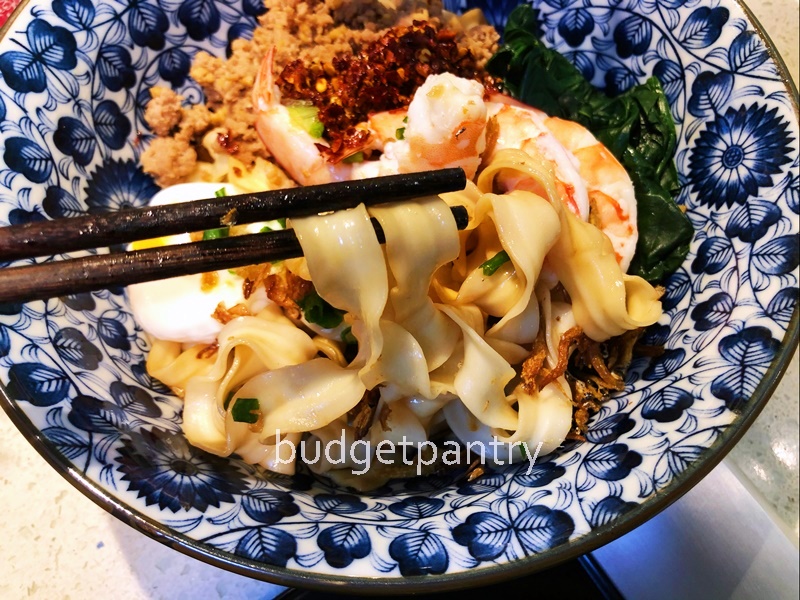 刀削面 Shaved Noodles "Chilli Pan Mee" Style
(budgetpantry.com)
Makes 4 servings
What you need:
4 portions刀削面
4 eggs
Handful of spinach or xiao bai cai
Crispy prawn chilli according to taste
Chopped spring onions
Prawns (optional)
Other ingredients as below
Crispy ikan bilis:
5 tablespoons ikan bilis
3 tablespoons oil
Braised meat topping
300g minced pork, marinated for 20 minutes in:
– 1.5 tablespoon oyster sauce
– 1 tablespoon dark soy sauce
– 1 teaspoon light sauce
– Dash of pepper
(for later use) 1 tablespoon minced garlic
(for later use) 4-5 tablespoons water
Seasonings for noodles (per bowl)
1 teaspoon each of:
– Dark soy sauce
– Light soy sauce
– Shallot oil (together with shallots)
– Ikan bilis oil
Steps:
Fry the ikan bilis in 3 tablespoons oil on medium heat til golden brown. This should take about 2 minutes. Once done, transfer the ikan bilis to a plate lined with kitchen paper. Reserve the oil and set aside.
In the same pot, add the minced garlic and marinated minced meat. Fry for 1-2 minutes, then add the water. Continue cooking for 2 minutes, then transfer meat along with gravy to a bowl and set aside.
Boil the prawns if using, remove and set aside. Do the same for the vegetables.
Boil the noodles portion by portion, then mix well with the seasonings. If you have leftover ikan bilis oil, divide it among the 4 bowls.
Now for the poached eggs. I cook mine by cracking each egg in a ladle, then lowering it into simmering water for about 3 minutes. Otherwise, you can check out Simply Recipes for instructions on poaching eggs.
Assemble! Top noodles with ikan bilis, minced meat and gravy, poached egg, vegetables, spring onion and crispy chili. Toss all the ingredients with the noodles and enjoy!