Kid-friendly Air Fried Begedil (Potato Patties)
Begedil is a malay snack that I grew up eating and absolutely love. What's not to love about deep fried potato patties? This kid-friendly recipe is air fried so way healthier, and has minced meat added in. If I had some corn kernels I would have added them too.
I swear by my Philips XXL Airfryer. See why: https://budgetpantry.com/5-reasons-why-i-love-the-new-philips-airfryer-xxl/
My 4-yo helped me prepare the potatoes: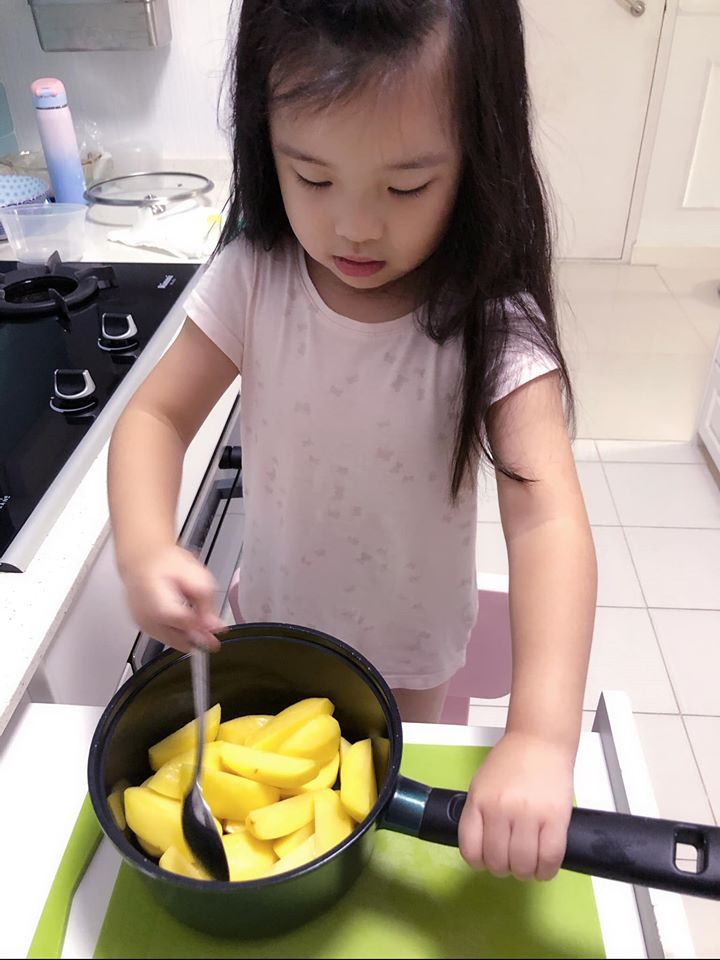 And she helped me mash mash everything together too: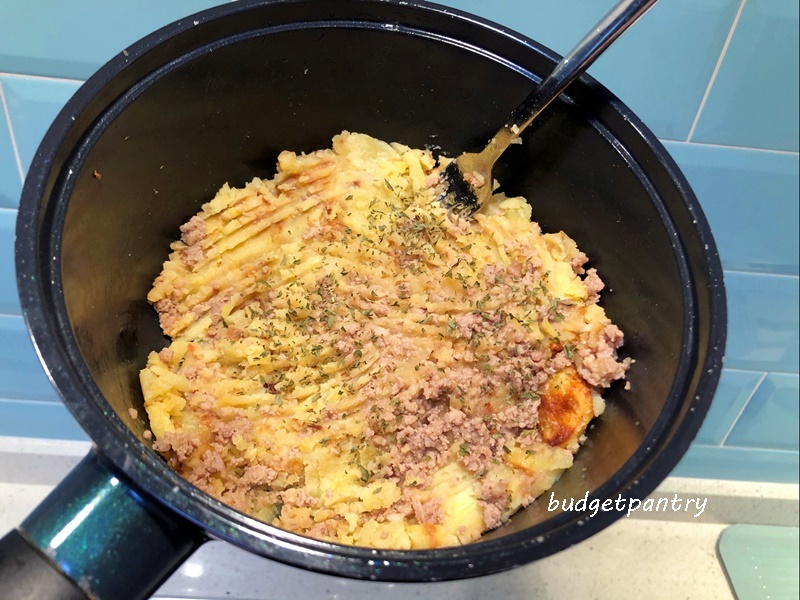 Here's the simple recipe. I hope you and your kid love it too!
Kid-friendly Airfried Begedil
(budgetpantry.com)
Makes 10-12 pieces
What you need:
4 large potatoes
1 tablespoon oil
Pinch of salt
1 tablespoon crispy shallot (pic here or you can use fry your own)
1 tablespoon chopped spring onions
1 teaspoon chopped parsley or parsley flakes (optional)
Dash of pepper (optional)
1 egg, beaten (for dipping)
1-2 tablespoon corn flour (for coating)
For minced meat:
100g minced meat (pork, chicken or beef are all fine)
1 tablespoon oil
1 teaspoon soy sauce
Steps:
Fry the mince meat: In a pot, heat oil and add the minced meat and soy sauce. Fry for a few minutes til no longer pink. Set aside.
Peel the potatoes and quarter them. Toss with oil to coat. Air fry at 180C for 18 minutes until soft enough to mash. Mash with a whisk or fork to the consistency you like – I prefer to have a bit of chunk but you can mash till creamy and smooth. (If you don't have an air fryer, you can bake the potatoes in the oven at 180C for 20 minutes or so)
Add the cooked minced meat, crispy shallots, salt, spring onions, parsley (if using) and pepper (if using). Mix well and shape into patties with your hands.
Dip each patty in egg followed by a bit of corn flour, just to coat lightly so that the patty retains its shape in the air fryer. Spray or coat with a bit of oil and air fry for 12 minutes at 200C. (If deep frying, skip the flour. Just dip in egg and deep fry direct til golden brown)
(Tip: you can cheat and add more veggies like corn kernels, peas, carrots to up your kid's veggie intake!)