三捞河粉 San Lou Hor Fun / Fried Fish Hor Fun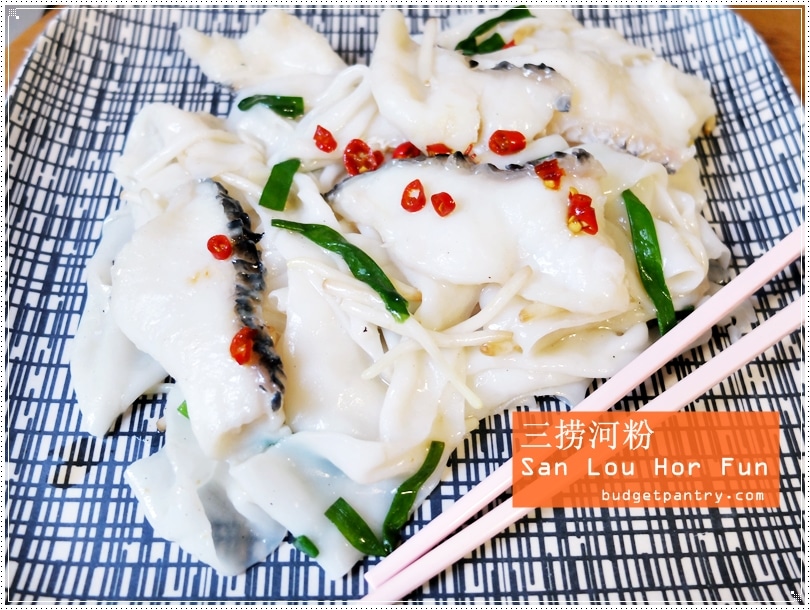 Zichar is a huge part of my life. It is what I want to eat after a long trip abroad and a zichar experience is must for overseas friends. For the unfamiliar, "zichar" literally means "cook-fry". Zichar stalls can be found in almost every coffee shop in Singapore. A meal can be cheap, like $4 for a one-dish-meal of fried rice or noodles, or it can also run into the hundreds, like in the case of communal dining where prawns, crabs, fish and many other dishes become the stars of the table.

What are your favourite zichar dishes? For me, these three are a must-order when I come back from long trips: prawn paste chicken, hot plate tofu and sambal kangkong. For one-dish-meals, I tend to go for dry-fry stuff like Hong Kong noodles, dry beef hor fun or this one, San Lou Hor Fun (三撈河粉).
What are the "三撈"s here? The term is literally translated to "three-tossed": Hor fun, fish slices and bean sprouts. This dish is flavoured simply. The taste of the dish really comes from oil (and high heat!), a little garlic and light soy sauce.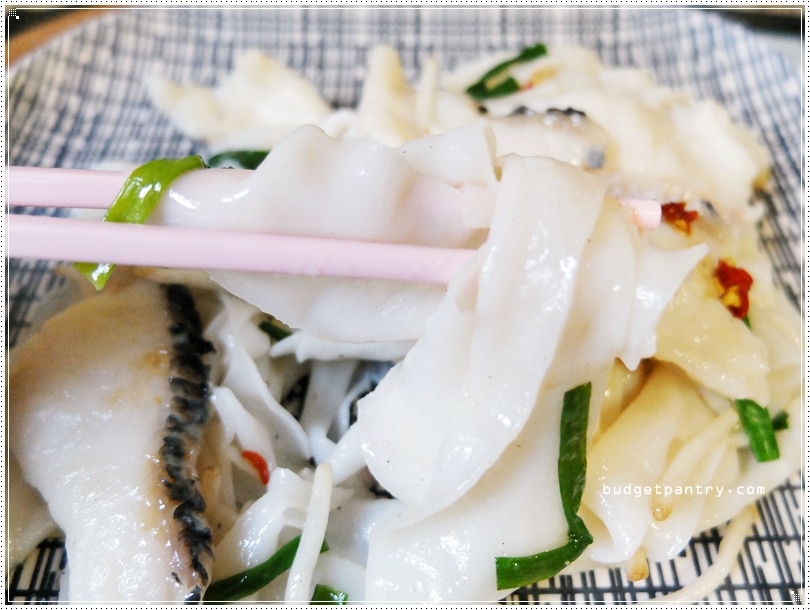 I got my hor fun from the wet market. Due to hygiene reasons, I always scald them briefly in hot water to loosen, and then dry completely before using. If you're using those from the supermarket which come chilled, they tend to clump together. For those, you can microwave them to warm and loosen them up before using. The idea is to keep the hor fun as dry as possible.
I cooked the hor fun separately, dished them up and set them aside. I then fry the bean sprouts and fish slices before returning the hor fun to the wok to combine. Give the hor fun some more time in the wok to get that slightly charred flavour.
For bean sprouts, I used normal bean sprouts but I removed the head and tail. You can skip this step as it can be a little tedious, or if you're lucky, you can find silver sprouts at certain supermarkets although they're not common. Add some chilli padi for heat and colour if you like. This dish is pretty easy I say!
三捞河粉 San Lou Hor Fun / Fried Fish Hor Fun

(budgetpantry.com)
Serves: 2-3
Total cost per serving: $2.85
What you need:
500g broad hor fun
200g – 300g Toman fish slices (a.k.a. snakehead)
50g beansprouts, head and tail removed (optional – you can use as it is)
1 tablespoon minced garlic
1 full stalk spring onion, sectioned
2 tablespoons premium light soy sauce
4 tablespoons cooking oil
A sprinkling of Chinese cooking wine (hua diao wine)
1 teaspoon corn flour
A dash of pepper
Steps:
Prepare the fish: Clean and fish and pat dry. Marinate in cooking wine, pepper and corn flour for ten minutes.
Prepare the hor fun: If you got yours from the wet market, scald briefly in hot water to loosen and DRY completely before using. If yours is from the supermarket, microwave them for a couple of minutes to unclump before using. The idea is to get them loose and completely dry.
Heat up your wok on high heat and add 2 tablespoons cooking oil. Swirl to ensure your wok is well-oiled. Add half of the garlic and immediately add the hor fun. Fry till fragrant, tossing constantly, then dish up. You can continue cooking for a bit more till almost charred (your preference).
Heat the last two tablespoons of oil. Add the remaining garlic, spring onion sections and bean sprout. Add the fish slices and fry till done. Return hor fun to the wok, season with light soy sauce, give it a quick stir and serve immediately.
How much I spent:
$4 for fish
$1.50 for hor fun
$0.20 for bean sprouts
Everything else from my pantry