Wok Fried Kam Heong Prawns 干香明虾
One of my must-order dishes whenever we go out for zi-char is Kam Heong Lala (clams). I love lala and tried to cook it once at home during Chinese New Year (I think it was last year or 2013). Let's just say I didn't particularly enjoy the experience. To clean fresh lala, you have to soak them in a basin of water with a bit of salt for to purge out the sand and impurities, and then change the water a few times and repeat. It took me a much longer time than expected to get them clean, so I decided to go with prawns this time.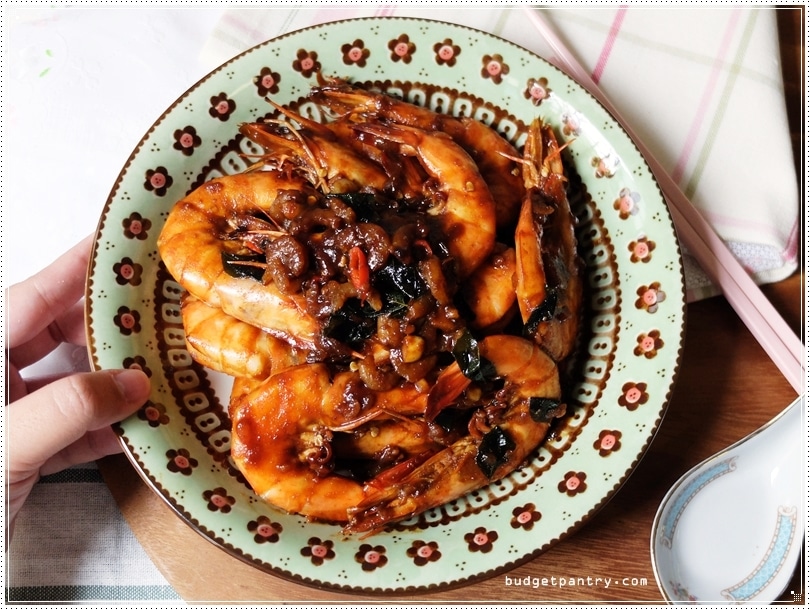 I chose large grey prawns for this dish. Using a pair of scissors, I snipped away the long whiskers and legs, then starting from the 'opening' between the head and the body, I made an incision and snipped all the way along the back and removed the dirty veins one by one. It takes a little more time, but I make sure that my family doesn't eat any crap especially when I'm cooking at home.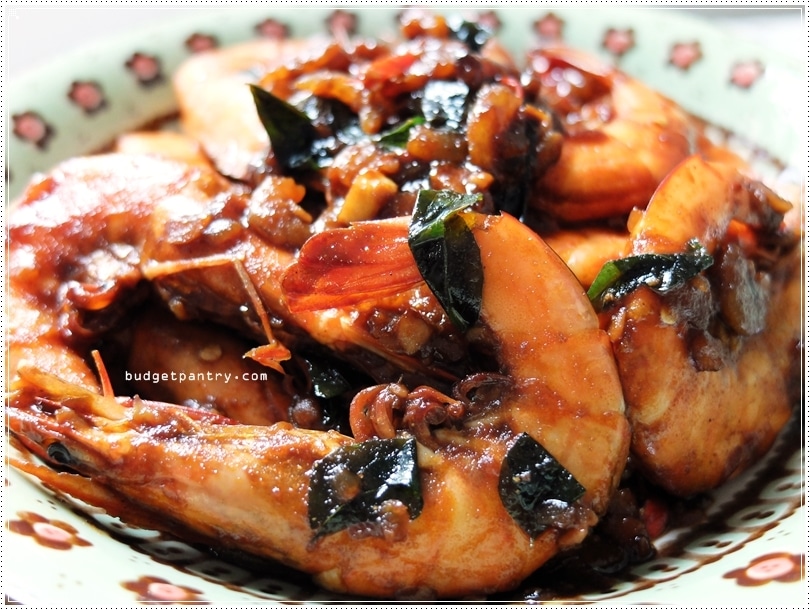 This dish is relatively easy to make. Actually, any type of stir fried Chinese dishes are quite easy to cook. The most important thing is using fresh ingredients and the correct seasonings. Kam Heong dishes get their distinctive flavour from curry leaves and curry powder. If you can't really take heat, I suggest you leave out the chilli padi as curry powder already has a hint of spice. Other than curry leaves and powder, the gravy ingredients can all be found in a Chinese kitchen – light soy sauce, oyster sauce, dark sauce, garlic, shallots and dried shrimps.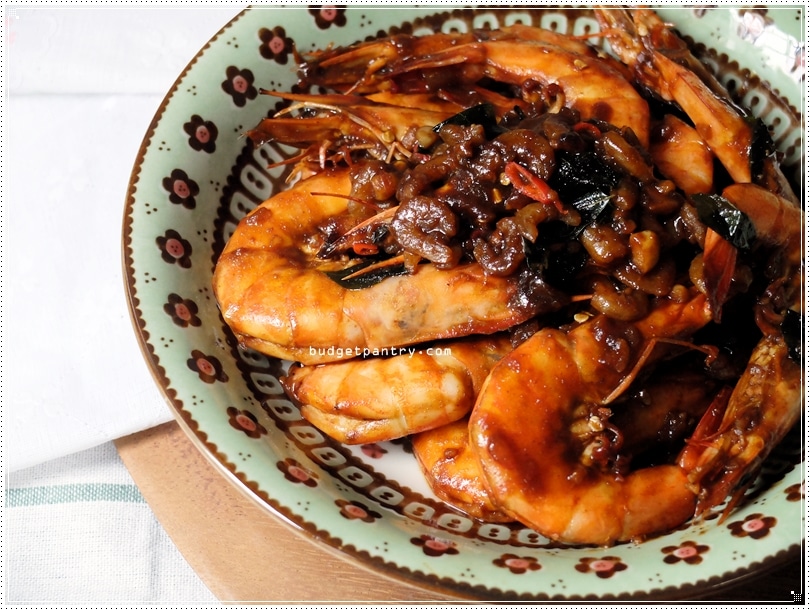 I left the shells on for a few reasons. The shells help to prevent moisture loss and prevent the prawns from being overcooked. And it's just so much more tasty to eat with your hands and suck the gravy off the shells! A lot of the flavour also comes from the prawn heads, so leave them on for the best flavour.
This recipe will be great for clams, fish and even lightly fried chicken pieces. I am imagining this gravy poured over steamed fresh fish, like barramundi or garoupa – not so common but yummy I'm sure! I hope you enjoy this as much as my family did!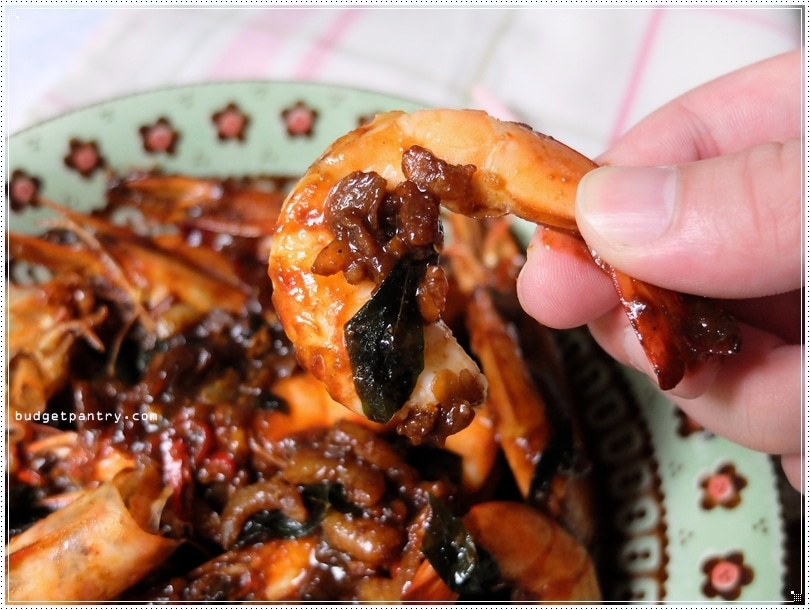 Wok Fried Kam Heong Prawns 干香明虾

(budgetpantry.com)
Serves: 2-3
Total cost per serving: $3.30
What you need:
500g grey prawns (with shell)
10 cloves shallots, chopped
5 cloves garlic, chopped
2 tablespoons dried shrimps, soaked in 150ml hot water then drained (reserve liquid)
2 large stalks curry leaves
2 chilli padi, chopped
2 tablespoons olive oil
Sauce ingredients (mix together):
3 tablespoons oyster sauce
2 tablespoons light soy sauce
2 tablespoons curry powder
Half teaspoon dark soy sauce
1 teaspoon sugar
Steps:
Snip away all the whiskers, devein and clean prawns. Set aside.
In a wok, heat up the olive oil and fry garlic, shallots and dried shrimps till fragrant, about 3-4 minutes. Follow with curry leaves and chilli padi and fry for another 1-2 minutes.
Add all the sauce ingredients and mix well. Add some of the reserved dried shrimp water if it is too dry.
Add all prawns, fry and combine on high heat till all prawns are coated with the sauce. Add the remaining dried shrimp water. Mix well and continue to cook till gravy bubbles and prawns are done. Remove from heat and serve immediately with rice.
How much I spent:
$9.60 for prawns (from PurelyFresh)
Everything else from my pantry