Salted Egg Sotong (Squid)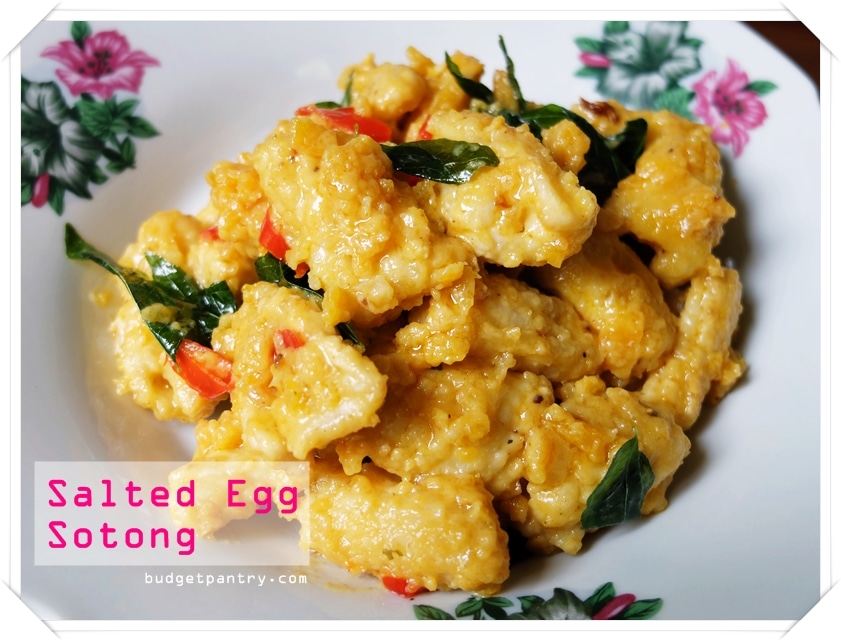 I promised myself that I will improve on the salted egg sauce from the earlier Salted Egg Crayfish recipe. For that recipe, I used salted egg yolks which were steamed and mashed, along with pumpkin puree, no additional liquid, and too much evaporated milk. The result? Too thick, creamy and buttery, and I couldn't really taste the salted eggs nor feel its texture.

Yesterday, I decided to practise some more. I had suspected that steaming the egg yolks beforehand would take away some of the flavour and all of its texture, so I worked with raw yolks today. Instead of steaming, I cracked the egg yolks into a dish and tried as much as I could to mash them with a fork. Because raw salted egg yorks are firm, sticky and 'gluey', you'll need to get a spoon ready to scrape them off the fork back into the dish, then repeat. You don't have to spend a life time doing it – we'll still need to break them up some more in the wok. Cooking the egg yolks directly in the wok without the extra step of steaming them = more salted egg flavour and a more sandy texture – the way it should be.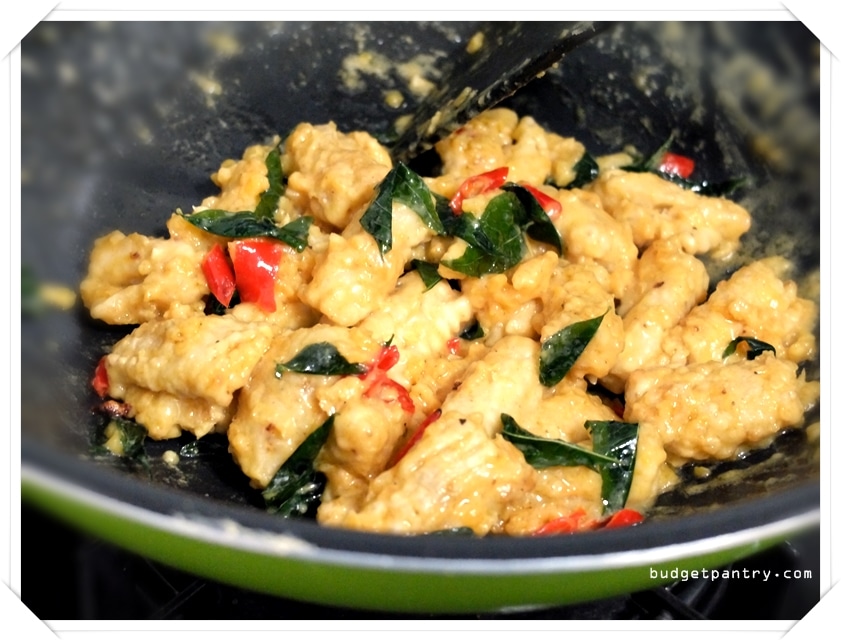 Another thing I did differently was add more liquid. Although I loved the taste and fragrance of evaporated milk, adding it without a good water:evaporated milk ratio results in not much gravy to speak of. I had a bowl of chicken stock on standby and added it bit by bit til the consistency was right. I would say the addition of stock made a huge difference to the dish.
With more liquid, adding evaporated milk became a less stressful affair. I didn't have to worry about the sauce clumping up because I know I can add more chicken stock if I had to. This recipe is pretty straightforward. In short: fry curry leaves and chilli padi in butter and oil, add salted egg yolks and break them up with your spatula, add chicken stock bit by bit, followed by the evaporated milk and sugar, do a taste test at this point, and finally toss in your crispy squid.
I am pretty happy with this version. The flavour of the salted egg yolks was not overpowered by the butter and evaporated milk, and I simply loved the sandy texture.. as you break down each morsel of salted egg in your mouth, the flavour becomes more and more intense and goes straight to your brain. This sauce will go great with fried chicken and prawns. Yums. I don't really eat sotong. I should really have cooked this with juicy, fat prawns instead. What was I thinking? The husband almost licked the plate clean! He tan dio lor. I hope you like this, but please don't eat this often. Deep fried squid, butter, salted eggs and evaporated milk too many times a month = a recipe for heart attack. Don't do it! But since you won't listen, what can I say but enjoy the recipe!
Salted Egg Sotong (Squid)
(budgetpantry.com)
Serves: 2
Total cost per serving: $5.10
What you need:
400g flower squid, cleaned
4 raw salted egg yolks (mash as much as you can with a fork)
30 g butter
1 tablespoon olive oil
2 stalks curry leaves, about 35-40 single leaves
4 chilli padis, cut
150 ml chicken stock
2 tablespoons evaporated milk
12 g sugar (I used SIS sugar sticks 4g x 3)
Salt and pepper, to season
Self raising flour, enough to coat
Steps:
Clean and pat dry flower squid. Season with salt and pepper. Dredge in self raising flour, shake off excess, then deep fry for 1-2 minutes or air fry in preheated AF at 180C for 9 minutes. If air frying, spray on some oil first. Set aside.
In a wok, add the butter and olive oil (medium heat). Once butter melts, add in curry leaves and chilli padi. Fry for approx. 3 minutes.
Add the salted egg yolks. On medium heat, break up the yolk as much as you can with your spatula. Continue to fry til egg yolk changes colour. It'll just take a minute. Now is the time to add the chicken stock tablespoon by tablespoon, stirring and 'pureeing' the yolk as you add more. Keep breaking up the yolk as you go along but it is ok that not all will be dissolved. This will take a few minutes.
Add the evaporated milk, stir well, then add in the sugar and combine. Finally, add the prepared squid, then toss to coat with sauce and serve.
How much I spent:
$7 for cut flower squid
$1.90 for salted eggs
$1 for butter
$0.30 for evaporated milk (an entire can was about $1.80)
Everything else from my pantry