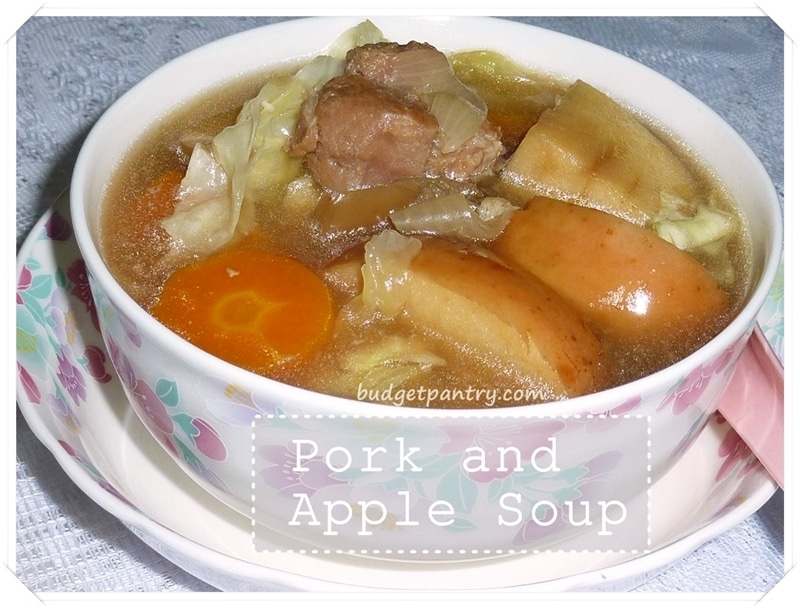 *Sorry for the lousy picture. It was taken at 8.30 pm, where there's no sunlight!
Soup has got to one of the most fail-proof dishes. Really, there is only ONE true component to making tasty soup: time.
You can make a really sweet and savoury soup with just a few basic ingredients. If I'm trying to go meatless, the most basic soup would be ABC soup: corn, carrot, potato and onion. If I really want a rich, full bodied soup, I add pork ribs and honey dates, and boil for at least 2.5 hours over the stove top. You could also cook the soup in your slow cooker for 7 hours.

I used to switch my slow cooker to 'auto-shift' at 7.30 in the morning and come home 10 hours later to dinner. I don't do it now because my 3.2 litre Takahi slow cooker makes hardly enough soup for my family of four, or sometimes six, if Cara and Slimer decide to pop over. '3.2 litre' doesn't mean it can take 3.2 litres of water hor, it means it has a capacity of 3.2 litres.. you have to factor in the pork ribs, the huge carrot, the corn, the onion, the honey dates… then you're left with soup for two people.
I cooked this cabbage, pork rib and apple soup over the stove top the other night. I was home early from work and the husband had to work late so I had close to three hours to cook it. Ok technically he didn't 'have to' work late but he always does because he likes to make sure everything is done meticulously. There was this one time that my ex-team mate (who was on night shift) had to whatsapp me at 11 pm saying, "Chris can you get your husband out of the office?" All I can say is, sometimes it works, most times it doesn't.
Oh if you didn't know, I met my husband at work but I quit almost two years ago, so we know the same people.
Anyway, I digress. This soup is incredibly easy to make. You don't have to add the cabbage but I wanted an all-in-one dish that night. All you need: two large fuji apple, a carrot, honey dates, pork ribs, cabbage (optional) and onions. Be sure to simmer the soup gently instead of having it on a rolling boil throughout for the pork ribs to be tender, not tough. The version with snow pear at 老火汤 is said to have cooling properties, nourish the throat, and 'enhance overall beauty'. Ok so want to be pretty, drink more soup!
Pork Rib Apple Soup
(budgetpantry.com)
Serves: 4-5
Total cost per serving: $2.12
What you need:
3.5 litres water
400 g pork ribs
2 large Fuji apples, cored and chopped into chunks
1 large carrot, chopped into chunks
1 large red onion, chopped into chunks
1/4 head of Beijing cabbage, chopped
2 honey dates
Salt, to taste (start off with about half teaspoon and gradually increase as you taste)
1 teaspoon mushroom seasoning (optional, but it enhances the flavour. you can google for image, available at Sheng Siong)
Steps:
Clean the pork ribs and scald in boiling water for 2 minutes. Remove and wash under tap water, pat dry then set aside.
In a pot, add the 3.5 litres of water, pork ribs, apples, carrot, onion, honey dates and cabbage and bring to boil. Once boiling, reduce flame to the smallest and simmer for at least 2.5 hours. Add the mushroom seasoning (if using) and salt, to taste.
Note: As the water evaporates halfway through cooking, it is ok to top up with boiling water if you have to. The soup won't be as good as if you didn't top up, but sometimes I'd rather have more soup. That's the reason I always start off with more water to leave room for evaporation.
How much I spent:
$6.50 for fresh pork ribs (you could use frozen. and I like frozen too)
$3 for apples
$0.50 for carrot
$0.30 for onion
$0.30 for cabbage
Everything else from my pantry