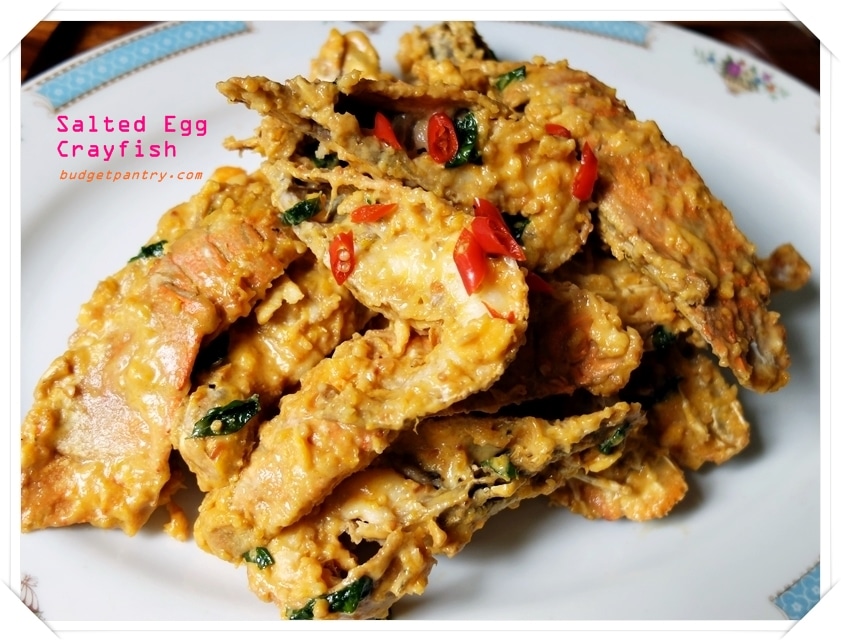 (update 22 March: click here for a better version of salted egg sauce!)
This is my experimental dish! I recently posted a salted egg yolk prawns dish that I cooked for reunion dinner, using Knorr's salted egg yolk powder. It didn't wow me although it looked good. I will share that recipe in another post.
Many of you asked me for a salted egg yolk recipe from scratch. Ok! I decided to experiment. I got a 1kg bag of frozen crayfish for $16/pack one Friday night and also bought a can of evaporated milk and a really small pumpkin (129g only! from Cold Storage). I didn't even know it came in such a small size. You could also use butternut squash. The curry leaves are from my own backyard corridor, and I always have butter in my chiller and chilli padi in my freezer. I was ready to cook my salted egg crayfish!

Because I'm not a fan of deep frying (waste oil waste calories), I decided to air fry the crayfish instead to get it crispy. Dredge the crayfish in corn flour, shake off excess, then let it sit for about 3-5 minutes. Spray some oil on top before air frying and this is what you get:
The ENTIRE kitchen smelled heavenly! I stole a piece to erm, test, and the cray fish turned out so bouncy and tasted so crispy and fresh. I am glad I didn't skip this step!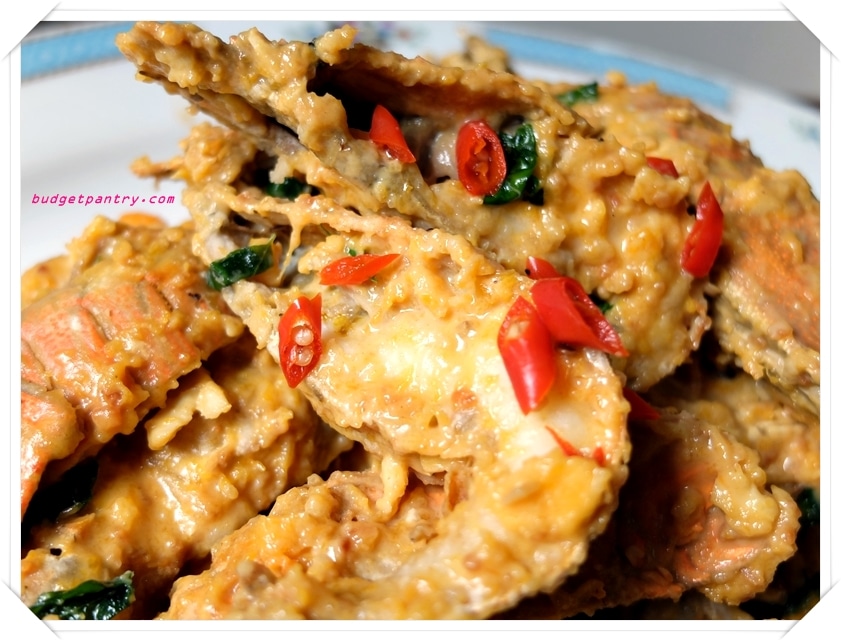 The dish was yummy but a little too thick, due to the addition of pumpkin puree and too little liquid. Pumpkin puree gives it a rich, golden colour, and a more creamy base, but as you can see, the gravy isn't as fluid as I would have liked. It's kind of finger licking though! I like the taste, but I would shell the crayfish in future although presentation wise, cooking them with shell looks better. Using deshelled crayfish (or even large prawns) would ensure every morsel of flesh is coated with the yummy sauce. I can imagine it with rice!
I'm on a quest to make the best salted egg crayfish dish ever. I would add some stock to make the gravy more fluid next time, although I think if you remove the shell, it'll actually be just nice. I must, must, must make this work! Stay tuned for my tweak. Until then, here's my first experiment recipe! Enjoy :)
Salted Egg Crayfish
(budgetpantry.com)
Serves: 3
Total cost per serving: $7.15
What you need:
1kg crayfish (weight with shell)
6 salted eggs yolks (raw) If you're deshelling the 1kg crayfish, use 4-5 salted egg yolks instead
2 tablespoons pumpkin puree (from about 100g pumpkin)
3 tablespoons evaporated milk
50g salted butter
25g margarine
1.5 teaspoon sugar
1 tablespoon minced garlic
A handful of curry leaves
2 chilli padi, cut (optional)
Corn flour, to coat crayfish
Steps:
Steam salted egg yolks and pumpkin. Mash and set aside.
Prepare the crayfish. Wash and drain, then dredge in corn flour. Shake off excess. Let them sit for about 3-5 minutes, place in air fryer and spray some oil on top. Airfry for 8 minutes at 180C (preheat your AF beforehand). Alternatively, you could deep fry. Set aside.
Melt butter and margarine in hot wok. On low heat, fry garlic, curry leaves and chilli padi (if using) til fragrant.
Add the salted egg, pumpkin puree and sugar. Mix well. Add evaporated milk. Don't let it bubble too much or become too thick. Work fast to combine everything.
Add in the crayfish and toss til well coated. Serve immediately.
How much I spent:
$16 for crayfish
$4 for salted eggs
$1.10 for mini pumpkin
$0.30 for evaporated milk (an entire can was about $1.80)