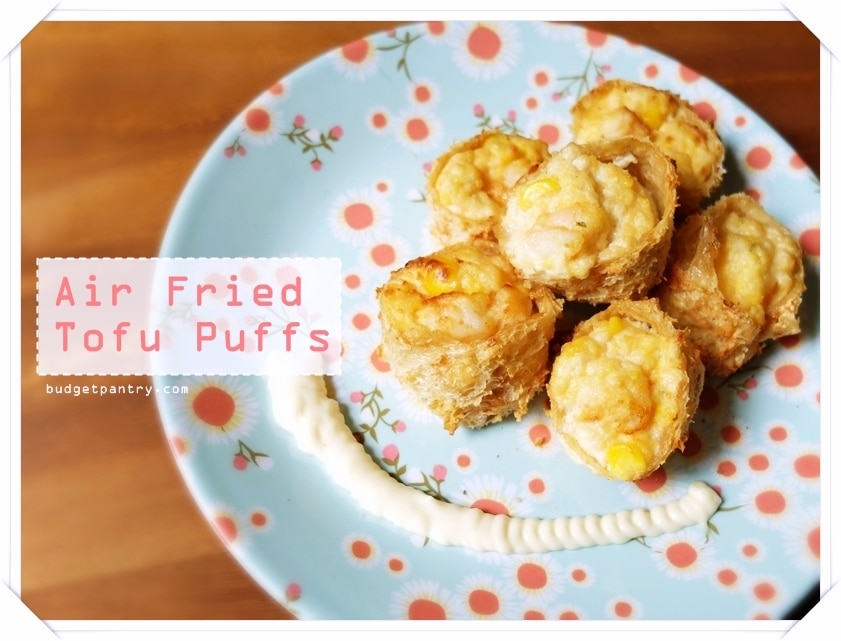 Recently, I've been thinking of ways to cook tofu. I'm not exactly a fan of tofu in its purest form – soft and silky with not much of a texture at all. Don't get me wrong. I do eat steamed tofu or tofu in soup, and absolutely enjoy my agedashi tofu, but if given a choice, I'd much rather eat stuff with contrasting textures than say, chawanmushi.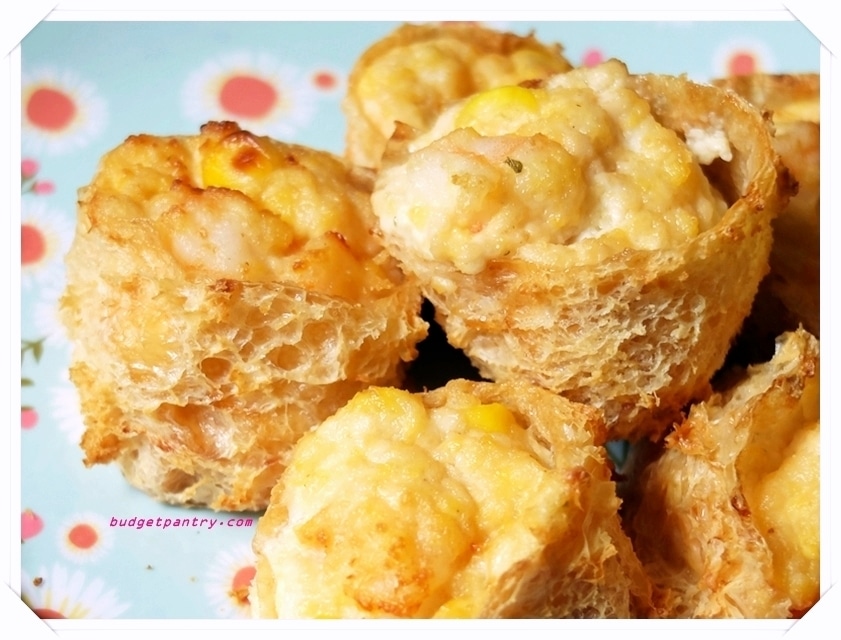 I've been wanting to make these for some time now. Tofu puffs stuffed with soft tofu. These are easy to make, fun to eat and taste fabulous. You're getting interesting textures of both crispy and soft tofu all in one dish. The kids would like them! All you need? Tau pok, tofu, prawns, corn, and fish paste. You could even omit the half teaspoon of salt as the fish paste is already salted, but one of my aunts always complain food isn't salty enough, so I didn't want to take chances.
/Sidetrack. The aunts ended up drowning my precious tofu puffs in stupid chilli sauce. It's really a pet peeve of mine.. whenever I cook 'Western' food – grilled fish, battered fish, roast chicken leg, pork chops, whatever – the first thing they do is reach for that bottle of Lingham or Maggi chilli sauce and then go on to slather the offensive thing on my yummy food! My delicious sauces, wonderful marinade, painstakingly thought out combinations of flavours…. all murdered by chilli sauce. And all you taste is the chilli sauce!! Super hate.
That said, these tofu puffs would go well with a *little* bit of sweet thai chilli sauce. That's mayo in the pictures – I had two dips – but felt sweet chilli tasted better. These would be a great idea for a party. They make great finger food. Just be sure to *not* let the tofu mixture sit around before stuffing and frying. Tofu gives out lots of water. Best to mash, mix, stuff and fry without stopping in between. The first time I made this, I was cooking a few dishes at a time (as usual) and let the mixture sit for a tad too long. It became more watery than I would have liked. Not what you want.
This is the tau pok (tofu puffs) that I used – mini type: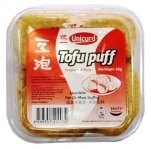 Cut a slit across and invert, taking care not to tear them. I made these in the airfryer. There's simply no other way for me, but you could also deep fry these yummy bites. Have fun this weekend and check out all my other airfryer recipes =)
Air Fried Tofu Puffs
(budgetpantry.com)
Serves: 5-6
Total cost per serving: $1.22
What you need:
1 box tofu (I used the one for steaming)
1 tube egg tofu
100g fish paste
2 boxes mini tau pok (24 pieces)
10 prawns
2 tablespoons corn kernels
Half teaspoon salt
Steps:
Chop each prawn into 4-5 small pieces. Mash both types of tofu and mix everything (except the tau pok) together in a large bowl.
Cut a slit across the longer side of each tau pok. Using your hands, flip the tau pok inside-out so that the golden side is facing in.
Use a spoon to stuff the filling into each tau pok pocket. Work quickly to prevent the tofu from giving out water. Spray some oil on top of each puff before air frying at 180C for 10-12 minutes.
Serve with mayo or sweet Thai chilli sauce.
How much I spent:
$2.50 for tau pok (from Giant)
$0.90 for boxed tofu (from Giant)
$0.60 for egg tofu
$0.80 for fish paste (Yu Pin King from Giant)
$2.50 for prawns (I use frozen from Sheng Siong)
Everything else from my pantry