红油抄手 Red oil wanton with a yummy sauce
Ok this is a kid-friendly recipe… really? Yes without the oil, it's perfect for kids!
I cram A LOT of vegetables in this version – water chestnuts, carrots, cabbage, spring onions… it's so easy to up your veggie intake with this recipe. Cbb has hers boiled in soup or airfried, and she loves both versions. I also love freezing these so I can whip up a quick and yummy meal for us anytime!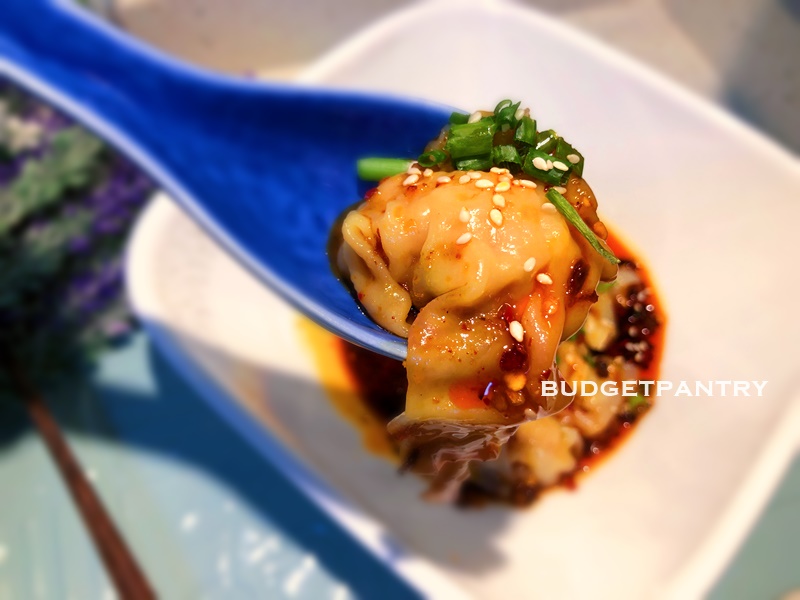 The sauce looks red but honestly it's not very spicy la. I used the lao gan ma chilli oil brand which was ok for me. The game changer has to be the black vinegar added to the sauce… it kicks the level up a notch. Please do not skip the vinegar.. you wanna skip, you might as well don't cook this.
If you're new to making wantons, it's really simple to fold them. Place the filling in the middle of a square wanton sheet (use the yellow type, not those white ones), fold the edges so that it becomes a triangle, then with the one end pointing down, bring the other two tips up and criss cross them. Seal them in place with some water.
I didn't add prawns to my wantons this time because I didn't have them, but you could add some for extra crunch and sweetness. Honestly, every time I make wantons they're different because apart from the minced meat, other ingredients depend on what I have on hand. Who's the same?
If you love red oil wantons, I hope you enjoy this recipe as much as I do!
红油抄手 Red oil wanton with a yummy sauce
(budgetpantry.com)
Makes 70-80 wantons (I usually wrap 60 and use the rest of the fillings as meatballs)
What you need:
For the wanton:
60 pieces square wanton skins
500g minced pork
200g fish paste
10 peeled water chestnuts
1 carrot
3-4 full stalks spring onion
1/3 of a small Beijing cabbage (about 5-6 tablespoons chopped)
1 tablespoon light soy sauce
1 tablespoon oyster sauce
1 tablespoon hua diao wine
Dash of pepper
For the sauce (per serving of 8 wantons):
2 tablespoons Szechuan chili oil
1 tablespoons black vinegar (or more if you like)
1 tablespoon light soy sauce
1 teaspoon sesame oil
1 teaspoon sugar
1 tablespoon minced garlic
Chopped spring onions/coriander for garnish
Sprinkle of white sesame seeds for garnish

Steps:
Coarsely chop water chestnuts, carrot, spring onions and cabbage. Alternatively, let a food processor or blender do the work for you. I use a manual pulley-style processor. Combine all wanton ingredients in a large mixing bowl.
Wrap the wantons: Place a teaspoon of filling into the middle of the square wanton wrapper. Fold to form a triangle. With the one end pointing down, bring the other two tips up and criss cross them (like crossing your hands over your head). Seal them in place with some water. Repeat till all wrappers are used up.
Cook the portion you need in a pot of boiling water for 3-4 minutes till wantons start to float.
Prepare all the sauce ingredients in a bowl. Mix in the cooked wantons and toss evenly. Garnish with sesame seeds, spring onions and coriander before serving.