Prawn Noodle Soup (Malaysian Style)
When I was a little fat girl, I had very little worries. My studies were not fantastic, but I was doing ok, above average I think, in all subjects except Maths. I had great friends, fish balls and zero point. And after school, lunch was always ready for me.
Those days, Ah mm practically made sure our lives functioned. She would drive my brothers and I, and 88 to school (she was a Chinese teacher)- and we attended different schools- then go to the market (normally Ghim Moh) and talk to all the hawkers, buy ingredients for dinner, pack us lunch, go home, and pick us up from school. Then, I had two major loves for my lunch choices- mee pok tah (fishballs noodles dry) and prawn noodle soup.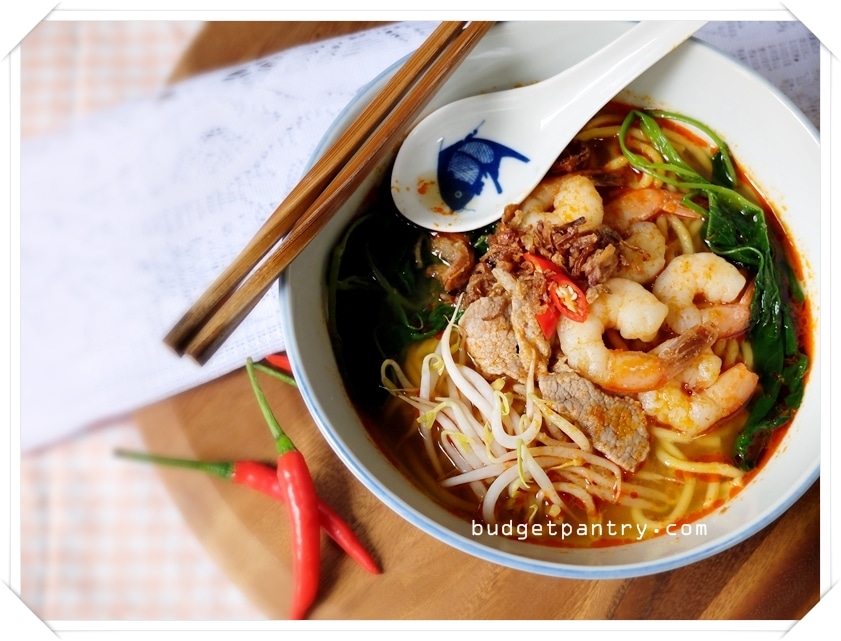 I remember her asking me all the time, '明天要吃什麼?' ('What do you wanna eat tomorrow?'), like it was the only thing that mattered to her. Sometimes, before I could answer, she would answer her own question. '蝦麵?' ('Prawn noodles?')
I've always wanted to cook 蝦麵 soup, but because I didn't (and still don't) want to cook it from scratch, I've never got around to doing it. It's not just about frying the prawn heads and shells to make the prawn stock. It's also the dried shrimps, shallots, garlic, chillies and too much work. Too much effort, too little time, too many excuses.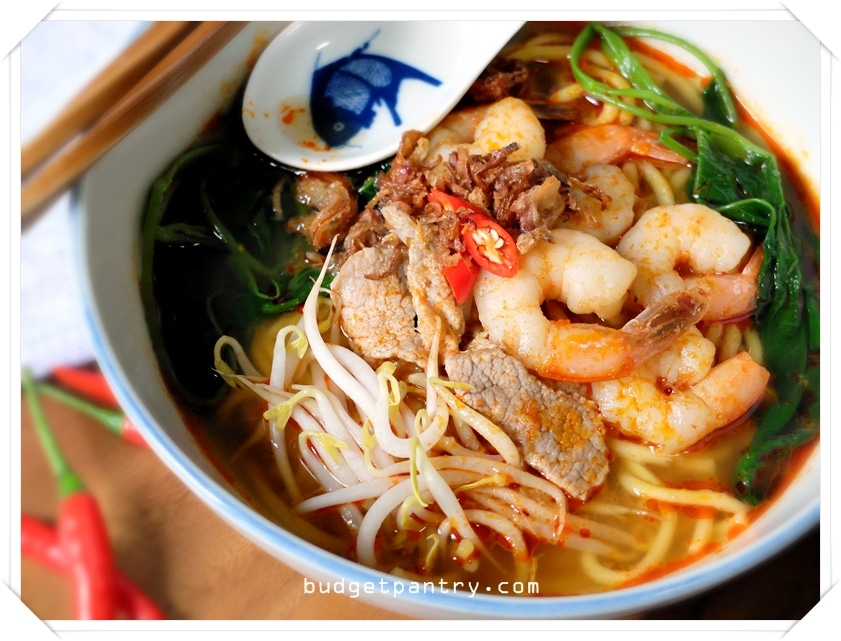 So when I visited Big Box a week or two ago and saw this Malaysian Traditional Paste for Prawn Noodles, I knew I had to give it a try. They cost two for $4.90 and one pack could make six servings. I would say it is more like 4 servings though. Seriously 1.5 litres stock enough for six people meh? After you take into account the water that's gonna be evaporated, you're left with 200ml per bowl? If you cannot refill the soup then you might as well buy from outside.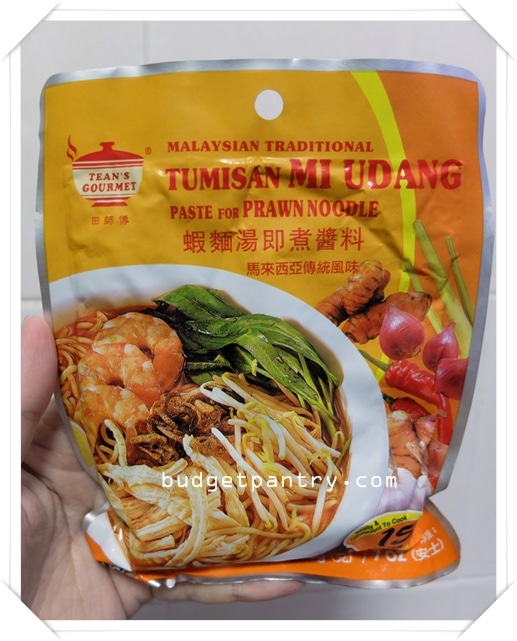 This paste, of course, comes nothing close to my childhood prawn mee. 'Malaysian' style means it is spicy. I like Malaysian prawn mee though. This tastes good for a 'packet-type' prawn mee, but lacked body. I would boil it with some pork bones next time for a richer stock. The chilli oil was also quite over.. I scooped out quite a bit of red oil floating in the pot before serving. But overall, this tastes pretty good. Ah mm liked it, and that's quite enough for me. =)
Prawn Noodle Soup (budgetpantry.com)
Serves: 4
Total cost per serving: $2.30
What you need:
1.5 litres water
1 packet Tean's Gourmet Malaysian Traditional Prawn Noodle Paste
4 servings yellow noodles
20 small-medium prawns, shelled
100g lean pork, sliced
A handful beansprouts
A handful kangkong
Fried onions, for garnish
Steps:
Mix the prawn noodle paste with 1.5 litres of water and bring to boil. Continue to keep boiling under low heat.
Blanch the noodles in a separate pot of boiling water and portion into four bowls. Next, cook the lean pork, prawns, kangkong and beansprouts in the same pot and arrange on top of noodles.
Scoop out the thin layer of red chilli oil from the prawn stock and discard. Ladle the stock over each bow, garnish with fried onions, and serve hot.
How much I spent:
$2.45 for prawn noodle paste
$1.30 for yellow noodles
$4 for prawns
$1 for lean pork
$0.50 for beansprouts and kangkong
Everything else from my pantry