Cheesy bacon potato gratin
I can't believe that I still have time to blog about a cheesy potato gratin recipe but this is long overdue!
Gratin is a traditionally French dish that has ingredients in a shallow baking dish topped with a browned crust – it could be using cheese, breadcrumbs, eggs or butter. So potato gratin means the key ingredient is potato, topped with something that would brown it. Of course it has to be melted cheese!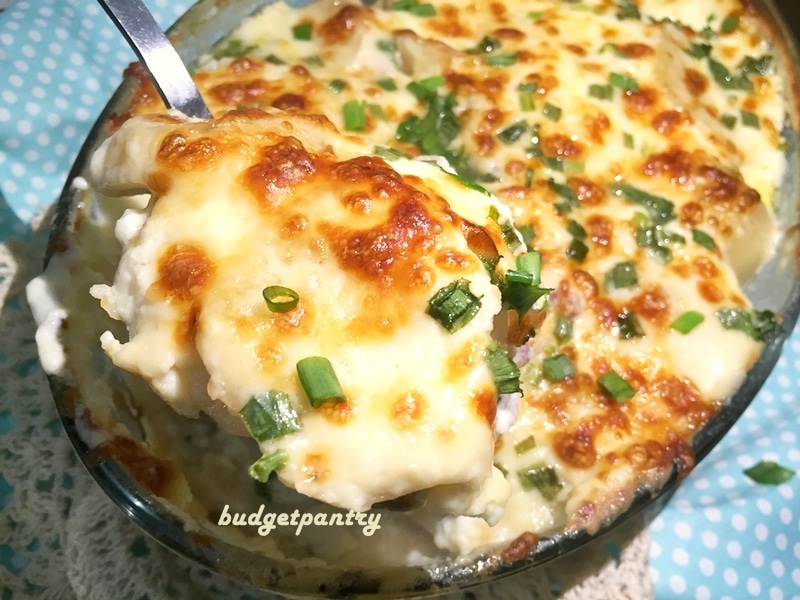 This is the husband's modified recipe. So if he can do it, so can anyone! He cooked this dish for our anniversary and it was the most delicious potato gratin I have ever tasted. The white sauce is made with flour, butter and milk. Some gratins I've had before include packaged cooking cream, and I'm not necessarily a fan of those. This also means the dish is a little more waistline and pocket-friendly. The sauce that goes all over the potatoes:
Bacon is optional. Spring onions are optional. You can buy those pre-shredded packs of red & white cheddar/mozzarella cheese from Cold Storage for $2.99 a pack. Depending on the size of your baking dish (I used a 10″ x 7″ oval pyrex baking dish), you may have leftover sauce. I used them the next day in a seafood white sauce pasta which Jason gave the thumbs up to.
We had it with the awesomest juciest brined pork chops. Recipe coming up for the chops too!
I love potatoes. If only they weren't carbs!
Cheesy Bacon Potato Gratin Cake
(budgetpantry.com)
Serves 5-6 (I used a 10″ x 7″ oval pyrex baking dish)
What you need:
5 russet potatoes, wash and peeled
1 medium yellow onion, sliced length-wise
150g shredded cheddar
150g mozzarella cheese
200g bacon, sliced
3 tablespoons plain flour
4 tablespoons salted butter
450ml fresh milk (not low fat)
Salt and coarse black pepper to taste
Handful of chopped spring onions
Steps:
Preheat oven to 190C.
Slice peeled potatoes to about 1/4 inch thickness. Coat very lightly with salt and coarse black pepper.
Grease the bottom of your baking dish with butter and layer half the potato slices at the bottom.
Follow with sliced onions and bacon, then again with potatoes.
Now make the sauce: Melt the butter in a pan, then add in flour (no need to sift) and a sprinkle of salt. Mix till mixture becomes thick, then whisk in the fresh milk while stirring constantly. Add in the shredded cheddar cheese until it melts completely.
Pour this sauce over the potatoes, then top with shredded mozzarella cheese and spring onions (optional). *If you have leftover sauce, use it the next day over pasta!
Cover with aluminium foil and bake for 1 hour 20 minutes till bubbling. Remove foil and continue baking for 10 minutes until browned.