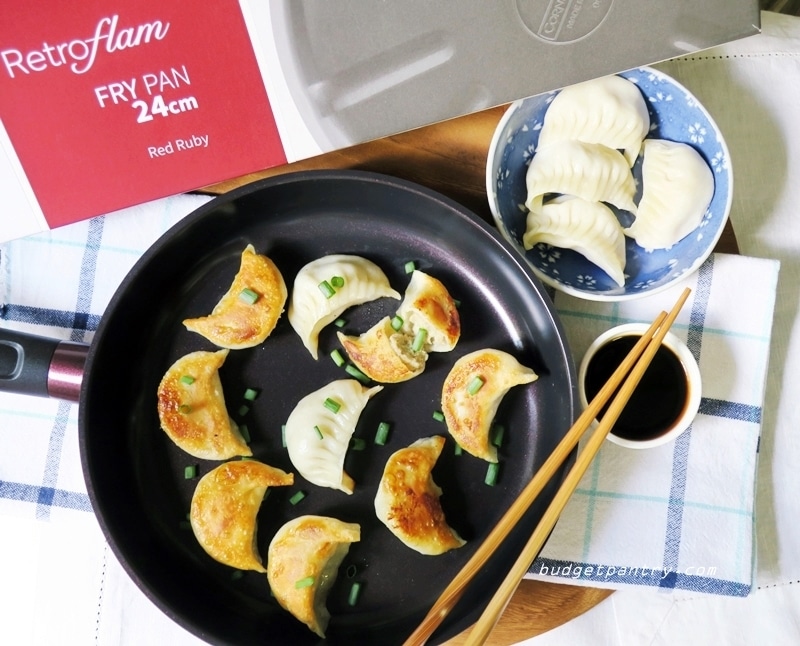 Pan-fried Chinese Dumplings with Corningware Retroflam Non-stick Cookware
I don't know about you, but many of the promised non-toxic non-stick pans I've used in recent years ended up sticking very badly. I've been looking around for a good non-stick pan that will err, stick around for a bit… and I think I've found it!
My elderly aunts have been using non-stick pans ever since they (the pans, not the aunts) came into the market. The two old ladies love them and it's not hard to see why. Non-stick pans promise easy and effortless cooking, but many in the market have synthetically-coated surfaces not particularly great for our health.

So when I discovered that Corningware – the brand you and I are all familiar with – has launched their new Retroflam cookware, I was interested to find out more. The new non-stick cookware is made in Korea from cast aluminium, black titanium and sparkling pearl ceramic coating, and its material means it is free from unwanted chemical emissions. Seems to be just what I was looking for! My aunts have been die-hard fans of Corningware for the past 50 years, so imagine their delight when I told them the brand now has their own non-stick range.
Some of its features at a glance
1. Completely even heat distribution across the base
Familiar with your pan being hotter at one area as compared to the other and you end up with uneven cooking? With Retroflam, hot spots become a thing of the past. No matter whether you place your fish at the sides or in the center, the specially-designed radiating grooves on the base ensures that heat is evenly distributed. This results in food cooked just right with no surface drying, no charring and no pan residue.
2. Made of five layers of quality materials
Each Retroflam cookware is cast as one entire piece from quality aluminium with no glued edges. The cast aluminium core is an excellent heat conductor, ensuring that your food gets cooked just the way you want it. The surrounding black base titanium is a strong, non-toxic, non-porous, nonreactive, non-allergenic, biocompatible metal good enough for medical purposes. Sparkling pearl ceramic coating, which seals the cookware interiors and exteriors, ensures a perfect non-toxic surface highly resistant to heat with superior non-stick performance.
3. Free from toxic chemicals like PFOA, cadmium and lead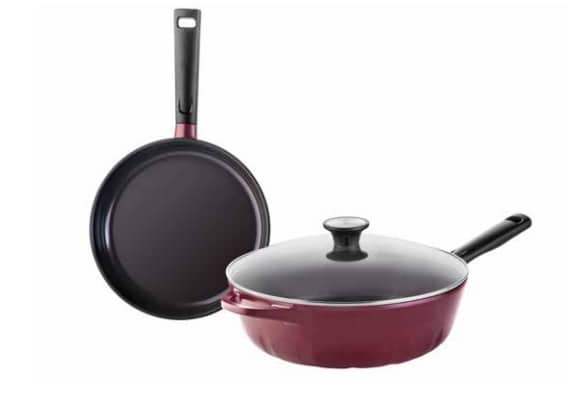 Retroflam's pearl ceramic coating will emit no chemical discharge even under extreme heat of up to 400 degrees Celsius, so cook and eat with peace of mind! Plus the coating makes the pans easier to wash and clean.
—————————
My experience
I tested out the 24cm Casserole Pot and 24cm Fry Pan to make Pan Fried Chinese Dumplings, aka Guo Tie or Pot-stickers! After the dumplings are wrapped, I first used the Casserole Pot to boil them before crisping up the bottom in the Fry Pan.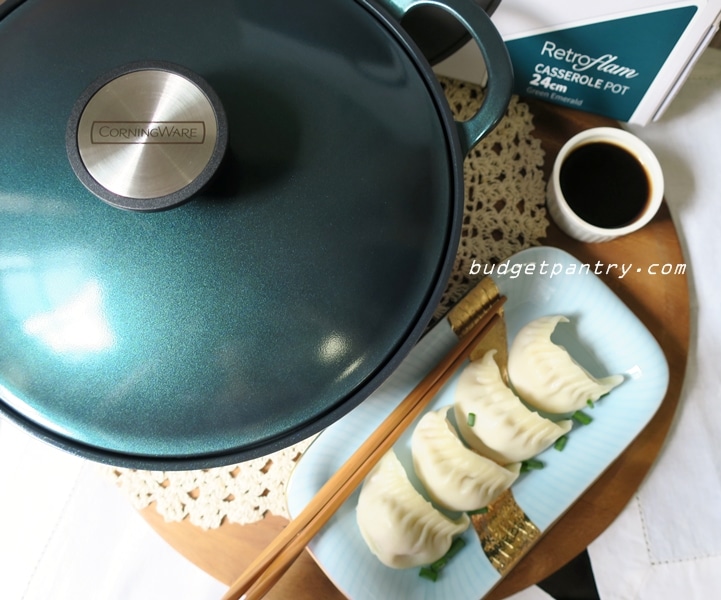 I was surprised at how fast the water started boiling. I must say the aluminium core is such an excellent heat conductor that I could start cooking the dumplings in no time at all. Once the water boils, throw in the dumplings and wait for them to float, then continue cooking for 2-3 minutes till done.
If you prefer a healthier choice, you can stop here and enjoy your boiled dumplings without frying them into pot-stickers. Each parcel is moist and juicy and they're incredible easy to make. Resist the temptation to over-stuff the filling or they'll be difficult to wrap.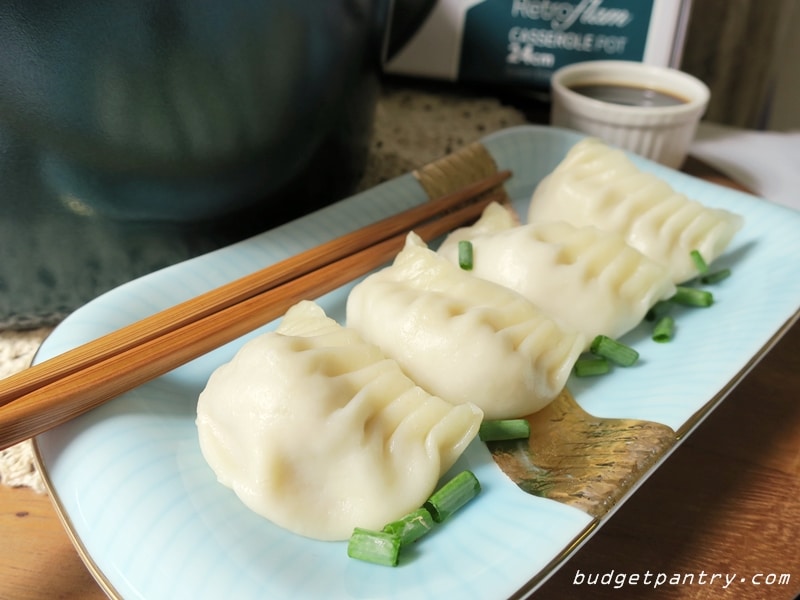 Emerald Green is such a gorgeous colour… I've never seen a more attractive pot in my life, serious. The sparkling effect makes it look like jewellery instead of a casserole pot:
Once the dumplings are boiled, remove them and drain off the surface water. Heat up some oil in the Fry Pan to crisp up the bottom.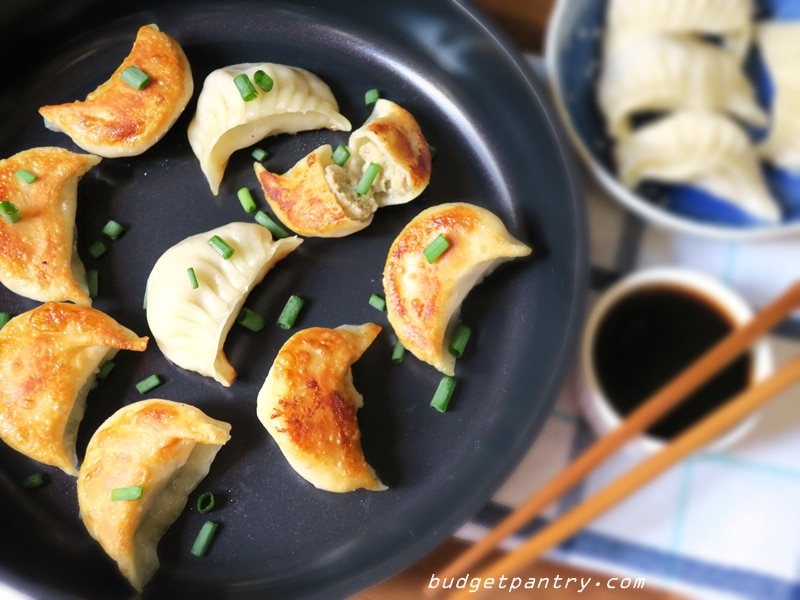 Perfectly done to a golden brown: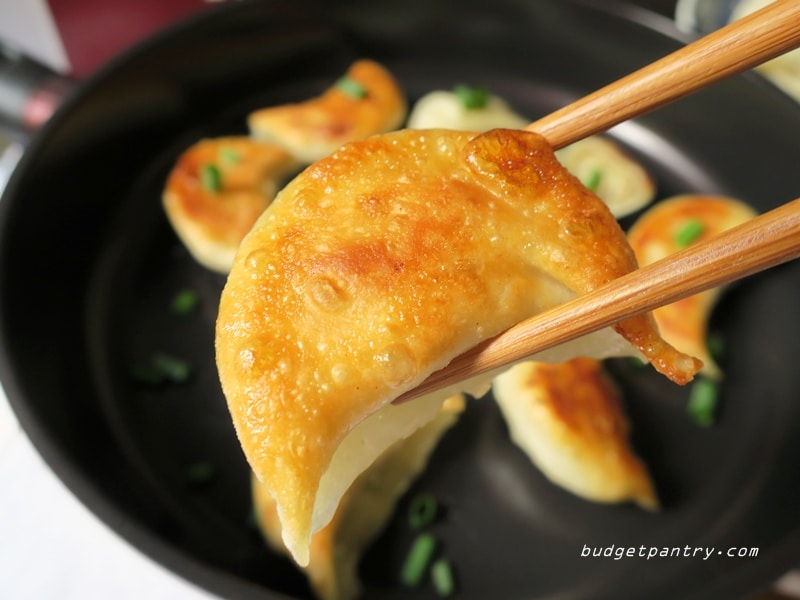 I love it that even after frying 20 dumplings, the pan was still smooth without any charred bits. All it took for me to clean up was to use a piece of kitchen paper to wipe away the leftover oil, followed by a gentle wash under the tap. No residue, no need to scrape away anything!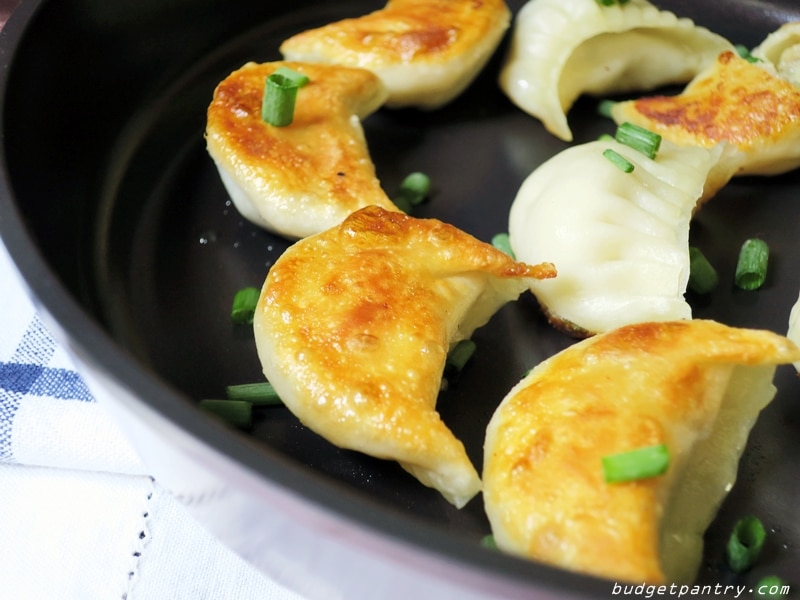 Red Ruby or Emerald Green, I can't decide which colour I like more!
I've taken the easy way out for this recipe by opting for store-bough dumping skins. Of course, you can make your own but with the baby almost taking over my life these days/from now on, I think my decision was very intelligent. LOL. Look in the chiller section in the supermarkets. These smaller round, white dumpling skins (Taiwan Dumpling Skin – Jiao Zi Pi) are usually right next to the yellow wonton skins. Serve with lots of vinegar and julienned ginger. Recipe below.
Where to buy
Corningware Retroflam (available in Ruby Red & Emerald Green) ranges from $109 to $189 and can be found at major department stores:
BHG
Courts
Metro
OG
Robinsons
Tangs
Takashimaya

*Super good deal promotional bundles until September 2016*:

30cm Wok Pan with glass lid @ S$169 with

FREE!

18cm Saucepan with glass lid
24cm Casserole with die-cast aluminium lid @ S$189 with

FREE!

18cm Saucepan with glass lid
Super Value Full Set (original value of over S$630) @ S$379: 1) 30cm Wok Pan with glass lid 2) 24cm Casserole with die-cast aluminium lid 3) 24cm Fry Pan with no lid 4) 18cm Saucepan with glass lid and 5)

FREE!

Corningware casserole (1 litre)

Recipe

Pan-fried Chinese Dumplings

(budgetpantry.com)

Serves 4-5

What you need:

200g napa cabbage, finely chopped
2-3 stalks chives or spring onions, finely chopped
300g minced pork (better with some fat)
2 teaspoons light soy sauce
1 tablespoons Chinese cooking wine (hua tiao jiu)
1 tablespoon sesame oil
1 teaspoon sugar
Half teaspoon salt
30 dumpling wrappers (jiao zi skin)
Water to boil dumplings
Oil for frying
Julienned ginger and Chinese vinegar to serve

Steps:

Mix everything except the oil and dumpling wrappers together to form the filling.

Fill each wrapper with 1 tablespoon thereabouts of filling in the center. Fold the wrapper into half, then pinch the sides together and pleat to enclose. This website helped me a lot when I was just learning to wrap dumplings. Repeat till filling is used up.

In a large pot of boiling water, cook the dumplings till done, about 2-3 minutes after they start to float. Remove and drain.

In the Retroflam frying pan, heat up 2 tablespoons of oil on medium flame. Place the dumplings bottom-down and fry till golden brown.

Serve with julienned ginger and a vinegar dip.