Multi-grains mushroom cabbage rice with Tefal Spherical Pot Rice Cooker

I recently got sent the new Tefal Advanced Spherical Rice Cooker for review, which promises to produce delicious rice with a fluffy texture, even with brown rice and multi-grains. Is it that good? Let's give it a whirl!

Innovative spherical pot technology exclusive to Tefal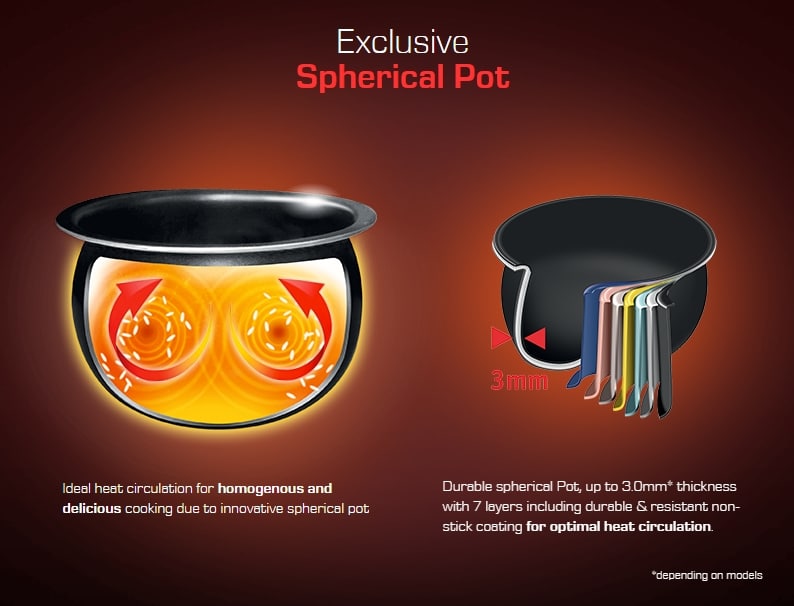 Inspired by traditional methods of cooking rice over the fire, Tefal's innovative spherical pots are orbed at the brim and bottom to encourage even heat circulation. It swirls rice grains circularly rather than vertically, with 2D spherical heating technology that emits heat from the sides and bottom of the pot. I've never seen this anywhere else before so it's pretty interesting to me.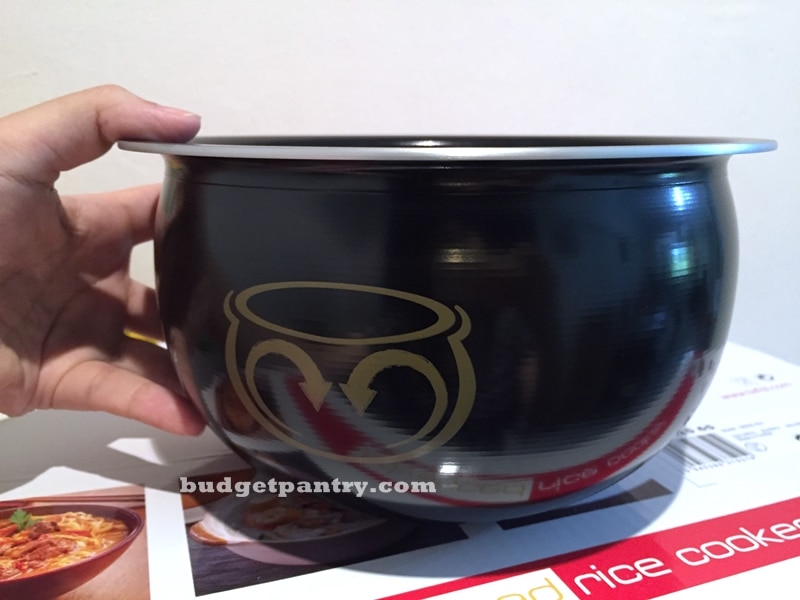 Key features of the new Advanced Spherical Pot Rice Cooker
It instinctively determines the ideal cooking time and temperature using a thermal sensor
Choose from 10 cooking programmes: White Rice, Brown Rice, Glutinous Rice, Congee, Porridge, Claypot, Steam, Soup, Reheat and Keep Warm
The inner pot measures 2.5mm thick with 6 layers of durable ceramic coating
Delayed start option allows you to preset the time you want to start cooking
Keep warm for up to 24 hours
Dishwasher-safe
Capacity of up to 1L and can cook up to 6 cups of rice
My experience
I decided to make an easy one-pot mushroom cabbage rice with chunks of chicken thigh. Saves me the time and one pot means lunch for the aunts and dinner for Jason are all settled!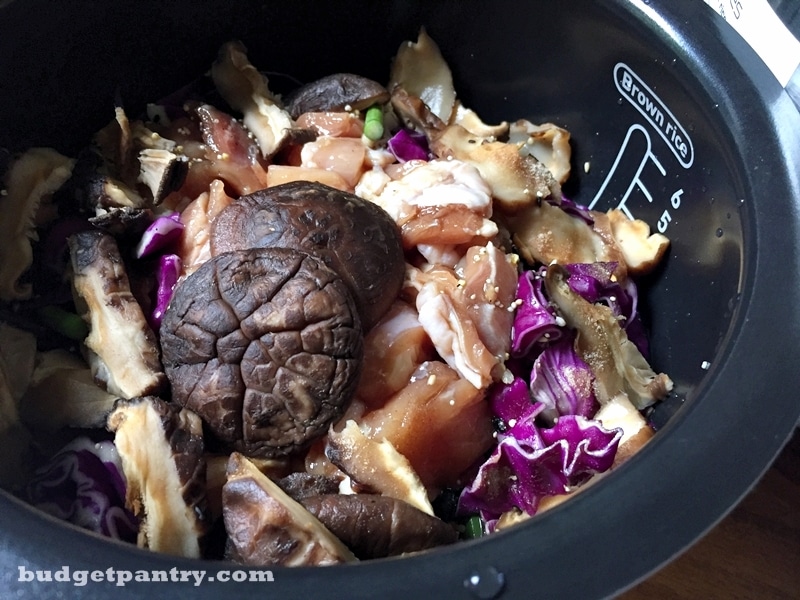 All I did was layer the ingredients on top of the rice and multi-grains, press the 'Brown Rice' setting and 'Power' button, and wait for our meal to be ready! What's really important to me is that the functions are idiot-proof – I really don't have the patience to read instructions and this rice cooker is easy enough to figure out in 2 minutes. Thank you for thinking of people like us when you design your products, Tefal!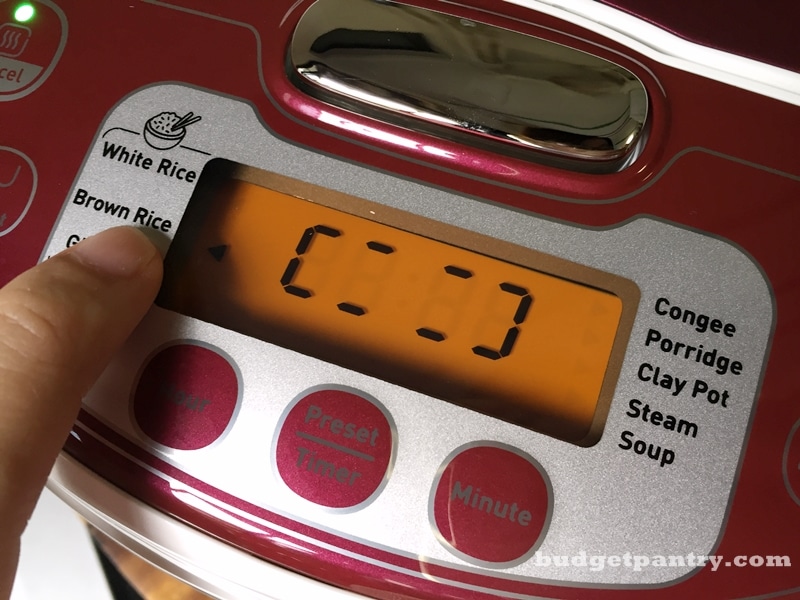 And… done! Just fluff up the rice and it's ready to serve. And yes the chicken was cooked perfectly in the cooker too.. there's no need to cook it separately, although it would taste better if first fried briefly with garlic before adding to the rice cooker. You know what I think I will leave out the chicken next time and add chestnuts instead.
I added multi-grains to the brown rice for even better goodness. It is available at selected Cold Storage and Fairprice supermarkets, Mustafa, selected Sheng Siong outlets and Redmart.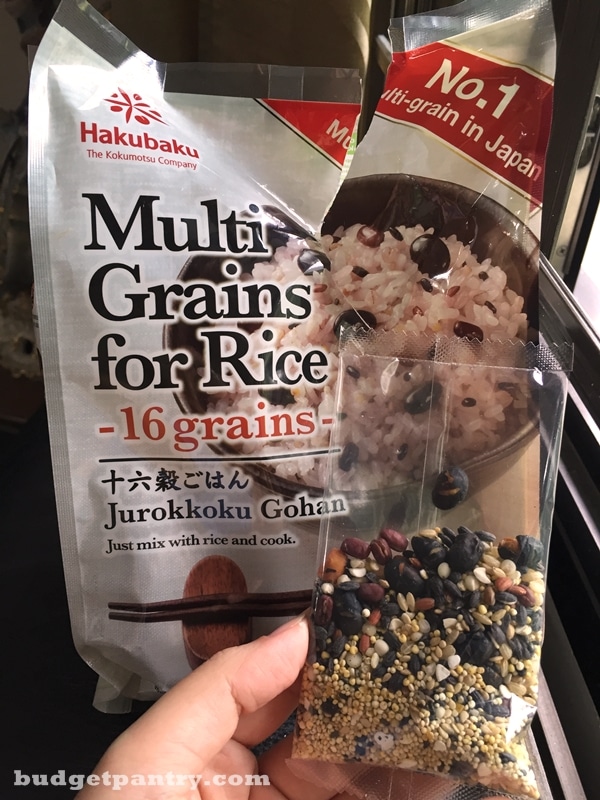 About the rice: The aunt, who is really anal about the texture of her rice cos she's got a gastric problem, didn't make any bad comments and even said lunch was yummy so I think all is good. But if I had told her it's brown rice I'm sure she would have complained of imaginary stomach discomfort by now. I love this rice cooker and can't wait to explore the rest of its functions. Thanks Tefal for sending it my way, just in time for our new home!
Availability
Priced at SG$179, the Tefal Advanced Spherical Pot Rice Cooker (model number RK8115) is available at leading electrical and departmental stores. For more information about Tefal, please visit the website and follow Tefal on Facebook for its latest news.
If you like my posts and updates, or would like to be informed of baby/cooking-related giveaways and promos from time to time…..
Like my Facebook page or follow @budgetpantry or @chuabeebee on Instagram! Yes, I just started an Insta account for CBB too!
Recipe
Multi-grains mushroom cabbage rice with Tefal Spherical Rice Cooker
(budgetpantry.com)
Serves 4-6
What you need:
3 cups uncooked brown rice
1 packet (30g) multi-grains
6 dried mushrooms, soaked in 1 cup hot water (doesn't matter since the water is going right back into the rice)
1 piece boneless chicken thigh, chopped into small pieces
10g dashi (2 sachets – optional)
2 tablespoons soy sauce
Handful of chopped cabbage
Handful of sectioned garlic sprouts or long beans
Chicken marinade
1 tablespoon oyster sauce
1 tablespoon mirin
Dash of white pepper
1 tablespoon sugar
1 tablespoon light soy sauce
Steps:
Marinate chicken chunks and set aside for 20 minutes. Remove stem and slice soft mushrooms. Reserve soaking water.
Add brown rice and soaking water into the rice cooker, then add more water until the mark that reads 2.5 cup Brown Rice (I reduced the water to 2.5 as I added cabbage, which gives out quite a bit of water). Add the multi-grains and dashi.
Layer the ingredients starting with the cabbage and garlic sprouts/long beans, chicken (together with marinade) and mushrooms. Close lid, set to brown rice mode and leave it to cook. When ready, fluff the rice and enjoy your one-pot meal!
————————
Disclaimer: I received a Tefal Advanced Spherical Pot Rice Cooker for review purposes and received no monetary payment for this review. All opinions and comments on this blog are my own, but you can consider bribing me with a lot of money! Please?