Mount Alvernia Hospital launches new Mother&Child Guide – To Maternity and Beyond
Many of you know that I gave birth at Mount Alvernia hospital in May 2016. How was my experience, you asked. From the hospital tour, to pre-admission, to my few hours in the labour ward, to the operating theatre when my inducement failed, and then to the single ward for my 4D3N 'hotel stay', my time at Mt. A has been a joy! The staff and nurses are all experts in their field and I felt safe and assured under their care. There is no doubt that if we do have #2, Mt. A will be the hospital of our choice again.
Soon-to-be parents will be delighted to know that apart from supporting you during your baby's delivery, Mt. A has now launched the first edition of their Mother&Child Guide – To Maternity and Beyond, a one-stop resource developed by a team of specialist doctors and clinical experts. I was given the opportunity to be a contributing reviewer of this book, and I was wowed by the sheer amount of easy-to-read content that is useful to parents before, during and after pregnancy.
Where to get
This book will be given free during Mt. A's maternity tour sessions in 2017. Copies will also be placed at the doctor's clinics and maternity wards.
What I like about the guide
Unlike most pregnancy and maternity books, 'Mother&Child Guide – To Maternity And Beyond' takes mummies beyond the 40 weeks, providing glimpses of parenthood, toddlerhood (there's a section on weaning!) and personal health. It's like attending prenatal classes right in your own home. And now I'm going to share with you my favourite sections of the book!
Before pregnancy

How do you know you are ovulating? What are the signs of pregnancy? What are HCG levels? What do you actually do when you see a big fat 'positive' on the test kit? Do you choose a gynae first, or hospital first? What is this whole…. process?
I remember when I saw a 'Pregnant' on the pregnancy kit, my first thought was, ok, 'What next?' I wasn't sure if I should book an appointment with a doctor.. a GP.. a gynae (who?), and when? What about my travel plans? And what's this thing about cord blood banking? This section will clear all your initial confusion and is really useful for first-time (or forgetful) parents.
Week-by-week developments and prenatal care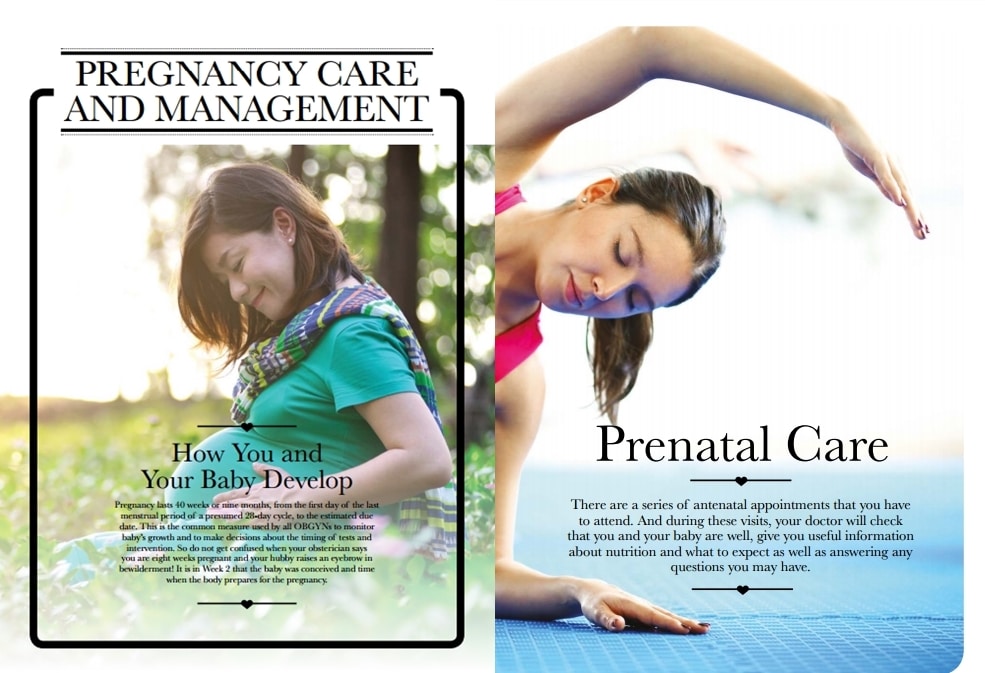 This section details how your baby is developing in your tummy, from week 1, where you're not actually pregnant yet (yep!) all the way to week 40 when your baby is ready to see the world (and show you the real meaning of 'not enough sleep'). It also includes information on ultrasound scans, gynae appointments, screenings and tests typically taken during pregnancy, complications you might encounter during pregnancy, and many more.
Staying healthy and Labour & Delivery

When I was pregnant with cbb, I made sure I ate well and supplemented with folic acid and calcium, as well as with prenatal vitamins. I was cautious about overeating initially, putting on about 6kg til the end of the second trimester. But! I ballooned during my third trimester haha! This chapter provides the nutritional facts you should know, and even has information on skin problems and travelling when pregnant (plan that babymoon!).
'Labour & Delivery' is loaded with essential information like what to pack in your hospital bag, what documents to bring, when to go to the hospital, and what does labour really feel like? It also includes info on natural and caesarean births and the difference between the two when it comes to recovery.
Baby is here! Now what?

I wish I had this guide when I gave birth in May! Very few maternity guide books give you an insight to what happens when your baby goes home with you. Learn how to bathe your baby, sterilise bottles, change a nappy – all by following the useful pictures and illustrations included. I can't tell you how many times I have put a diaper back-to-front in Amber's first month cos I was sooo clueless!
Breastfeeding and toddlerhood (weaning recipes!)

In Singapore, there are many resources on breastfeeding and this is just one of them. It covers essential info on how to start breastfeeding on a right note. Being someone who didn't have a smooth breastfeeding journey, I wish it covered more on what to do when breastfeeding 'goes wrong' or when the advice of 'just keep latching' doesn't work for you. (p/s: The one book that I found helped me – and was recommended by a lactation consultant – was 'The Breastfeeding Mother's Guide to Making More Milk', also written by lactation consultants. You can google for more information and get it from bookdepository)
I was surprised to see a section devoted to older babies and toddlerhood. What first foods should you feed your baby with? How do you travel? What 'milestones' should they be achieving month on month? All these and more right here. I really find that this chapter is helpful for me especially now that Amber is 8 months old.
Mummy's health and Daddy's role

I find that when getting overwhelmed by the newborn, mummies tend to neglect their own wellbeing. This section discusses issues like common gynecological disorders, postpartum concerns and topics like birth spacing and preparing for your next pregnancy. I love it that there's something that Daddies can read and relate to, because they do need support just like mummies! Men our generation are more hands-on, and I believe the content here will help dads immensely.
Additional resources

The closing chapter discusses rights and benefits for the pregnant woman. It also provides info on the different schemes (for example, baby bonus) to support marriage and parenthood in Singapore, as well as a list of support organisations you may need in your pregnancy and parenthood journey.
Overall
'Mother&Child Guide – To Maternity and Beyond' is a must-read for every parent-to-be. Whether you're a first-timer or not, you're bound to discover new knowledge as you thumb through this comprehensive guide. Thank you Mount Alvernia for thinking of me when you approached me as a contributing reviewer, and for always coming up with ways to improve the service and support for your maternity patients!
Read about my birth story at Mount A. and know how much my bill was when I delivered there in 2016.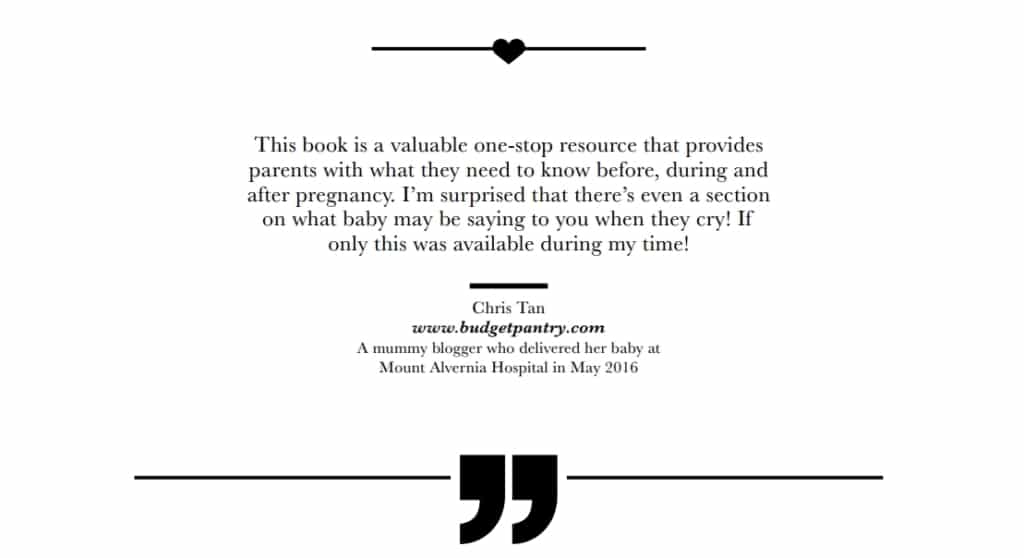 If you like my posts and updates, or would like to be informed of baby/cooking-related giveaways and promos from time to time…..
Like my Facebook page or follow @budgetpantry or @chuabeebee on Instagram! Yes, I just started an Insta account for CBB too!