My BTO renovation: An update!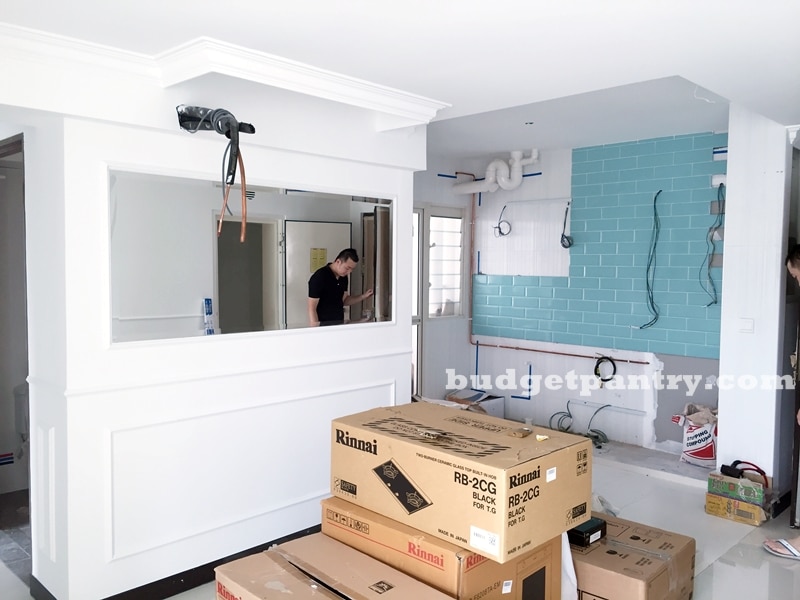 It's been a while since my last update on getting the keys to our BTO flat! Read this post if you haven't! We're getting quite excited seeing the place come together. It's been 7 weeks since renovation started, and we're probably 50% there. I remember hacking of the kitchen walls started on 1 November and it's now the 20 December. Progress is not the fastest cos our ID got our permission to wait for his preferred carpenter (his booking was full) and we're not in a hurry to move anyway.

We have known since the start that we engaged Space Atelier because of their designs. There are so many IDs in the market but how many of them are designers? We didn't want a renovation coordinator – to us having someone who's savvy in coordination IS important, but secondary. We have met "IDs" who ARE very savvy, who can negotiate super well with contractors, can click with owners, can promise you a lot, and who are sincere in their jobs too. But we didn't click in terms of designs, because quite simply, it's not their background.
To be honest, our ID is not the most detail-oriented guy in the universe, but we are, so it's something that we can let go a little. What's important to us is that he's not the kind of person who will inflate costs and over-promise. He's a young designer, sincere and not out to cheat your money. Can be a bit muddle-headed though, but he has qualities that we appreciate. Thanks for handling our renovation, Space Atelier, can't wait to see our completed home!
CBB is starting to love looking into the mirror…. I wonder who she takes after?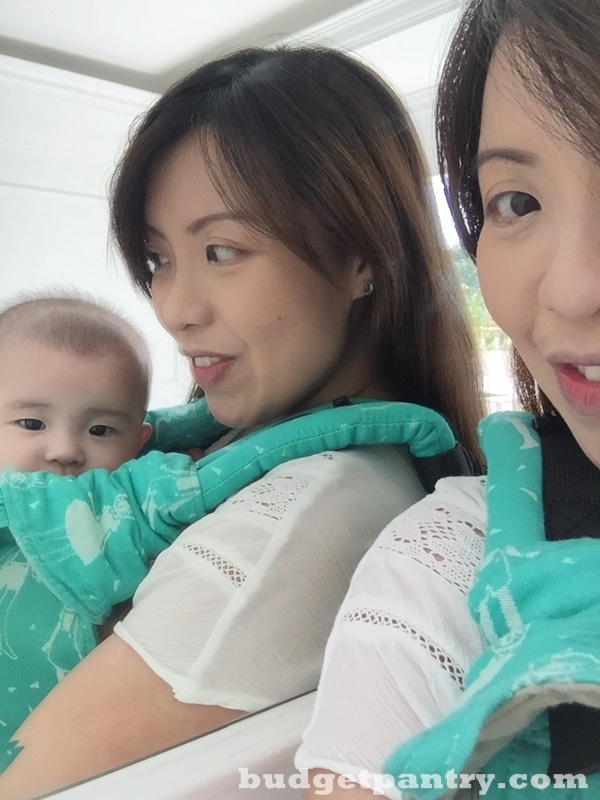 Here's list of the main things we're doing:
Hack kitchen wall to do an open counter, install subway tiles (super love this!)
All kitchen cabinets and storage
Mirror panels at dining and bar counter area
False ceiling in the living and dining area, passage way, main bedroom
Platform bed with pull out drawers + wardrobe
Cornices around the entire home and borders on the walls (I have no idea what it's called)
Replace all bedroom doors
Replace bathroom doors to glass/sliding doors
Shower kerbs + partition + vanity area
And nitty-gritty stuff like installing electrical points, day & night curtains, sinks, showerheads etc
And here are the pictures!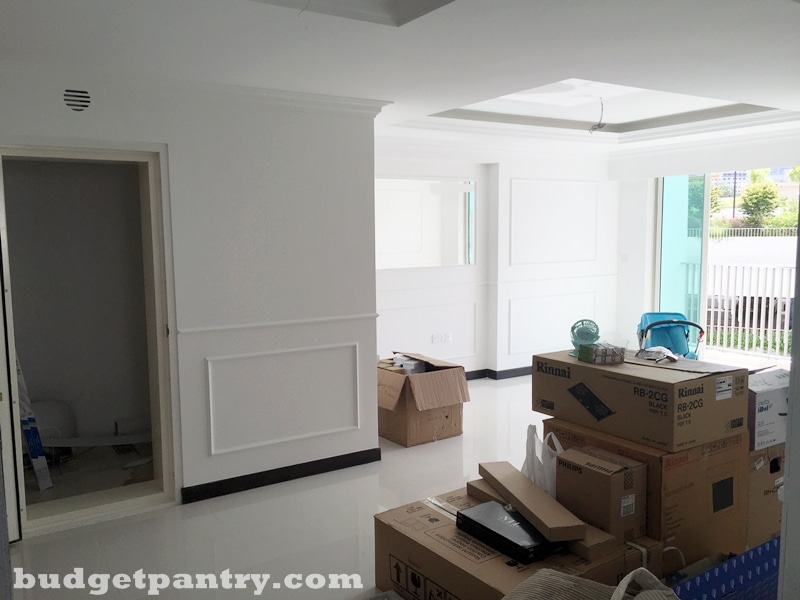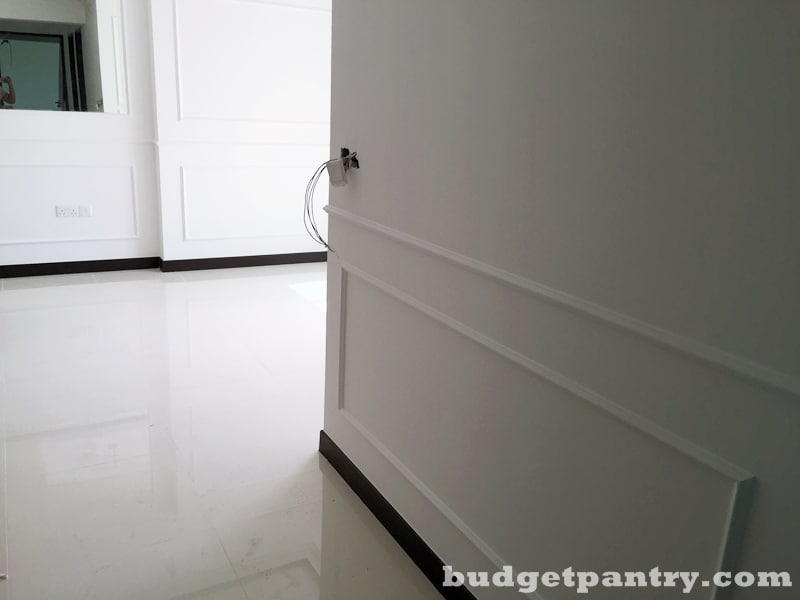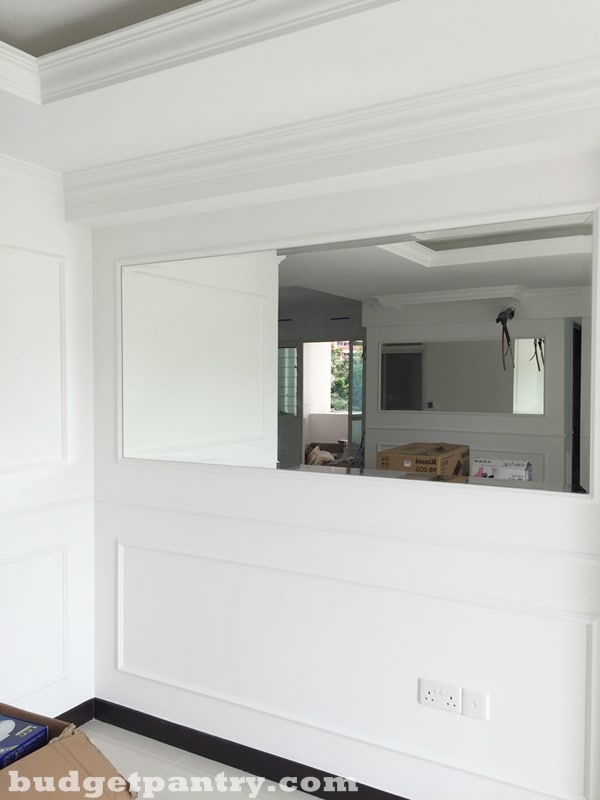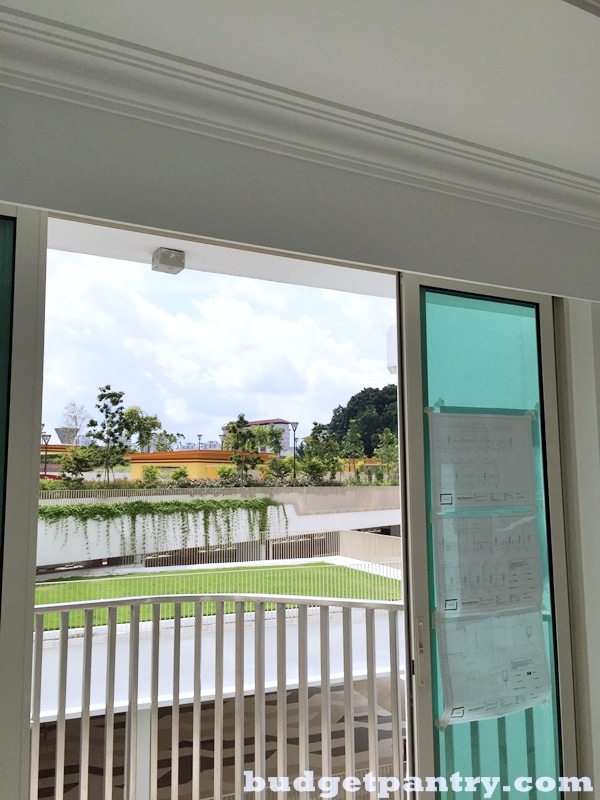 CBB playing peekaboo with her two front teeth!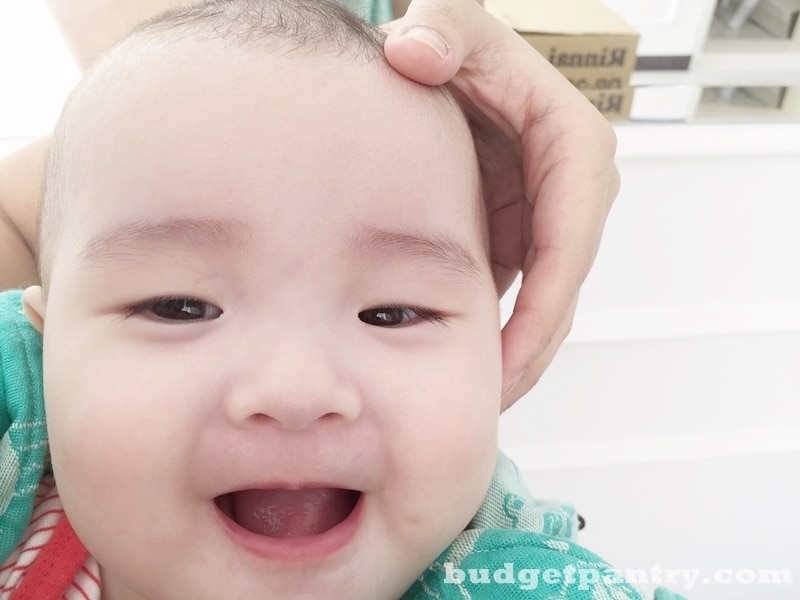 Our oven, hob and chimney hood are from Rinnai. I will be writing about their inner flame technology soon! The Crestar fan is for our main bedroom, which also has a false ceiling – so we can only afford up to a 32″ fan in the room (but Crestar doesn't have 32″ so we got 30″).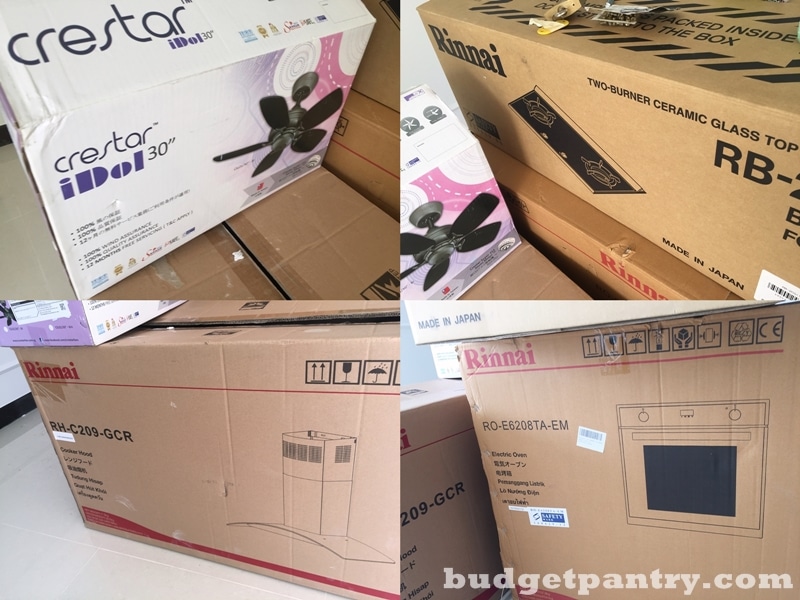 Basic lights from sglightings. Not super alot of selection, but all the basic stuff plus reasonable selection is available there. I think you will like it if you're going for the Scandinavian or industrial look. Pricing is great and transparent. We saw the same bedroom light selling 3 times the price at other lighting places (not kidding, $65 vs $195 at Chelsea Lighting at Jurong East). Our dining and balcony lights are from Design Light from Jalan Besar Plaza. Love that place too.. super good service and price. We got our crystal lamp for the dining area for $298, at a 51% discount!
Sanitary items from Hoe Kee. They didn't have the colour for the Blanco granite sink we wanted, so we got another brand from a store in Tradehub 21. This is the Grohe rainshower that Jason can't wait to bathe in.
The living room and balcony view: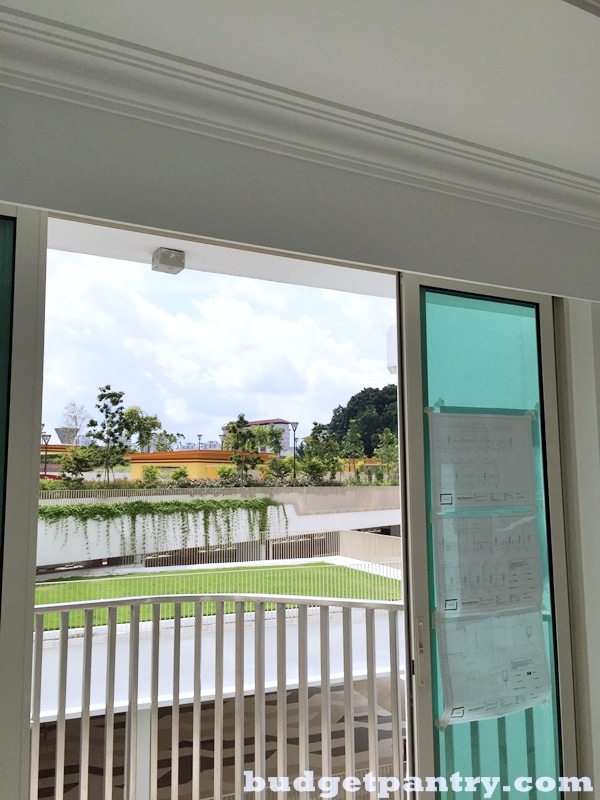 By this time, CBB has fallen asleep: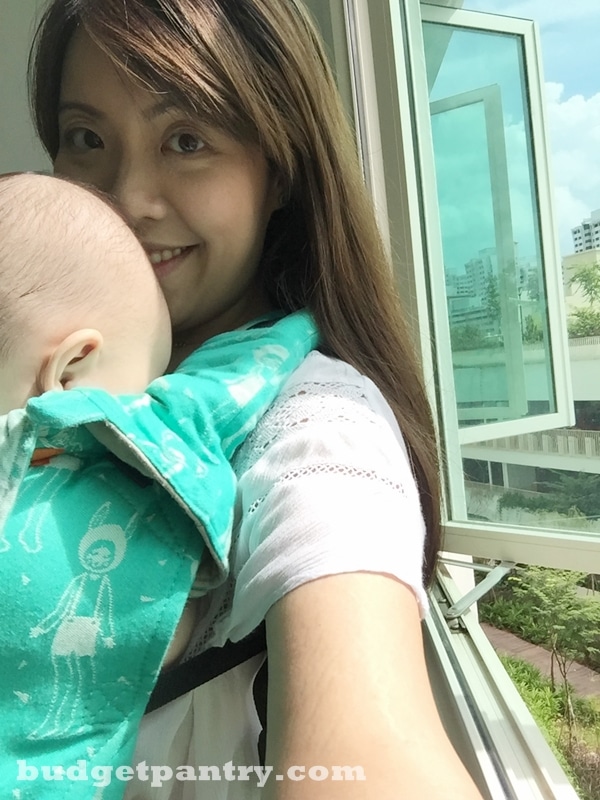 My subway tiles for one side of the kitchen: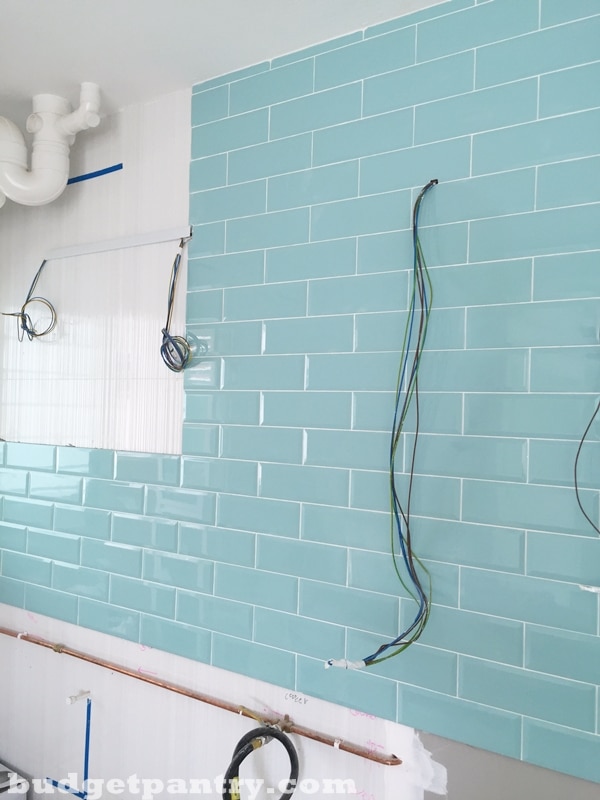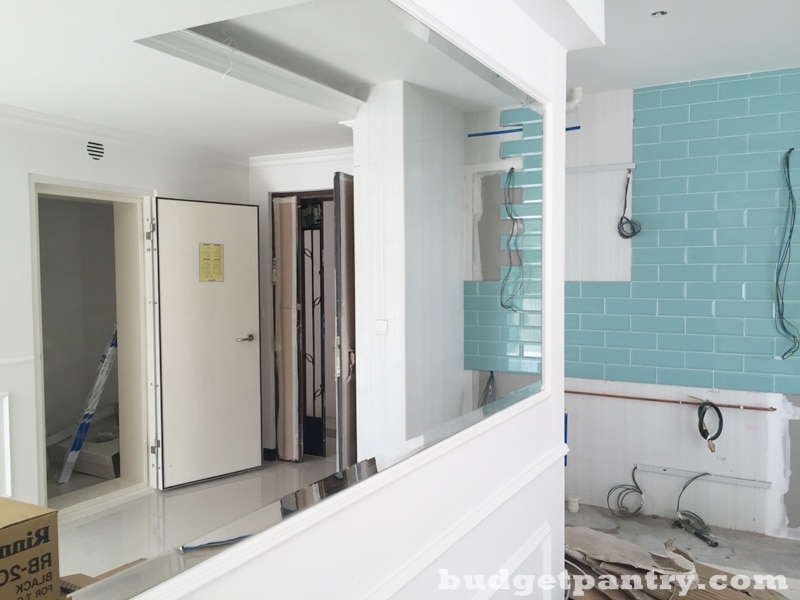 We're considering installing solar films for our windows to keep the heat out, and will be having day and night curtains for the living room and bedrooms. For the balcony, we're still looking at installing a child safety rail or barrier. Furniture shopping is the last on our list. I don't even know what to do with the other two empty rooms yet! If have any recommendations or wish to feature your product or services, contact me! Can't wait to see the final product although I already feel sucky that I have to move out of my aunt's place. I have stayed with them forever!! Waaaaah!
If you like my posts and updates, or would like to be informed of baby/cooking-related giveaways and promos from time to time…..
Like my Facebook page or follow @budgetpantry or @chuabeebee on Instagram! Yes, I just started an Insta account for CBB too!