15-minute dinner: Mui Fan 烩饭
So my right hand is in a hard plastic splint so I can't really do all the swishing you would expect of a satisfying stir-fry. But the husband still need to eat right? I decided to make one of the easiest no-effort-needed dishes I can think of: Mui Fan 烩饭.

For a super quick dinner, I gathered all the core ingredients I needed: prawns, leafy vegetables, eggs, mushrooms and carrots.. and in 15 minutes, food is on the table!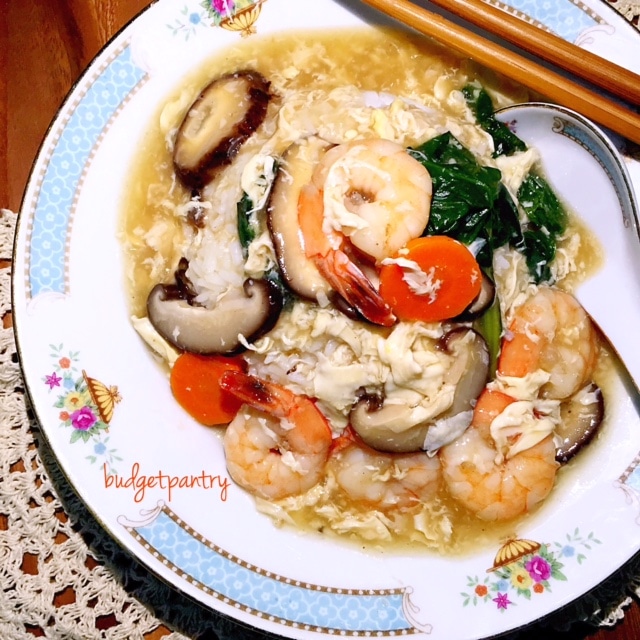 You should really add some meat slices in this dish, but since I didn't have any, I left them out. And although Mui Fan is a delicious, convenient and comforting dish to cook, I don't actually recommend you cook it too often because of the sodium content. Yes, the gravy is so delicious, you will tend to finish every last spoonful. What kind of blogger am I to discourage you from cooking a recipe I'm posting? I dunno, a conflicted one maybe. And since I'm at it, this dish also has way too much carbs as compared to protein and vegetables, so only cook this in an emergency, like when your hand is in a splint.
You're welcome to cook this everyday, though, in all sorts of variations, if you just want to eat tasty stuff. The gravy is great for hor fun and ee mee too. I love it! Enjoy!
Mui Fan
(budgetpantry.com)
Serves 2
Cost per serving: $2.50
What you need:
2 servings cooked rice
1 tablespoon olive oil
1 teaspoon minced garlic
3 slices ginger
12 pieces prawns, with tail on
Half a carrot, sliced
2 fresh shitake mushrooms
Handful of leafy vegetables
3 teaspoons concentrated chicken stock (I used Woh Hup)
1 teaspoon oyster sauce
2 teaspoon light soy sauce
1 teaspoon fish sauce
Splash of Chinese cooking wine (hua diao jiu)
500ml water
1.5 tablespoon corn starch dissolved in 3 tablespoons water
Dash of white pepper
2 eggs, beaten
Steps:
Heat up the oil and fry ginger and garlic till fragrant. Add the carrots, mushrooms and prawns and fry for a minute.
Add the seasonings: concentrated chicken stock, oyster sauce, light soy sauce and fish sauce and stir fry to combine. Add the 500ml water and vegetables, then bring to boil.
Add the corn starch water and reduce heat to simmer till slightly thick. Hold a fork over your frying pan and drizzle egg mixture through it, ensuring the egg is distributed evenly. Finish with a splash of cooking wine and dash of white pepper.
Ladle on top of hot steamed rice and eat immediately.
How much I spent:
$4 for prawns (I use frozen shelled prawns with tail on)
$0.30 for mushrooms
$0.15 for carrot
$0.60 for eggs
Everything else from my pantry