Stir Fried Bittergourd with Egg 苦瓜炒蛋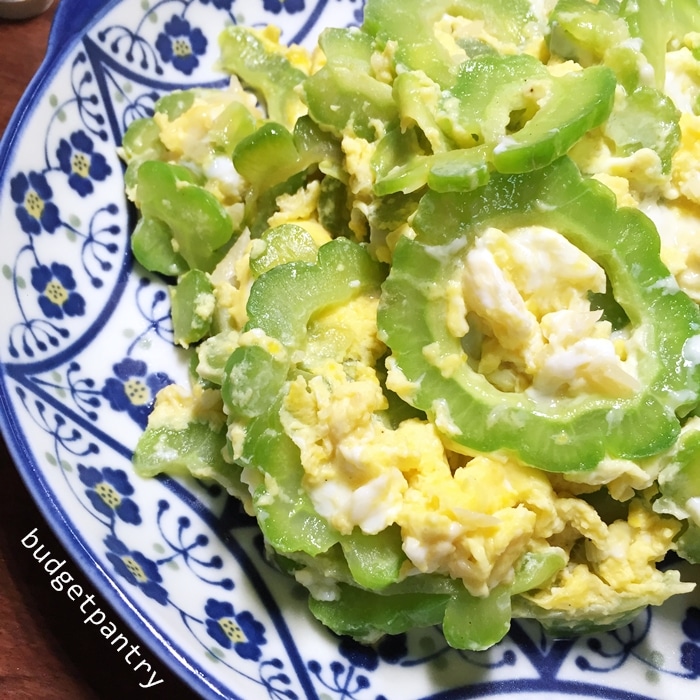 Bittergourd is a vegetable that you either love or hate. I hate it. LOL. But everyone else in the family loves it, including the husband. So although I don't like to eat bittergourd, I often cook with it. I can't remember if I've shared my pork rib bittergourd with fermented black bean sauce recipe before, but my aunts actually said it reminds them of THEIR mom's cooking. Wow they just propelled me to another level wtf I don't deserve this.

I shall cook that dish again one day and make their day.
I ordered a crazy variety of vegetables from Opentaste.sg that day (don't miss their $15 off first order offer. punch in my code '240D2E' at checkout), and added a few bittergourds to my cart. My aunts were quite happy. And it certainly came into good use the week Amber (and I) fell sick and all I could manage was real simple cooking.
How do you choose bittergourd if you're buying it from the market? If you prefer something more bitter, choose one that's darker in colour, or better yet, get those baby ones. For less bitter taste, get one that's light green. Depending on how you slice it, remove the seeds either by scraping them off (together with the white part) with a spoon (if you're slicing them length-wise), otherwise slice into circles and push the white part out with your thumbs. That's what I do anyway and I sometimes find it faster than using a spoon or knife.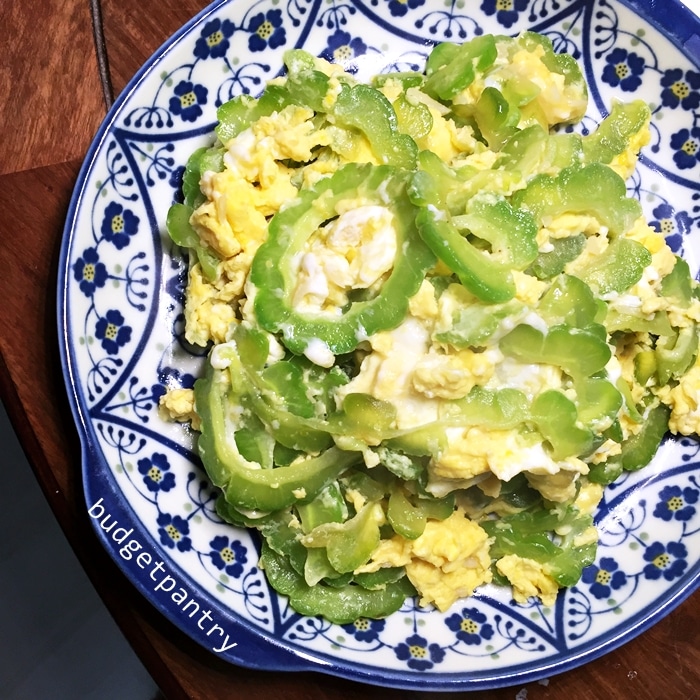 To reduce bitterness, soak sliced bittergourd in saltwater for 15 minutes, then drain, rinse and pat dry. Why eat bittergourd if you don't want it to be bitter? Beats me, but that's why some people do anyway.
For an easy extra dish on the dining table, cook this. 10-15 minutes from start to end if you don't soak, and that's perfectly fine. Bought too much? Use them in stews or a simple soup. Those who love them really do.
If you like my posts and updates, or would like to be informed of baby/cooking-related giveaways and promos from time to time…..
Like my Facebook page or follow @budgetpantry or @chuabeebee on Instagram! Yes, I just started an Insta account for CBB too!
Stir Fried Bittergourd with Egg 苦瓜炒蛋
(budgetpantry.com)
Serves 2-3
What you need:
1 medium bittergourd, sliced thinly and seeds removed
1 teaspoon soy sauce
2 eggs
1 teaspoon minced garlic
1 tablespoon olive oil
Steps:
Soak sliced bittergourd some salt water for 15 mins to reduce the bitterness (you can skip this step). Drain, rinse and pat dry.
Heat up the oil and fry garlic till fragrant, about 30 seconds. Add the bittergourd and fry until soft and translucent.
Push the bittergourd to one side and crack in the eggs. Allow to set for just a bit before mixing them together with the bittergourd. I find that this makes the dish drier (and more fragrant), which I like. Drizzle in the soy sauce. Mix well and serve.