Product Review: KitchenAid Artisan Stand Mixer KSM150

(*in hyperventilating mode looking at these!)
Every time someone asks me to recommend a higher-end stand mixer for cakes and breads, and for whipping egg whites quickly, I reply apologetically that I am not qualified to give a recommendation.
You see, this is what I have been using for the past 4 years:
I am an amateur baker but I love to bake. The first thing I ever baked was rock buns in home economics class. And in the next few months, I "progressed" proudly to making chocolate chip cookies. "50g sugar = 1 level tablespoon. 50g flour = 1 heaped tablespoon." I chanted in my head those times in the school kitchen. I was a fine student in baking and cooking, but when it came to sewing, I caught Miss Lim rolling her eyes at me (or us, the adolescent girls) quite a few times. I could't blame her though. I had a penchant for sewing skirts upside down, but this is a story I will reserve for another day.
My $26.90 Aerogaz plastic stand mixer from Carrefour has served me well over the years, for very basic muffin, cake and cookie baking. The other day, I naively attached the dough hooks and wanted to try kneading bread in the mixer for the first time. I had everything ready. The dough hooks were doing their job well, twisting the dough repeatedly. Bread-making was going to be a breeze! Or so I thought. In less than 3 minutes, the mixer stop moving. The plastic casing was burning hot. My dough stopped kneading. I was mortified. The motor was dead! I had good intentions but the wrong equipment. I ended up kneading the dough by hand to very imperfect results.
So imagine how floored I was when I was given the opportunity to have my very own KitchenAid. A KitchenAid? In my kitchen? This is anyone's dream machine!
The KitchenAid Artisan Stand Mixer KSM150 (usual price $829)


How to resist this you tell me? This is mine in Raspberry Ice (aka Metallic Fuchsia).
When deciding to invest in a high-end kitchen machine, what do you look out for? The power and watt? The size and weight? The price and affordablity? The COLOUR and DESIGN? (hands up, you who love pretty things.)
The KitchenAid Artisan Stand Mixer's distinctive design and pretty selection of colours make it a veryyy desirable tool in any kitchen. Not only can it help in mixing batters and kneading dough, it can also perform endless culinary tasks, from making fresh pasta and ice cream, to slicing vegetables and grinding meat. All you need to do is to attach the wide variety of accessories and mixing tools newly designed by KitchenAid to enhance its versatility and flexibility. Individual attachments that you can buy to perform different functions:
Pasta Sheet Roller and Cutter Set, Ravioli Maker, Pasta Shape Press


Fruit & Vegetable Strainer, Rotor Vegetable Slicer and Shredder, Juicer


Food Grinder, Sausage Stuffer, Ice Cream Maker


Watch this video to see all the magic that the KitchenAid Artisan Stand Mixer can do:
Now let's see how easy it is to beat egg whites til stiff peaks with the KitchenAid!
Step 1: Start by separating egg yolks from the whites, making sure no yolks are present anywhere in the whites. I'm using 4 egg whites here.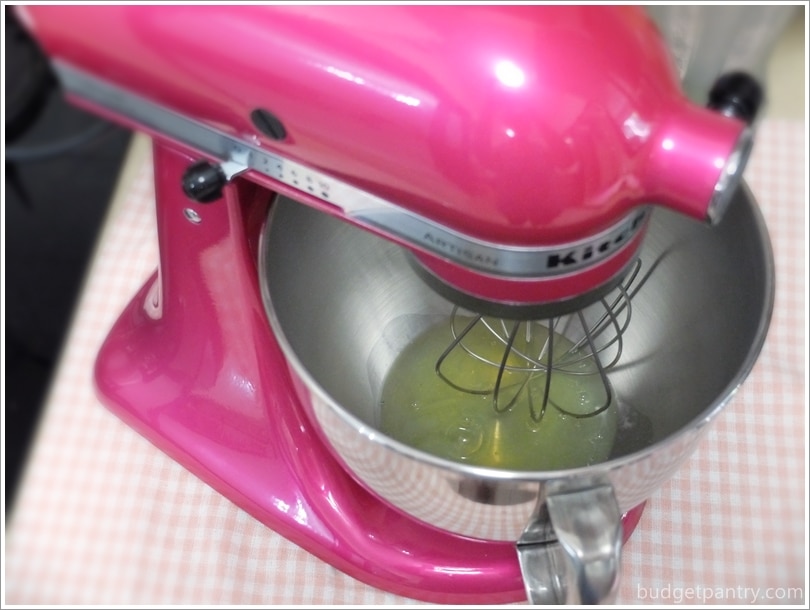 Step 2: Beat at Speed 4 for 1 minute.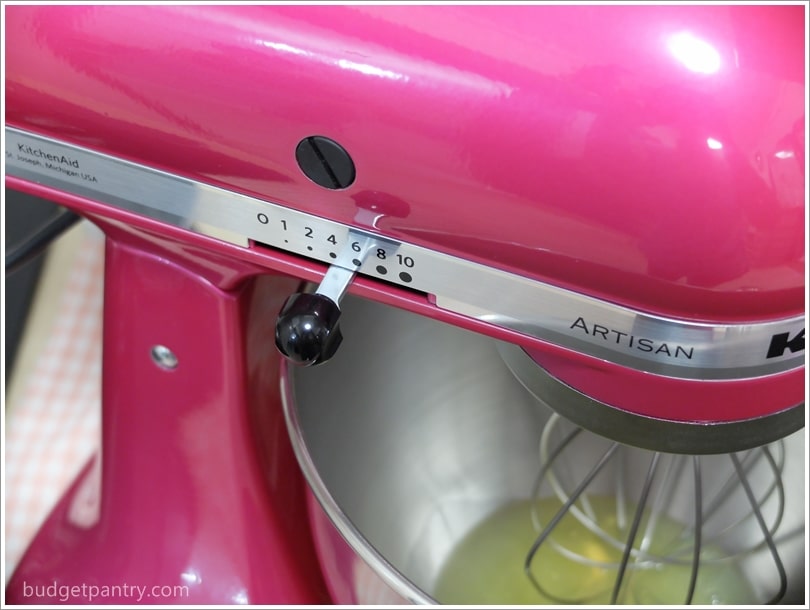 Step 3: After 1 minute, you should get frothy bubbles. Add 1/2 teaspoon cream of tartar. I accidentally used a little bit more here. Ha!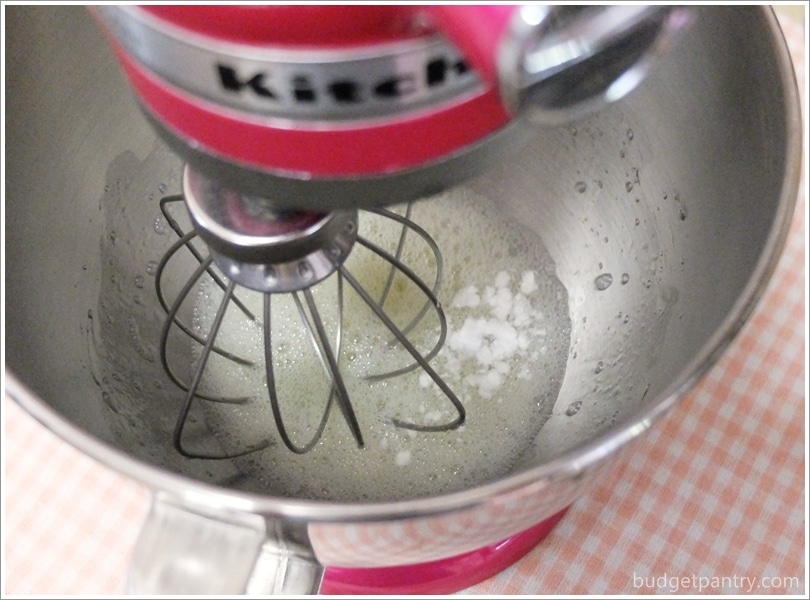 Step 4: Beat at Speed 6 for 2 minutes. You should get soft-medium peaks.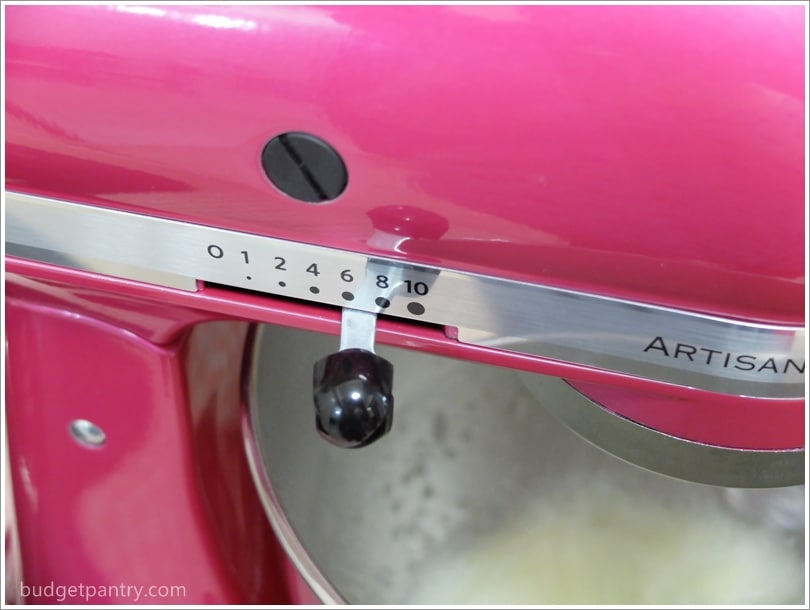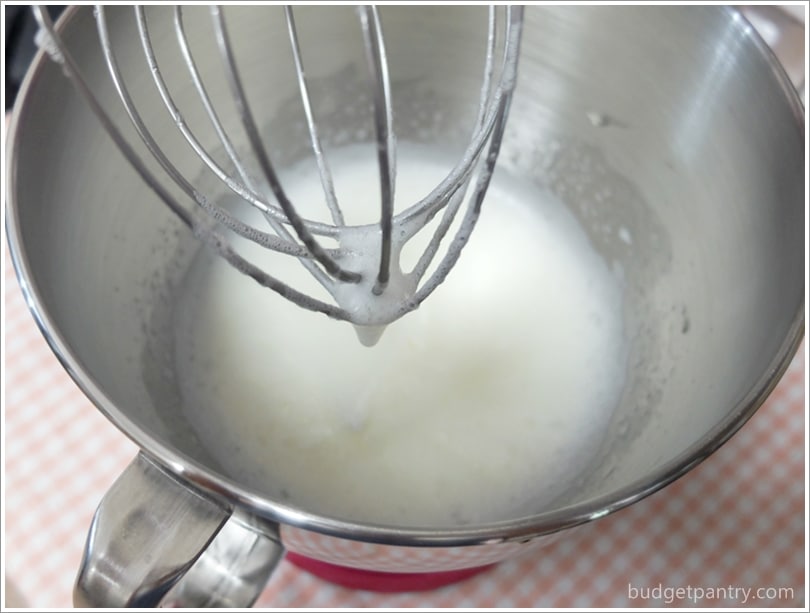 Step 5: Beat at Speed 8 for 4 minutes. You'll get stiff peaks like this! It doesn't get any easier than this.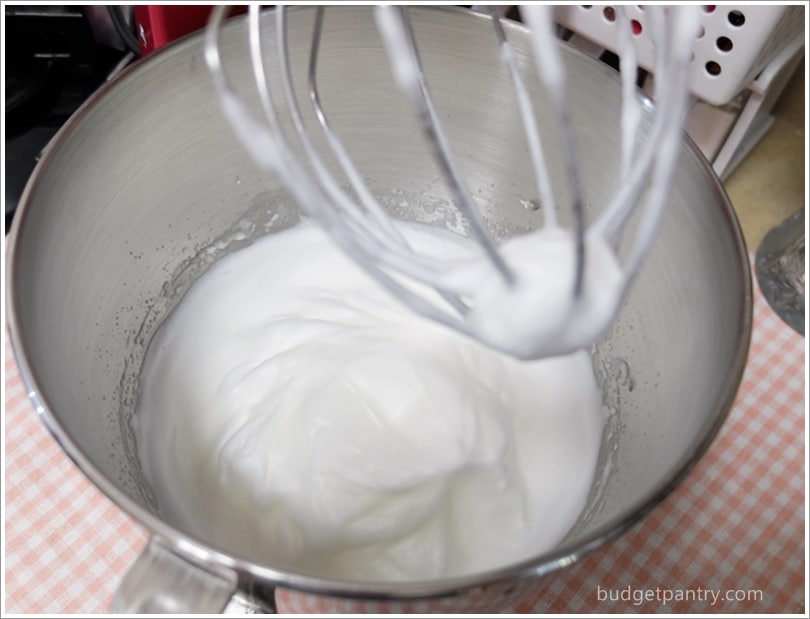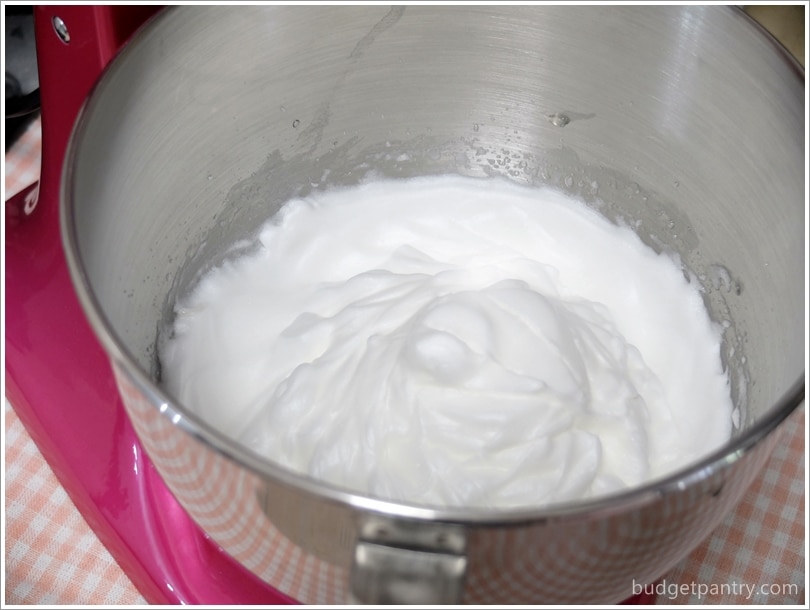 The KitchenAid Artisan Stand Mixer KSM150
Specifications:
10-Speed Control
Locking Tilt-Head Feature
Planetary Mixing Action
Power Hub for Additional Attachment
Comes with:
.Stainless Steel Mixer Bowl (5Qt)
.Pouring Shield
300 Watts Direct Drive Motor
220 – 240 V / 50 – 60 H
———————————————————-
KitchenAid is solely distributed by Mayer Marketing. Their showrooms can be found at these locations islandwide:
– Great World City, 1 Kim Seng Promenade, #02-25. Tel: +65 6838 4079
– Plaza Singapura, 68 Orchard Road, #05-06. Tel: +65 6835 8272
– IMM Building, 2 Jurong East St 21, #02-10. Tel: +65 6563 4288
– Causeway Point, 1 Woodlands Square, #03-13, Tel: +65 6767 1017
– Excalibur Centre, 71 Ubi Crescent, #06-01/04. Tel: +65 6542 6868
Thank you Mayer Marketing for gifting me my dream machine. Look out for my KitchenAid recipes coming your way!