Easy Garlic, Onion & Rosemary Focaccia Bread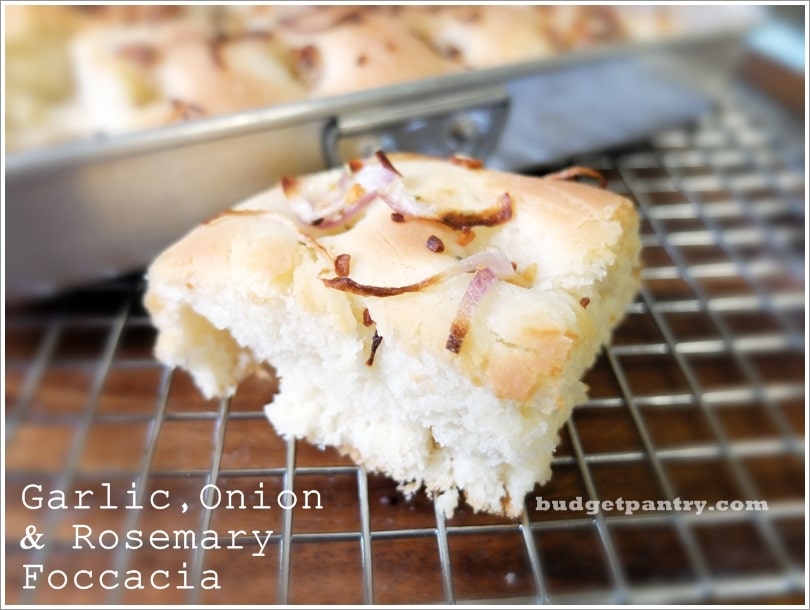 Before the KitchenAid, I've tried making bread from scratch once but failed miserably. The recipe seemed simple enough, but it was my amateur kneading "skills" (I have none) that destroyed the bread. I attempted sugar butter buns I think, but because I didn't know how to knead the dough, the texture turned out heavy and dense and the "buns" were inedible.
I've made pretzels a few times with success though, but they're not as complicated as bread. After that first failure, I stuck to cakes and muffins and cookies– I could make those– and never ventured into bread again.
Until I decided to put all my trust in the KitchenAid today. I was quite ambitious- I didn't want a plain white loaf. I wanted to make focaccia. Can't even make buns want to make focaccia? Really?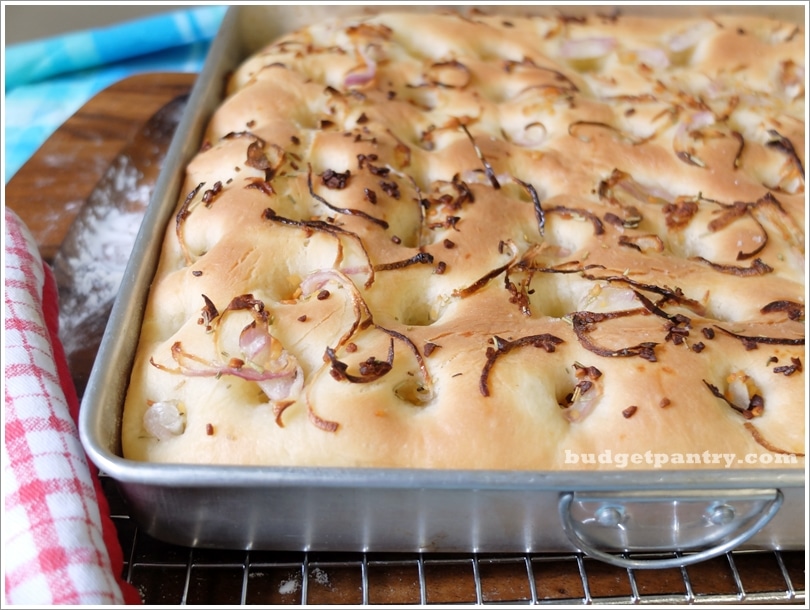 And that's how it turned out. Fragrant, crispy and soft at the same time, infused with fresh olive oil, aromatic garlic, onion and rosemary and sprinkled very lightly with salt, this exotic bread is one of the best things I've ever baked.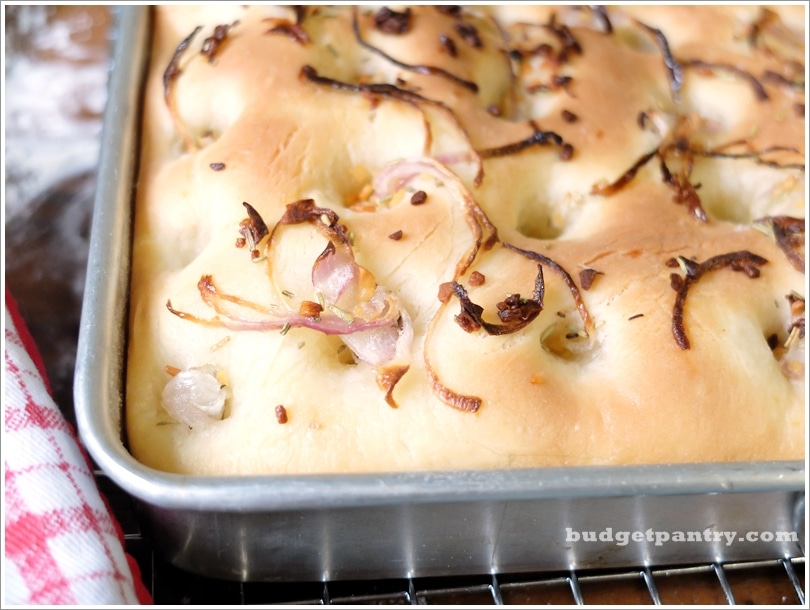 I was eager to show Jason my creation and couldn't wait for him to come home from his RT (thanks SAF!). He said he wanted to eat it with some ham and cheese, and I thought he meant "on the side". But noooo.. he had to top my beautiful bread with ham and cheese singles, immediately turning it into your neighbourhood bakery's 1 for $1 kinda bread. My heart ached the entire time I was laying the ham and cheese on top of my beautiful focaccia: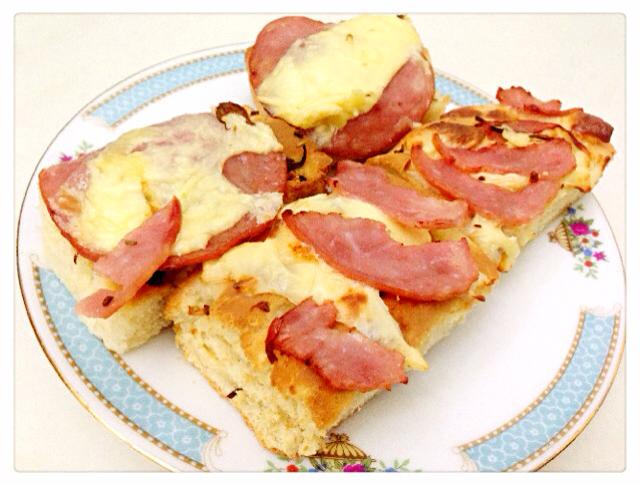 I cannot deny that it was delicious. But this thing is so ugly please! Creations are meant to be aesthetically pleasing to the eye!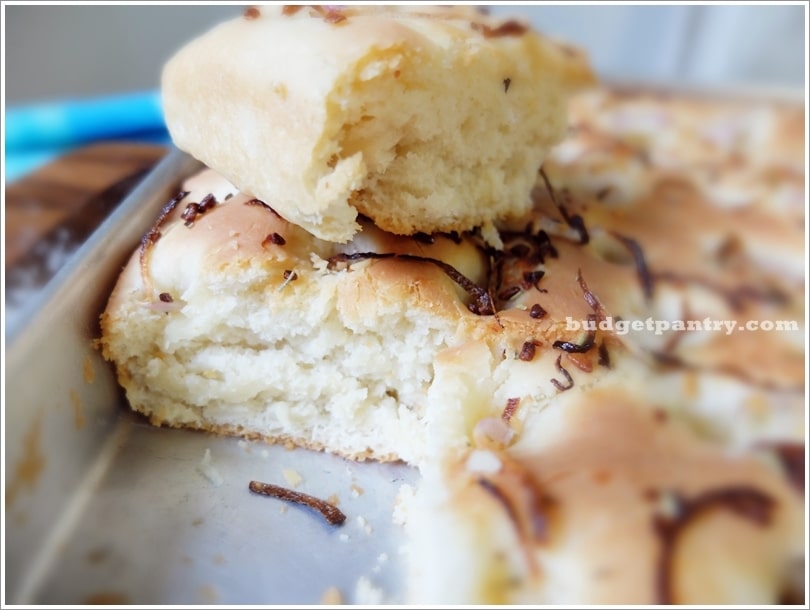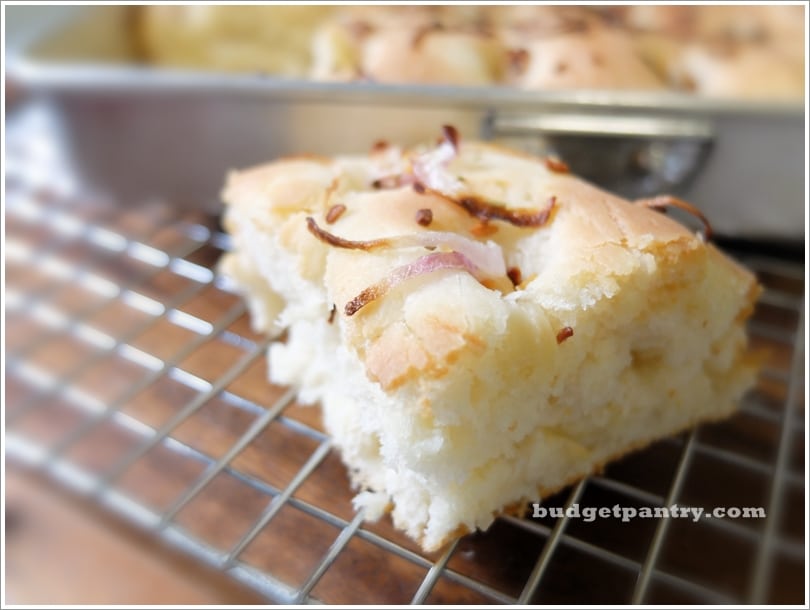 There. Much better. I was absolutely blown away by how easy the entire process took. You heat up some milk, add the sugar and yeast, let it foam, combine it with olive oil, flour and salt, and let the KitchenAid do the work. After the dough rises, prod it with your index finger to make indentations, then brush on your garlic onion oil. Pop it into the oven for 22 minutes. My whole house smelled absolutely amazing this afternoon.
Please try this recipe out. I promise you'll like it! (and oh yes, the entire pan costs me all of $1.85!)
Garlic, Onion & Rosemary Focaccia Bread
Makes one 10.5″ x 10.5″ pan
Total cost per serving: $1.85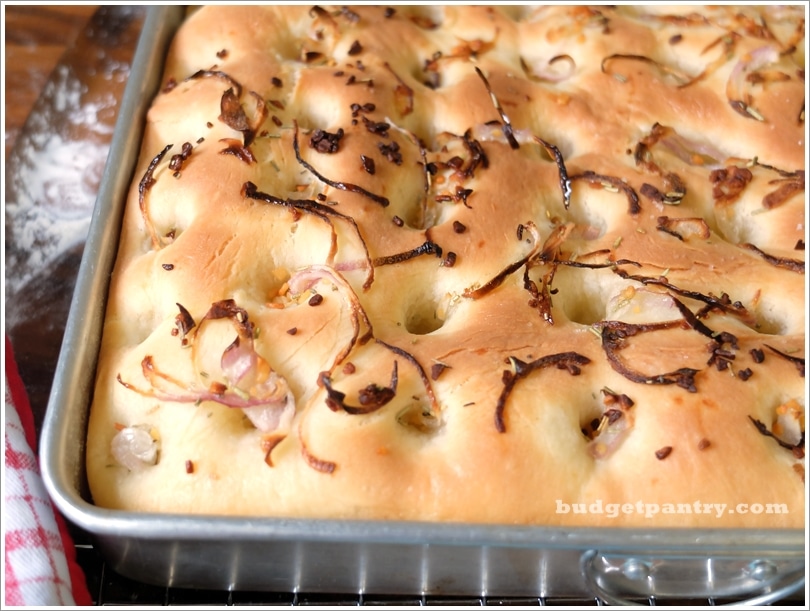 What I used:
330ml full cream milk
1 teaspoon granulated sugar
2 teaspoons Saf-Instant Dry Baker's Yeast
450g plain flour (about 3 and a half cups) plain flour (plus more if needed)
2 teaspoons salt
1 tablespoon olive oil
For herb oil topping:
3 tablespoons olive oil
Half a red onion, sliced thinly
1 teaspoon minced garlic
A sprinkle of rosemary
A sprinkle of salt
Steps:
1. In a saucepan, heat up the milk til warm and dissolve sugar. Switch off the flame. Set aside for 5 minutes. Sprinkle the yeast and leave it alone for 10 minutes. The yeast should foam.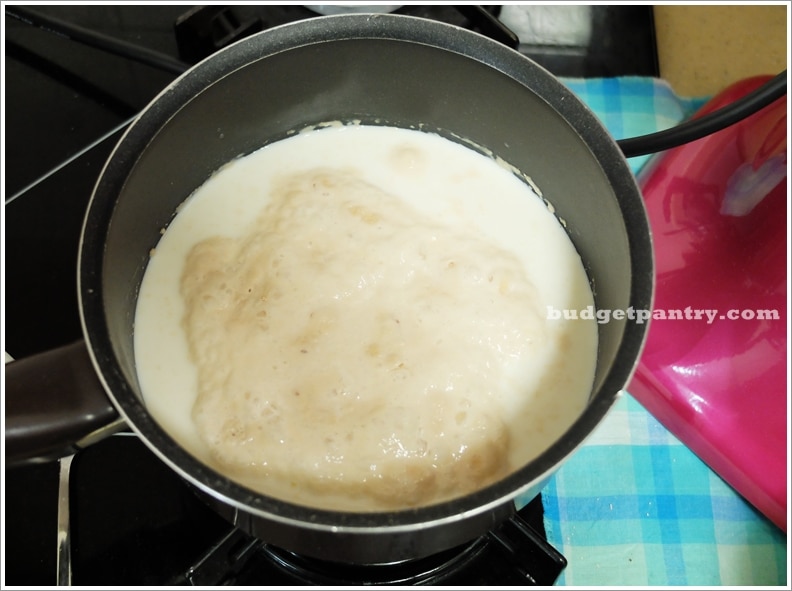 2. Sift flour and salt together in your stand mixer bowl. Add in the entire yeast and milk mixture, plus the 1 tablespoon of olive oil. Use the paddle attachment to mix well. If the dough is too sticky to form, add in additional flour bit by bit so that the dough comes together. If you don't have a paddle attachment, you can use a spatula.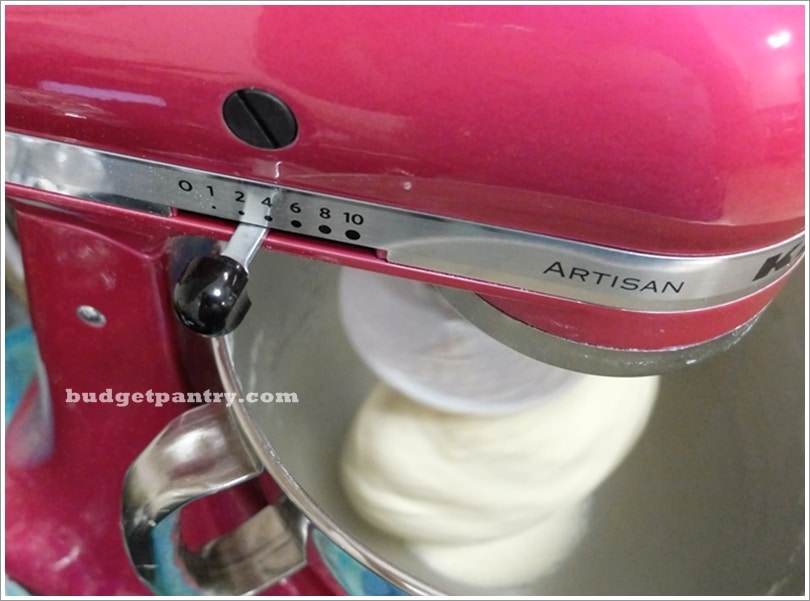 3. Now use the dough hook and knead at for 10 minutes (if using KitchenAid, use speed 2), until the dough pulls away from the sides of the bowl. While the dough is kneading, preheat your oven for 5 minutes at just 140C).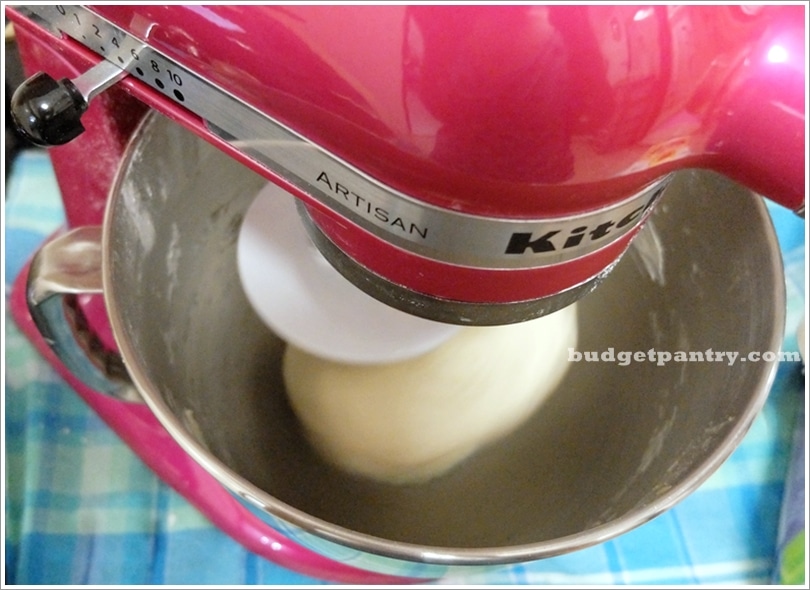 4. On your counter top or a clean surface, roll out the dough, then carefully transfer it to your baking pan (oil it first with a bit of olive oil). Cover with a piece of cloth.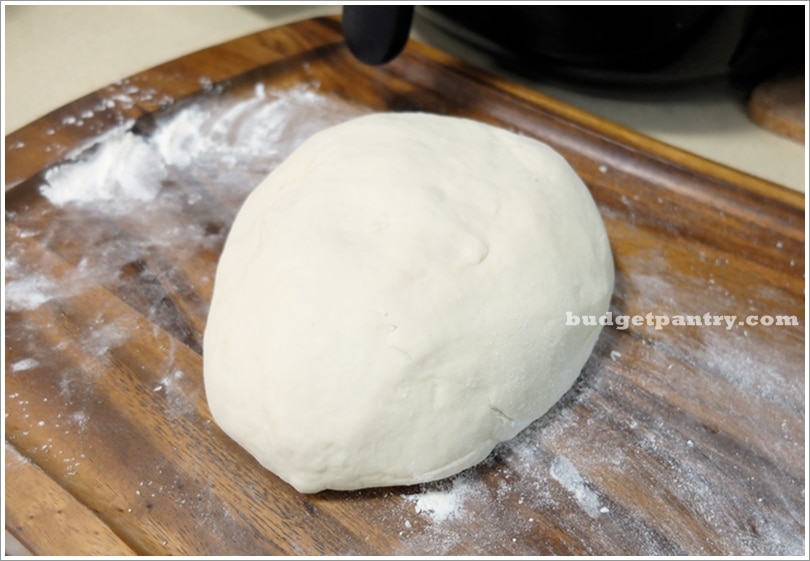 5. Remember the oven we preheated in Step 3? By now it would have switched off. Put the covered pan into the oven and let it rise in the residual heat for 1.5 hours. While the dough is rising, prepare the herb oil. Combine sliced onions, garlic, rosemary and olive oil in a bowl;


6. When the rising time is up, make indentations into the dough with your index finger. Believe me, it is wonderfully pillowy soft!


7. Scatter the herb oil on top and finish with a sprinkle of salt. Bake in a preheated 200C oven for 20-25 minutes. Cool slightly for 5-10 minutes before eating! If you can't wait.. ok go ahead!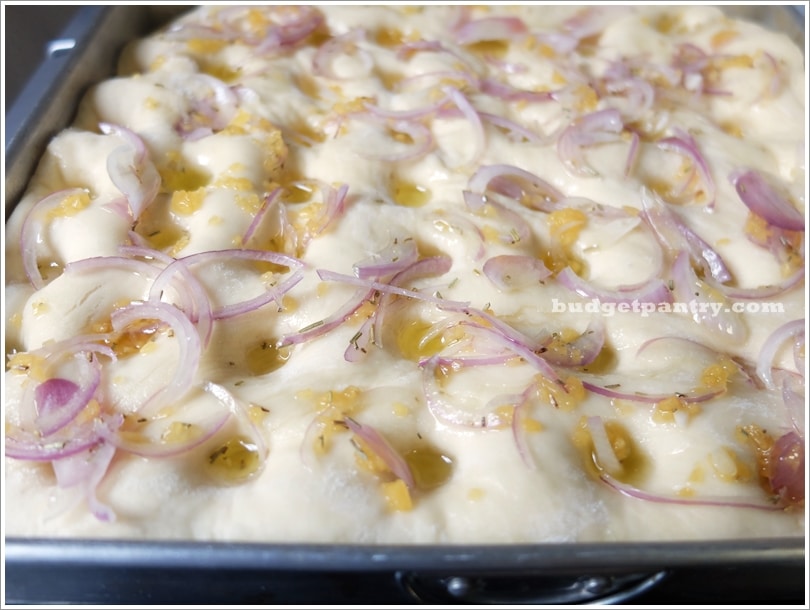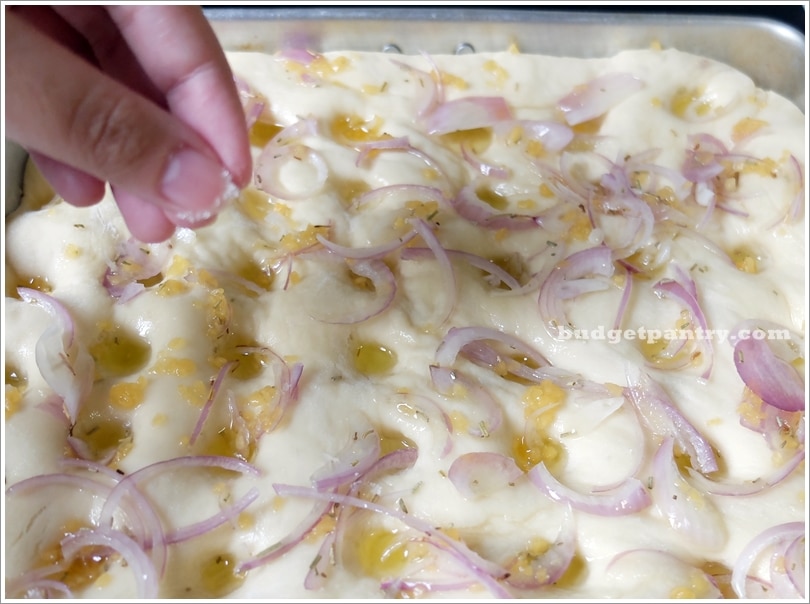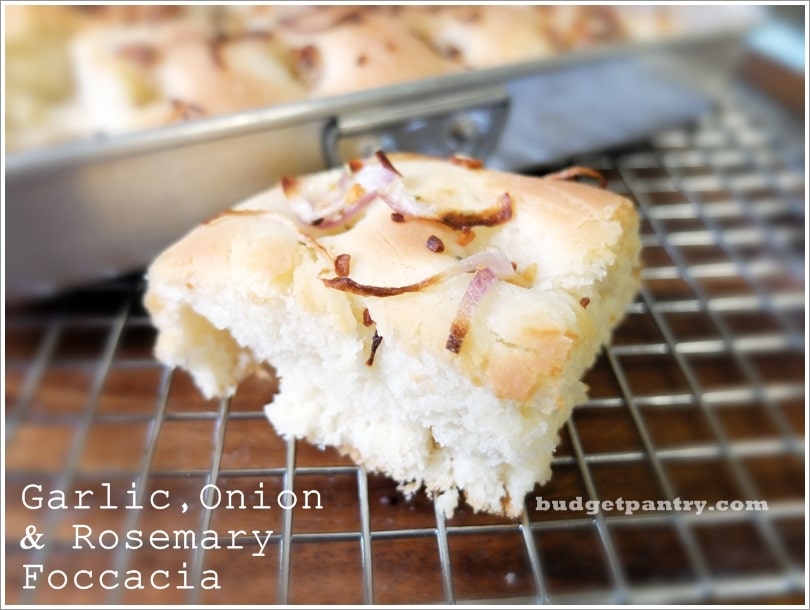 How much I spent:
$0.60 for milk (I bought 2 litres for $2.95 UHT milk and used 330ml)
$0.10 for red onion
$0.75 for plain flour (got a 1kg pack on sale for $1.50)
$0.40 for yeast ($1.95 for 5 sachets)
Everything else from my pantry