Airfried Batang Fish (Kite Fish) in Black Pepper Sauce
There's always alot of fish in my freezer. I get my fish supply from Song Fish because Jason and I are fans of their salmon, saba and batang fish. Their salmon fillets are $20 for 6 portions, saba $13 for 5-6 I think, and batang fish $10 for about 6. Fits right in my budget! If you've been following my blog, you might have seen my salmon and saba dishes, all airfried, and when I cook batang, it is usually airfried, too. I can't imagine cooking fish any other way.
So the other day I decided to be more adventurous (hur hur) by cooking batang fish in a black pepper sauce. I say more adventurous because I've been pretty lazy recently and all I've been doing for dinner these days is this: defrost fish, rinse, season, airfry and eat. I used to flake salmon, add to mashed potatoes & vegetables, season, coat with breadcrumbs and make fancy crispy salmon patties, but the weather's too hot lately. #nolinkbuticantry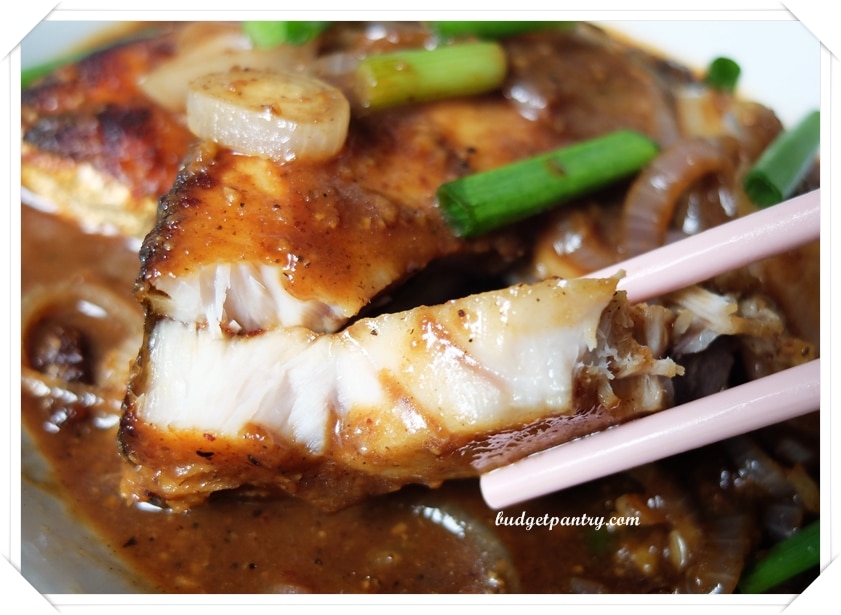 Batang fish can taste fishy sometimes and if they're fresh or properly frozen, it doesn't mean they've gone bad. According to Don Glass from A Moment of Science, "fish tissue contains an odorless chemical known as triethylamine oxide. Once the fish is killed and exposed to air, the chemical breaks down into derivatives of ammonia, and therefore smells bad."
However, if your fish starts to smell sour or ammonia-like, it is time to throw it out. To eliminate the "fishy" taste from fish, I do this: soak the fish in milk in the refrigerator for at least an hour and rinse it before cooking. This is a tried and tested method because I do this all the time. "The Science Behind the Fishy Smell in Smelly Fish" says that this "removes all traces of fish stench because the acids in citrus and milk neutralize the bases from the triethylamine (oxide)." You can use UHT milk (they're cheaper of course), or fresh milk- up to you really. You simply place the fish in a deep bowl, pour the milk and make sure the fish is submerged. Leave for an hour, discard the milk, rinse the fish, pat dry and use as per normal: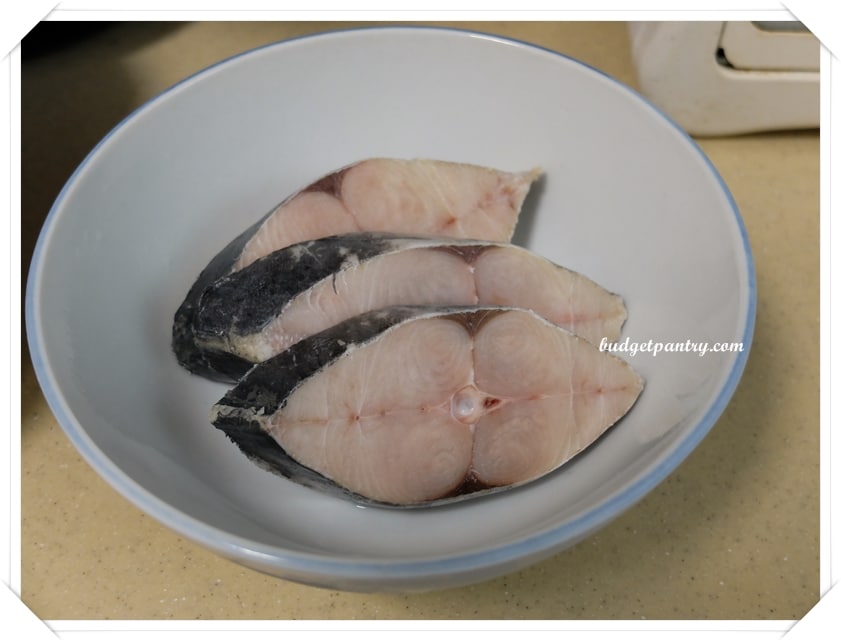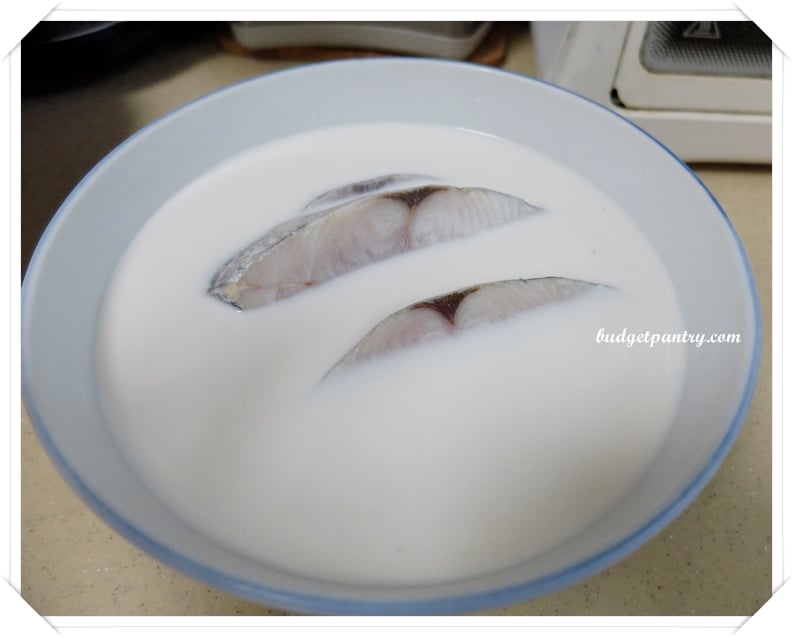 I assure you this gets rid of all the fishy taste that we all hate. And now you're ready to cook airfried batang fish in a black pepper sauce!
Airfried Black Pepper Batang Fish
Serves: 4 as part of a Chinese meal
Total cost per serving: $1.35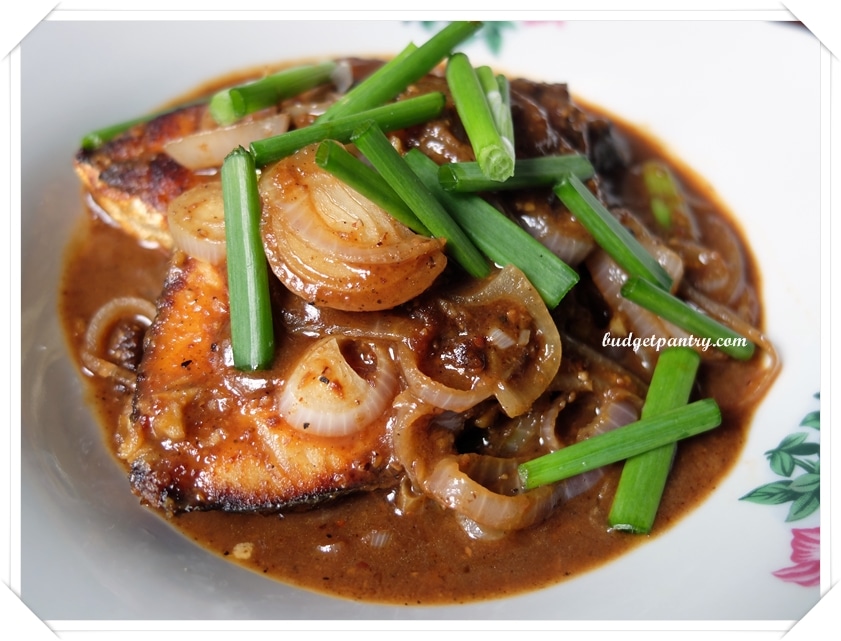 What I used:
3 pieces batang fish, prepared in a milk bath as above
1 medium red onion, sliced
3 slices ginger
3 teaspoons minced garlic
A few sections of spring onions (white part)
A few sections of spring onions (green part)
1 tablespoon olive oil for frying
Cornflour for dusting
For the black pepper sauce:
(OR you could simply use Prima Taste or Lee Kum Kee Black Pepper Sauce- follow the instructions on the packet)
1 teaspoons black peppercorns, freshly grounded or crushed
2 teaspoons sugar
2 tablespoons light soy sauce
1 tablespoon oyster sauce
200ml room temperature water
2 tablespoons cornstarch solution (1 tablespoon cornstarch mixed with 2 tablespoons water)
Steps:
1. Prepare the fish: Remove fish from milk bath, rinse, pat dry. Salt it front and back and place it on a steamer/ wire rack for 10 minutes to force out the water. Rinse it again, pat dry and this time, dust with corn flour both sides. Shake off excess. Spray or brush on a thin layer of cooking oil. Airfry in a preheated airfryer at 180C for 10 minutes. I used the grill pan.
2. Prepare the sauce: In a frying pan or wok, heat up the oil and add the ginger, onion and white sections of spring onions. Fry for a few minutes til fragrant and add the minced garlic. Add in all the ingredients for sauces EXCEPT the water and cornstarch solution.
3. Stir and continue to cook for about 2 minutes, then add the water. Bring to boil then reduce flame.
4. Add in the cornstarch solution and simmer til thickened. Add in the fish and coat liberally with sauce.
5. Cook for a further 2 minutes, off the flame, garnish with spring onions and serve hot.
How much I spent:
$5 for batang fish
$0.20 for red onion
$0.20 for spring onions ($0.20 from the wet market = $1 from the supermart = plus plenty of leftovers)
Everything else from my pantry