Japanese Mushroom Hot Pot with Soy Milk (Tonyu Nabe)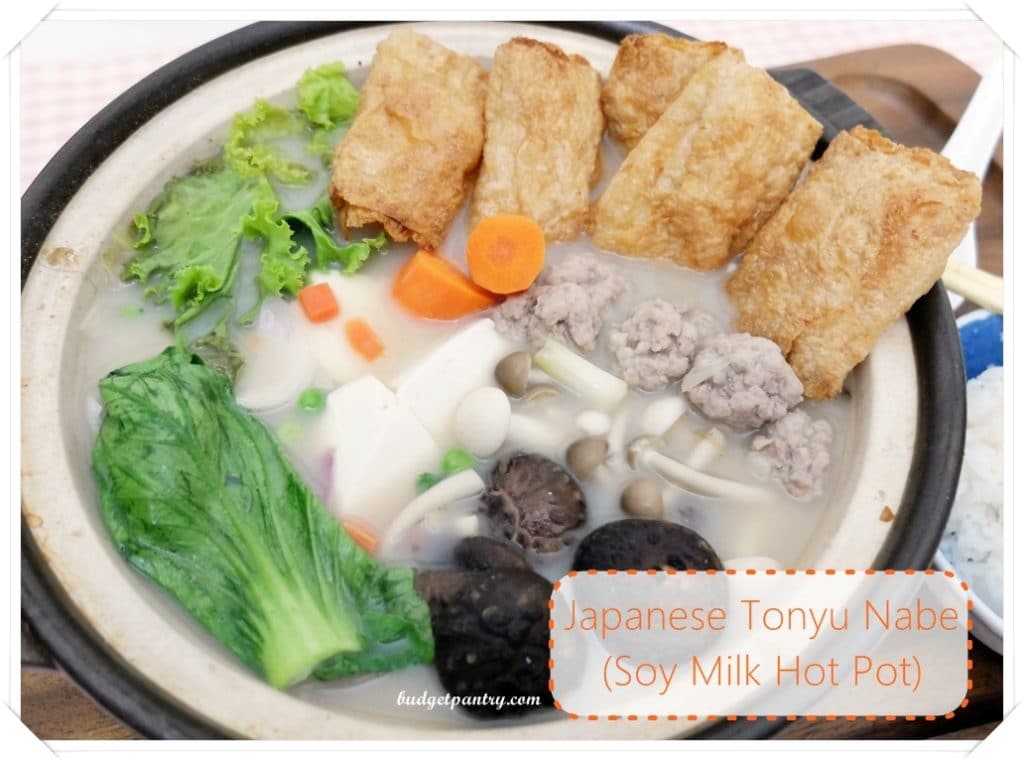 In my quest to eat more healthily this year, I've been cooking alot of fish dishes, like this Garlic-Lemon Mackerel and the Mango Salsa Salmon.
I've also been looking up Japanese recipes as it uses less oil and is simple to prepare, and while browsing the internet the other day, I came across this recipe from Sumo Kitchen. What's Tonyu Nabe, you ask. "Tonyu" is soy milk and "Nabe" means hot pot. Soup with soy milk? Will this taste like our Fish Bee Hoon?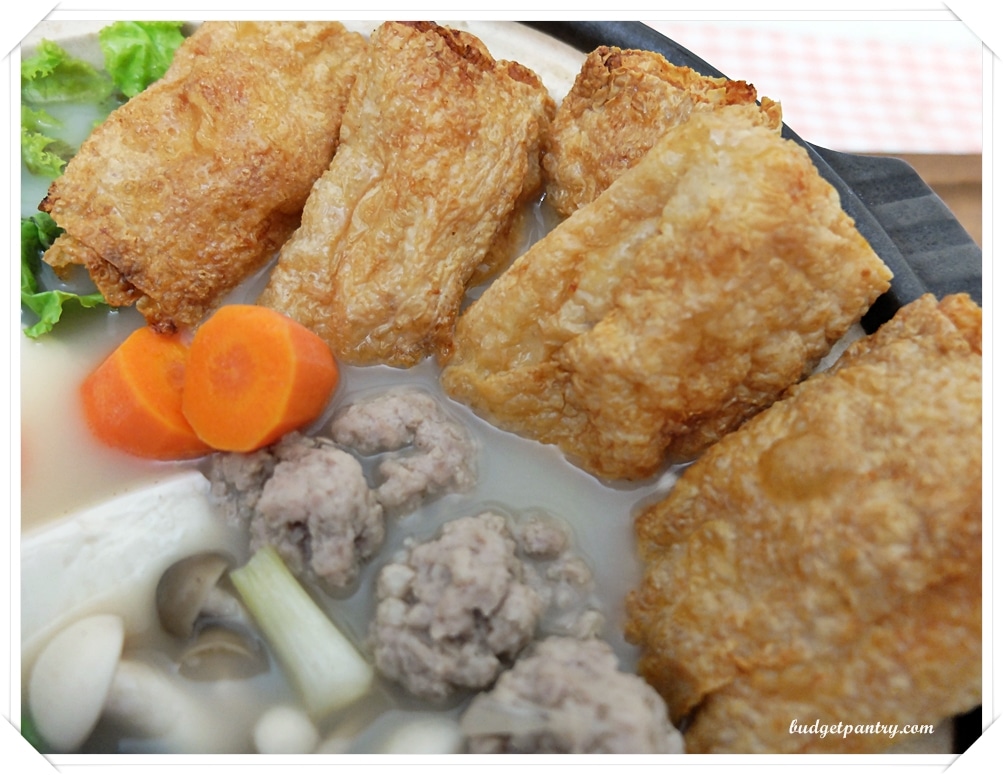 This seemed like an easy enough dish to prepare. Make a soup base and boil all the ingredients together. How hard could it be? I decided to make a mushroom version, using fresh shitake mushrooms, beech mushrooms and white mushrooms. I also added some leftover meat balls from lunch (claypot ee mee!) and some fried bean curd skin from NTUC that I air fried before adding to the soup.
We had this with Japanese short grain rice tonight. What a delightful dinner!
Japanese Mushroom Hot Pot
Serves: 4
Total cost per serving: $2.25
What I used:
200g minced pork, marinated with 1 tablespoon soy sauce, a splash of chinese cooking wine, a teaspoon oyster sauce and pepper
12 fresh shitake mushrooms
A handful each of beech mushrooms and white mushrooms (you can use button mushrooms)
1 carrot, chopped into pieces
1 red onion, chopped into pieces
White part of spring onions, about 4-5 1-inch sections
1 box silken tofu, sliced into ten pieces
1 honey date
Fried beancurd skin
Lettuce leaves
600ml unsweetened soy milk
400ml water
1 teaspoon chicken stock powder (substitute with dashi stock powder if you have it)
1 teaspoon fish stock powder
2 teaspoon soy sauce
1 teaspoon sake
1 teaspoon olive oil
Pepper
Steps:
1. In a large pot, add a teaspoon of oil and fry the white part of the spring onions and onions til fragrant. Add the mushrooms and fry for 3-4 minutes.
2. Pour in the 400ml water and add the dashi/ chicken stock powder, fish stock powder, soy sauce, sake, carrots and honey date.
3. Add in the soy milk and simmer gently, then add the meat balls and cook until the carrots are soft. In the mean time, airfry or deepfry the beancurd skin til golden and crispy.
4. When the carrots are soft, add the tofu and lettuce leaves. Top with the fried beancurd skin just before serving!
5. Enjoy and warm your tummy!
How much I spent:
$2 for beancurd skin
$1.95 for soy milk (I used Nutrisoy)
$0.20 for carrot
$0.20 for onion
$2.50 for mushrooms
$0.75 for tofu
$1.50 for minced pork
Everything else from my pantry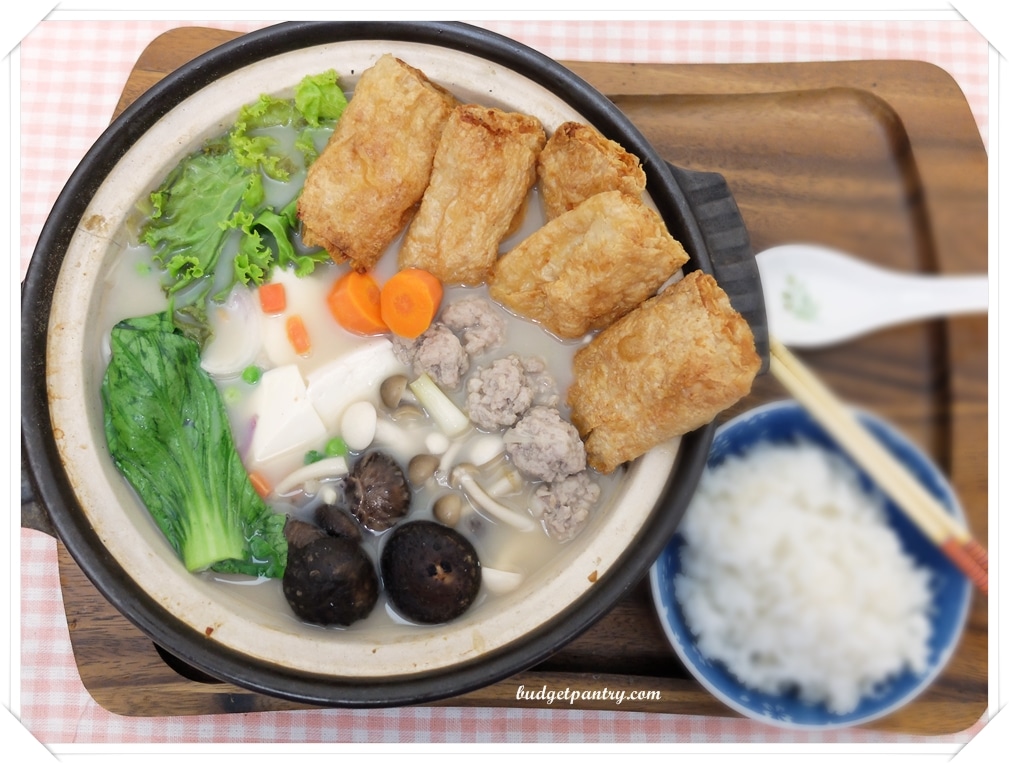 I loved this soup and like how you can add in any ingredients you like. It is nutritious and fits into any budget, and the bonus is, my family really, really adores steamboat-style soups. I'll be cooking another version soon enough with fish slices. Try making your own today, I'm sure you'll like it!