Japanese Ginger Pork (Shogayaki)
When I feel like "splurging" on some Japanese bento when I eat out, I almost always opt for stir-fried ginger pork. Sometimes I go for pork katsu in curry over rice, but most of the time, ginger pork. Most places use Kurobuta pork for its intense flavour (and fat), and I like it, just that in regular home-cooking, not many of us would have the luxury or wouldn't choose to use Kurobuta. What if amateurs like us destroy the meat? And so, I used thinly sliced pork loin fillet. I've not seen this version anywhere except Sheng Siong, so if you're looking to cook this dish, pop by Sheng Siong and grab some. This is a good alternative to shabu-shabu pork for steamboat, too. It is sliced thicker but still juicy and tender. All the better for the dancing chef chilli dip to cling on to.
Look at the subtle amount of fat, and how the meat remains pink and soft, almost ethereal, after a very light pan-braising. I shudder at the thought of cooking and eating dry and lean pork loin, and after last night's pork loin dinner, I probably will never buy pork loin again. I just can't develop a relationship with pork loin chops. "You need fat in a piece of pork", is all I can say. If you can't find thinly sliced pork loin, you can make this with shabu-shabu pork.
Most recipes also call for sake and/or mirin. If you don't have either, you could use white wine and sugar instead.
Japanese Ginger Pork (Shogayaki)
(budgetpantry.com)
Serves: 3-4
Total cost per serving: $1.38
What you need:
500g very thinly sliced pork loin or shabu shabu pork
1 large yellow onion, sliced into rings
4 tablespoons sake or white wine
4 tablespoons mirin
3 tablespoons light soy sauce
1 tablespoon sugar
1 tablespoon grated ginger (with juice)
1 teaspoon olive oil
A pinch of cornflour
Kailan or asparagus, blanched lightly
Steps:
Make a marinade with the white wine, sugar, ginger and soy sauce. Clean and dry the meat completely, the marinate for 5 minutes. Sprinkle flour on top and mix well.
Heat up the oil in a wide frying pan, then add the sliced onions and fry til softened, about 4 minutes.
Add pork from the marinade and fry for 3 minutes, til there are no visible pink parts.
Pour in the marinade, mix well and allow to cook for another 2-3 minutes, til just starting to boil. Serve immediately with blanched kailan or asparagus.
How much I spent:
$4.70 for pork
$0.30 for onion
$0.50 for kailan
Everything else from my pantry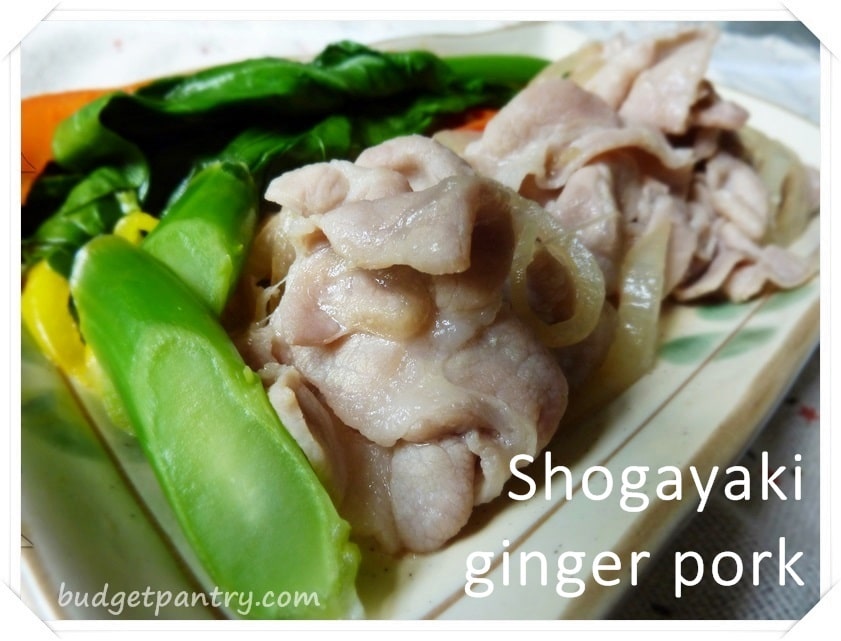 This is one of the easiest and seriously yummy pork dish I've cooked. The entire preparation + cooking time took me less than 20 minutes, including blanching the vegetables. The amount of time you spend in front of the stove is like, what, 10 minutes? This is something that I will cook over and over again because it is so good, and simple to make. Tuck in!