IKEA Veggie Ball Cook-Off: Curried Shakshuka with Veggie Balls
Food Related Sponsorship
Disclaimer: This is a special post brought to you by IKEA. All ideas and comments are my own.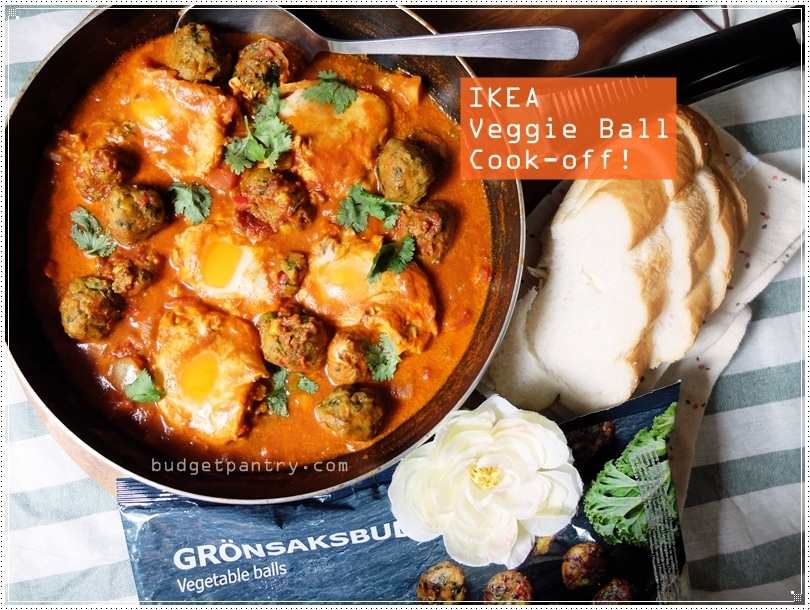 And just when you thought my collaboration with IKEA was over (read this, this, this and this), here I am back with a surprise that will interest you even more – I hope!
IKEA has revamped their menu and with that, introduced a range of new dishes and products including Veggie Balls. Hands up those who visit IKEA for food over furniture! Jason and I had actually tried these vegetables balls in-store, even before the good people at IKEA sent a packet over for sampling. At the IKEA restaurant, they serve the veggie balls with three sauces: yogurt based tzatziki, curry and black pepper. BUT of course, there are many other innovative ways to eat them.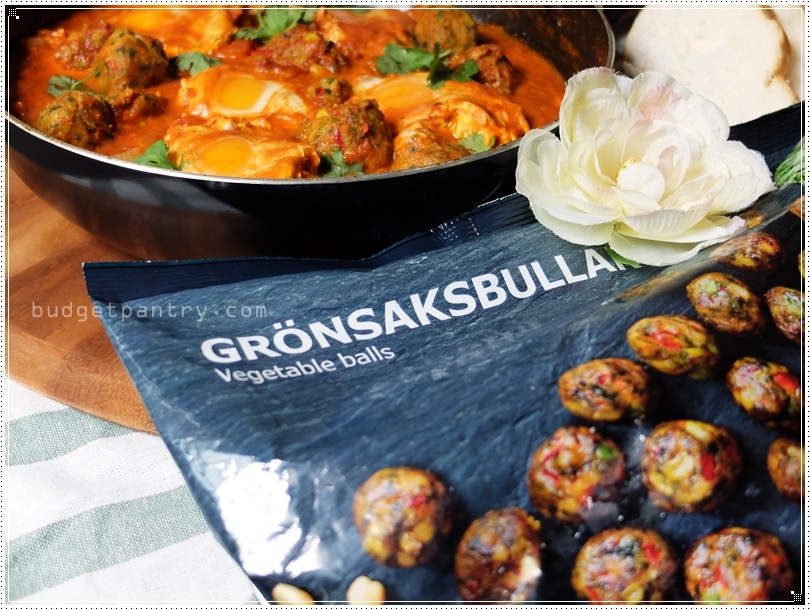 For weekday lunches, I have had them rolled up in wraps (and crispy prata!) with chopped lettuce and a simple lemon-mayo sauce. I have also used them on top of Mesclun salads for the husband's breakfast boxes. Today, I have an even brighter idea: Cook them in Shakshuka!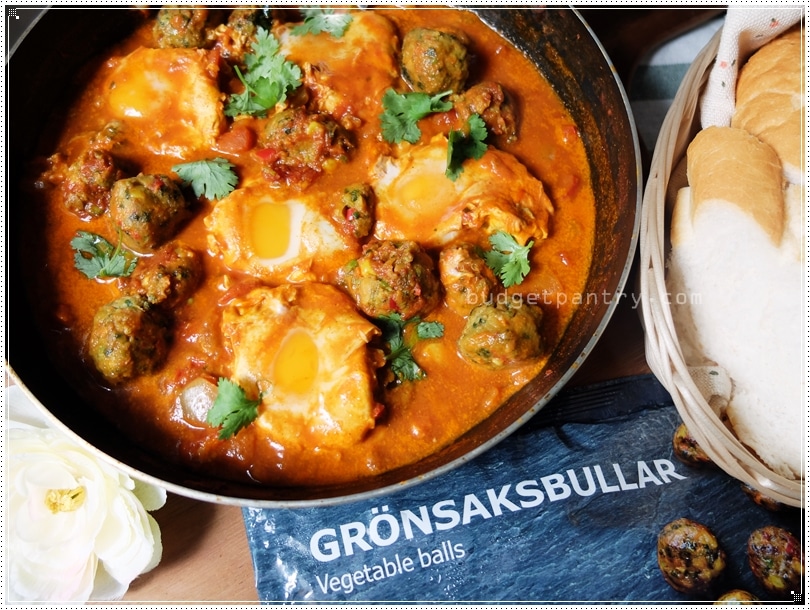 My family and I love Shakshuka, a dish of tomatoes, onions, peppers and spices topped with poached eggs, cooked in a skillet over the stove top, and usually served straight from the pan. In Israel, Shakshuka is often eaten at breakfast, but I have had this for all my main meals and my tummy more than agrees.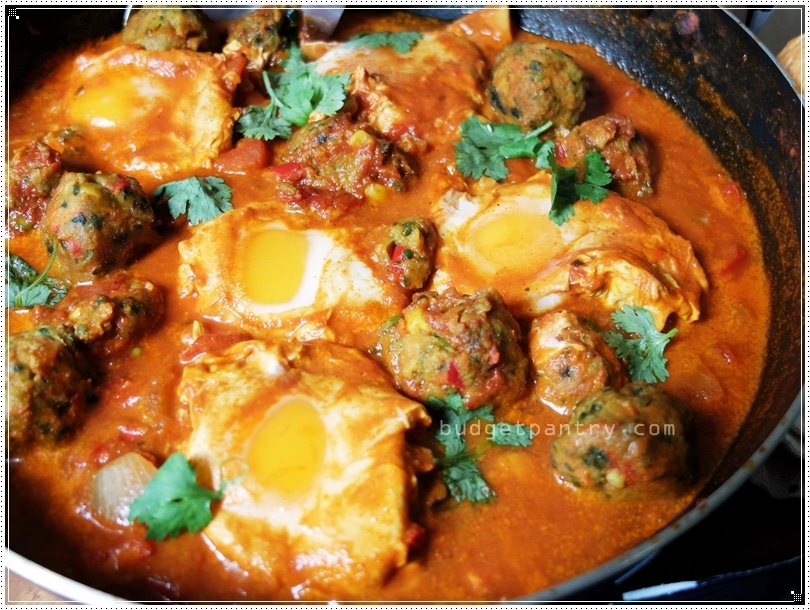 Last year, I cooked this for Christmas gathering with the besties, since Boon is vegetarian. Now I can add veggie balls. The addition of IKEA's veggie balls – which are free of dairy and gluten – add more flavour and substance to the vegetarian shakshuka.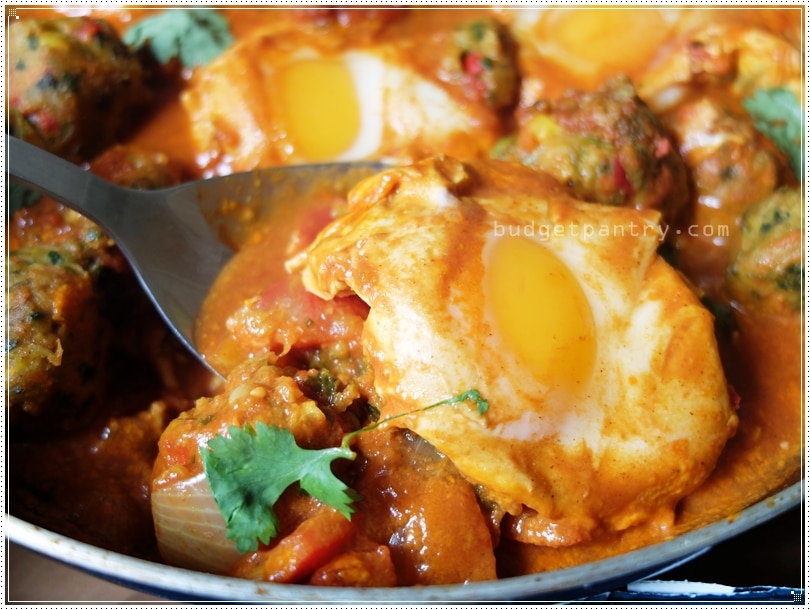 From the back of the packet: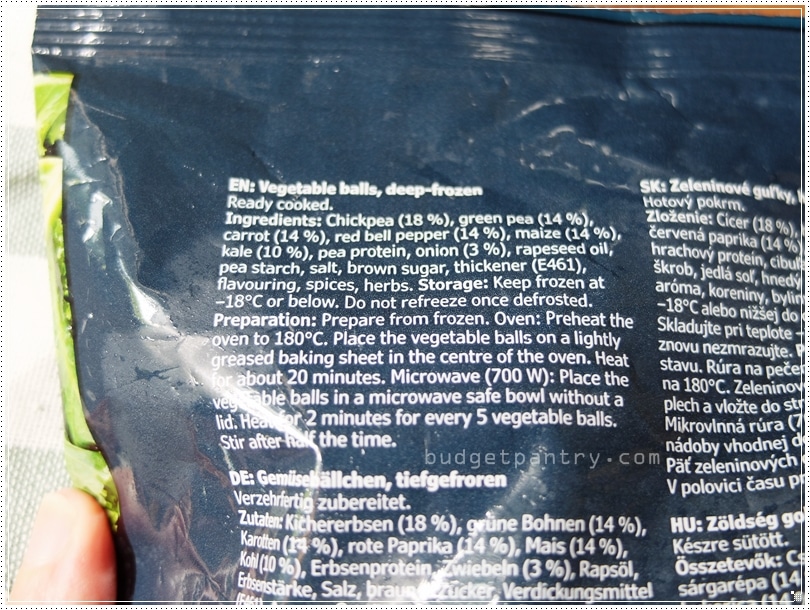 There are many ways to cook Shakshuka. Everyone has their favourite recipe. For this variation, which is slightly different from my previous, I added a little bit of curry powder. If you eat meat, I actually like Shakshuka better with bacon and sausages, fried initially with the onions. This is an amazingly low carb dish – if you can resist mopping off the tomato gravy with slices of crusty baguette, that is.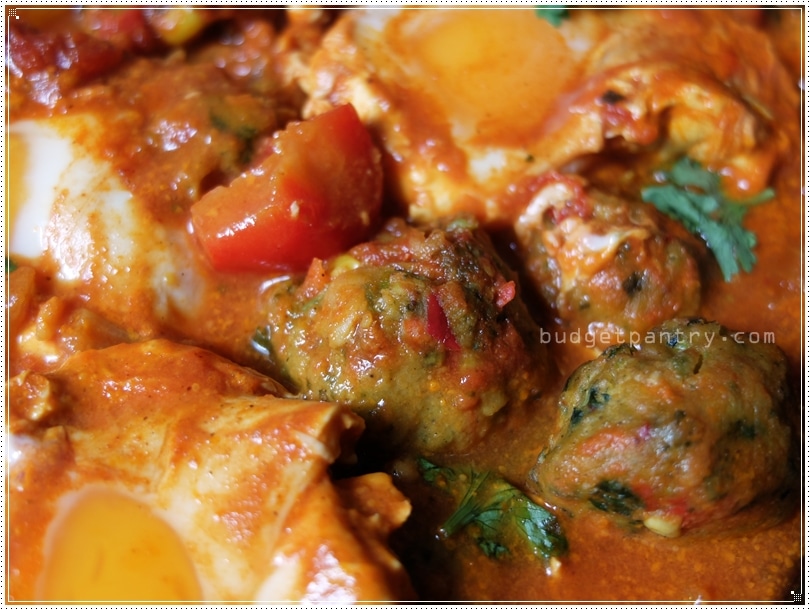 Curried Shakshuka with IKEA Veggie Balls
Serves: 4
What I used:
20 IKEA veggie balls, unthawed
2 cans diced/whole/stewed tomatoes (you can use Hunts or any brand)
1 tablespoon tomato paste
1 medium yellow onion, diced
4 cloves fresh garlic, sliced
1 red bell pepper, diced
5 eggs
3/4 teaspoon salt or to taste
1 tablespoon curry powder
Half teaspoon cumin
Half teaspoon paprika
Half teaspoon cayenne pepper (optional)
1 tablespoon sugar
1.5 tablespoon olive oil
Salt to taste
Fresh corriander or parsley for garnish (optional but I love it!)
Crusty bread to serve
Steps:
In a large skillet, heat the olive oil and fry onion til transparent, about 3-4 minutes. Add in the garlic and cook til fragrant.
Add in the bell pepper and cook for 4 minutes before adding the veggie balls. Empty the canned tomatoes (together with the juice and all) and add the tomato paste. Flavour with curry powder, cumin, paprika, cayenne pepper (if using), salt (to taste) and sugar.
Reduce the flame and allow to simmer for 15 minutes. Crack 5 eggs on top and cover with lid. Switch off the flame as soon as you see that the whites are forming and yolks slowly setting, about 7-10 minutes. Watch it carefully as you don't want well-done eggs.
Serve immediately with crusty baguette.