Korean Spicy Pork Bone Soup (Gamjatang)
Have you ever been in a situation where you just keep buying the same familiar ingredients and end up cooking the same old dish? Well I have!
The amazing thing about food is that the same ingredients can end up as a gazillion different dishes across different cuisines. So when ABC Pork Rib Soup found itself on my dining table more often than I would have liked in the past few weeks, I knew I had to make a change. I had just ordered my groceries for the week and my fridge was full with essential staples like pork ribs, carrots, potatoes and cabbages.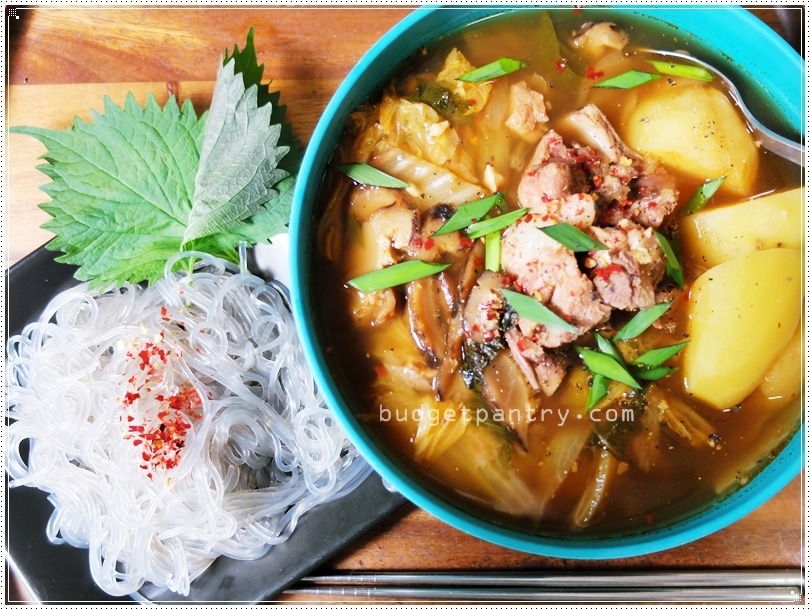 I was sure that ABC soup, lotus root soup or old cucumber soup were not going on my dinner table this week, but I still wanted soup. I wanted something spicy but comforting, with familiar ingredients like cabbages, pork ribs and potatoes served a different way. Gamjatang it is!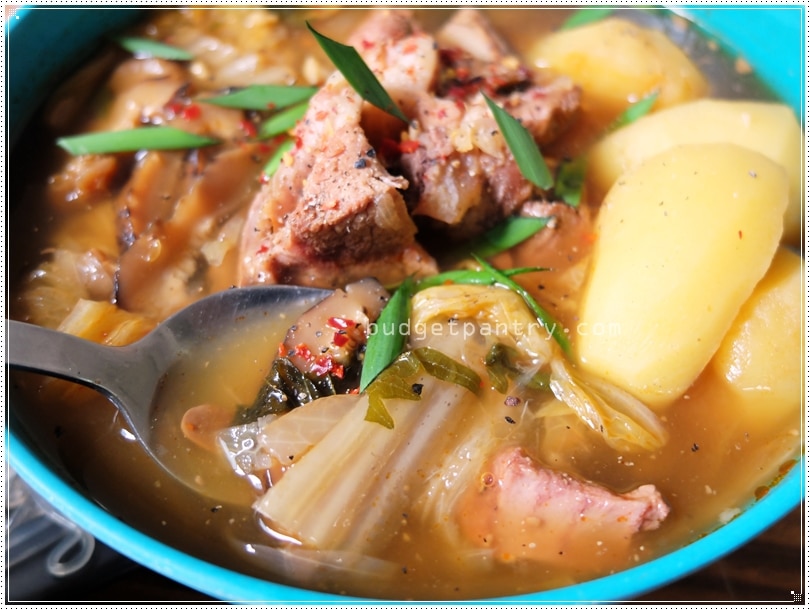 Gamjatang is a spicy Korean pork bone/rib soup with ingredients like potatoes, vegetables, fermented soy bean paste, hot pepper paste and pepper powder/flakes. To me, this is a 'you either love it or hate it' dish because of the soy bean paste and amounts of minced garlic and ginger in it. My aunt, who's used to clear Chinese soups, isn't exactly a fan, but my husband quite liked it.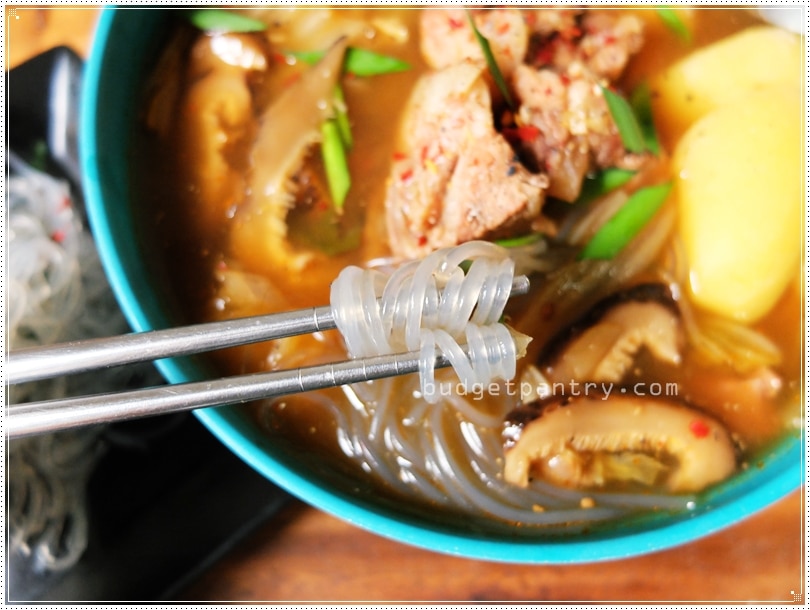 Cooking this soup takes about two hours on the stove top. Some recipes call for soaking the ribs in cold water for 2-3 hours to draw out the blood, but I don't think that's necessary. I boiled the ribs in water for a few minutes, drain, washed them thoroughly and discarded the dirty water. The ribs still turned out fresh, flavourful and fall-off-the-bone. I ate mine with Korean sweet potato noodles.
One not-so-common ingredient in this dish is perilla leaves, a kind of herb from the mint family. Japanese 'shiso' or 'ohba' leaves are similar to perilla, and are sometimes used interchangeably. But from what I know, there are subtle differences, with perilla being a little stronger in flavour. I couldn't find perilla leaves but managed to find ohba (shiso) leaves at Clementi's Fairprice Finest (at the chilled Japanese produce area, not where you find the usual organic/vegetables/herb) which is often used as decoration in sashimi platter or chirashi dons. I first had it in Keiko-san's place in Takayama and have loved the taste since. A very fresh, minty flavour with hints of apple. She chopped these leaves up and scattered them all over the chirashi.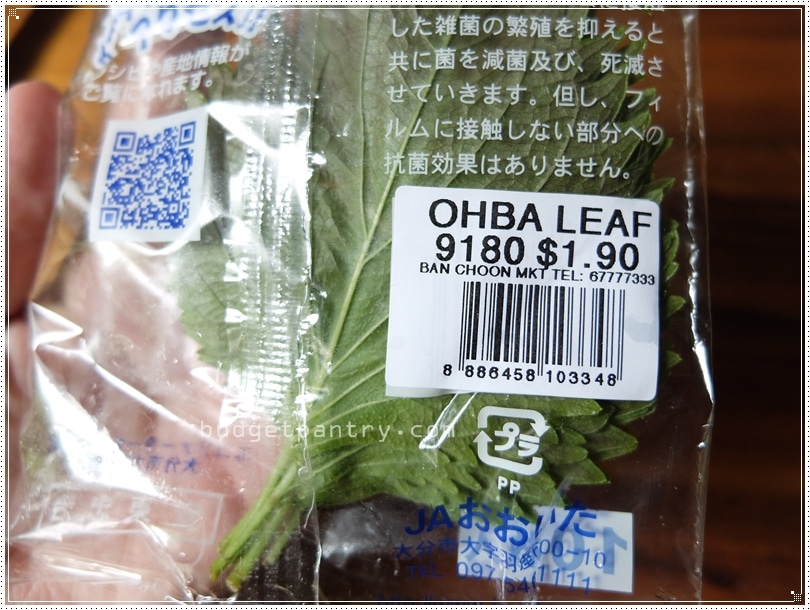 You can leave it out if you can't find it, but you'll also miss out on the unique taste it lends to authentic gamjatang. Have fun trying this recipe!
Korean Spicy Pork Bone Soup (Gamjatang)

(budgetpantry.com)
Serves: 4
Total cost per serving: $3.30
What you need:
500 g pork ribs or pork neck bones
2 litres water
1 yellow onion, sliced
1 tablespoon minced ginger
3 dried chillies, seeds removed
Half tablespoon Korean soy bean paste (Doenjang)
2 shitake mushrooms, whole
4 potatoes, peeled and quartered
200 g napa cabbage, tear into 1-inch pieces vertically
2 stalks green chives, sectioned
8 pieces ohba/shiso/perilla leaves, rolled together tightly and sliced (about 0.5cm width)
Coarse black pepper
Seasoning sauce
1 tablespoon Korean red pepper paste (Gochujang)
6 cloved minced garlic
2 tablespoons fish sauce
3 tablespoons cooking wine
2 tablespoons chilli flakes or 1 tablespoon red pepper powder
Steps:
Clean and rinse pork ribs to get rid of bone fragments, then blanch in boiling water for a few minutes till they change colour. Remove, drain, wash under running water and set aside. Discard dirty water.
Place pork ribs in a clean pot and fill with 2 litres water. Bring to boil and add minced ginger, sliced onions, mushrooms, soy bean paste and dried chillies. Lower the flame and simmer for 1 hour 45 minutes.
Remove the dried chillies and mushrooms. Slice mushrooms into flat pieces add to the soup, along with the prepared seasoning sauce, cabbage, potatoes, chives, and ohba/shiso leaves. Continue to simmer for 30 minutes.
Add a sprinkle of coarse black pepper and serve with rice or cooked sweet potato noodles.
How much I spent:
$8.50 for pork ribs
$1.90 for ohba leaves
$0.30 for onion
$1.60 for potatoes
$1 for napa cabbage
Everything else from my pantry