Homemade pasta sauce for babies, toddlers… and adults!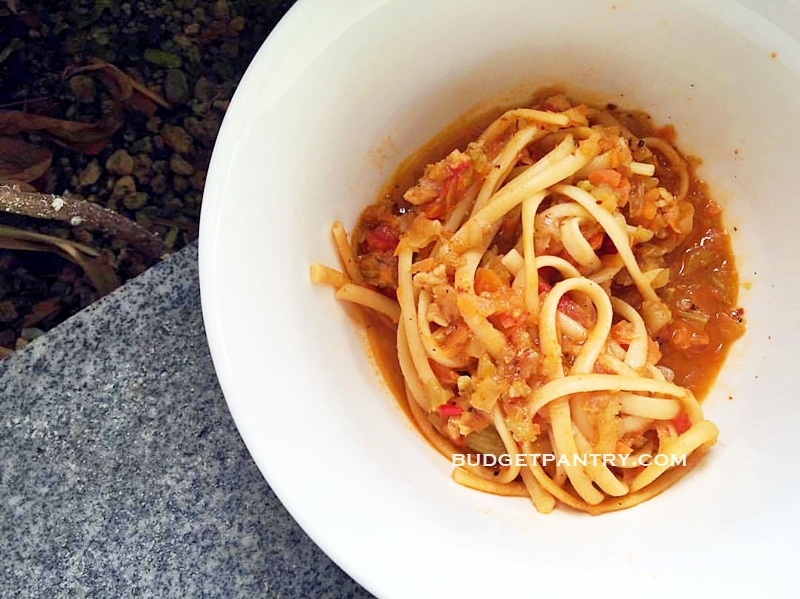 One of my absolute favourite things to cook (and eat): pasta with home made sauce!
This pasta sauce is suitable for kids too, just add the seasonings and spices later. And this is a sneaky way to add lots of vegetables into your toddler's diet.
I also call this the 'clear fridge' recipe as you can make this with the different vegetables you have in your fridge. There can be lots of variation as long as the base ingredients are there: onions, celery and tomato. I like to add carrot or pumpkin purée as a base for the sauce, as it lends a sweetness perfect to go along with the tangy tomato.
If you have the Philips Avent 4-in-1 baby food maker, you can steam and blend everything together. No need to do so separately. Read about our experience with it here: https://budgetpantry.com/babys-first-solid-food/
If using vegetables like zucchini or cabbage, you may not need to add much more water to the pot as they give out lots of liquid in the cooking process. For picky eaters, blend or mince the vegetables so they don't have comments about them. This is another variation I made two days ago, with cabbage, zucchini, parsley, carrot, onion and honey tomato. Because I added a lot of cabbage, this version is much more chunkier. We love it all the same! Add more water if you prefer it more saucy. You can tell cbb loves her chunky food……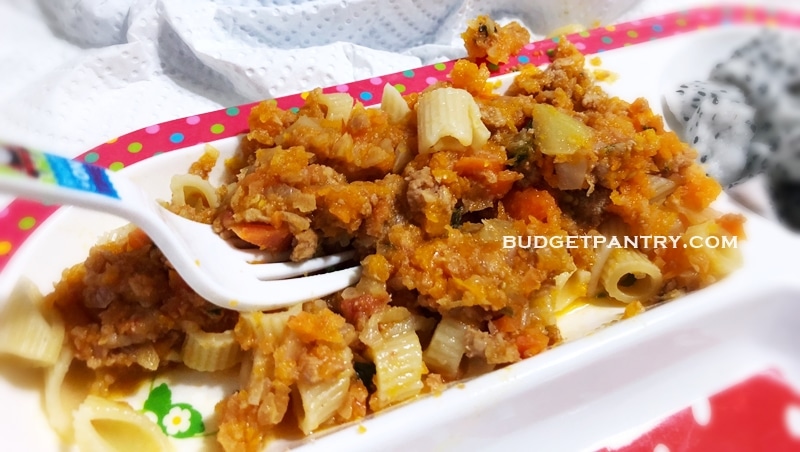 Tip: Always add celery if you have them… it transforms the flavour A LOT!
This dish is a great way to eat more yucky veggies like celery! I hate them when raw but it's magic when cooked! This recipe is a staple in our household for sure, and is a yummy baby food recipe. Cbb approves!
Looking for a great online grocer for organic/non-organic fresh vegetables for your baby? Get $15 off your first order from OPENTASTE.SG with code ' 240D2E' at checkout.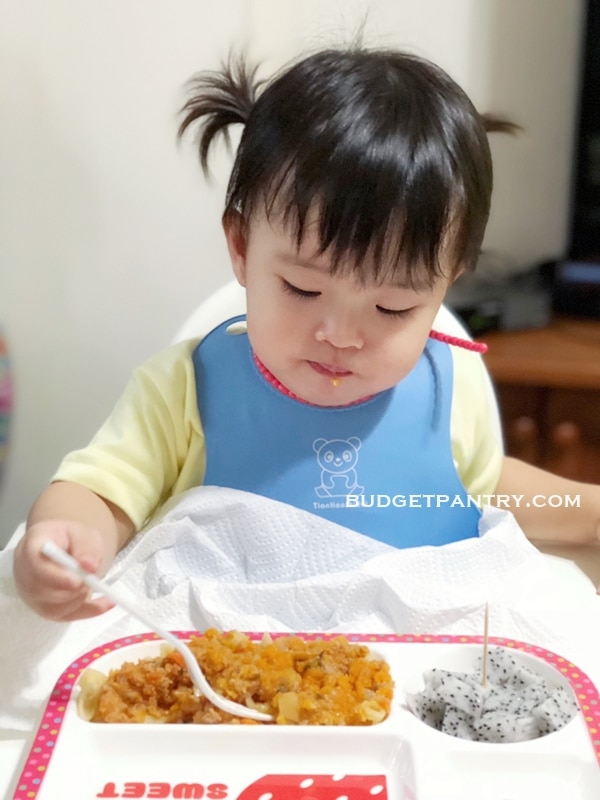 Homemade pasta sauce for the whole family
(budgetpantry.com)
Serves 3-4

What you need:
250g minced meat
1 tablespoon chopped garlic
1 large yellow onion, minced or chopped finely
8-10 sticks celery, minced or chopped finely
4 ripe tomatoes, steamed puréed/blended (or use 1 can peeled/stewed tomatoes)
3 carrots, steamed and puréed/blended
Water or stock if needed
2 tablespoons olive oil
Seasonings for adults:
1 teaspoon Worcestershire sauce
1 tablespoon mirin or substitute with 1 teaspoon sugar
1 tablespoon tomato ketchup
Salt to taste
Chilli flakes or chopped chilli padi
Steps:
Heat up the oil and sauté chopped onions, celery for 15 minutes on low flame.
Add in garlic and minced meat, fry till no longer pink, then add tomatoes and carrot purée.
Add water or stock if needed, depending on consistency you like, and simmer for 10-15 minutes. Dish up if serving to baby.
For adults: add mirin, Worcestershire sauce, salt to taste, tomato sauce and chilli flakes if using. Serve over pasta and enjoy!
If you like my posts and updates, or would like to be informed of baby/cooking-related giveaways and promos from time to time…..
Like my Facebook page or follow @budgetpantry or @chuabeebee on Instagram! Yes, I just started an Insta account for CBB too!