Homemade Soft Butter Pretzels (with oven and airfried options!)
I've never baked bread. No, really, not even in a breadmaker. I was also skeptical, or even fearful of yeast- yes I am strange like that. I kinda remember reading a children's book about children baking, and the little girl added so much yeast that the dough kept rising, and rising, and rising, until eventually it exploded through the roof.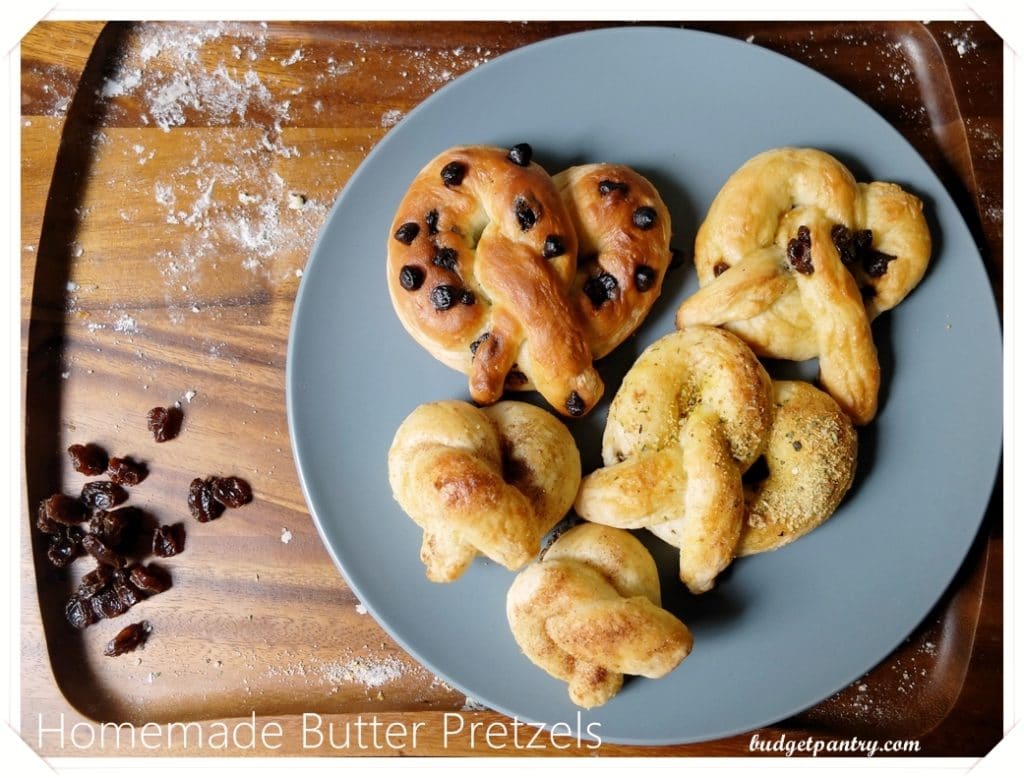 I am also squeamish about using yeast because it reminds me of fungus, bacteria, and infection. I imagine the yeast multiplying once in contact with your hands, and it will stay on your skin and continue to multiply and spread, and eventually your whole body will be covered with yeast. Don't ask me how or why I am screwed up like that.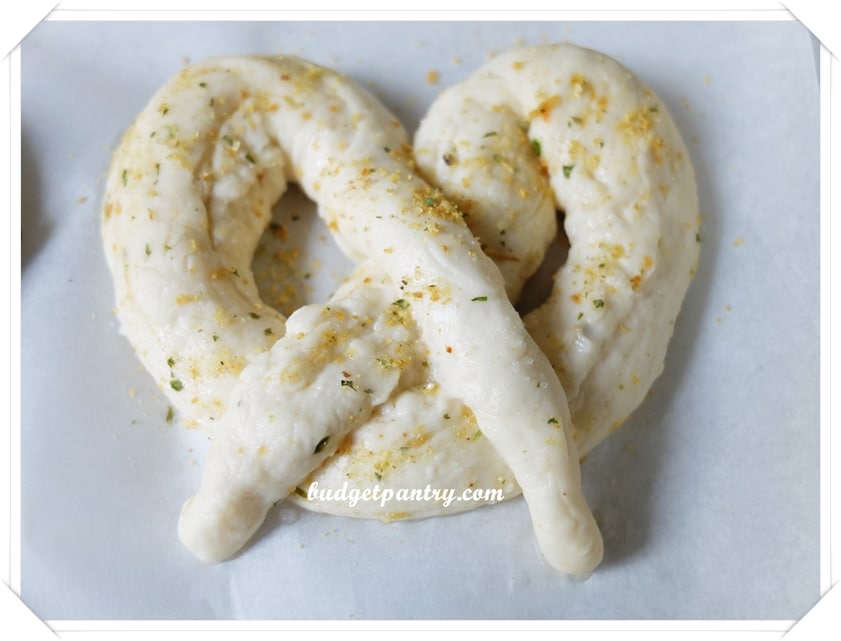 So you have to know that it took me ALOT of courage to want to bake something that isn't cookies or cupcakes, and resembles bread. I decided to go with pretzels because bread seems so challenging, and I like to take small steps. I googled pretzel recipes and did a few trials, and came up with this version which I really prefer- the pretzel is soft, isn't too chewy, isn't overwhelmed with butter (what am I saying?) and crispy at the edges. And as usual, I tried 2 methods- one with a regular oven, the other in the airfryer. I also made mini versions:
For a basic pretzel, you only need 5 ingredients: Flour, yeast, sugar, salt and butter for brushing. You'll also need to dip your pretzels in hot water with baking soda to fully achieve the slightly chewy texture, aroma and deep brown colour of a pretzel. For the science behind it, go to this page. Julie explains in a simple way. You may, of course, skip this step, but then you would be getting pretzel-shaped bread instead of pretzels. Still edible, but not pretzels.
Experiment with fillings and toppings! As someone who loves variety, you wouldn't think I'd make an entire batch of sea-salt pretzels, would you? I made four versions: chocolate chip, raisin, cinnamon sugar and garlic onion. I like everything except the raisin.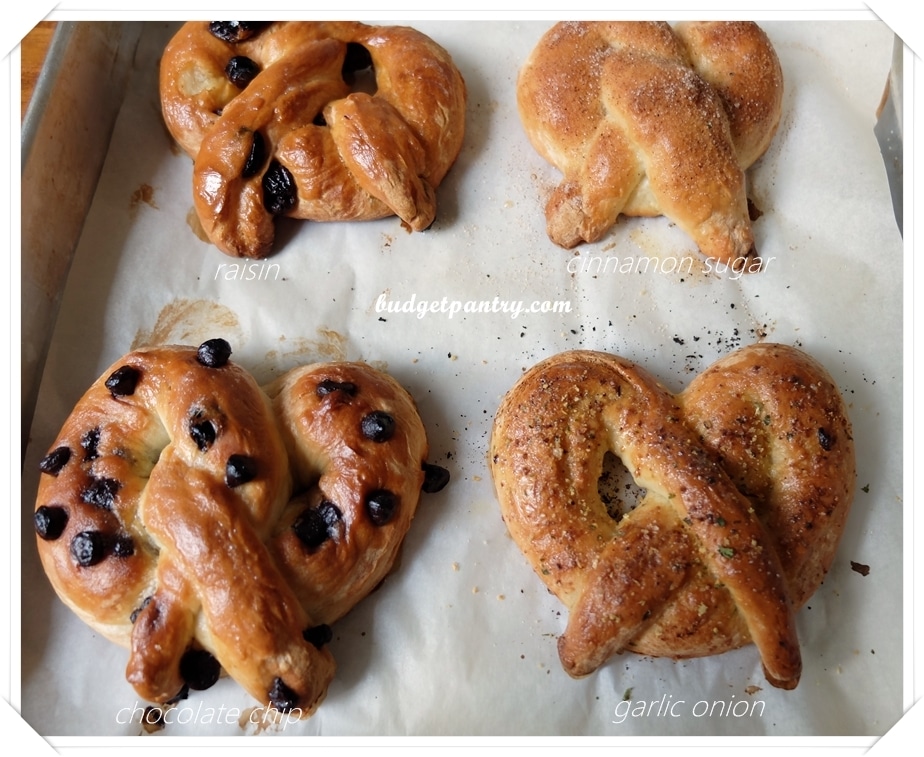 With the chocolate chip and raisin: Knead them into the dough as you're rolling them out.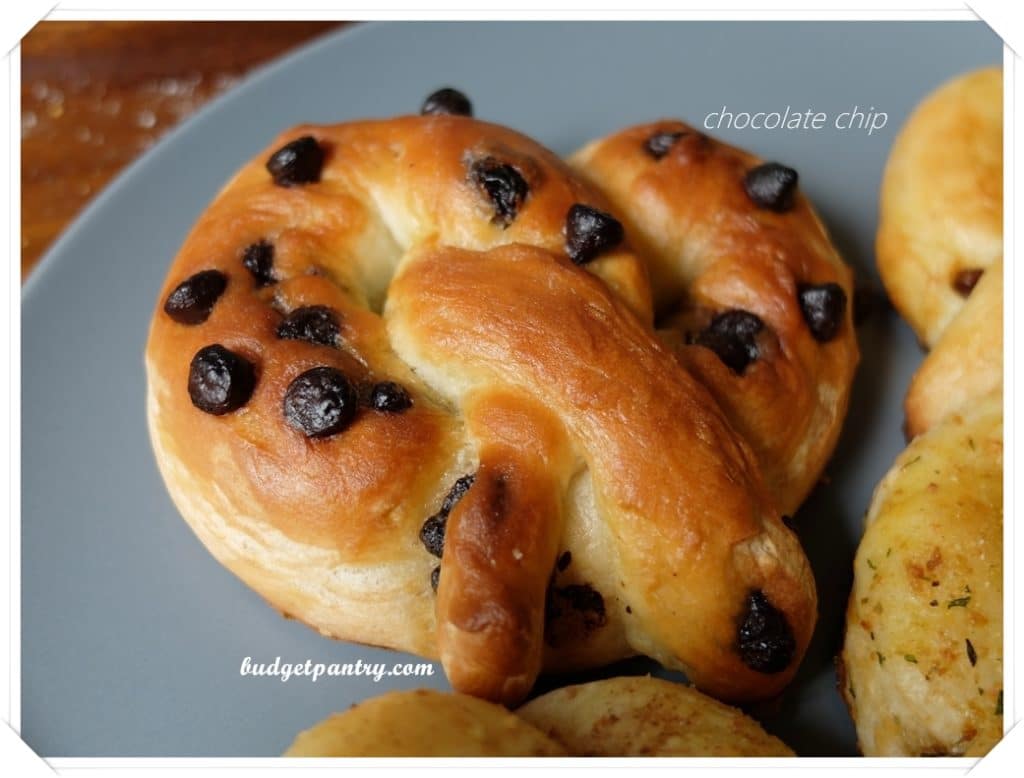 For the garlic onion: Knead a little garlic onion flakes/ seasoning into the dough as you're rolling them out, but after they're baked, you brush on melted butter and sprinkle somemore garlic onion seasoning on top.


For cinnamon sugar: Simply roll the dough out, bake, brush with melted butter, then sprinkle on cinnamon sugar.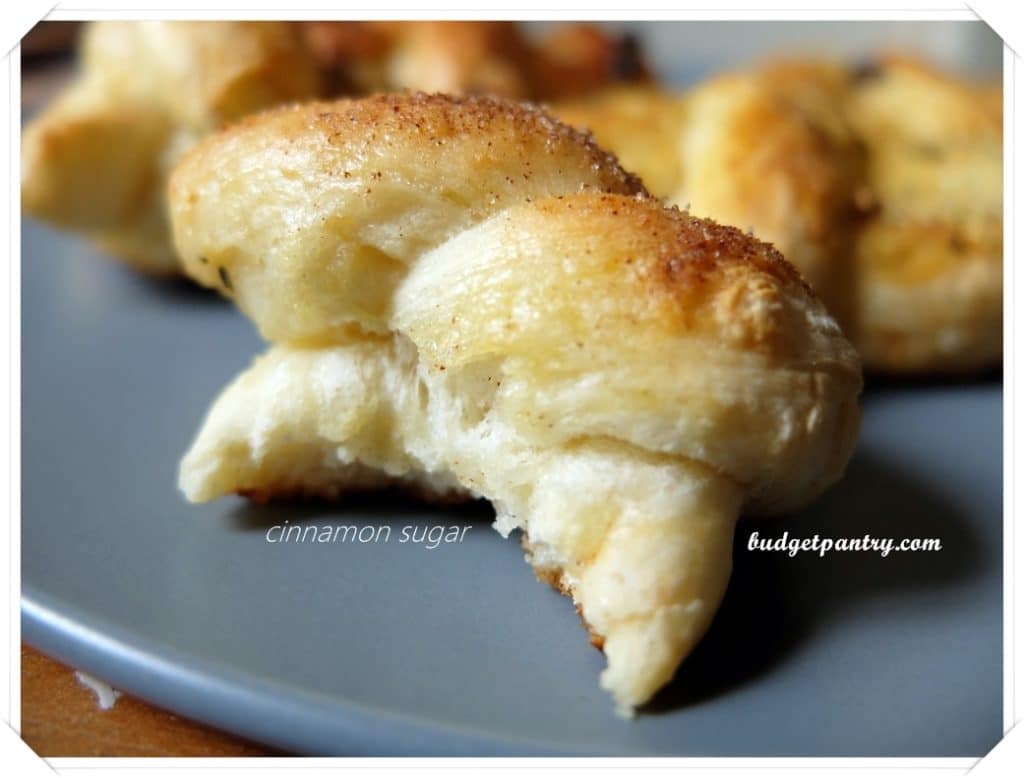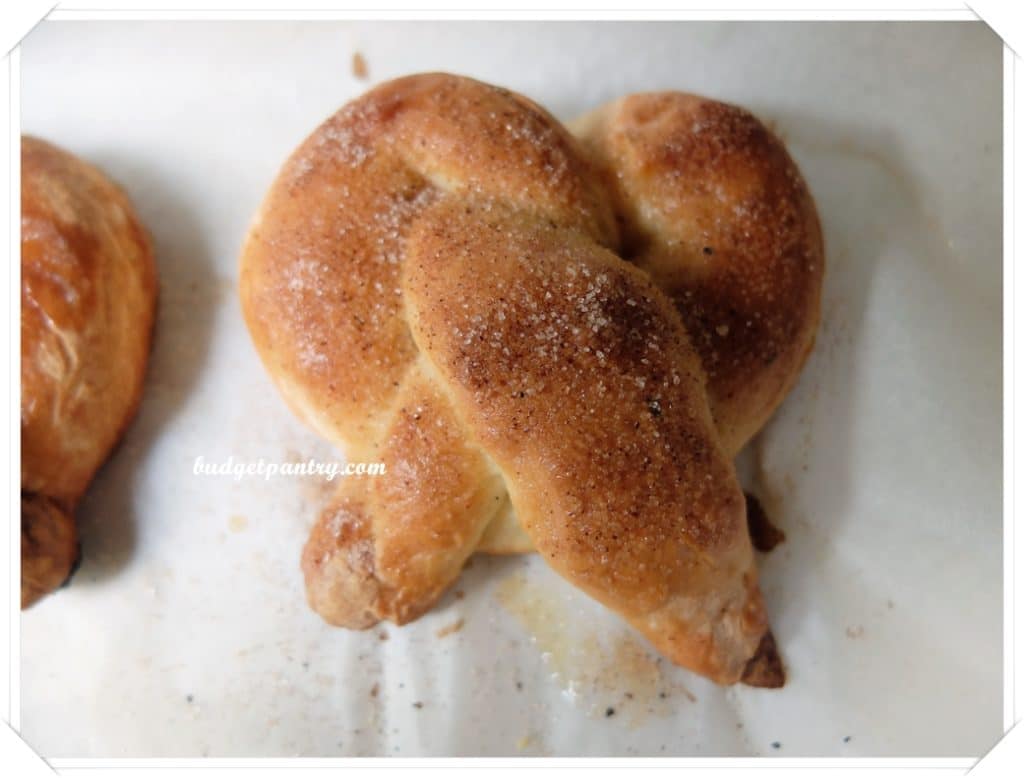 I am going to give you a basic butter recipe. You can make your own variations as above. Ready for the recipe? Here we go!
Homemade Soft Butter Pretzels
Makes 8 regular sized or 16 mini pretzels
Total cost: $1.40
Total cost per regular-sized pretzel: $0.18
What I used:
1 cup warm water (250 ml)
2 teaspoon instant yeast
2 tablespoons caster sugar
1.5 teaspoon salt (reduce to 1 teaspoon if making chocolate chip, raisin, or cinnamon sugar versions)
3.5 cups all purpose flour or top flour
Another 1 cup hot boiling water + 2 teaspoon baking soda
For topping:
1 tablespoon unsalted butter, melted
Optional: Chocolate chips, raisins, cinnamon sugar (combine 1 tablespoon sugar to 1 teaspoon cinnamon), garlic-onion seasoning
Steps:
1. Preheat oven to 230 degrees. In the mixing bowl of your stand mixer, add warm water, followed by instant yeast. Stir lightly to combine.
2. Sift in the flour, sugar and salt, and mix with a sturdy spatula in one direction for easy handling.
3. Attach the dough hook to your stand mixer and mix for 5 minutes on the lowest setting. If the dough is very sticky, i.e., it completely feels like goo and sticks to your hands, don't be afraid to add more flour little by little.
4. After 5 minutes, see if you can remove the dough without grief using your hands. On a floured surface, knead very lightly to form into a clean ball of dough.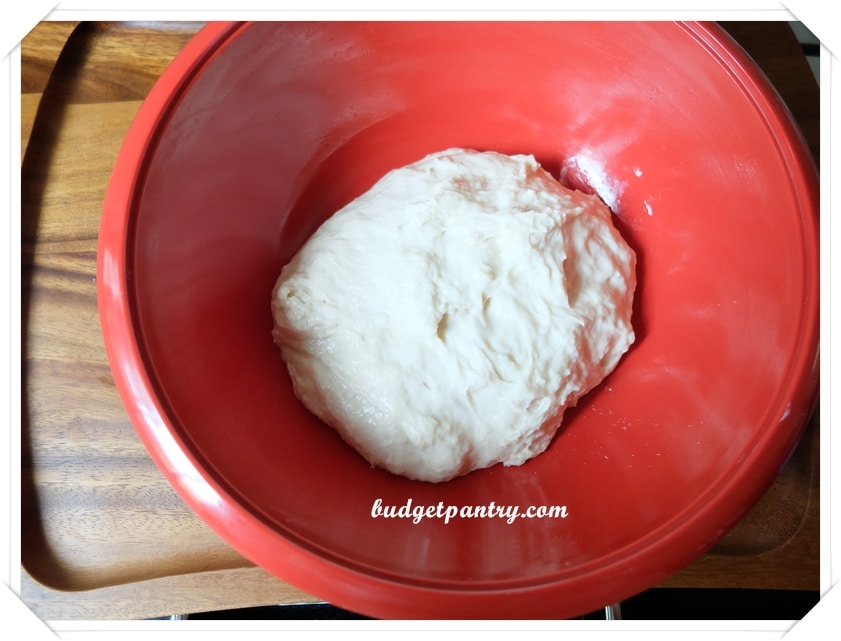 5. Oil a second bowl lightly with oil, then transfer the dough mixture over. Cover with clingwrap and let it rise for 30 minutes til about doubled in size.



6. On a floured surface, divide dough into 8 or 16 portions using a knife. Roll each portion into a long string. It is time to roll your chocolate chips/ raisins/ garlic onion seasoning into the dough. Shape your pretzel–> video here.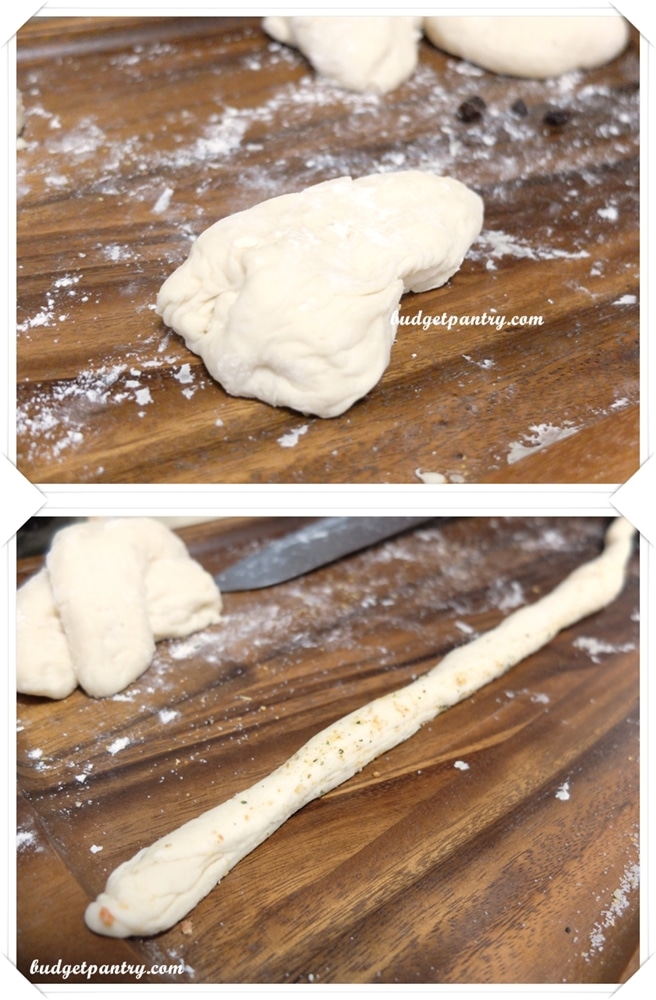 7. Now we prepare the baking soda bath. Fill another bowl with 1 cup boiling water and 2 teaspoons baking soda. Stir to combine. Dip each pretzel into the baking soda bath and remove right onto your parchment paper lined baking sheet. No need to pat dry. Dip and go.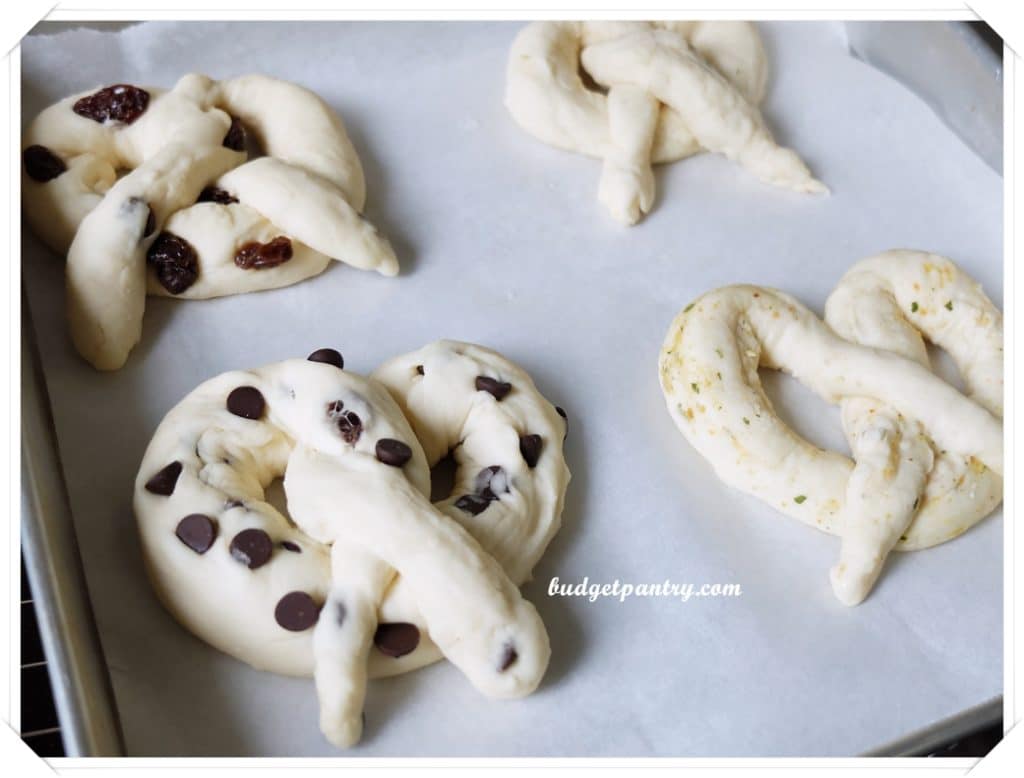 8. Bake (230 degrees) or airfry (use 200 degrees and line net with parchment paper) for 8-10 minutes til golden brown. Once baked, brush with melted butter. If making the cinnamon sugar version, now is the time to sprinkle them on. Allow to rest for 2 minutes before enjoying.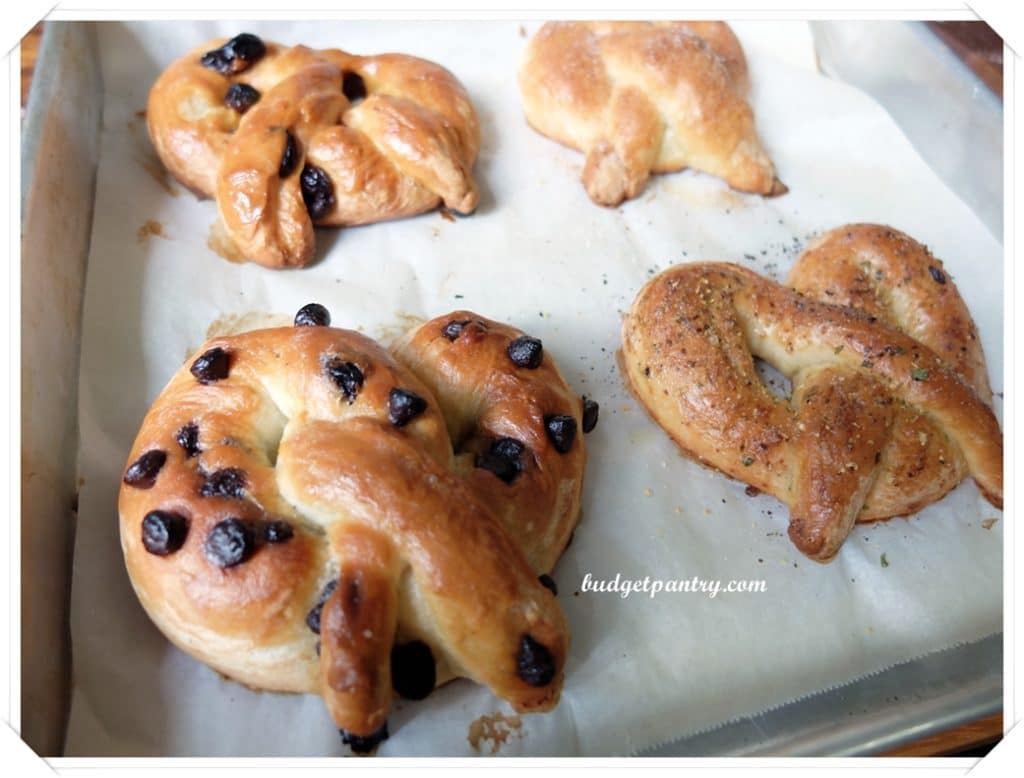 How much I spent:
$0.20 for instant yeast (I got a box of 5 sachets for $1.95, and used half a sachet)
$1.50 for flour
Everything else from my pantry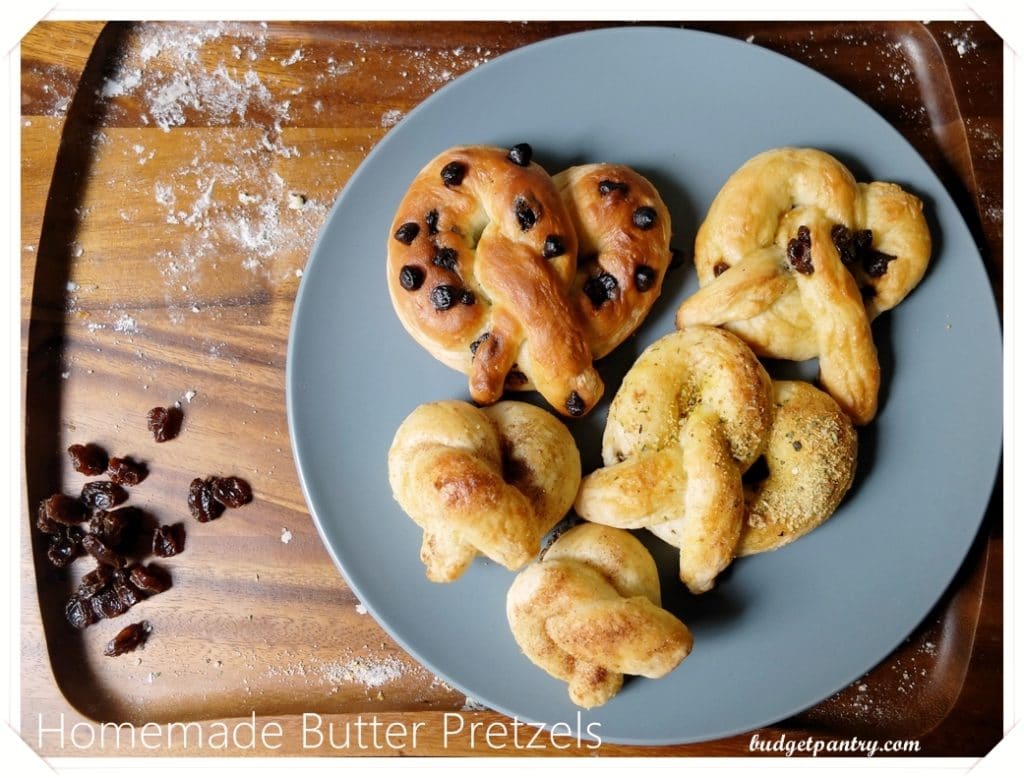 Are these amazing or what? You probably have all these ingredients in your pantry, and you will realise that a basic butter pretzel costs what, $0.20 a piece? And that is for regular size? I don't think you're going to pay $3 a piece at Auntie Anne's from now on. I know I won't! :)