Baby: Hanil UV Sterilizer review + promo code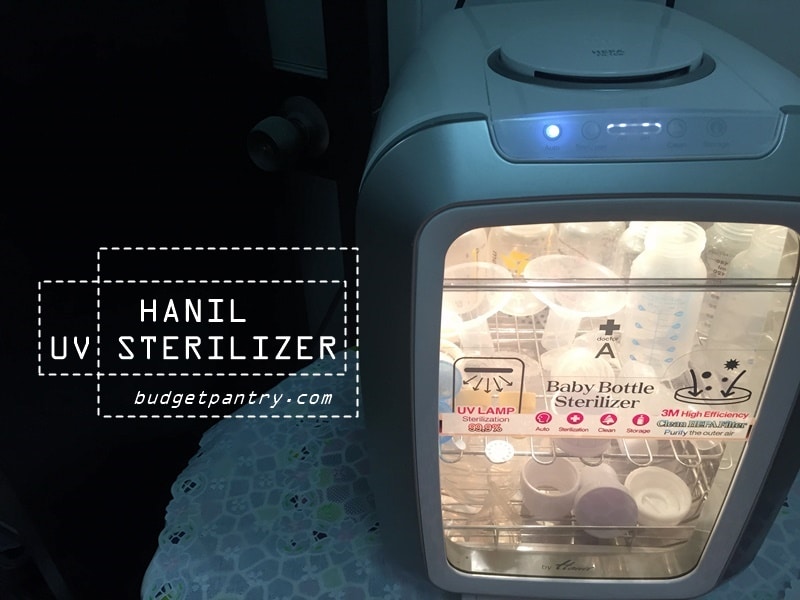 If you're following me on Facebook, you would know it hasn't exactly been a bed of roses for me when it comes to breastfeeding:
Although it's tiring, I'm not complaining. Every bit of breast milk is better than none. To build my supply, I pump every three hours throughout the day for 30 minutes each time, with a 1-hr power pump replacing one of my normal sessions. Essentially, I spend 4.5 hours pumping daily. Add that to the time needed for washing up and bottle feeding, plus an occasional direct latching snuck in between, it doesn't take a genius to figure out being a mom, like my friend Pearlyn says, "is a champion's job".

If there's one thing making my breastfeeding journey a lot better, it's that I've got the sterilising part taken care of. Yes, taken care of. All I need to do is push a button. I don't need to bother with boiling water, nor do I need to figure out storage problems or deal with water droplets if I use a steam steriliser. I get my bottles and pump parts thoroughly dry as soon as they finish sterilising. The rest of the time, they're stored neatly and hygienically in my trusty HANIL UV Sterilizer until I need to use them. Truly, I can't even start to imagine how I could have managed, especially initially, without my HANIL.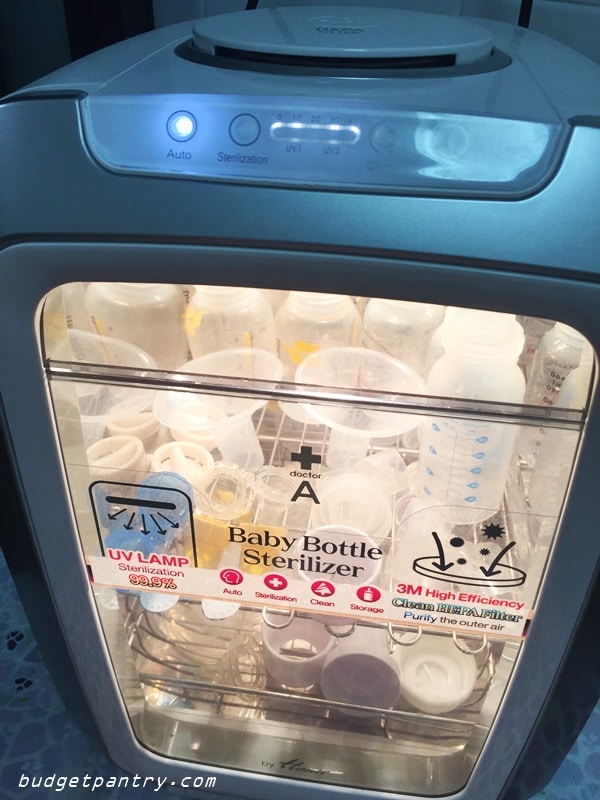 About HANIL
HANIL is a leading manufacturer and top recognised brand in Korea with 50 years of history. The premium medical-grade sterilisation of its UV Sterilizer kills 99.97% bacteria. All HANIL Sterilizers are 100% Made in Korea.
Can you tell me more about Ultraviolet (UV) light and how it kills bacteria?
UV light was discovered more than 100 years ago, with applications in hospitals, food processing facilities, water treatment plants, laboratories and many other places where sanitisation and purification is crucial. A type of UV light, UV-C, breaks the molecular bonds within micro-organismal DNA and destroys them. This disrupts vital cellular function, effectively killing bacteria.
Does it use a lot of electricity?
This was one of my concerns too.. but you'd be surprised that the power consumption is just 50W!
There are a few UV Steriliser brands in the market. Why did you choose HANIL?
When it comes to sterilisation for my baby, I choose tested and proven quality. Especially when unlike boiling or steaming, we can't see UV light with our own eyes. Apart from being internationally-certified by ISO-accredited facilities around the world (in Korea, Japan, USA), HANIL is also the only UV Sterilizer in Singapore that is tested and certified by PSB Singapore. The peace of mind is major!
Why I love it
This product is a God-send. I love it because it can hold so many items, is easy to use (my 77-year-old aunt uses it with no problems!), solves my storage problems (seriously if you use a steam steriliser, after using where you gonna put alllll the items? there are so many bottles and parts!), is 100% safe and can also sterilise other things like baby toys, remote control, cutlery, nail clippers… the list goes on. The drying function also prevents mould accumulation, something that steam sterilisers cannot offer. After pumping, I just wash my pump parts and bottles, place them straight in the cabinet, press a button and walk away!
How to use
It's super easy. Simply plug in the power, press down the ON/OFF disc right at the top to start:
There are four buttons – one for each function. After washing your bottles/pacifiers/teats/pump parts as usual with water and baby cleanser, just place in the sterilizer and press 'Auto' for complete sterilisation and drying: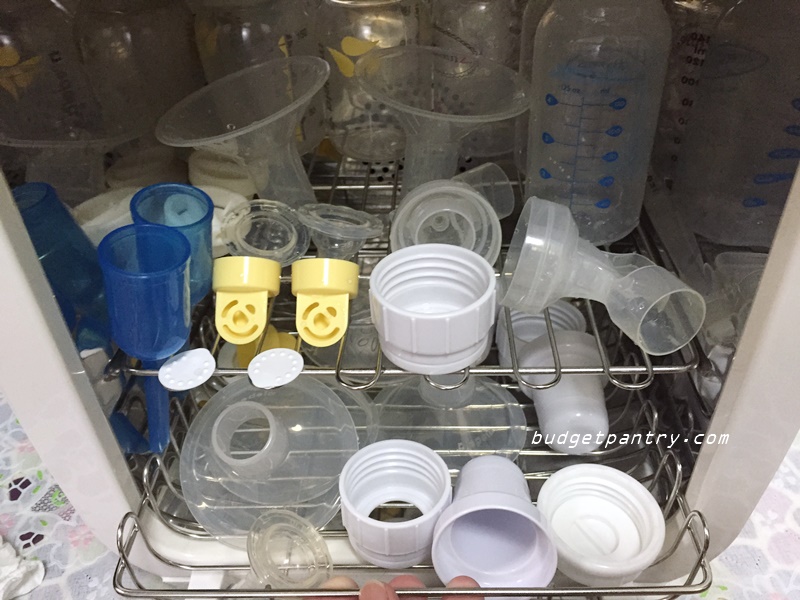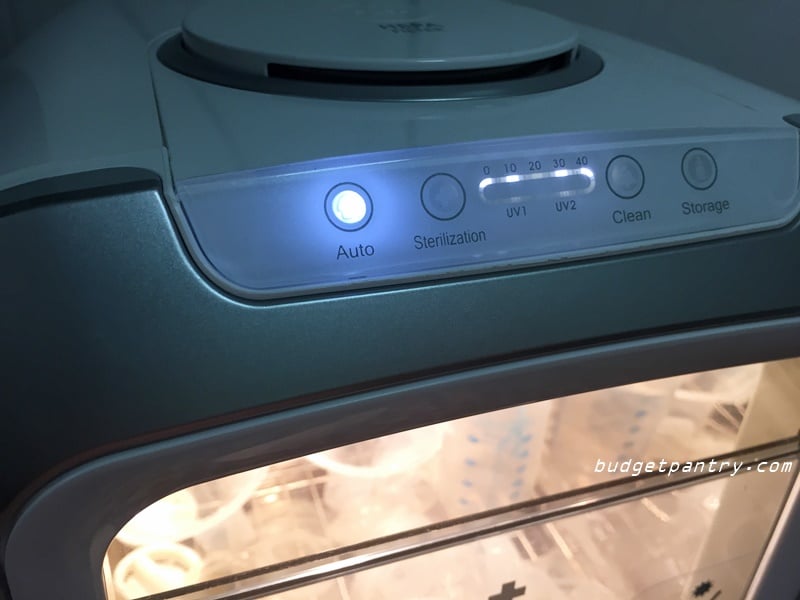 Yup, there is no need to wipe or dry first before placing the items into the cabinet. Your baby bottles will all come out fresh, clean and dry: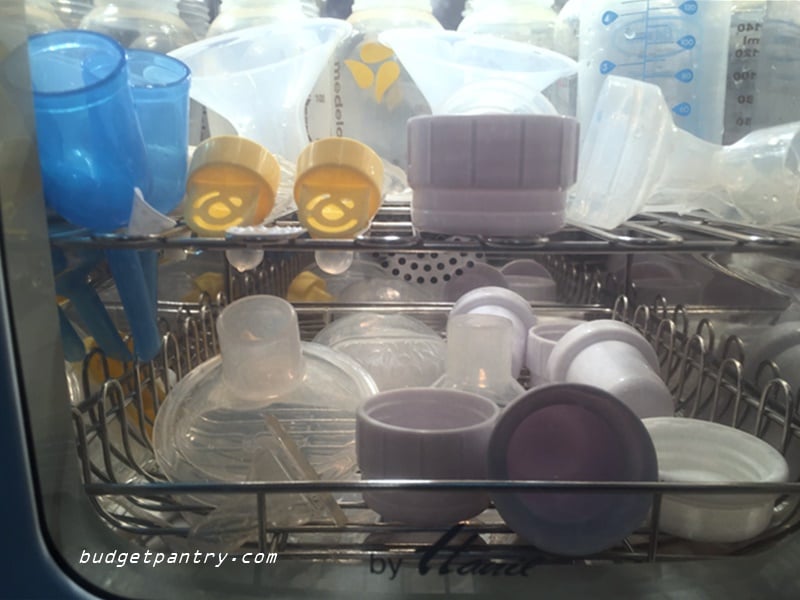 Other functions include 'Sterilization' (to just sterilise without drying, which is perfectly ok too! takes just 10 minutes), "Clean" (clean the machine periodically) and "Storage" (when you use this function, the machine automatically goes to "Sterilization" and "Clean" mode every two hours).
Watch this video to know more:

PROMOTION CODE!
Exclusively at www.gaia.com.sg, purchase HANIL UV Sterilizer Dryer at a special price of $369 (U.P. $399), and receive complimentary GAIA organic 'Joyful Baby' skincare bundle*!
(*Joyful Baby skincare bundle comprises of GAIA Natural Baby Hair & Body Wash 200ml + GAIA Natural Baby Moisturiser 250ml; worth $41.80)
Enter promo code "bpantry" upon checking out at GAIA e-store. Valid till 31 December 2016! Click here to buy.
===============================================
Disclaimer: I received the HANIL UV Steriliser for review purposes and received no monetary payment for this review. All opinions and comments on my blog are my own unless you bribe me with a lot of money, cash only. But until now I haven't accepted any bribes yet which is worth trading my 良心 for to say something is good when it sucks. Unless you really got a lot of cash to spare, like A LOT, 收买我吧.