A Review of GaksiMil G1 Hospital Grade Double Electric Breast Pump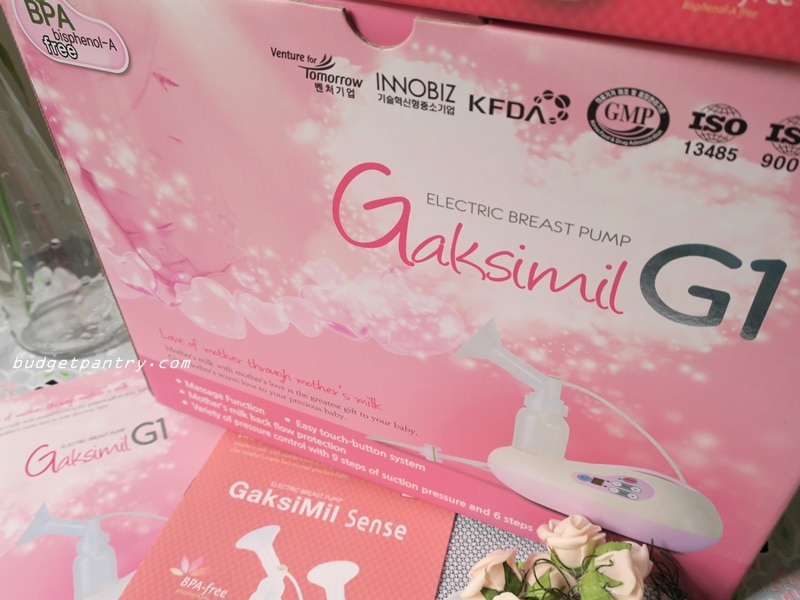 If you've been checking out baby fairs recently, you would have noticed a new name in the breast pump market: GaksiMil from Korea.
Today I'm reviewing the GaksiMil G1, a hospital grade double electric breast pump which is pretty popular in Korea and starting to gain exposure here.

What I like
Hospital Grade
It is a hospital grade pump which means it is super efficiency in power and speed.
High Massage and Milking Pressure but still very comfortable
The suction is stronger than many breast pumps in the market, with a high massage pressure of up to 250mmHg and high milking pressure of up to 440mmHg. Amazingly, my nips didn't feel like they were going to die and each pump still felt very comfortable.
54 combinations of pressure and frequency control
With nine suction cycles and six levels of pressure control, I can play around with the combinations to find the best customised settings for me.
It's really quiet
Quietest breast pump with lower than 45dB. This means I don't wake CBB up when I pump in the middle of the night. Watch a video of the pump in action below.
100% Prevention of Back Flow of Breast Milk Into the Motor
There's nothing I dislike more than having milk or condensation in the tubings. With the back flow protector, I don't have this problem.
Easy to operate
There's nothing really fancy about the pump, with simple buttons and a very basic LED display. My brain now cannot deal with very complicated machinery.
Accessories for the G1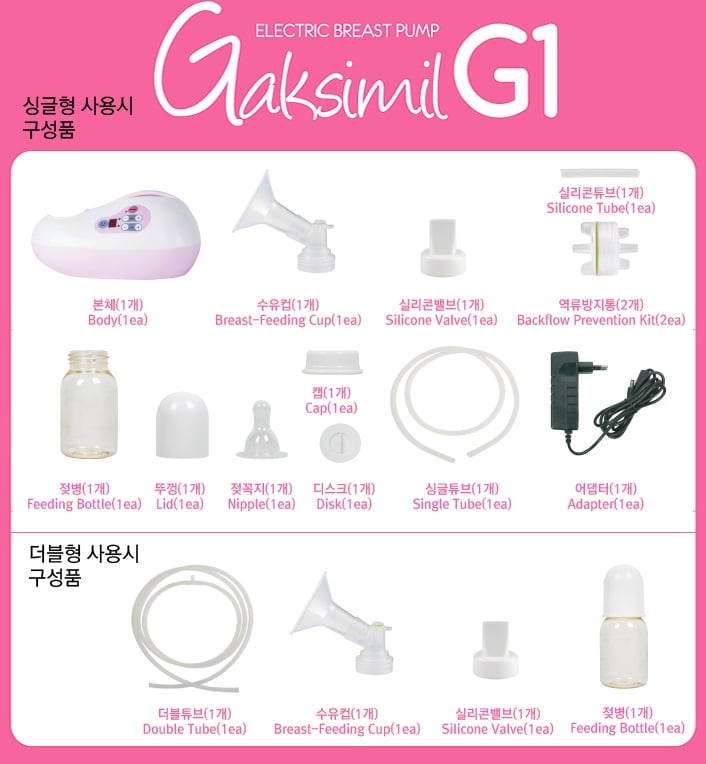 My experience
All of you know that I am a super low supply mom. When trying out this pump, I worried if I would get less yield than my already-low sessions. Then it would mean one pump session kinda wasted cos it is very troublesome to switch pumps if this new one doesn't work as well as my existing one. When using the G1, I'm happy to report that although my yield didn't increase, it was on par with the pump I was using.
I like it that it is really quiet when pumping. I found a video on youtube that demonstrates how quiet it is even as you increase the levels:
I wish that it came with a rechargeable battery though. But then then again, this pump is bulky at 1.15kg and 24.4cm across, so maybe you wouldn't want to lug it everywhere. Consider the GaksiMil Sense for a truly portable experience. Here's a video of all the GaksiMil breast pumps available. It's showing GaksiMil Sense as an example but it's a introduction video which also mentions the G1 towards the end:
https://youtu.be/tvezAj6D9Wg
Final verdict
I would use this as my spare pump and have no problem switching to this when my current pump dies. I hope it can be more portable and lighter, although its weight is probably a direct result of the powerful motor within. One more thing: the bottles screw on tight and sturdy.. no chances of them suddenly dropping off while pumping!
Where to buy
GaksiMil G1 is available on My Miracle Baby with a 1-year warranty. While you're there, check out all the GaksiMil breast pumps and other quality baby products too (I super love the Fedora strollers and carseats!). Enjoy FREE delivery within Singapore for orders S$45.00 and above.
————————
Disclaimer: I received the GaksiMil G1 for review purposes and received no monetary payment for this review. All opinions and comments on my blog are my own unless you bribe me with a lot of money, cash only. But until now I haven't accepted any bribes yet which is worth trading my 良心 for to say something is good when it sucks. Unless you really got a lot of cash to spare, like A LOT, 收买我吧.