CBB at 3 months: Tummy Time with Dwinguler Playmats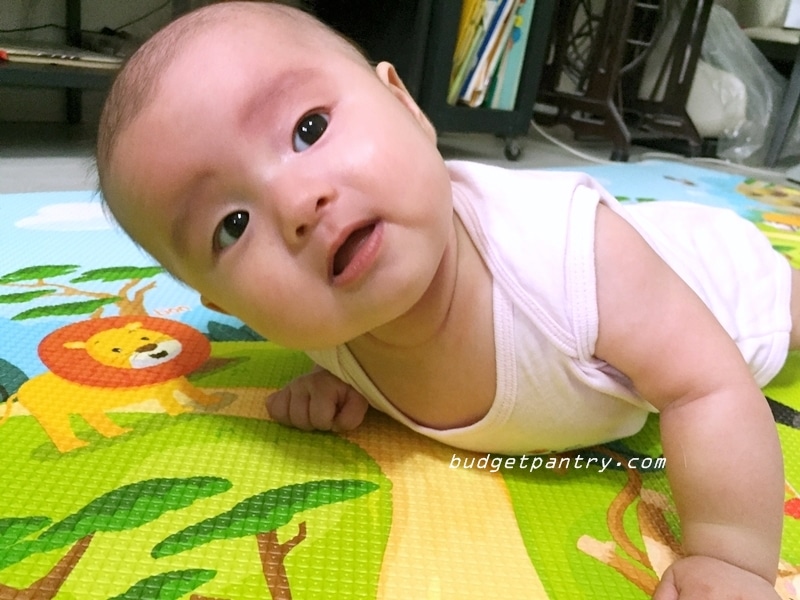 In the twinkling of an eye, CBB is now 14 weeks old. Where did the time go? From a tiny, sleepy baby to a chubby chuckling babe.. her transformation is just amazing. If you're following me on Facebook, thank you for going through these times with me! It's so miraculous, this whole thing, almost as miraculous as the fact that moms are X-men descendants who don't need sleep at all.

Just went for her third month jab at the polyclinic last week. She now measures 6.1kg and 64cm. Are babies superheroes too? They grow so fast! These days, I sometimes wake up and find CBB in a position like she wanna dance ballet. She's starting to learn to flip! And I've noticed her neck muscles are now stronger. She can hold her head quite steadily although she still hates tummy time. And because she has hated tummy time from the start (I tried putting her on her tummy at 1-month plus but she screams bloody murder after .2 seconds), it caught me by surprise the other day when she lifted her head, complete with sound effects ("eh! ehhhhh!!"), when I placed her on her tummy. See her super wei qu look: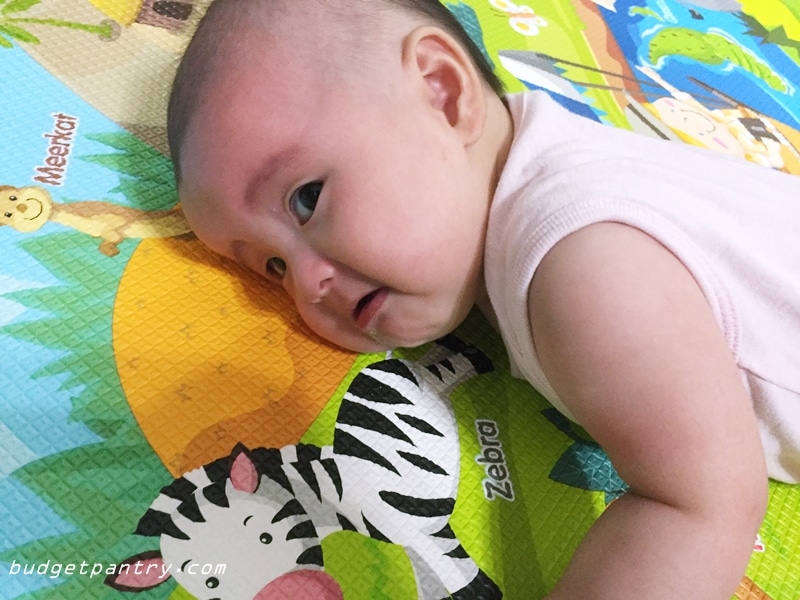 "I'm gonna try to do it..!! Look Mom…… I can!"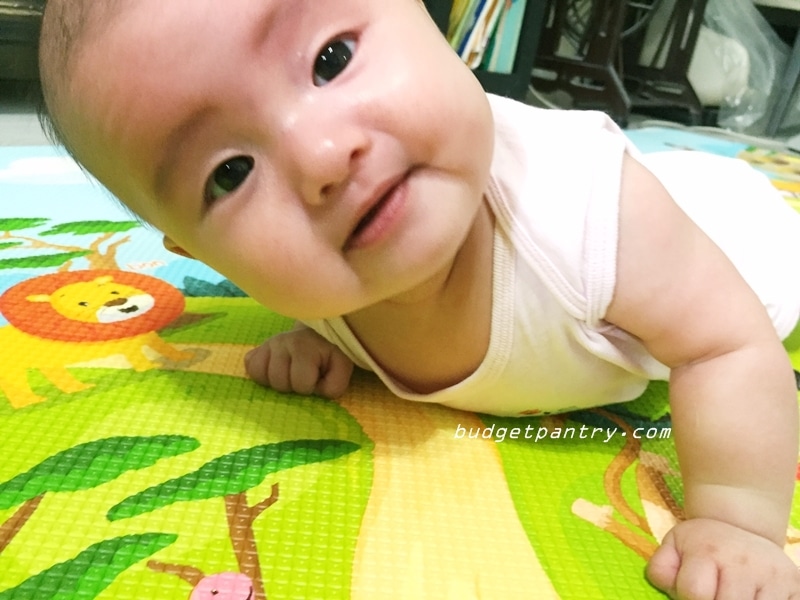 When I placed her sideways, she also tried her best to flip to her tummy and succeeded after much effort. I was so happy, and I could tell she was too!
Deciding to get a proper playmat
I was using a flimsy activity gym "mat" during her tummy time, which shifts like nobody's business when she tries to get up. This type of mat does nothing to help her develop her fine motor skills because every time her hands and legs slip, her confidence level goes down a notch and she thinks she can't do it. Observing this for a few times, I decided that I needed a better quality, sturdy and proper playmat to support her as she grows and explores.
What I look for when deciding on a playmat
There are a few things that are really important to me and Dwinguler playmats meet all these criteria and more:
– Safe and 100% non-toxic
As CBB will be spending lots of time on the playmat, it has to be 100% non-toxic and manufactured by a reliable source. Known as LG Hausys or LG Prime in Korea, Dwinguler playmats are certified by Swiss standards to be free of toxic substances and it has also met the stringent EN71 European Toy Safety Standards. See their certifications here.

Spot my babe!
– Anti-slip with firm cushioning
I compare playmats to shoes. Have you tried walking long distances in shoes with no cushion? Or tried running in your flats? Compare that with jogging in proper running shoes. Which is more comfortable? The lack of cushioning places immense pressure on your soles.. imagine if it was your baby on all fours with no cushion or support. Made of multiple foam layers which protect CBB from tumbles and falls, my Dwinguler playmat is very sturdy (稳固) and embossed for better grip. Its comfortable cushioning is perfect for CBB to roll about as she practises those flips and I don't have to worry about her feeling uncomfortable at any time.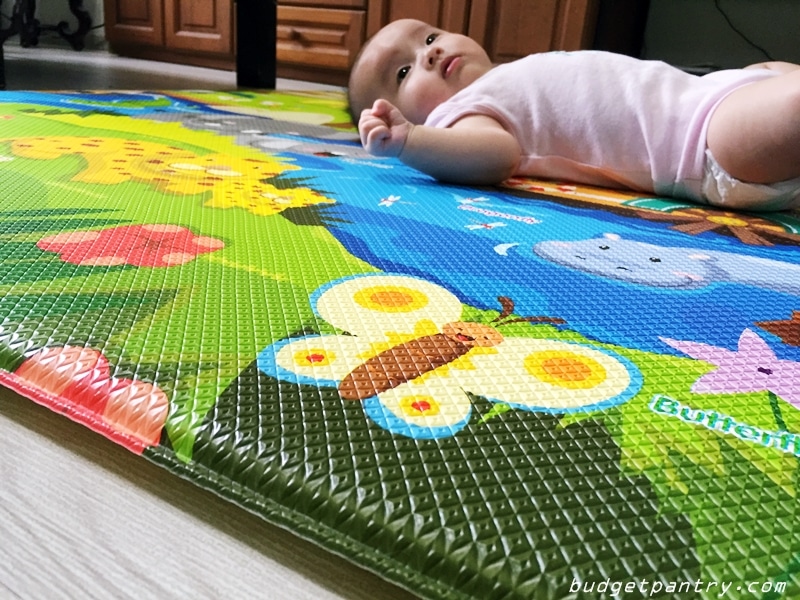 – Educational and engaging
You know sometimes I really don't know what to play or do with CBB that I wish she can self-entertain. I mean she does that alot already, but sometimes she just looks really bored and this mom don't know what to say to her. LOL. Dwinguler playmats are double-sided with vibrant colours and patterns, all designed to capture a child's curiosity. My playmat is the Masai Mara design with safari animal images on one side, and the alphabet and numbers on the other. The engaging prints make it easier for me the clueless mom to introduce CBB to colours, and help her identify animals and learn about numbers as she grows older.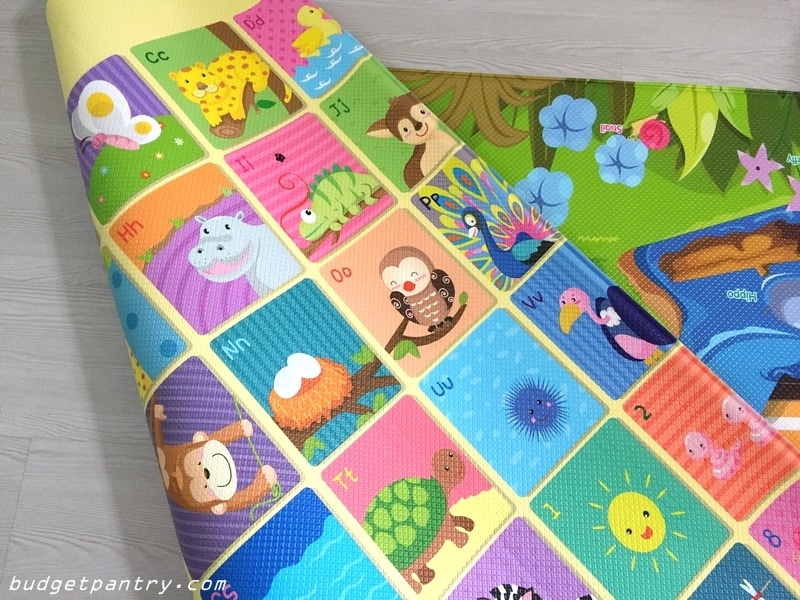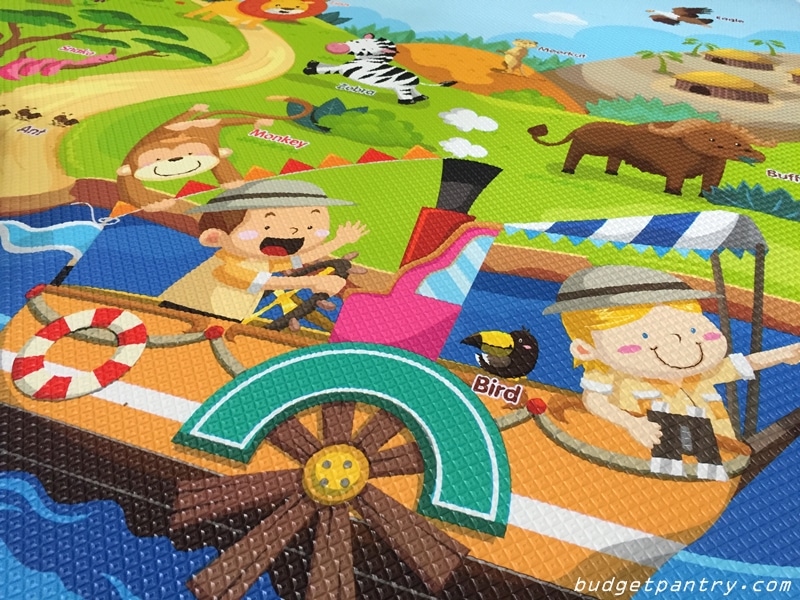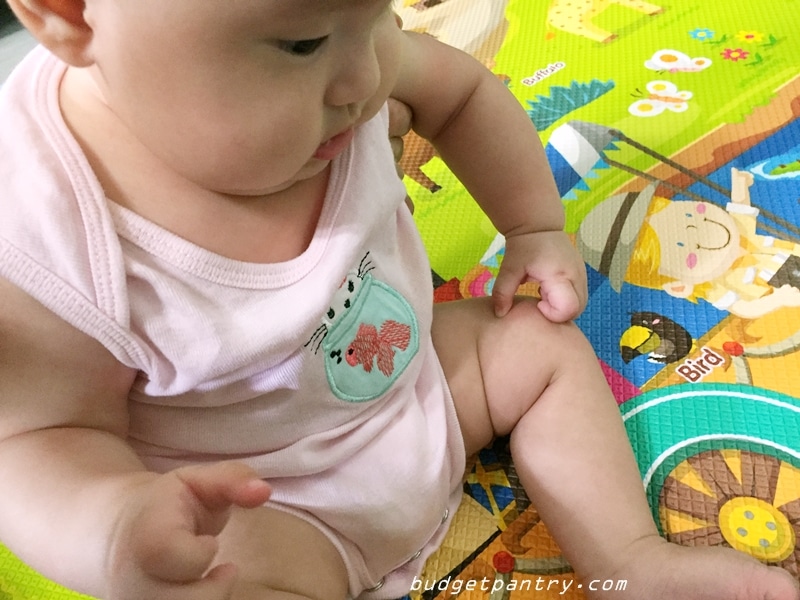 – It grows with her
A quality playmat isn't cheap, so it's a given that we hope for it to last as long as possible. My Dwinguler playmat is suitable for babies and children up to 7 years old, supporting CBB every step of the way as she learns to flip, crawl, walk and yep, fall. You really get your money's worth!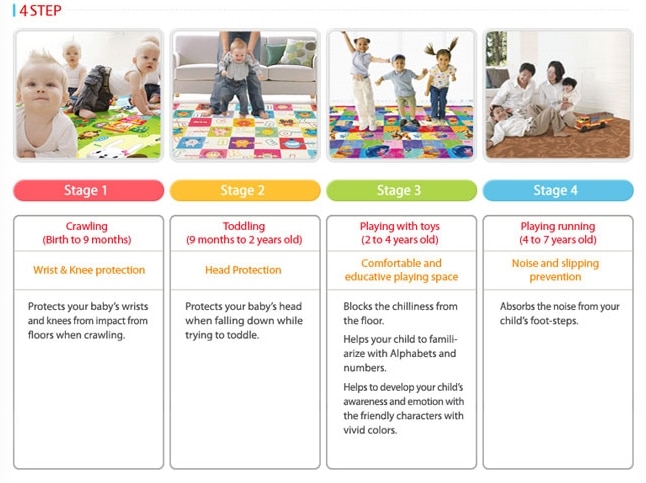 – Waterproof and easy to clean
With kids, having a waterproof playmat is a no-brainer. Dwinguler's plus point is that it is super easy to clean.. just wipe with lukewarm or warm water. If you like, you can add a drop or two of baby's shampoo into the water. Remember not to use Dettol as its chemicals are too strong and may corrode the mat's surface.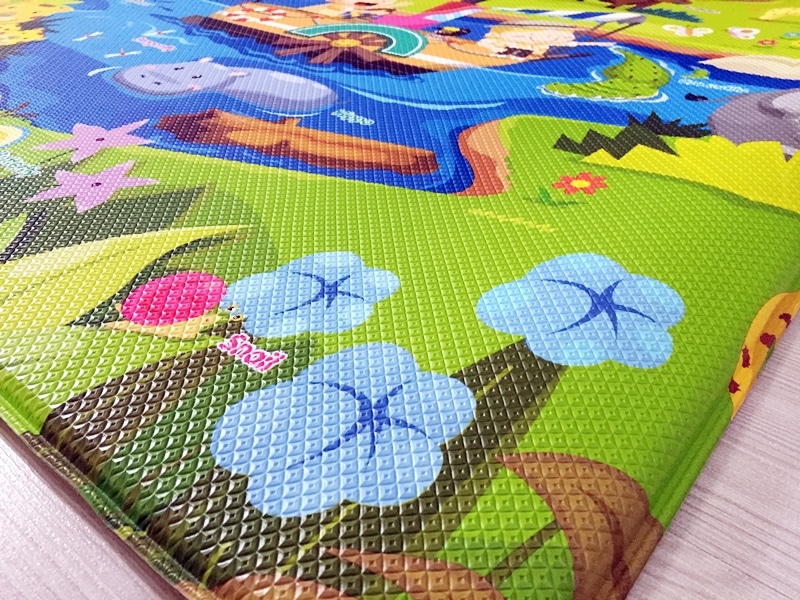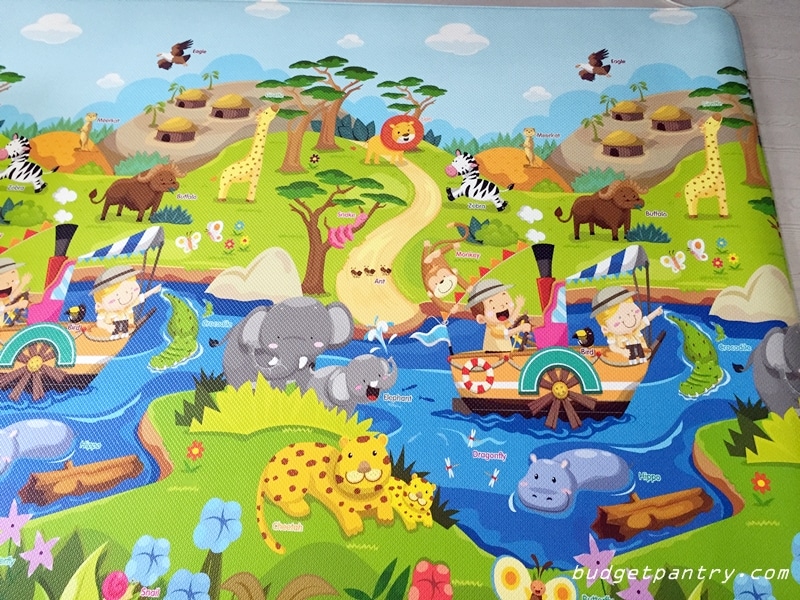 Where to buy
Dwinguler playmats are available in over 40 locations island-wide in Singapore, such as Mothercare and Mums & Babes outlets. For a full list of retailers, visit: http://dwinguler.com.sg/retailers.html
Mine is a size L playmat in Masai Mara design. More info about the sizes:
Small: 1.4m x 1.0m x 11mm
Medium: 1.9m x 1.3m x 11mm
Large: 2.3m x 1.4m x 15mm
Go on over to the website for details.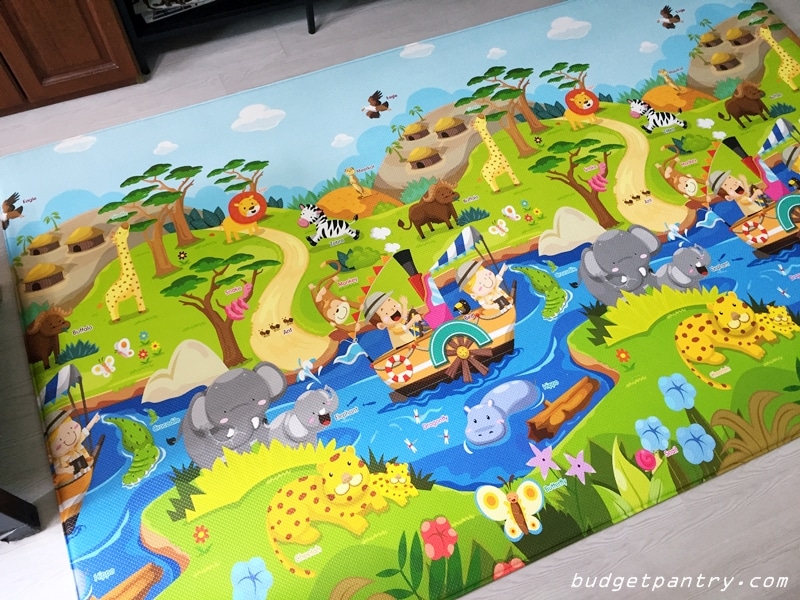 ————————
Disclaimer: I received a Dwinguler Playmat for review purposes and received no monetary payment for this review. All opinions and comments on my blog are my own unless you bribe me with a lot of money, cash only. But until now I haven't accepted any bribes yet which is worth trading my 良心 for to say something is good when it sucks. Unless you really got a lot of cash to spare, like A LOT, 收买我吧.