Hawker Staple: 水饺面 Dumpling Noodle/ Sui Gow Mee (Dry)
Who loves big, fat, juicy dumplings? Me, that's for sure!
Many of my overseas friends have asked me, "What's the difference between Wonton (云吞) and Sui Gow (水饺)?" They go by the same name in English for simplicity's sake- dumplings (just like there's "Aunt" and "姑母","姑妈","姑姐","姨母","姨妈",etc which all mean "Aunt")- but are indeed pretty different. Wontons are much smaller, and its primary ingredient- depending on where you're from- could either be a whole prawn or just little morsels of minced pork. Dumplings, on the other hand, are larger, chockful of ingredients like minced pork, prawns, water chestnuts, mushrooms, black fungus (wood ear), carrots, etc added for crunchiness. Some recipes even add bamboo shoots.
And then there's the noodles. In this recipe, I'm going to essentially refer to the noodles as "Wonton Mee" as the way the noodles are prepared is the same. Malaysian-style Wonton Mee is very generous with black sauce, and I can see how people love that version. Singapore-style Wonton Mee usually have some ketchup added, and I love, love, love ketchup in my noodles. I can't stand how people like to proclaim that a version is superior to the other.. it all boils down to having different tastebuds. I love the noodles that I grew up with, but the Malaysian version is delicious, too. Don't be childish ok? No food is "superior" to the other.
水饺面 Dumpling Noodle
Serves: 4-6 (makes 20 dumplings)
Total cost: $7.75
Total cost per serving: $1.95
What I used:
250g minced pork
15 small prawns, cut into 3-4 pieces per prawn
1 carrot, peeled and shredded
1 tablespoon dried tiny sakura prawns (refer to my Wonton Soup recipe for picture)
1 piece medium-sized black fungus, soaked and shredded
3 waterchestnuts, peeled and chopped
Spring onions, chopped
5 cloves shallots, peeled and sliced thinly
5 tablespoons oil for frying shallots
4 servings thin egg noodles/ wonton noodles
1 packet sui gow skin/ wrappers (you actually only need 20)
A handful of leafy veggies
700ml chicken stock or water to cook dumplings in
For marinade:
2 tablespoons light soy sauce
1 tablespoon oyster sauce
Half teaspoon salt
1 teaspoon sugar
1 teaspoon cornflour
Dash of white pepper
1 eggwhite
For the noodle sauce (per plate of noodles):
1 tablespoon thick, dark soy sauce (kicap manis or caramel black sauce)
1 teaspoon oyster sauce
1 teaspoon light soy sauce
Half teaspoon ketchup
2 teaspoons shallot oil
1 teaspoon sambal chilli, optional but recommended
Steps:
1. Soak one piece of black fungus in warm water for 15 minutes. If you've never seen or prepared black fungus before, it is sold in dried form (left pic) and usually used in soups, stews and stir-fries. It hardly has any taste on its own but it has a nice, subtly crunchy texture. Once soaked in water, you'll see it balloon to an unbelievable size. You'll just need half of this gigantic piece below:
2. In a large bowl, combine minced pork and sakura dried prawns with marinade ingredients except egg white.
3. Add the prawns and mix well, then add the shredded carrots, black fungus, water chestnuts spring onions and egg white. Combine everything together.
4. Wrap the dumplings. Just spoon a tablespoon of filling on your dumpling skin, then fold in half. Have a bowl of water ready to wet and seal the edges.
5. Fry the shallots til crispy and light brown over low-medium heat. Be careful not to burn it. Keep everything including oil. It's the shallot oil you need for the noodle sauce later. Keep the shallots for other uses or use them as garnish (they're so fragrant and delicious)!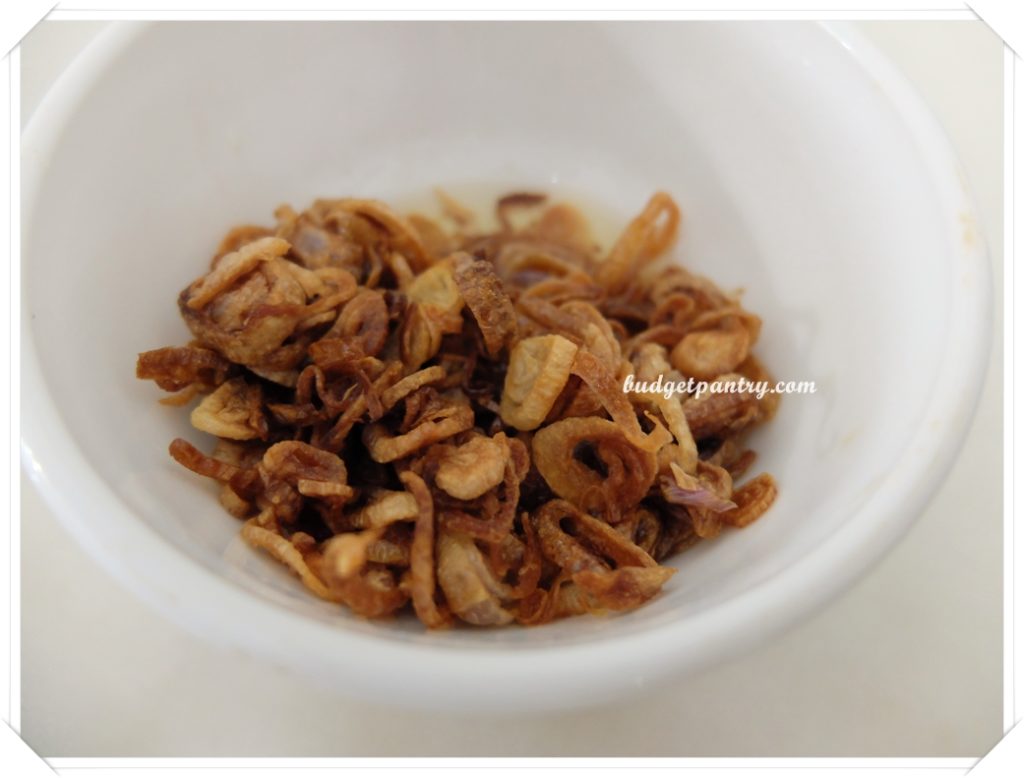 6. In a serving plate, mix ingredients for the noodle sauce together.
7. Heat up water in a pot large enough to cook noodles in. At the same time, heat up the chicken stock in another smaller pot to cook the dumplings in.
8. When the water in the larger pot is boiling, add the vegetables and at the same time, drop 4 dumplings into the smaller pot. They're done when they float to the surface.
9. In the larger pot, place one portion of noodles in a sieve and dunk in boiling water for 20 seconds. Quickly remove and run under tap water. Return to pot and cook for another 30 seconds. Be sure to keep twirling the noodles with chopsticks to keep things going.
10. Drain the noodles and toss well with the prepared sauce. Arrange the vegetables and dumplings on top, and serve with pickled chilli and additional sambal if you wish.
11. Repeat the steps until your family is fed!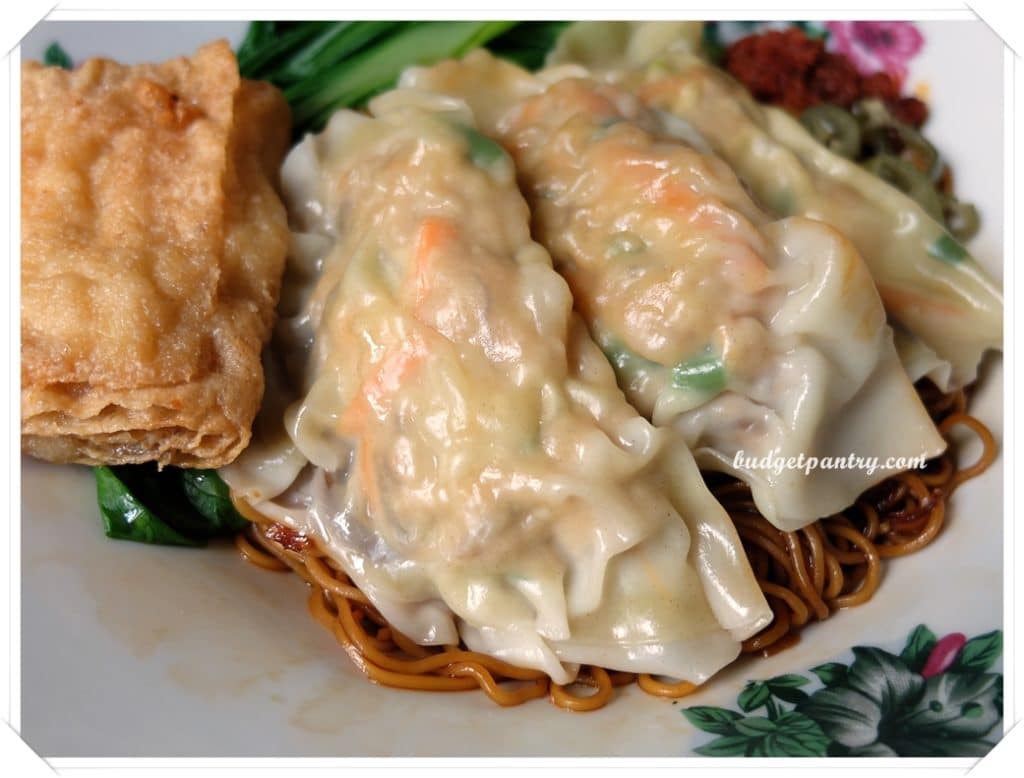 How much I spent:
$2.75 for noodles
$2.20 for minced pork
$0.20 for carrot
$0.30 for water chestnuts
$1.50 for prawns
$0.80 for sui gow wrappers
Everything else from my pantry

Don't the dumplings look simply lovely? The fried beancurd skin is an add-on, prepared in my airfryer. :) This recipe makes 20 dumplings, actually enough for 6 people if you portion 3 dumplings per person- they're huge! Only $1.40 per serving for 6, or $1.95 per serving for 4 with extras. With half a packet of sui gow wrappers left over, you can be sure I'll be making another round of these veryy soon!