"Jack's Place" Baked Potato
This year's Valentine's Day fell on the same day as 元宵节, the last day of Chinese New Year. We always have 元宵节 dinner together with the family, so Jason decided to surprise me with a home-cooked Valentine's Day lunch the next day. On the menu: Chicken chop with mushroom sauce, "Jack's Place" baked potatoes and garlic prawns and brocolli. With Pink Moscato!
The busy chef at work: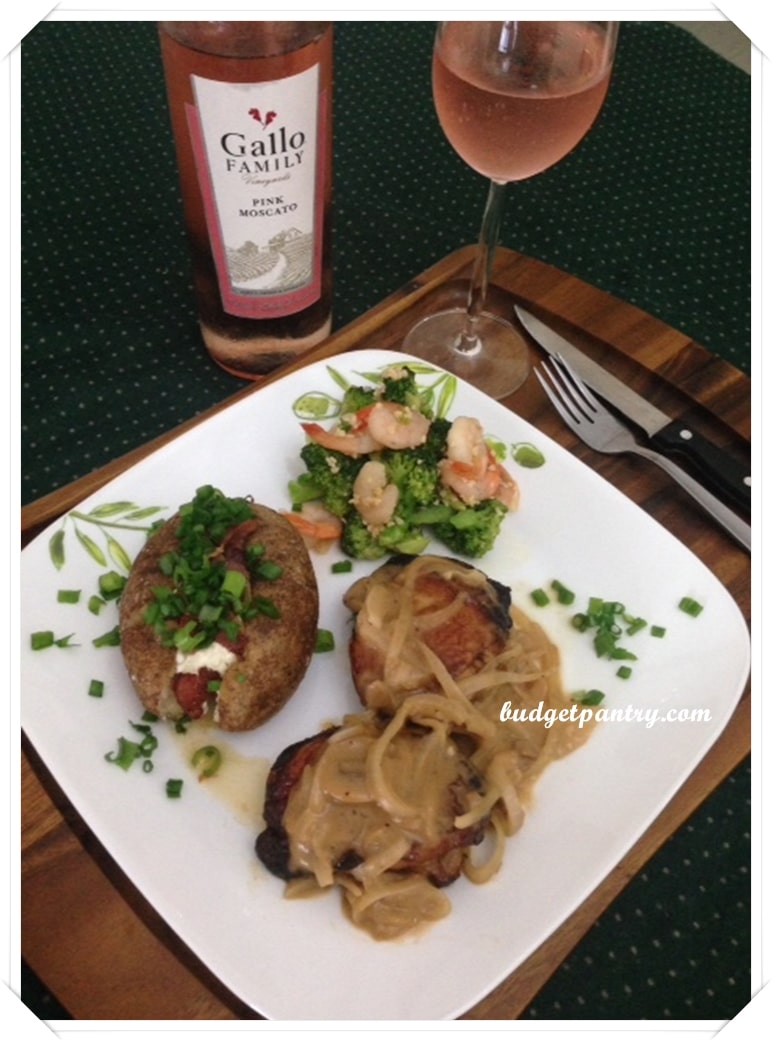 Can you believe the last time this guy cooked was 15 years ago? This just looks amazing!
He told me he "went to a blog" to check out the chicken chop recipe. I asked him, "A blog? Is it budgetpantry?" He laughed and said YES. Haha! I thought his version was tastier than mine, for some reason! He marinated and airfried the chicken the way I did, but reduced the sugar and forgot the oyster sauce. For the gravy, he sautéed some yellow onions and button mushrooms, emptied a can of mushroom soup, added some water, hp sauce and sugar, and ladled it over the chicken. It was really good!
He used my trusty Philips Airfryer to prepare the chicken chop and the meat- as always!- turned out super moist and flavourful.
The broccoli and prawn were too salty- he added TWO teaspoons of salt- but that doesn't matter at all BECAUSE THE BAKED POTATO WAS DA BOMB! The potato was fluffy and creamy, baked for 50 minutes to just the right texture.. and the skin was rustic and lovely. The sour cream, spring onions and crisp bacon accompanied the baked potato brilliantly.
I love the effort he took in preparing the meal and the entire experience was indescribable. I've always been the one cooking and feeding my family and have never had a guy cook for me before, so I really appreciate this meal very much. I felt soooo touched and loved. If this is the feeling you feel whenever you eat something I cook, I will gladly cook for you everyday! Thank you dear husband! :)
And now, Jason's recipe for our favourite "Jack's Place" baked potato! We call it "Jack's Place" potato because this is exactly the way baked potato is served at "Jack's Place", a long-standing family-style restaurant here. We kinda grew up with it. The difference is that the baked potato costs $4 a piece, and I am sooo glad I don't ever have to pay that sort of price again.
Jack's Place Baked Potato
Serves: 4 (makes 4 potatoes)
Total cost: $5.54
Total cost per serving: $1.38
What HE used:
4 large russet potatoes, scrubbed and washed
20g butter, soft enough to rub all over potatoes
A sprinkle of salt
4 tablespoons bacon (about 3-4 strips, cut into small pieces and panfried til crisp)
4 tablespoons spring onions, chopped
4 tablespoons sour cream
Steps:
1. Preheat oven to 200 degrees.
2. Using a fork, prick the potatoes about 4 times each side to avoid them blowing up in the oven.
3. Rub the potatoes all over with butter, then sprinkle/ rub salt all around.
4. Line the bottom of your oven with foil to catch any butter drippings. Bake the potatoes on a single layer directly on metal grill/ rack for 25 minutes, then turn them around and bake for another 25 minutes.
5. Poke them with a fork to test if they are soft enough. If yes, use a knife to cut length-wise across the middle, taking care not to cut all the way through.
6. Top with sour cream, spring onions and bacon and serve immediately.
How much HE spent:
$1.05 for potatoes
$2.99 for streaky bacon
$1.50 for sour cream (he used a little less than half a tub of $3.40)
Everything else from my pantry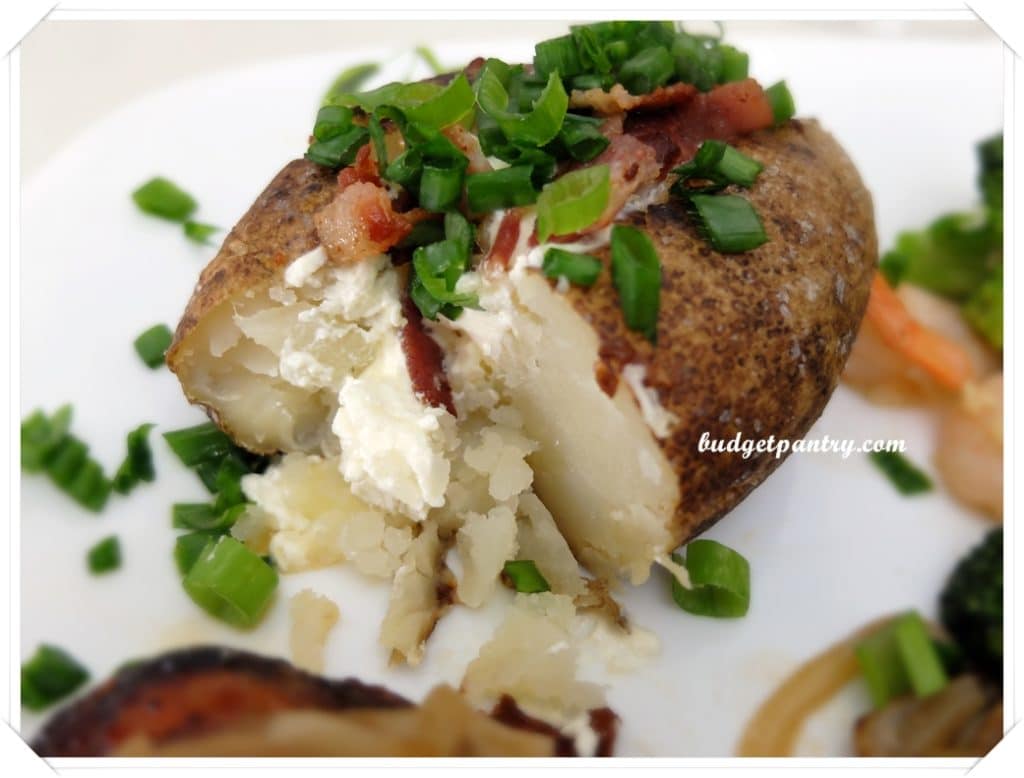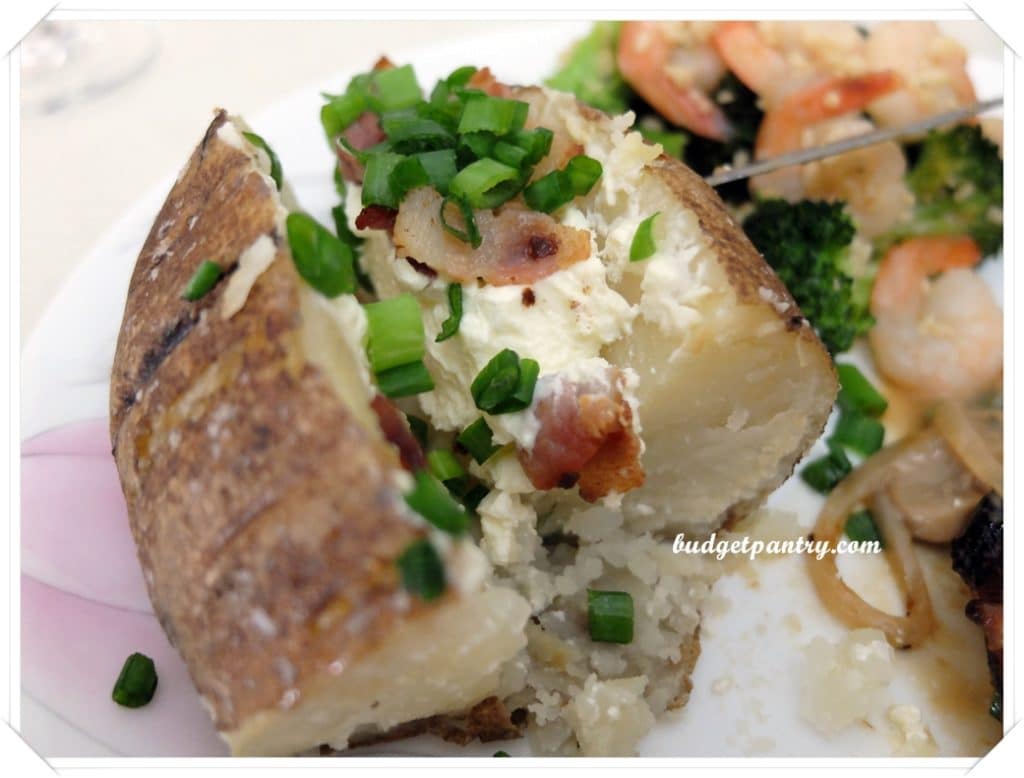 Now that I know how to make my own baked potato (or have a husband who knows how to make it for me!), I swear I will never eat another baked potato outside again!