10 healthy office lunch box ideas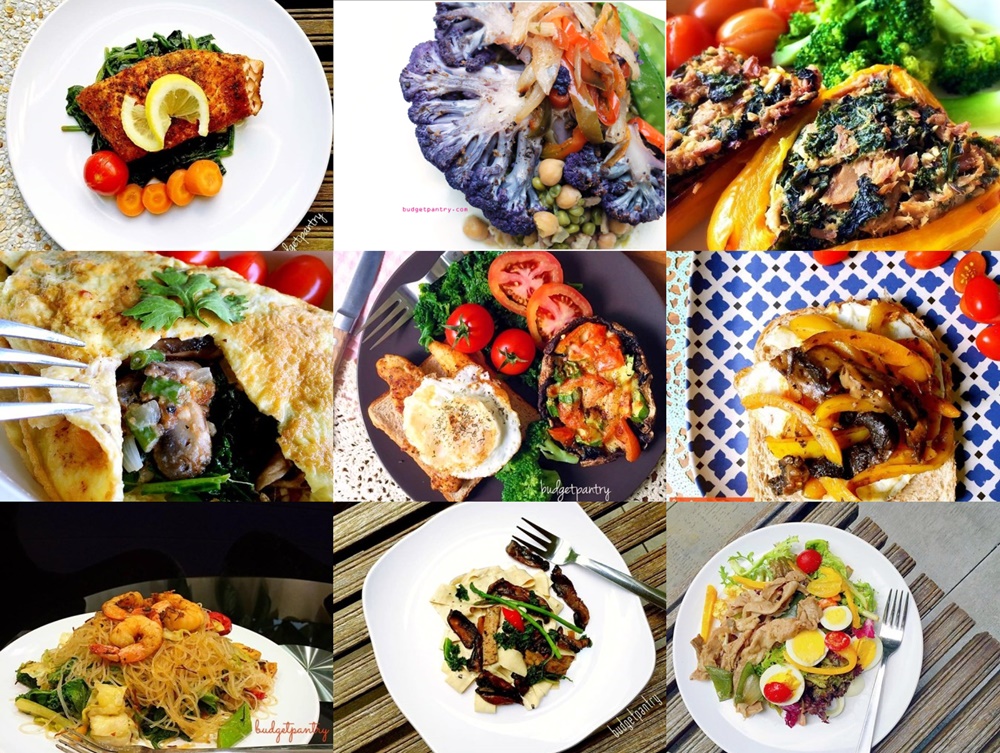 With Chinese New Year approaching in 2+ weeks, many people around me are starting to go on a diet! Here are some ideas for you to eat well, eat yummy and still lose weight!
I pack lunch to work almost every day. My office pantry has a microwave which I use to heat up my food, unless I'm eating a salad. I use the FÖRTROLIG glass containers from IKEA to store my lunch. If you don't have access to a microwave, you might want to use a thermos lunchbox instead.

My lunch and dinner are mostly low carb. That means no rice, noodles, starch, potatoes or beans. I eat a lot but I fill up on meat and all sorts of vegetables. I often cook fish like salmon and barramundi because they're so easy to prepare, but I also eat a lot of chicken, salads, stir fry vegetables or cauliflower steaks. I eat at least one tomato a day but take note if you have a reduced kidney function as tomato is a high-potassium fruit. You can read more about kidney function and high-potassium levels here.
That said, I do eat whole meal bread and whole wheat crackers as a snack – but I eat it with a protein like eggs, cheese or almonds so that the blood sugar doesn't rise as quickly. I'm not diabetic, but I like to take note of these things. I also get my carbs intake from other food sources – apart from fish and meats, almost everything else has some kind of carbs in them, including vegetables and milk although these are healthy carbs which get slowly absorbed into our systems, minimising spikes in blood sugar level.
It's very interesting, this whole nutrition thing. I'm constantly learning! If I could turn back the clock, I think I wouldn't go on my communications route and instead study something food and nutrition-related.
Not all my meals are super healthy but I try my best to make them enjoyable! And yes I eat fried chicken. Here are some samples of my actual meals (my Facebook followers will find them familiar!):
I love salmon! I simply rub it with cajun seasoning and airfry for 7 minutes. Add a variety of vegetables to fill you up. Here, I have blanched Chinese spinach (puay leng), cherry tomatoes and carrots. To not overcook the salmon (by microwave heating from chilled), I only airfry it in the morning before I leave for work. You can leave the airfryer on while you take your shower! Recipe for Cajun Salmon: https://budgetpantry.com/airfried-cajun-salmon/
2. Mesclun Salad with Shabu Shabu Pork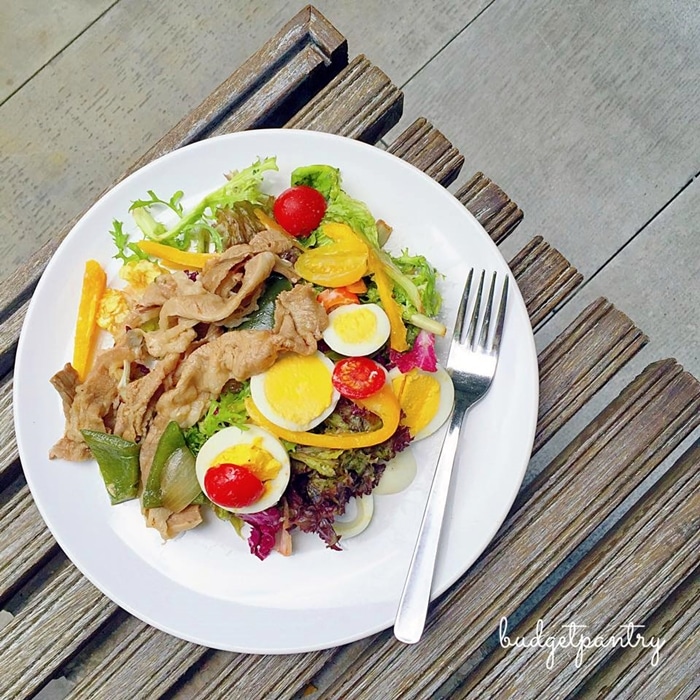 I usually get a huge packet of Mesclun salad mix and use it to prepare the husband's breakfast and my lunchbox, and when the aunt is in the mood for fresh greens, I prepare portions of it for her as well. One pack of 500g can last us at least six portions, but plan carefully and use them up in 2 days! I added a hard boiled egg, yellow peppers and Shabu Shabu pork slices, prepared the same way as my sister-in-law's Stir Fried Beef with Bell Peppers recipe (I only used a different type of meat): https://budgetpantry.com/stir-fried-beef-with-bell-peppers/ The best part? You don't need to heat this up! I skip the dressing whenever I prepare this as the pork is already very flavourful.
3. Grilled Cauliflower Steaks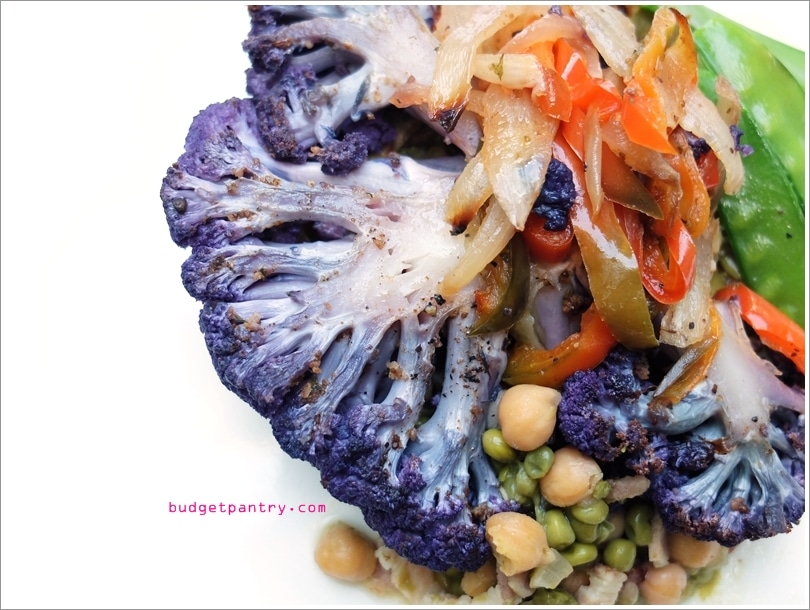 Mmmm.. this I grill the night before because you really need to give the cauliflower time in the oven to cook till it achieves a delicious nutty flavour. Slice the cauliflower down the middle, then slice again to get 2-3 one-inch steaks. I served this with Bacon and Peas, onions and blanched snow peas. Recipe for grilled caulifower: https://budgetpantry.com/grilled-cauliflower-steaks/
4. Tuna and Kale Stuffed Peppers


Grilled peppers! This is one of my favourite things to cook because it is so easy. I first stir fry kale leaves in some garlic oil, and add in tuna in brine to mix. Season with a bit of black pepper and spoon the mixture into bell pepper cups before baking or airfrying. You can also use Chilli Tuna. I really love Chilli Tuna (I use Ayam Brand). I like to have it with cherry tomatoes and blanched broccoli, but of course, any other vegetable sides would be great.
5. Tofu "Pasta"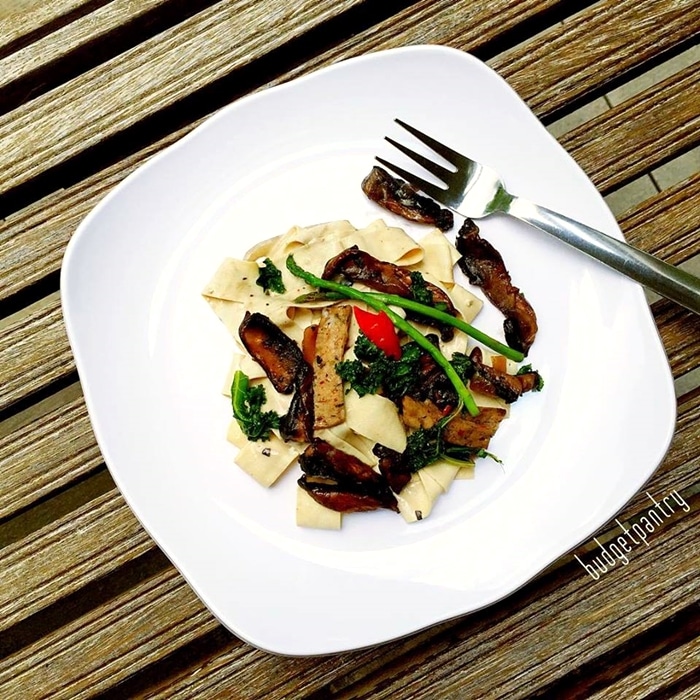 Pasta! Ok not really but these tofu sheets are a nice substitute. They don't give you the savoury feel of pasta – they're light and slightly chewy, but they do fill me up. I like to have them with sliced chicken breast, mushrooms and asparagus. You can have them with bolognese (minced meat in tomato sauce) for your pasta fix without the carbs! Here's a variation in light cream sauce that I cooked a while ago: https://budgetpantry.com/tofu-pasta/
Yes I eat bread! Open face sandwiches like the one here are my favourites. I like to slather on some cream cheese (I use full fat Laughing Cow cream cheese – no point if you eat light cream cheese!), top my sandwiches with a sunny-side up along with grilled peppers and mushrooms. I also often make roast chicken sandwiches using individually quick frozen (IQF) chicken fillets from Lebon which I get from Giant.
7. Grilled Eggplant with Egg and Chilli Tuna


Eggplant! I LOVE eggplants! They fill you up and are very low in calories, only about 25kcal per 100g. I've made so many versions of these I've lost count. Start with grilling some eggplants as a base, then top with whatever you like. I find that tuna works really well and I especially love Ayam Brand's Chilli Tuna with my melty eggplants. I fry the tuna with egg sometimes and I also top them with mozzarella cheese. Add chicken, tomatoes and greens for a full meal. Recipe: https://budgetpantry.com/grilled-eggplant-tuna-cheese/
8. Stir Fry Vegetables and Brown Rice Vermicelli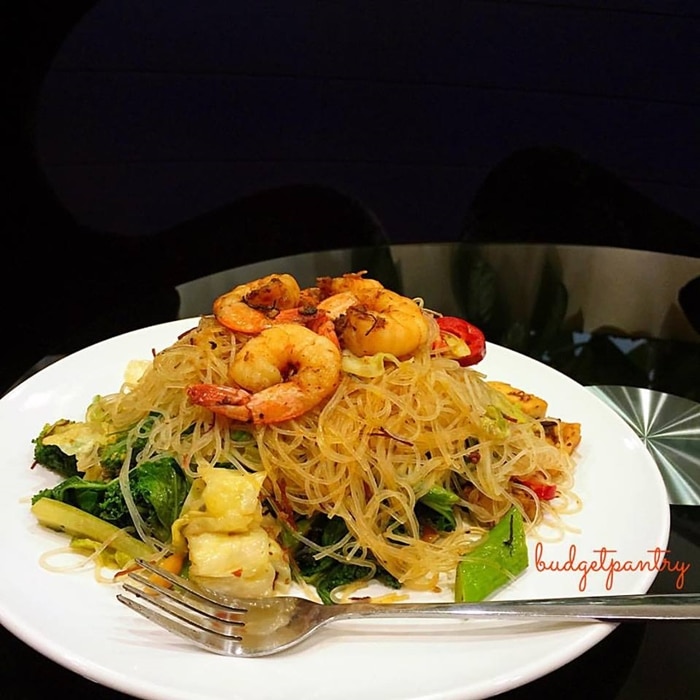 This is for days when I don't know what to cook and I have an entire drawer of vegetables. Make a vegetable stir fry! All you need to do is chop up whatever vegetables you want and wash them free of pesticides (I use an organic fruit and vegetable wash), defrost some meat or prawns and soak brown rice vermicelli till just turning soft. Heat up your wok and fry garlic, meat and vegetables till done then add some XO sauce. Add the vermicelli last. And you have a whole box of goodness! In this picture, I have heaps of celery, kale, sweet peas, peppers and cabbage underneath the vermicelli.
9. Omelette anything!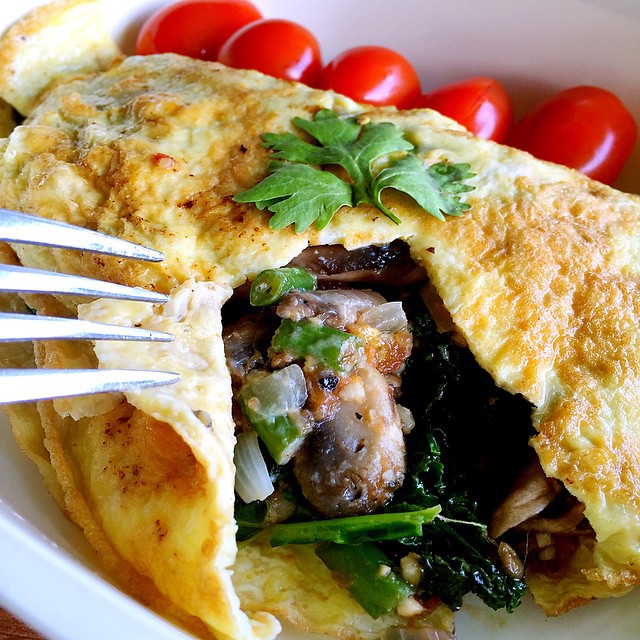 Make a hearty omelette with two eggs and anything you want! I like to stuff my omelette with leafy greens, mushrooms and cheese. I don't particularly LOVE kale, but they're good for me so stuffing them in omelettes is a REALLY good idea. Crack two eggs in a bowl, add some milk and beat till fluffy. Heat up your pan with some oil, pour in the eggs and wait till just slightly set. Spoon the pre-fried ingredients on top (veggies, onions and mushrooms) and add cheese slices or mozzarella. I also like to cook cheese scrambled eggs with chopped tomatoes, edamame and truffle salt. Effortlessly good!
10. Stuffed Portobello Mushrooms and everything else!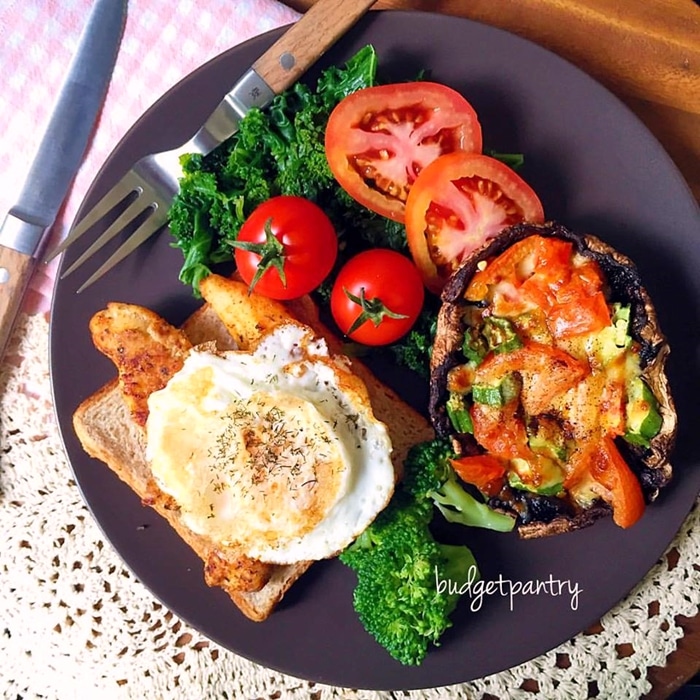 On days that I can afford more indulgence (of time!), I prepare a "big breakfast" kind of lunch. Airfry a Portobello mushroom stuffed with goodies like okra, bacon and cheese (https://budgetpantry.com/stuffed-portobello-mushrooms/) and have it with tomatoes, leafy greens and even an open face chicken sandwich with egg.
===================
What do YOU pack in your lunchbox? Share your quick, easy and healthy lunch ideas with me!