Chicken Mayonnaise Sandwich Filling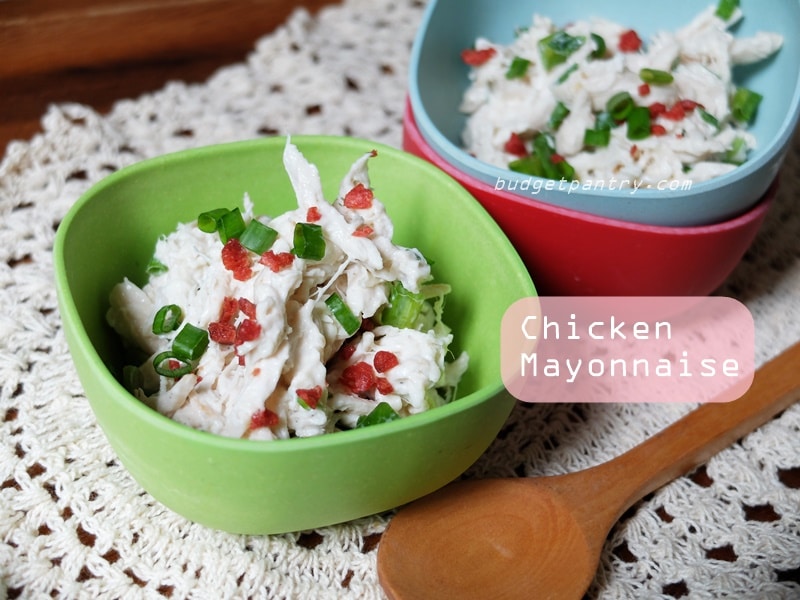 Simple sandwich dinner for Sunday night! You can also make this at night to assemble for breakfast the next day. Yums! I love Delifrance's chicken mayonnaise croissant, but from $3.90 a piece since my school days (yeah yeah way more than 10 years ago), it's now double the price. How to eat? $7+ I can feed my family of four if I make it myself at home.

To make this, the basic ingredients are: chicken inner fillet (or you can use a whole piece of chicken breast), mayo, salt and pepper. To increase the flavour, I also like to add some concentrated chicken stock (I use Woh Hup) to the boiling water plus add some finely chopped yellow onions in the mix but it's optional.
I recommend you eat this chilled for maximum taste! Have it in sandwiches, baguette or croissant, along with lettuce and sliced tomatoes. I hope you enjoy this!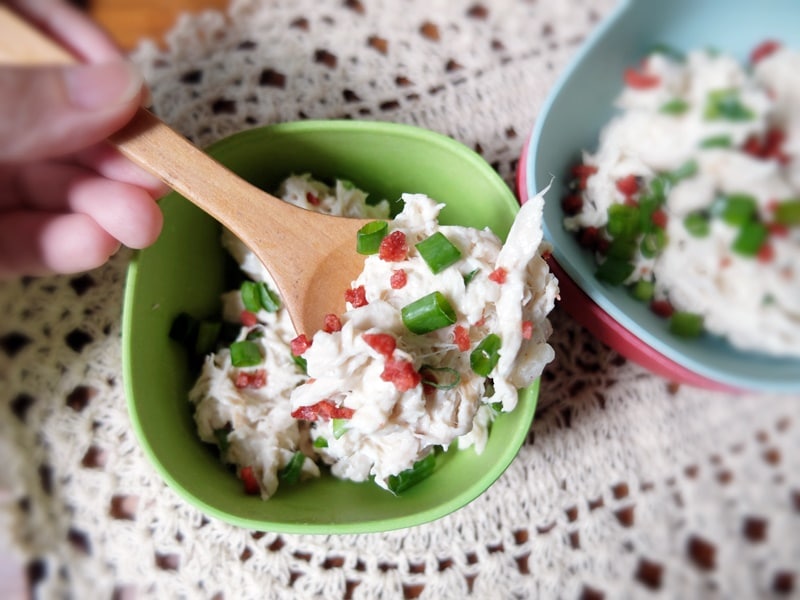 Chicken Mayonnaise Sandwich Filling
(budgetpantry.com)
Serves 2
Total cost per serving: $1.05
What you need:
6 pieces chicken inner fillet (you can use a piece of chicken breast)
1 teaspoon of Woh Hup concentrated chicken stock
Enough water to boil the chicken
4-5 tablespoons mayonnaise
Pinch of salt
Dash of white pepper
3-4 pieces of lettuce
1 tomato
1 tablespoon of chopped yellow onions (optional)
Spring onion and bacon bits (optional)
Bread of your choice
Steps:
Boil water in a pot and add the concentrated chicken stock. Add all the chicken and boil till cooked. Reserve 2 tablespoons of stock. Set aside and shred chicken by hand when it's cool enough to handle.
In a large bowl, combine shredded chicken and mayo. Mix well and add the reserved chicken stock bit by bit, depending on the consistency you like. Add the onions (if using) and season with salt and pepper. Chill for an hour.
Spoon chicken filling into preferred bread and assemble with lettuce, tomatoes. Garnish with spring onions and bacon bits if you like.
How much I spent:
$1.80 for chicken fillet (I use frozen)
$0.30 for tomato
Everything else from my pantry