My brother's helper, Lyn (who has put on 10kg since she started working for us), recognised the aroma floating through the air instantly when she entered my home. "Adobo!" she exclaimed excitedly as she dropped her keys on the table and dashed right into the kitchen. Ok, I am exaggerating a bit here. How to "dash" to the kitchen from the door when we're living in a 4-room HDB flat? The distance 就那几步罢了。Haha.
She said in their household, they normally cut the chicken into smaller pieces but there are also some families who cook with whole chicken thighs. I quite regret that I didn't have the chance to offer her a piece of this chicken.. they were not yet ready. But what if she 嫌弃 my "not authentic" adobo chicken? Authentic or not, we were quite pleased with these.. the flavour was very "heavy" with the use of vinegar and amount of soy sauce. It isn't a taste we're quite used to but it definitely tasted delicious!
Chicken Adobo

(budgetpantry.com)
Recipe adapted from
Just One Cookbook
. I reduced the soy sauce, increased the garlic and did not broil for crispy skin. I should have used my air fryer to crisp them up!
Serves: 6
Total cost per serving: $0.75
What you need:
6 bone-in chicken thighs
1 cup water
1/4 cup soy sauce
1/2 cup apple cider vinegar
6 cloves garlic, sliced
2 bay leaves
Black pepper
Steps:
Clean the chicken and remove any visible fat. Leave the skin on.
Combine the water, soy sauce, vinegar, bay leaves, garlic and black pepper in a pot big enough to fit the chicken thigh in a single layer. Bring the sauce to boil.
Add the chicken one by one, skin side down, cover the pot and simmer for 30 minutes on medium low heat. Once the 30 minutes are up, turn the chicken over and simmer for another 10 minutes, uncovered, til sauce is reduced and thickened.
Serve hot with rice. Enjoy!
How much I spent:
$4.50 for chicken thighs
Everything else from my pantry
——————————————————————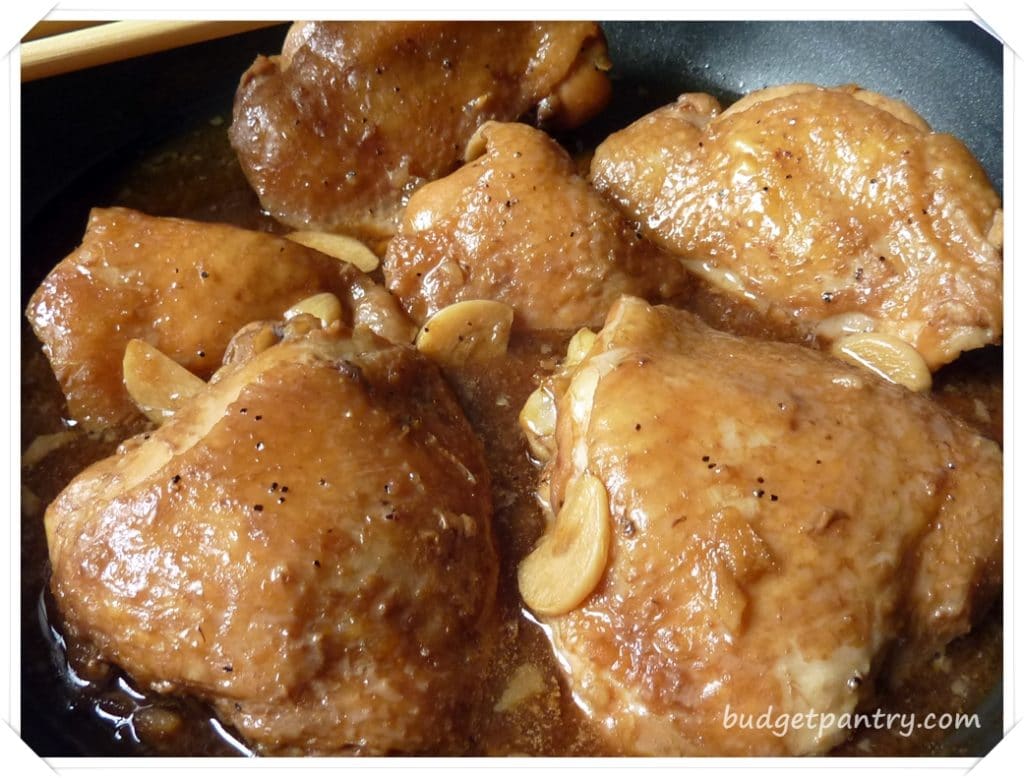 The original recipe called for broiling.. I didn't have a broiler oven and didn't think to use my airfryer and I really should have! Going by how chicken works wonders with the airfryer, I can imagine how delicious it would be! I will try making this with a bit of added sugar next time to balance out the taste. I do see alot of other recipes with added sugar and I even came across one with Sprite. If you cook adobo often, let me know your favourite way to prepare it! With or without sugar?