Crispy Cheesy Chicken Roll-ups with Perfect Italiano
(Advertorial)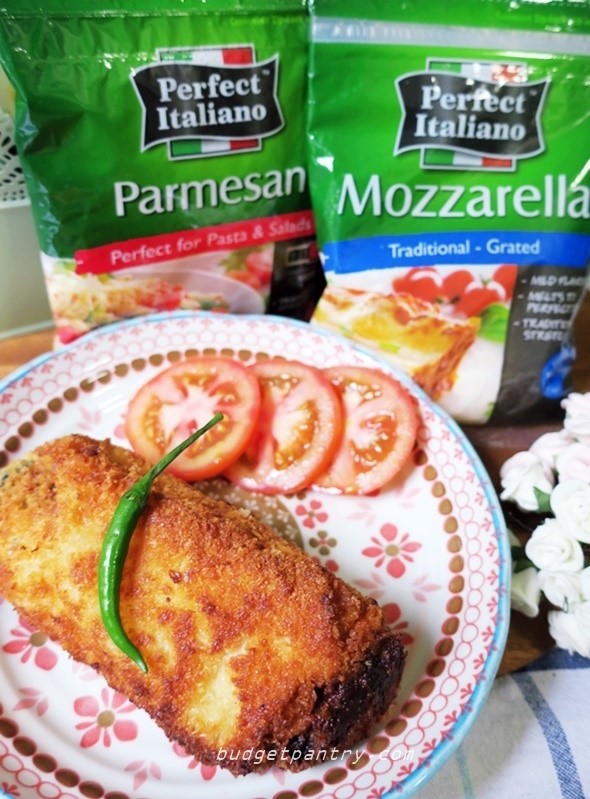 I've been wanting to make these crispy cheesy chicken roll-ups since forever. I'm finally getting to it!
What's better than slicing into hot, crispy chicken to reveal a savoury, cheesy, melty filling? I decided to stuff these gems with baby spinach and Perfect Italiano's Mozzarella and Parmesan Grated Cheese for that awesome stretchy texture and yummy cheesy taste. I added green chili padi to it for extra oomph – they're not really spicy. If I could find Jalapenos, I would use them!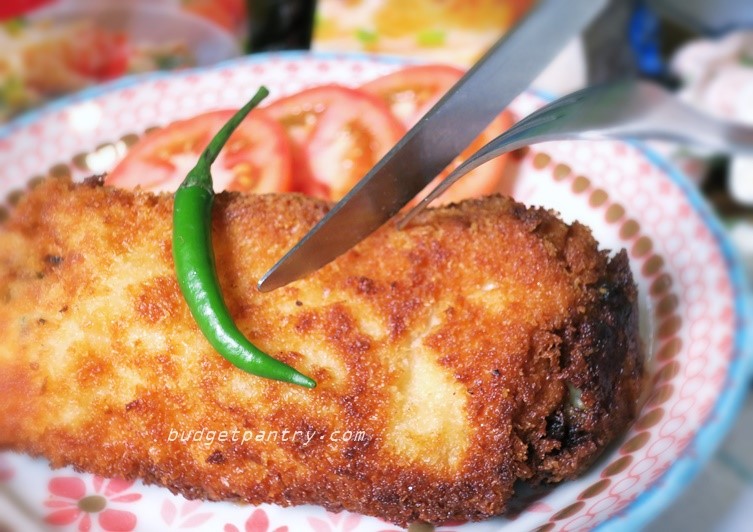 To make these, all you need to do is: sauté baby spinach till wilted then combine with sour cream, garlic powder, dill, salt, Perfect Italiano Mozzarella and Parmesan Grated Cheese, then spread the mixture on chicken breast. Roll up and dip in egg, flour and breadcrumbs. Fry till golden. Savour!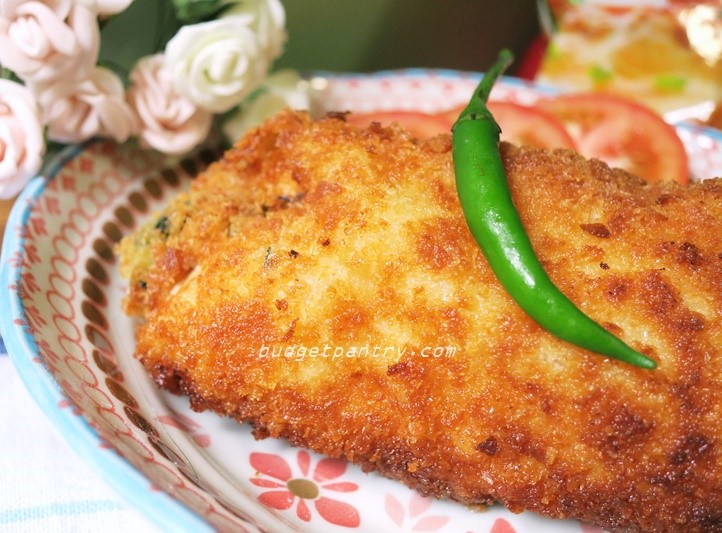 These were done in 30 minutes from start to finish. I'm a fan of simple, no-frills recipe which calls for minimal ingredients. It's a bonus that Perfect Italiano's cheeses pack so much punch that very little seasoning is needed to flavour your dish.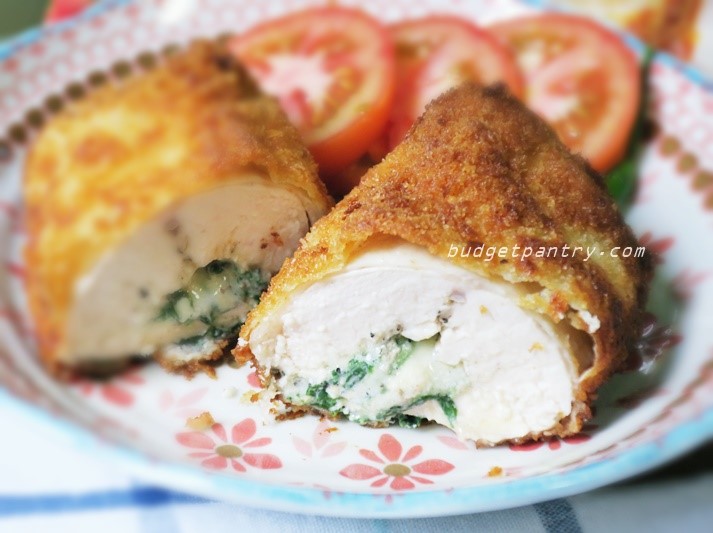 I like to combine both their Mozzarella and Parmesan cheese into a dish because they complement each other so well. Perfect Italiano's Mozzarella Grated Cheese is mild flavoured and has a stretchy nature. It melts wonderfully to create the savoury texture my family loves. The Parmesan Grated Cheese has a sharp and savoury taste which balances the Mozzarella perfectly. I usually do a 1:3 Parmesan to Mozzarella ratio in my recipes.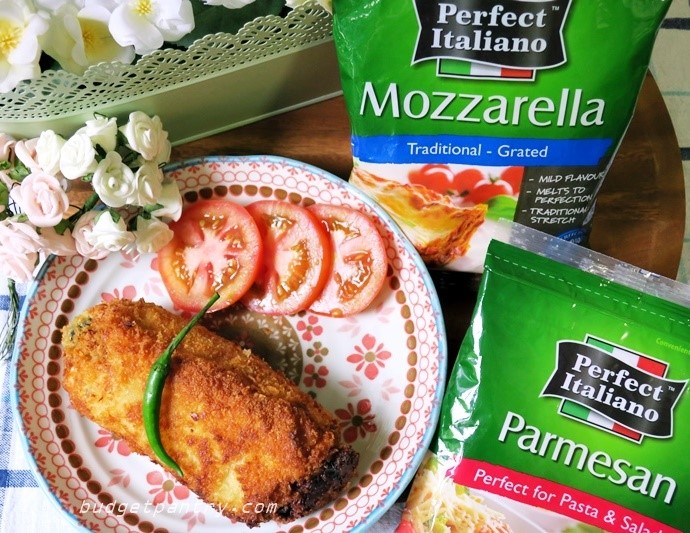 Perfect Italiano cooking cheese is available in leading supermarkets. Whether you try this recipe or come up with your own creation, remember to share it with me by hashtagging #perfectitalianosg. If you need more recipe inspirations, go on over to the Perfect Italiano's website to browse their amazing recipe library. They have a great collection of easy-to-follow recipes to inspire you all-year round.
Crispy Cheesy Chicken Roll-ups with Perfect Italiano
(budgetpantry.com)
What you need:
4 large chicken breasts
200g baby spinach
150g Perfect Italiano Mozzarella Grated Cheese
50g Perfect Italiano Parmesan Grated Cheese
200ml sour cream
1 clove garlic, chopped
3 chilli padi, chopped
Half teaspoon salt
Sprinkle of dill
Sprinkle of black pepper
Oil for frying
To coat:
2 eggs, whisked
Self-raising flour
Japanese panko
Steps:
Heat up half a tablespoon of olive oil and add the garlic. Sauté the spinach till wilted. When cooled, squeeze out excess water with kitchen paper and set aside.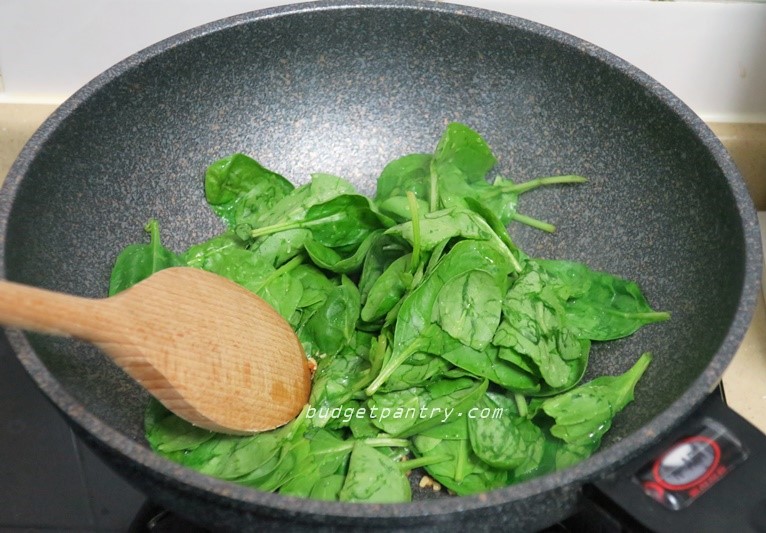 Combine the sour cream, Perfect Italiano Mozzarella Grated Cheese and Perfect Italiano Parmesan Grated Cheese.

Add a sprinkle of dill and half teaspoon salt.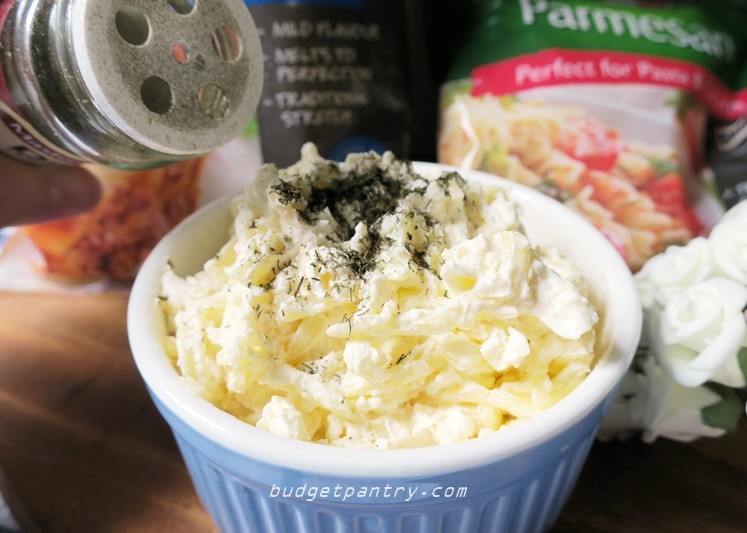 Mix well, and combine with the earlier spinach. I added chopped green chilli but you can skip it if you don't take heat.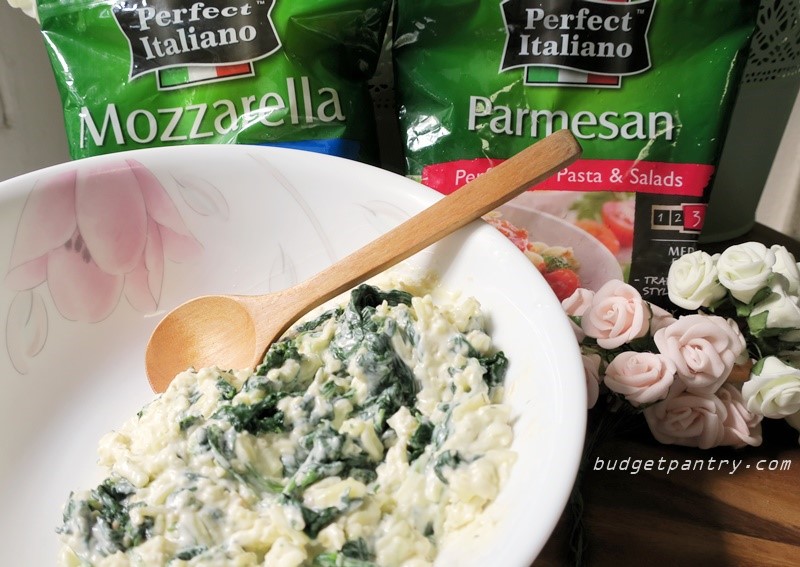 Flatten each piece of chicken breast with a food mallet or the back of your knife. Season with black pepper and salt. Spread the cheese mixture on the surface and roll up, tucking in the edges as you go along. Dip in flour, then egg, and finally in panko. Repeat until all chicken breasts are rolled up.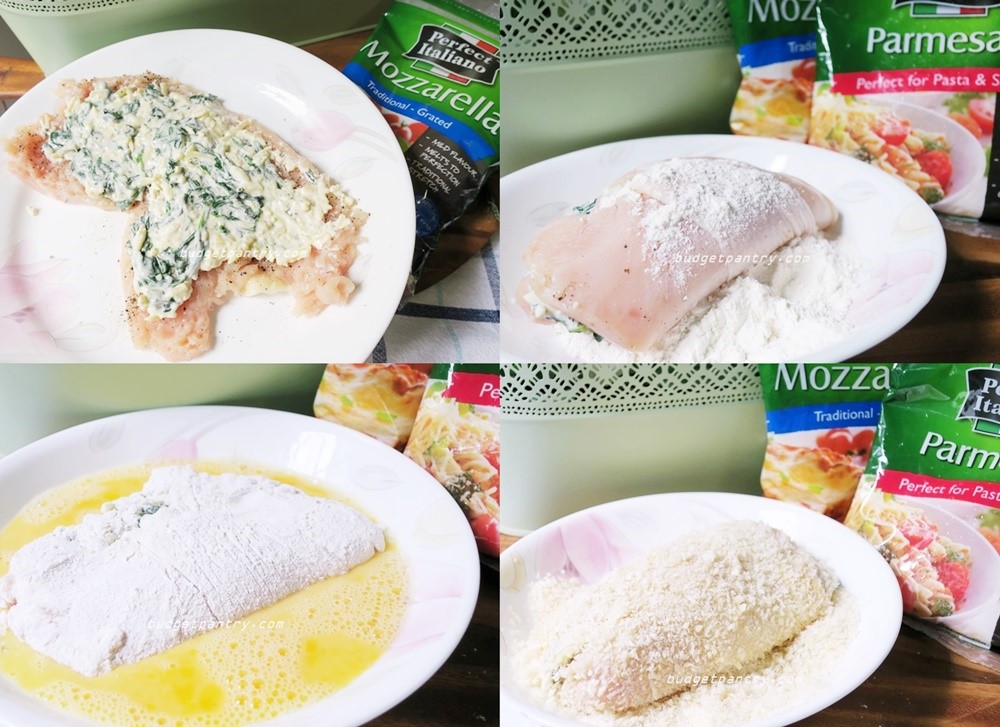 In a frying pan, heat up about a centimeter of oil, enough to shallow fry the chicken breasts. When oil is hot, place each chicken breast carefully into the pan and fry, untouched, for 3 minutes each side, till crust is golden. Be sure not to miss the sides. Serve hot with your preferred sides.