Cantonese Braised Ee-Fu Noodles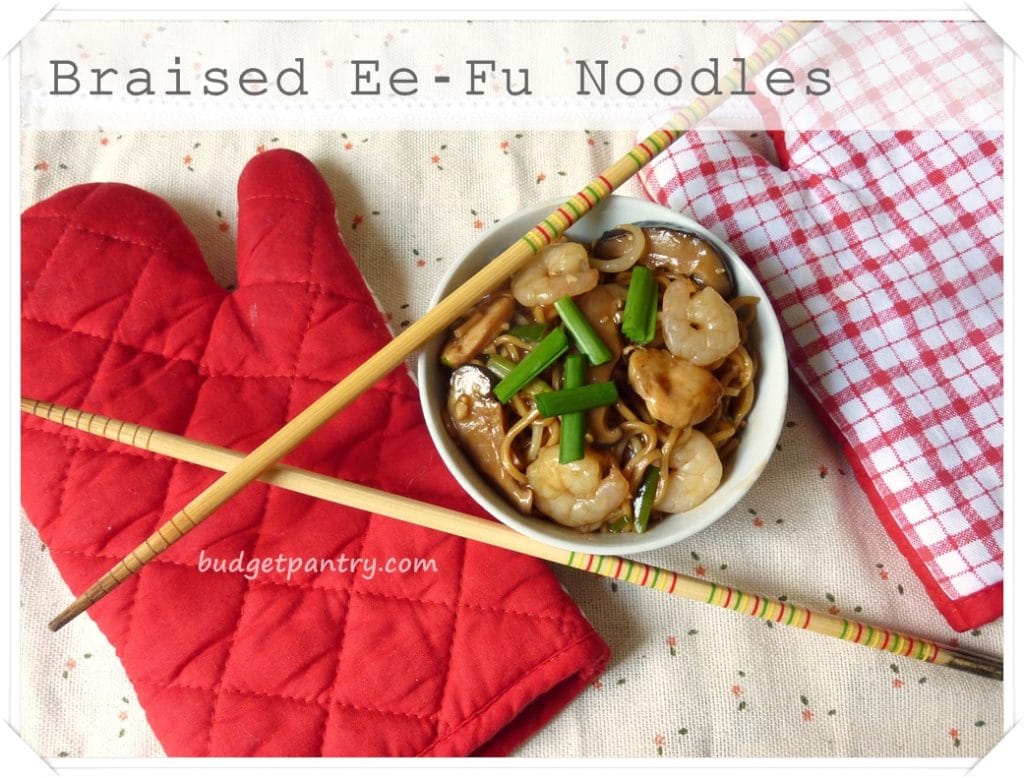 After doing a taste test of these noodles this afternoon, my only regret is that I can't eat an entire bowl of this myself! I know, I know, I am constantly on a diet and have not had an entire bowl of carbs to myself for the longest time. But this time really cannot ok? In case I forget, I have a wedding coming up next month. Yes, mine.
I love cooking with yi mein, or ee-fu noodles, or yi mian because there's really a whole lot of variety that you can have with them. Make crispy "Sang-Mein" by ladling boiling hot gravy over them, along with ingredients like carrots, mushrooms, chicken or pork, shrimps, squid, veggies and a beaten egg. Make claypot noodles by simmering them for a short while in a prepared sauce the above ingredients but with whole cracked egg. Or, like in this recipe, braise them for a longer time along with beansprouts, chives, mushrooms, shrimp and chicken pieces, until all the sauce is about soaked up. No matter which method you choose, they're a definite crowd pleaser BECAUSE EE-FU NOODLES ARE ESSENTIALLY DEEP FRIED CARBS.
How do they get their crispy texture otherwise and how in the world can deep fried ANYTHING not taste good?!
So today, just pretend noodles are good for you (they're made of wheat okayyy?!) and cook this delicious dish already.
Makes 1-2 servings (1 cake of noodle = 2 rice-bowl portions)
What I used:
1 round cake crispy ee-mein
A handful of shrimps
1 chicken fillet, sliced
2 dried shitake mushrooms, soaked til plumped up and sliced (I soak overnight, then reserve soaking water)
A handful of beansprouts, more if want!
2 stalks chives, cut into 1-inch lengths
1 teaspoon minced garlic
1 teaspoon olive oil
Cornstarch solution (1 flat teaspoon corn starch mixed in 2 tablespoons tap water)
Seasoning sauce (mix together)
1.5 tablespoon oyster sauce
1/4 teaspoon  dark soy sauce
1/2 teaspoon mushroom powder seasoning (my Mom introduced this to me last week and I love it)
1 teaspoon chinese wine (hua diao jiu)
Dash of white pepper
Half cup water
Half cup reserved mushroom soaking water
1. Heat up the olive oil in a pan. When oil is hot, saute garlic for 30 seconds then add mushrooms, chicken and shrimps. When the chicken is no longer pink and the shrimps are about pink (identity crisis, these two), add the beansprouts and chives and stir fry on high heat for another minute.
2. Add the seasoning sauce. Bring to boil and add the noodle cake. Lower the flame to medium.
3. Ladle the sauce on top of the noodle as much as you can, add the cornstarch solution, then cover with lid for 3-4 minutes. Check to see that the braising sauce is almost all absorbed by the noodles, switch off the flame, garnish with some more chives and serve.
How much I spent:
$0.27 for noodles
$1 for shrimps and chicken
$0.10 for bean sprouts
$0.20 for chives
Everything else from my pantry!
Total cost per serving: $1.57 or $0.79 if you're a small eater
——————————————————————-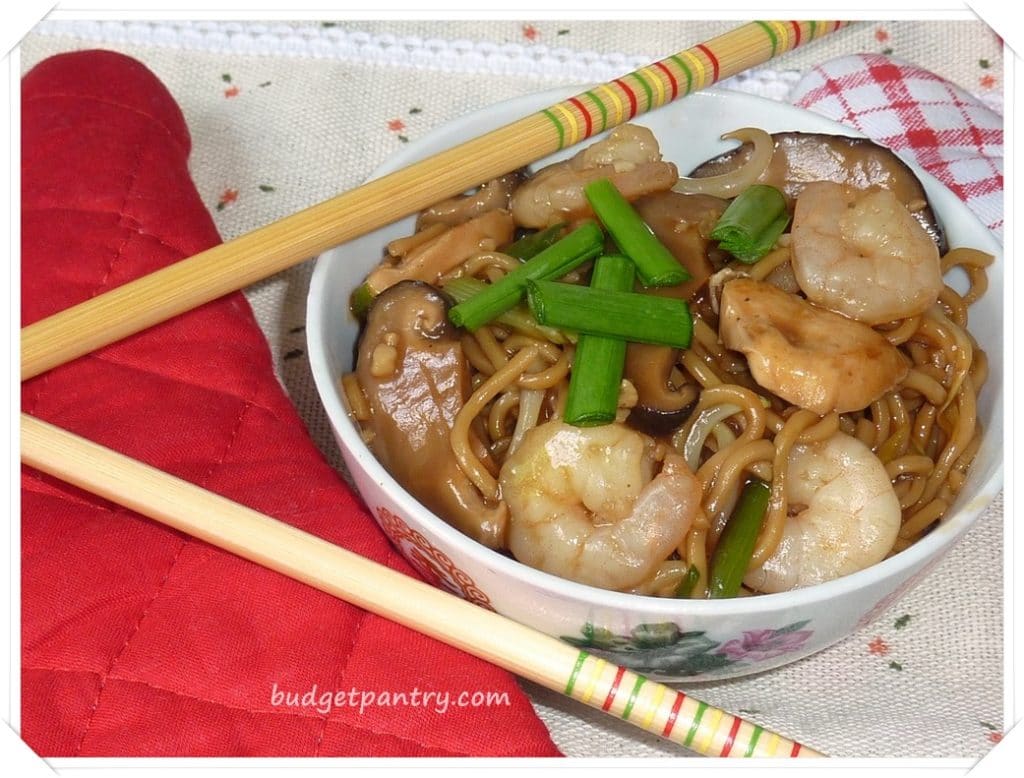 I really wanted to describe these noodles as "creamy", thanks to the braising gravy and corn starch, and because they're almost really that! The savoury oyster sauce, wine, and seasonings just melted into these noodles. Don't worry about them being too heavy, they're honestly not as we did not overdo the corn starch. Instead of chicken or shrimp, you can go all vegetarian and use straw or button mushrooms and carrots instead, or substitute chicken for pork if that's more your thing. A delicious and versatile dish for the new week?