Another cheat dish: Easy Sambal Prawns

Welcome to another cheat dish, perfect for those days that you just can't be bothered are too tired to cook.
Remember this recipe where I used Yeo's Sambal Udang for "BBQ Stingray" style sutchi fish? I did the same with these fat, crunchy prawns. And have you ever wondered how restaurants get the bouncy texture in their prawns? I marinated these prawns in cold water and sugar for 30 minutes before cooking, and they turned out firm with a fantastic bite. Rasa Malaysia has another more scientific method to achieving bouncy, crunchy prawns, so hop over and take a look! I am sure her method works better than mine, with the pH and all. It simply sounds more intelligent than my sugar and cold water method!
Makes 4 servings
What I used:
400 grams peeled prawns (I got mine frozen from Sheng Siong. The prawns are graded by size and come in a large packet)
1 can Yeo's sambal udang sauce
1 red onion, sliced
Some parsley
Cold water and 2 teaspoons sugar, for marinate
1 teaspoon olive oil
2 chilli padi, cut (optional)
1. Marinate the prawns in cold water and sugar for 30 minutes.
2. In a wok or large pan, heat up the olive oil and fry half portion of the sliced onions til translucent (medium heat).
3. Turn up to high heat. Add the prawns and fry til just turning pink. Add the sambal sauce and chilli (if using), and fry til prawns are done.
4. Top with remaining sliced onions and parsley.
How much I spent:
$1.45 for Yeo's Sambal Udang
$6 for prawns
$0.30 for onions
Everything else from my pantry!
Total cost per serving: $1.94
——————————————————————-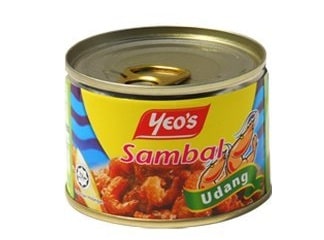 Yeo's Sambal Udang can be bought from Sheng Siong and is great with seafood dishes. Time for me to stock up on a few cans for lazy-to-cook days!