Braised Herb Chicken with Shio Koji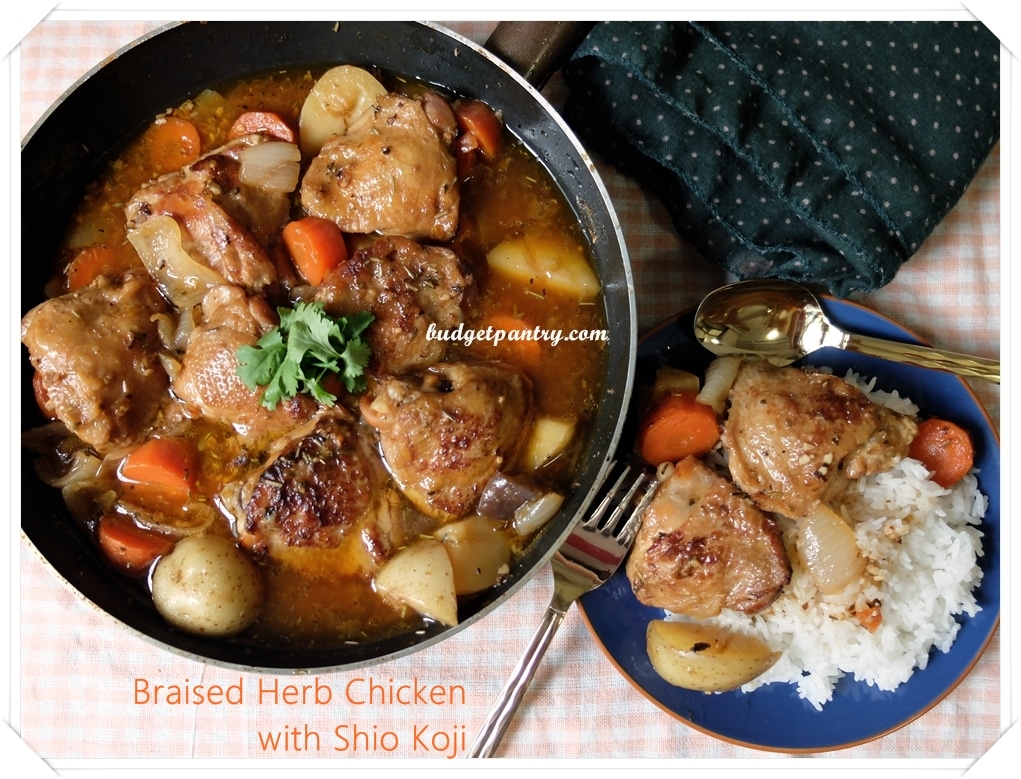 This is my kind of comfort food.
Whenever the weather is a bit chilly, or when I am just feeling down, nothing else really gets my tummy and heart warmed up than rice and gravy. I was searching for something to do with chicken thighs, and I came across this Braised Herb Chicken with Shio Koji recipe on Just One Cookbook. Nothing that I've replicated from Nami's website has disappointed my family, and I was sure this was going to be no different. But, what is Shio Koji and where can I find it?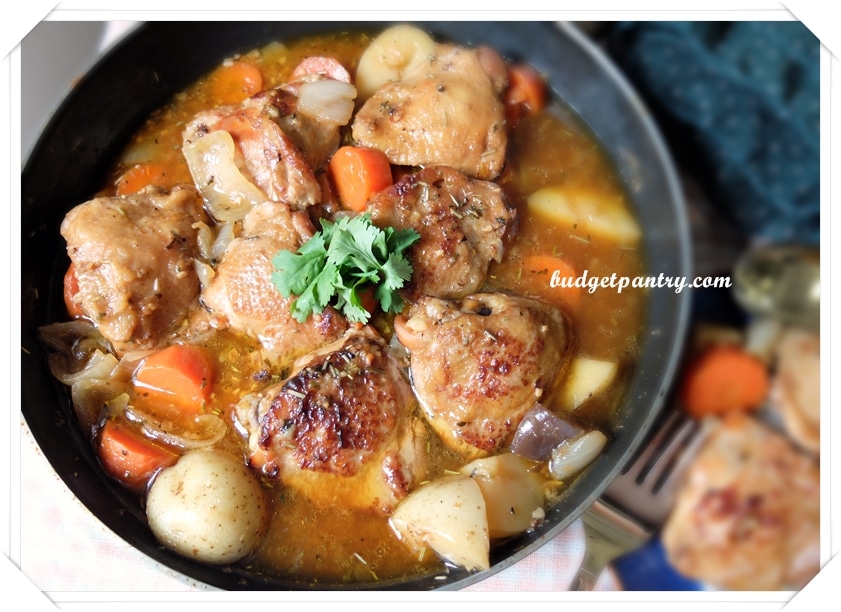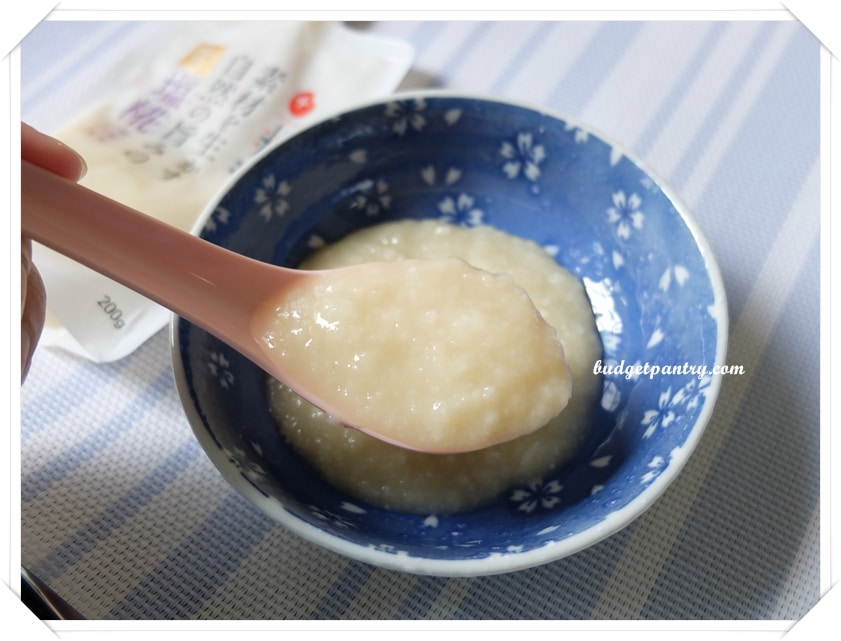 Shio Koji is a fermented mixture of Japanese rice malt and sea salt. It looks like porridge and tastes a little salty with a mild sweetness, and is used to substitute salt in various dishes. In this recipe, Nami uses it as a marinade for chicken thighs. I have a good mind to use it on top of salmon before airfrying the next time! I like it, but the taste is so mild, I still added a bit of salt to the dish. I found mine at the chiller section of Sakuraya Fish Mart at West Coast Plaza for $5. Read more about shio koji here.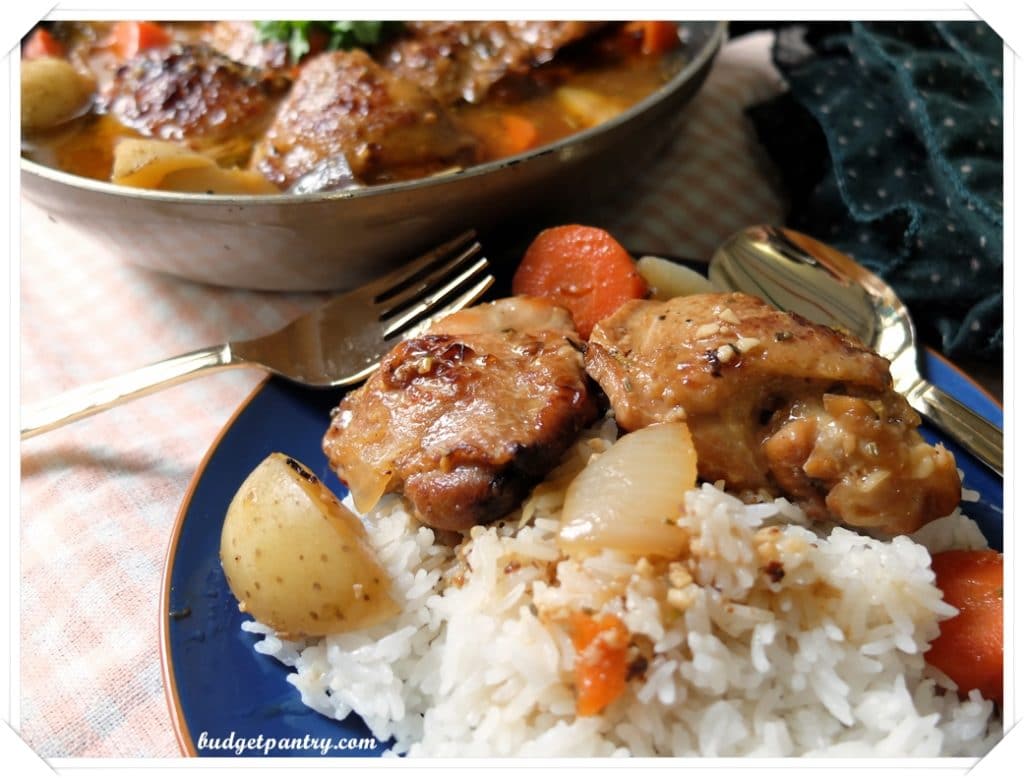 I tweaked the recipe a little because I ran out of white wine. I used mirin instead as I like my dishes sweet and savoury. I also thickened the gravy with cornstarch solution so that it is rich and thick, perfect for spooning over rice. Look at this picture that Jason took with his phone! The lighting is bad, but it looks so comforting and delicious: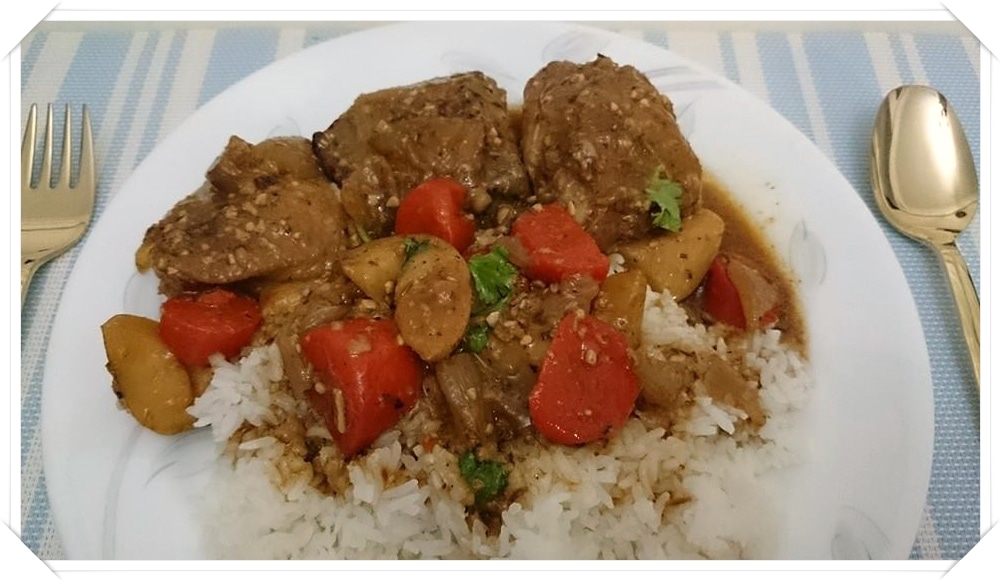 I hope you try this out and wow your family!
Braised Herb Chicken with Shio Koji. (Adapted from Just One Cookbook with slight changes)
Serves: 4
Total cost per serving: $2 (excluding rice!)
What I used:
9 small chicken thighs (I used 1 bag of frozen thighs from Lebon, Giant Supermarket)
3 tablespoons Shio Koji (I got mine from Sakuraya Fish Mart, West Coast Plaza)
1 tablespoon minced garlic
1.5 teaspoon paprika
1.5 tablespoon all-purpose flour
1 tablespoon olive oil
1 carrot, peeled and cut into bite-size
1 medium potato, peeled and cut into bite-size
1 large yellow onion, peeled and cut into bite-size
350ml chicken stock (til it just about covers the chicken pieces)
1 tablespoon mirin
1 teaspoon dried rosemary
Half teaspoon salt (if necessary)
1 tablespoon cornstarch + 2 tablespoons tap water, combined
Some parsley, chopped
Steps:
1. Remove all visible fat from the chicken thighs. Clean and pat dry. Place them in a zip lock bag.
2. Pour in the shio koji and garlic, and marinate for an hour in the fridge.
3. Open the bag, and add in flour, paprika and rosemary. Shake or rub to coat evenly.
4. Heat up a frying pan large enough to fit all the chicken in a single layer and add 1 tablespoon of olive oil. Sear the chicken skin-side down for about 3 minutes until browned, then flip over and continue to cook for another 3 minutes.
5. Add in the carrots and onions. Cook for 2 minutes then add the chicken stock and mirin. Bring to boil.
6. Add in the potatoes. Reduce flame to lowest and simmer for 50 minutes.
7. Just before serving, stir in the cornstarch solution, do a taste-test (add the salt if necessary) and sprinkle the chopped parsley.
8. Serve over warm rice.
How much I spent:
$4 for chicken thigh (I got 2 packs for $7.99 on promotion)
$0.30 for carrot
$0.30 for potatoes
$0.30 for yellow onion
$3 for Shio Koji (1 pack of $5 is enough for 5 tablespoons or so)
Everything else from my pantry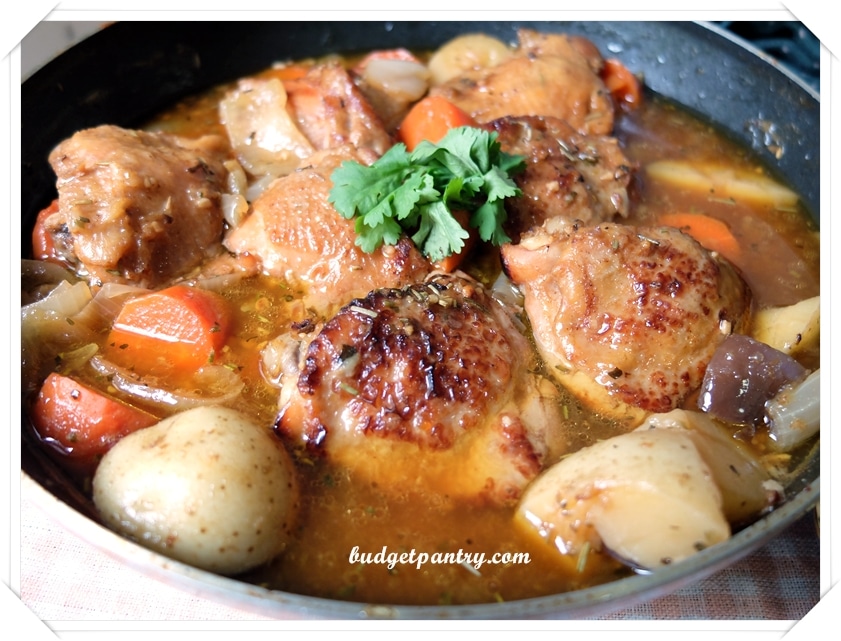 This dish is pretty simple to make.. just use one frying pan throughout and layer the flavours on top of one another, adding as you go along. The yellow onions lend a very nice sweetness to the gravy and the rosemary is just a perfect match with chicken. I love chunky potatoes and carrots in my braised dishes. They're magic together!
I wish I had more parsley.. I think you should add it! Be sure to serve this hot over warm and slightly softer rice. I guarantee you will enjoy this recipe this time, and on many, many other occasions to come!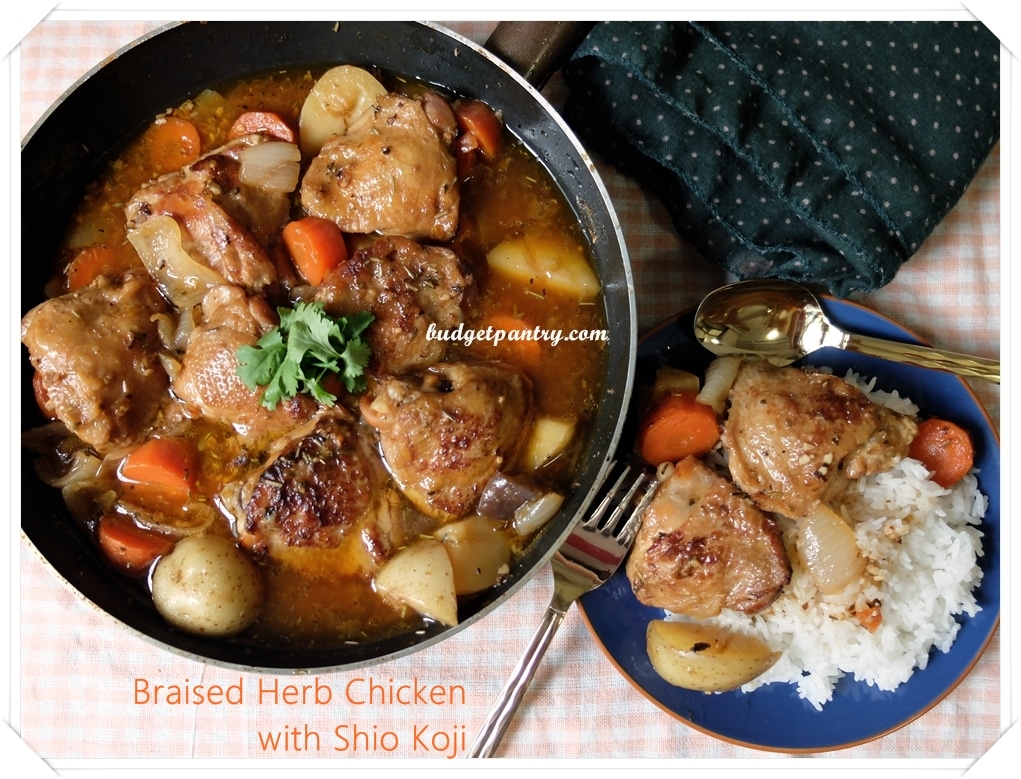 (Recipe adapted from Just One Cookbook with slight changes.)