Bloom Photography Review: Baby Cake Smash Singapore
Time has surely gone by in a flash. My tiny little baby is now one year old! Since Cbb days, I've made sure we go for photoshoots on her milestones, and of course a cake smash session for her first birthday was a must! Read this blog post for our experience with Ashley Low Photography during Cbb's time. And now it is Cdd's turn! Because we had such a great experience, we went back to Ashley's studio again. This time, our photos were taken by Bloom Photography, the sister company of Ashley Low Photography who has been established since 2011.
It's a new studio and brand founded in February 2020 by Ashley together with Bloom Photography's Chief Photographer, Su Wen.
It was amazing that they planned three types of photography services for us on the day of the shoot: cake smash, family and milk bath! Let's see the photos!!
Cake Smash
Before the shoot, we were sent a wide range of set-ups and themes for us to choose from. All the themes were super cute and we had a hard time deciding – but in the end we chose SUPERMAN!! We were also asked if we had any specifications for the cake, like does Cdd have any allergies, etc. As Cdd has mild eczema, we opted for less colouring just in case and our request was acceded to, no questions asked! Their cakes are all eggless, nutless and low in sugar to suit babies. All the props including the Superman outfit were provided, too.
Su Wen welcomed us on the day of the photoshoot, and she was super patient in trying to make Cdd smile! OMG really kudos to her. It was not an easy job for sure! For some reason, Cdd was extra cool that day and practically expressionless in the initial shots. I think this makes him super cute though haha. See my cool Superman!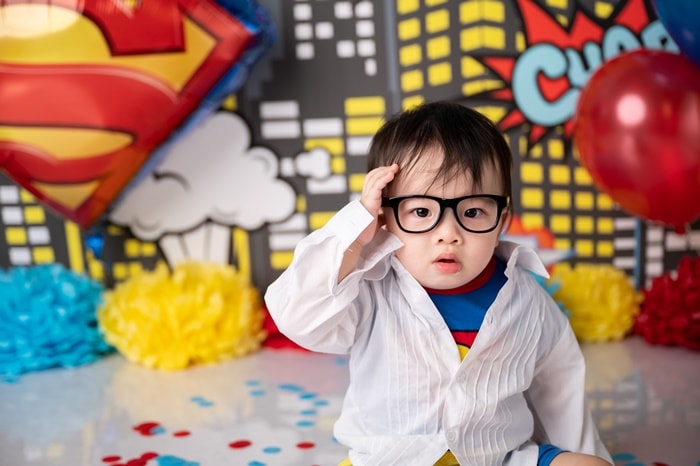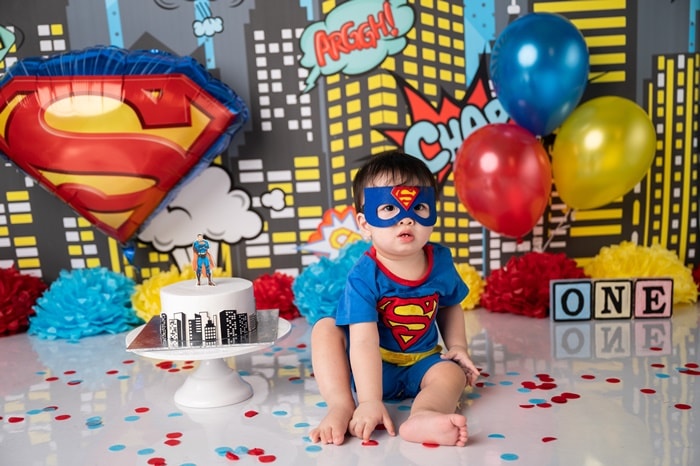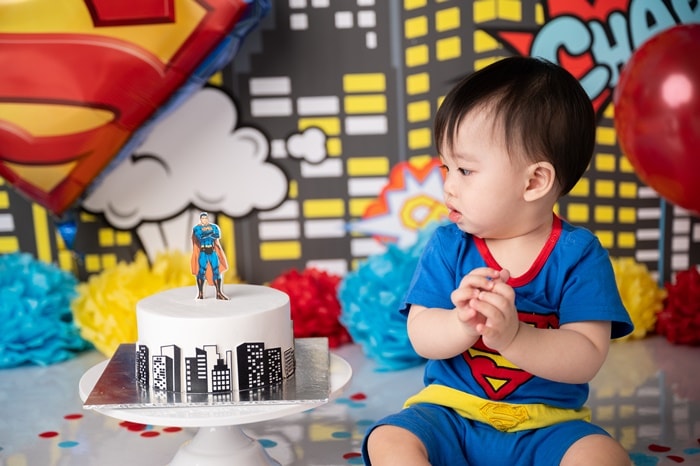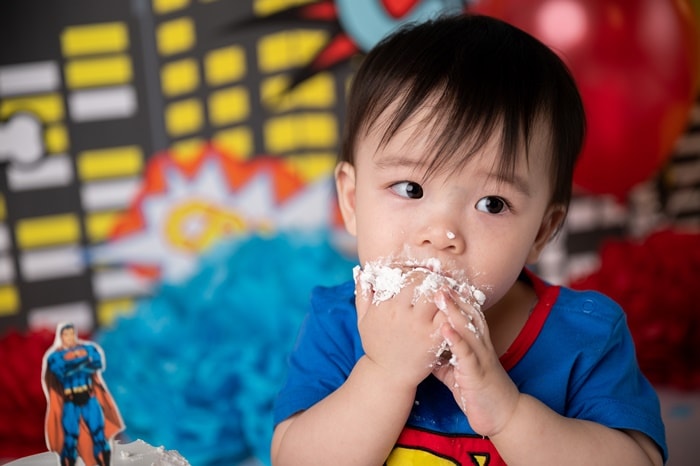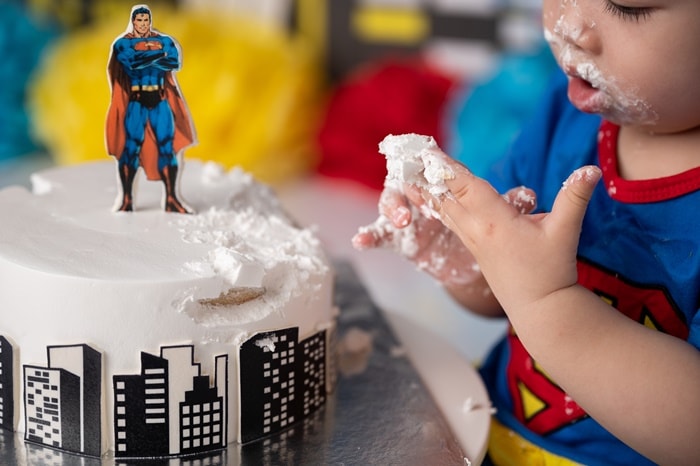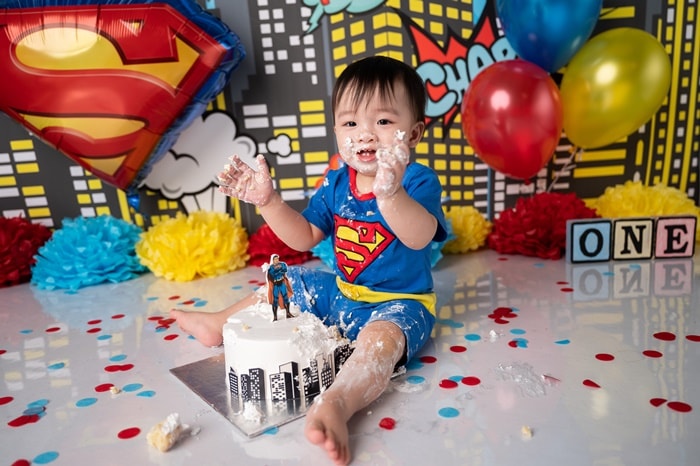 Intruder alert!!
Cbb also got her wish of appearing in the cake smash shoot with didi. Haha.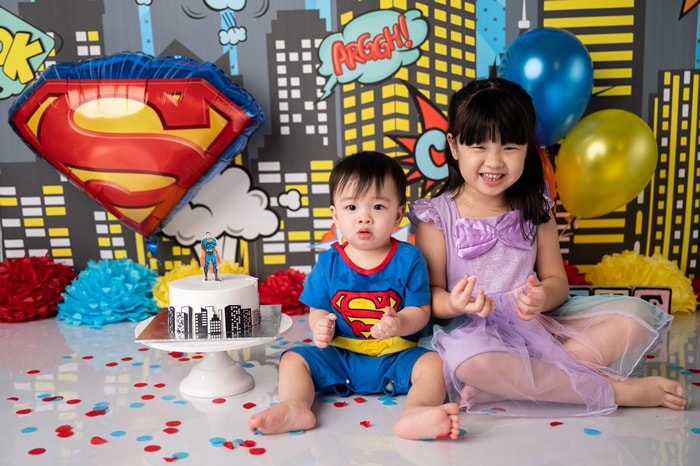 Milk Bath
After the cake smash session, we did a milk bath shoot which was done with practically no mess. The change of setting was done as soon we cleaned up Cdd in the clean and spacious bathroom (read on for our experience!). And it is true, babies are still happiest when they play with water!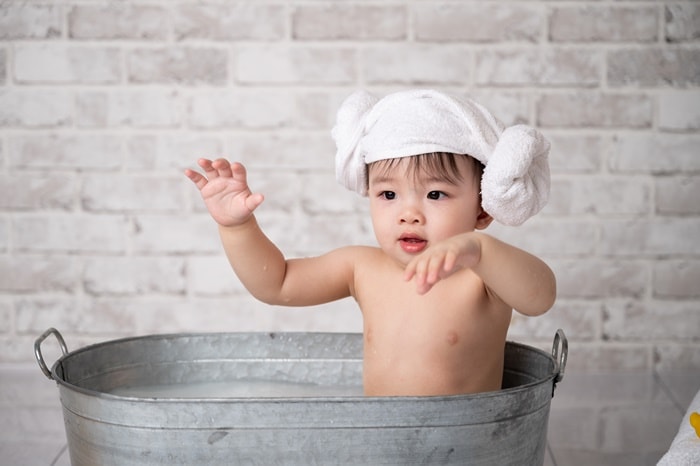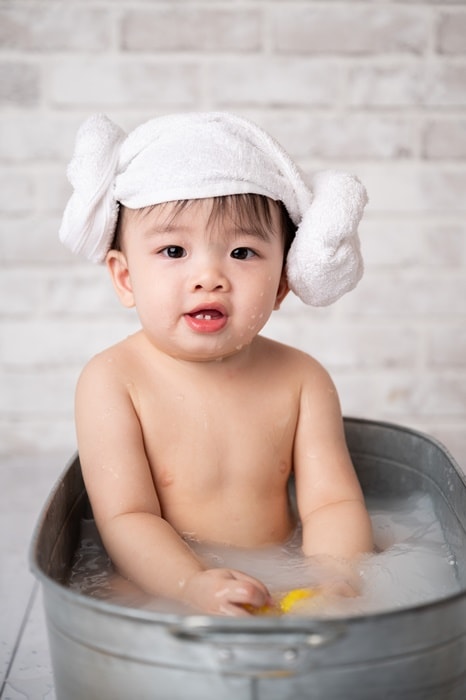 Family Shoot
We actually did this shoot first, and it makes sense because we all arrived in our coordinating outfits. Su Wen was great in prepping Cdd and gave us clear instructions on what to do during the shoot. Cbb, as usual, was a pro, so photogenic and always camera ready!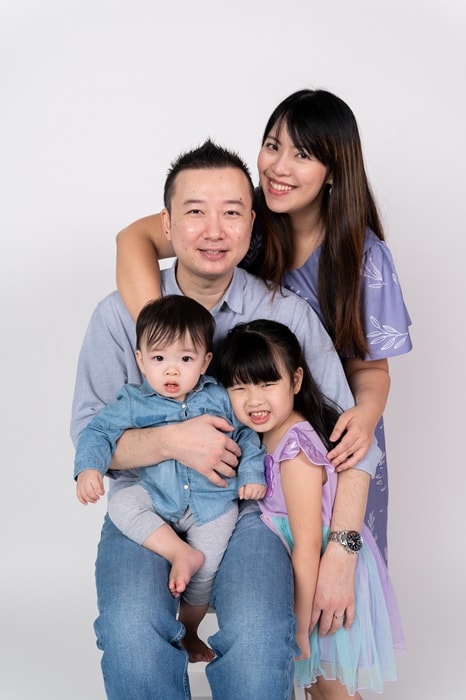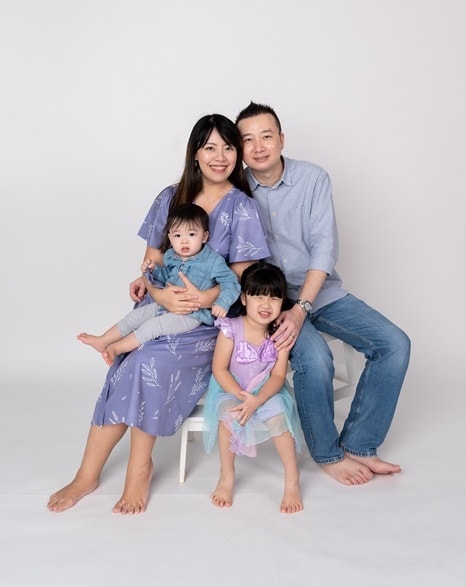 And this is my favourite photo of alllllll!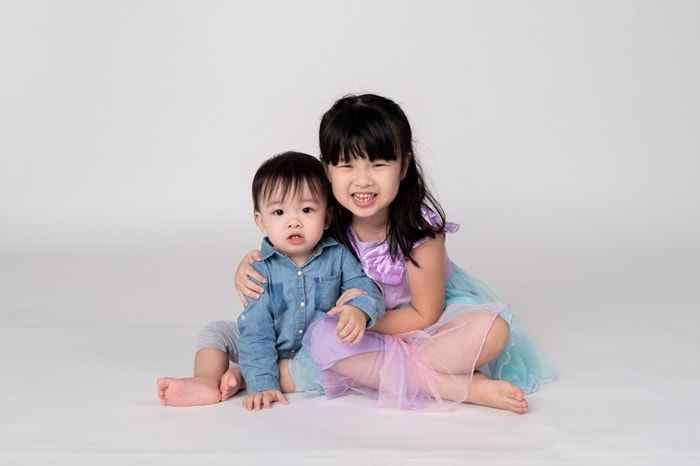 Our experience with Bloom Photography
From our initial contact till the end of the shoot (and photo delivery!), I have nothing but praises for Bloom Photography! It makes a difference when a professional photographer does your shoots as compared to someone who's just starting out. I know, because for Cdd's newborn shoot, we made the mistake of engaging an amateur photographer and it was a real disaster. Because of that, we missed out on documenting Cdd's newborn moments, and this is something I truly regret. Don't make the same mistake I did!
Bloom Photography was professional from the start and led us through the entire process. Once we decided to go for the cake smash shoot, they sent us a range of themes to choose from. And boy, there was a lot! Sailor, safari, pilot, camping, Batman – we were really spoilt for choice. Read more about their cake smash sessions and check out some of their themes (they have a lot more so ask them!!):
We were given advice on how to prep Cdd before the day of the shoot, and their studio is really well-equipped! Their play area with filled with toys – perfect for making Cdd less nervous for sure.
Apart from the play area, they also had a clean changing room with mirror for us – essential for me to check on my makeup and ensure my outfit was in place! They're also super thoughtful – all we need to do was to show up. The cake smash outfit and all props were provided. We didn't have to worry about dealing with dirty clothes with cake because they took care of it for us. After the cake smash session, we simply brought Cdd to their studio bathroom, which was all stocked with baby body wash, shampoo, a bathtub, hot water – you name it. We didn't have to worry about a thing!
And of course, the chief photographer, Su Wen was a total gem who has her way with babies and kids. We laughed so much during the session – it was so enjoyable for us. And as you can see, the photo quality is fantastic! She's a real pro! Look at some behind-the-scenes of Su Wen in action:
So if you ask me to recommend a photography studio in Singapore, I will without a doubt recommend Bloom Photography. Contact them to check on rates and availability. Thank you, Bloom Photography, for documenting our journey!
Bloom Photography
Website: https://www.bloomphotography.sg
Facebook: http://facebook.com/bloomphotographysg
Instagram: https://instagram.com/bloomphotographysingapore
Email: info@bloomphotography.sg
Phone: +65 6443 3953 / 9640 3774