Cajun Seafood Boil (and pasta in a pot!)
Cajun seafood boil is one of my favourite things to cook! Apart from fried rice, it is my ultimate clear fridge dish because ANYTHING tastes good with the old bay/cajun/garlic seasoning. Seafood works best of course!
I usually make this with lots of tiger prawns and I like to add spicy otah (otak-otak) chunks. Sometimes I cook a cod fish version but crustaceans always make this way yummier. If you're cooking for kids, I suggest you scoop up a portion first before adding the old bay and cajun seasoning. This has worked well for Cbb and Cdd so far – I still get to cook my one-pot dish for the whole family without compromising on our spices. This was the cod version I made over the weekend: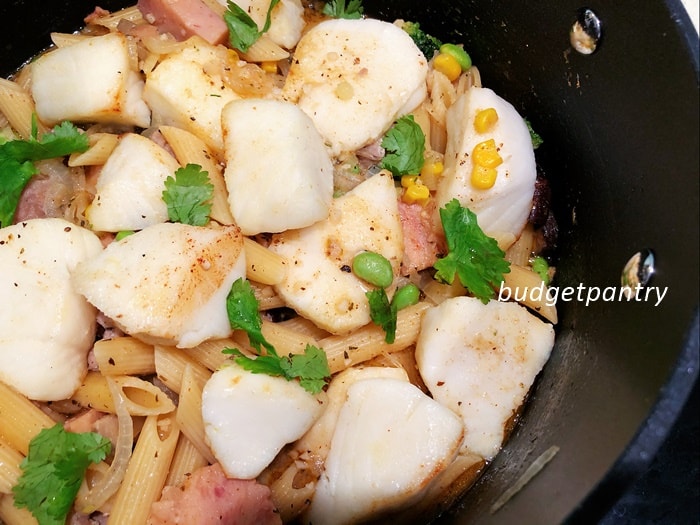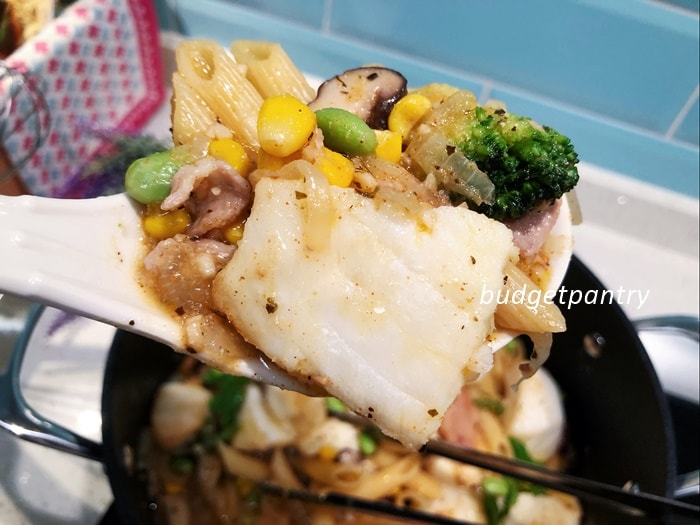 If you're not feeling pasta, you could always add potatoes, have this with rice, or even mop up with yummy gravy with some crusty bread. Enjoy!
Cajun Seafood Boil
(budgetpantry.com)
Makes 2-3 servings
What you need:
400g fresh tiger prawns, veins removed and legs/whiskers trimmed
200g skinless cod chunks (you can also use any white fish)
100g pork belly slices
150g smoked sausages (or you can use luncheon meat)
Handful of broccoli florets
200g pasta (penne or fusilli)
1 large yellow onion, sliced thinly into rings
1 tablespoon fresh minced garlic
6 fresh shitake mushrooms
1 ear of corn (cut into chunks, and boiled or steamed – or you can use frozen kernels)
2 tablespoons Old Bay seasoning
1 tablespoon Cajun seasoning
1 tablespoon garlic powder
1 teaspoon sugar
Sprinkle of black pepper
200ml chicken stock or enough to just about reach the top of your ingredients
1 tablespoon salted butter
1 tablespoon olive oil
Steps:
Cook the pasta until al dente and set aside.
Heat up the butter and oil and fry onion till wilted. Add the mushrooms and garlic.
Add the pork belly and sausages and fry until pork is no longer pink. Add the broccoli and corn, followed by chicken stock until it just about covers all the ingredients. Add the Old Bay, Cajun, garlic powder and sugar. Mix well.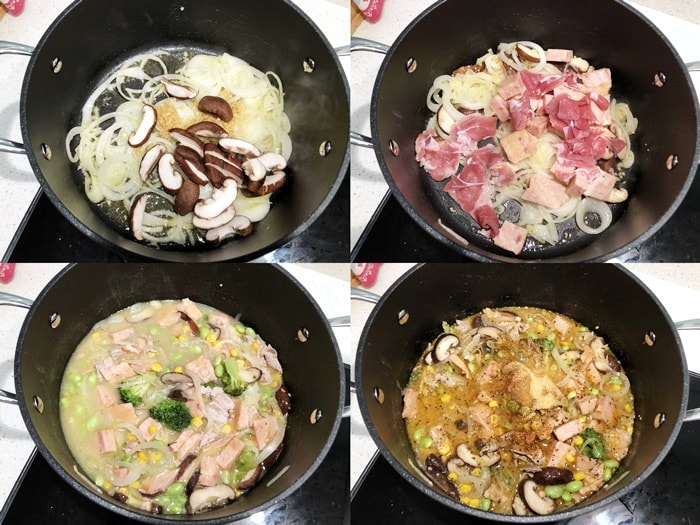 Toss in your seafood and stir until prawn and fish are cooked, about 3-4 minutes. Return the pasta to the pot. Mix everything together. Sprinkle with black pepper and serve immediately.