Baked Stuffed Mozzarella Chicken
I recreated this recipe from pinchofyum.com because the colours absolutely intrigued me. Look at the colour party right here! Golden crumbed chicken stuffed with spinach, mushrooms and shredded mozzarella, topped with a beautiful red marinara sauce and fresh mozzarella cheese.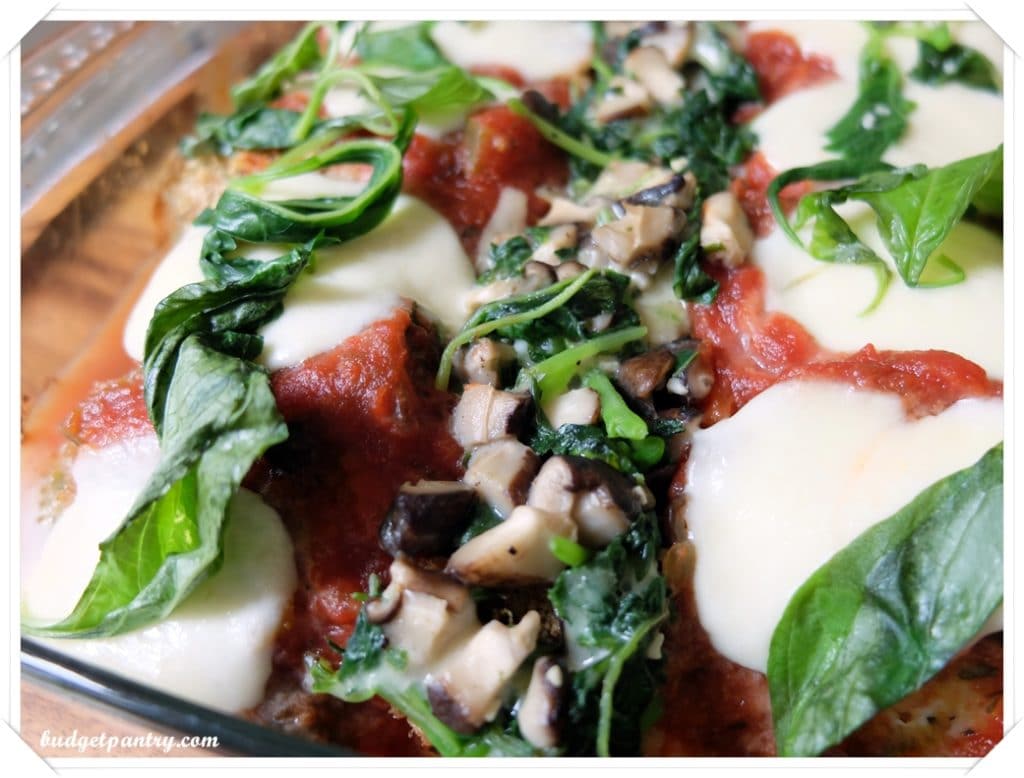 I used spinach, just for the colour, in place of sweet basil as I didn't have any. But I could see (and taste!) how even more delicious this dish would be with the basil. Preparing, cooking, and plating this dish made me imagine I was in a lovely cottage house in the summer, in England, wearing my checkered, rustic apron fixing a home-cooked meal for my family. Ahh..
And I snap back to reality in my 4-room HDB flat in lion-city Singapore. LOLOLOL.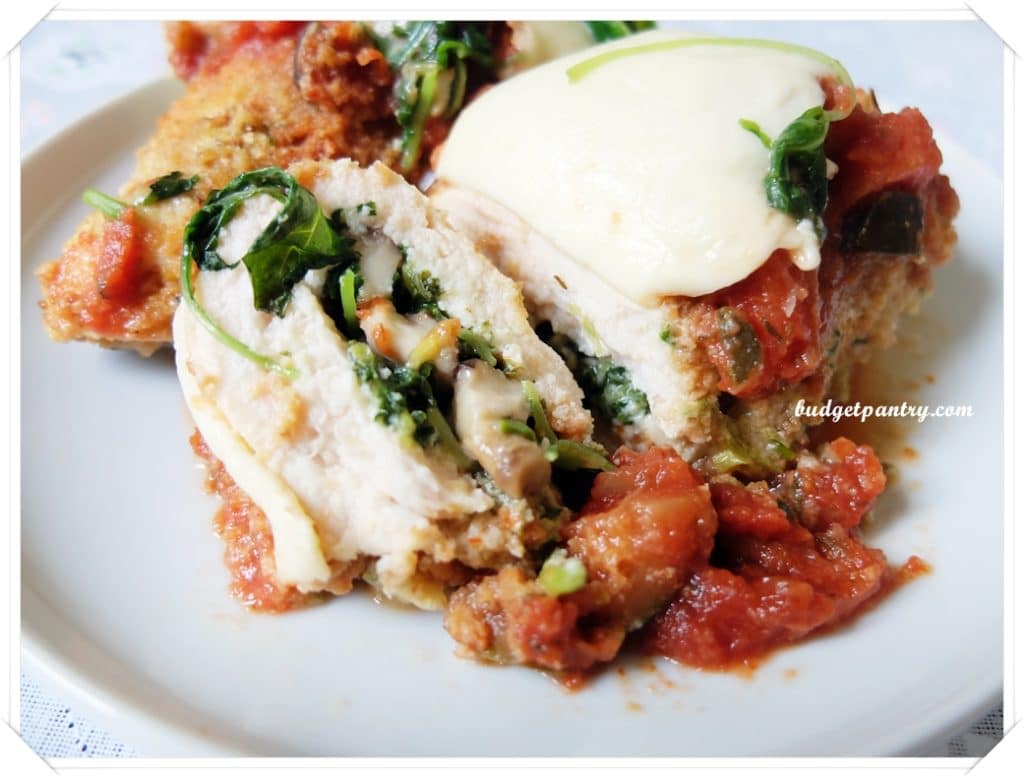 I rolled up a piece of chicken breast stuffed with sauteed mushrooms in a little bit of garlic, spinach wilted with just a bit of olive oil, and some shredded white cheddar cheese. Coat it with a parsley and breadcrumb mixture, brush on a little oil and off into the oven it goes for 25 minutes til golden and crispy.
I then topped it with a marinara sauce (bottled, I cheated!) and fresh sliced mozzarella before putting it back in the oven to bake for another few minutes til the cheese has slightly melted.
I would do something differently the next time: 1) Cook the marinara sauce til they are less liquidy before spooning on top of the chicken. This dish should be drier than what my picture shows so that the crumb can stay crusty. These were a bit too soggy for me but my aunts loved them. 2) Top them with real sweet basil instead of spinach. Haha! and 3) Melt some butter and combined with the breadcrumb mixture before coating the chicken.
I served these with airfried potatoes. I hope you enjoy these baked stuffed chicken as much as my family did!
Tip: you could do a smaller portion, about 2 pieces, in your airfryer!
Baked Stuffed Mozzarella Chicken
Serves: 6
Total cost per serving: $2.90
What I used:
6 pieces chicken breast, cleaned and pat dry
1 package fresh round spinach
Half a packet shitake mushrooms (about 100g), cleaned and chopped
6 tablespoons shredded white cheddar cheese (you can use Parmesan or red cheddar)
A few sprigs of parsley
4 slices wholemeal or white bread, toasted
3 cloves garlic
1 cup marinara sauce (250ml)
Old bay seasoning
Garlic and onion seasoning
2 teaspoons minced garlic
2 teaspoons olive oil
2 eggwhites
Steps:
1. Preheat oven to 220 degrees/ airfryer to 200 degrees
2. Combine the toasted bread, parsley and 3 cloves garlic in a food processor til they become a breadcrumb mixture. Set aside.
3. Heat up the olive oil. Sauteed the garlic, mushrooms and spinach til just cooked, about 2 minutes. Don't overdo it. Set aside. Also remove a few strands of spinach and set aside for garnish later.
4. Pound the cleaned chicken breast to expand its surface area. Sprinkle with old bay and garlic & onion seasoning. Spoon the spinach and mushroom in the center and top with a tablespoon of shredded cheese. Roll up the chicken.
5. Dip the chicken in the egg white, followed by the breadcrumb mixture in 1., making sure it is evenly coated. Place in your baking dish. Repeat til all the chicken breasts are used up. Brush the surface with a little olive oil.
6. Bake for 25 minutes until the crust is golden and chicken is cooked through. If using airfryer, cook at 180C for 10 minutes, then 200C for abother 10 minutes. Test with a small knife.
7. Take the baking dish out from your oven and top with marinara sauce and sliced fresh mozzarella. Bake for another 3 minutes til cheese melts. Garnish with spinach or sweet basil if using.
How much I spent:
$8.85 for chicken breasts
$1 for mushrooms
$0.75 for spinach
$2.10 for marinara sauce
$4.75 for fresh mozzarella cheese
Everything else from my pantry