Easy Apple Crumble with Custard and Blueberry Compote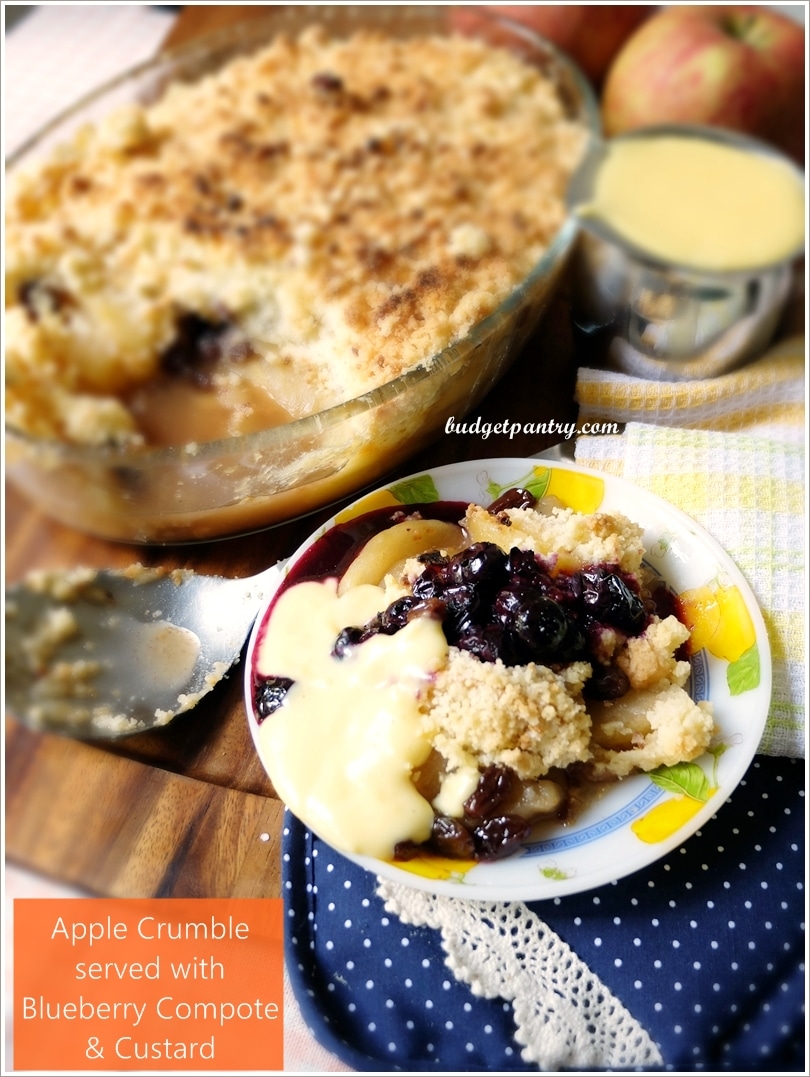 Ok, this is insane.
The apple crumble that I baked at 1pm Saturday ? It is STILL INCREDIBLY CRUNCHY now at 1am Sunday. I'll admit it. I kinda knew I would foil the "diet" plan when I decided to bake this today. But I convinced myself with, "怎样?吃水果是没有错的嘛,对吗?" ("What? There's nothing wrong in eating fruits right?") And thankfully so, because I just made the best dessert I have ever made, and I have made quite a few desserts.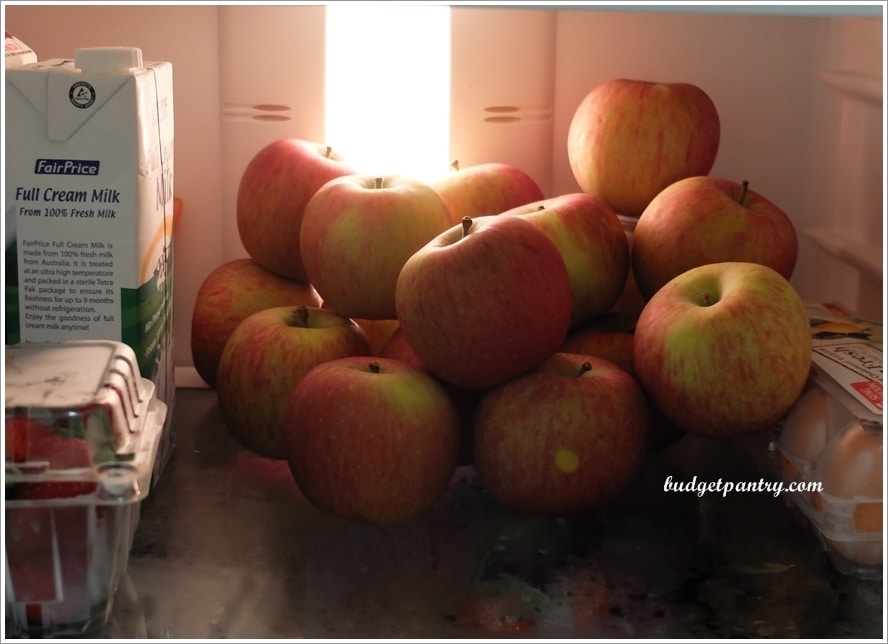 It all started one fateful day when I inherited lots and lots of apples. I'm not quite the apple-in-its-purest-form fan, but do I love apple pie. I don't like making pie crusts though, and so I thought, "Apple Crumble" will be it. How difficult can it be? Just cook some apples and raisins in sugar and cinnamon, then top it with a buttery crumble before baking it til the topping is cooked. And I was right! How easy this really is!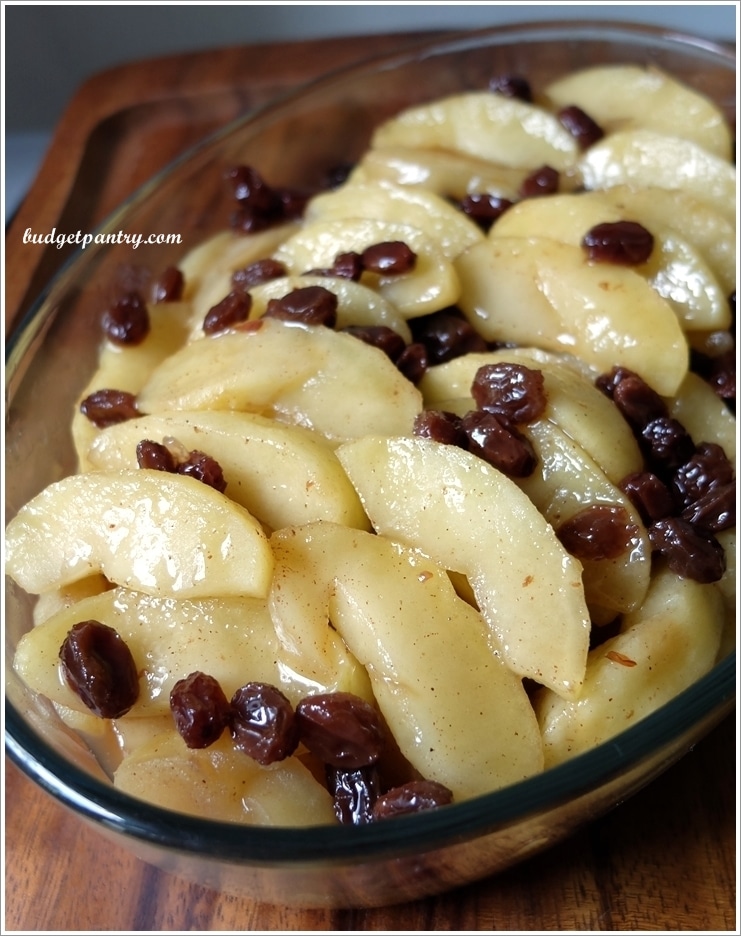 The next thing was to think of what else to make to go along with the crumble. I mean, I couldn't possibly just make the crumble and photograph it naked, could I? I wouldn't do it justice. And what always, always goes with apple crumble? Custard, that's what! I also decided to use up the blueberries in my fridge, all 2 and a half boxes of it, to make a blueberry compote to go along with my "healthy" dessert. Might as well. More fruits, healthier right?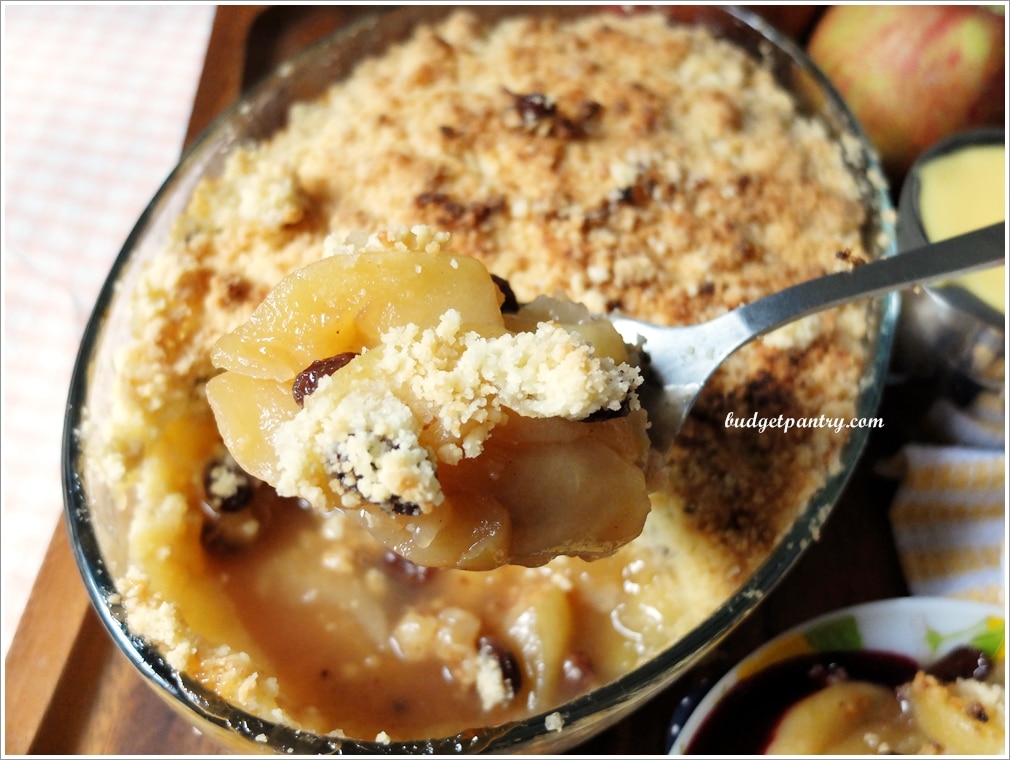 I used quite a lot of large apples for this recipe. A total of 8 200g-220g apples, more than 1.5kg. Yes, there are 8 large apples in the baking dish above. Sounds like a lot, isn't really too much. This makes about 6 generous servings, and trust me, you'd rather make more than less because NO ONE will stop at one serving.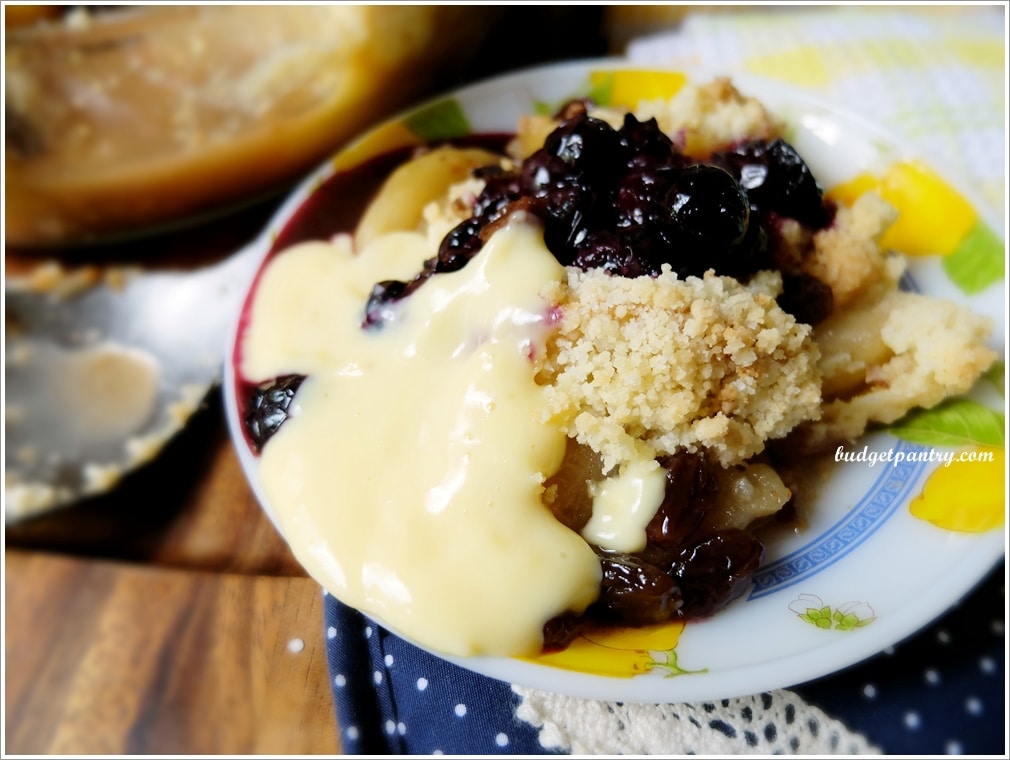 I cooked the apples til just slightly soft instead of baking them directly in the oven. This way, I can be sure the filling's gonna be cooked just right and not too hard. I didn't want my crumble to brown (or worse, burn) before the apples were even soft. I also used brown sugar for better flavour and have you heard? The combination of "Apples + brown sugar + cinnamon" is the only scenario where 3's not a crowd but a match made in Heaven.
If there's ONE baking recipe you wanna try from budgetpantry, it's gotta be THIS! Can you believe it? Still crunchy after 15 hours? These apples died a worthy death. And yes, you can airfry if you want a smaller portion (are you serious?). Just use a smaller baking dish that will fit.
Easy Apple Crumble with Custard and Blueberry Compote
Makes: 6 generous servings
Total cost per serving: $1.47 (with blueberry compote and custard) or less than $0.50 without the frills
What I used:
For the apple filling:
8 large apples (about 200-220g each), peeled and sliced not too thinly
1 teaspoon cinnamon
5 tablespoons brown sugar
5 tablespoons raisins (optional)
1 tablespoon water
Cornstarch solution (1 teaspoon cornstarch mixed with 2.5 teaspoons water)
For the crumble topping
180g plain flour
120g caster sugar
100g cold butter, cubed
For the blueberry compote:
250g fresh blueberries
1 tablespoon caster sugar
1 tablespoon lemon juice (optional)
For the custard:
2 tablespoons custard powder
1.5 tablespoon caster sugar
570ml milk
Steps:
1. Preheat oven to 180C or if using Airfryer, 160C.
2. Prepare the filling: Combined apples, raisins, cinnamon, brown sugar and water in a large pan over medium heat. Cook covered for about 10 minutes til apples are soft. Add in the cornstarch solution and off the flame when the mixture becomes slightly thick. Arrange in 3-4 layers in a baking dish.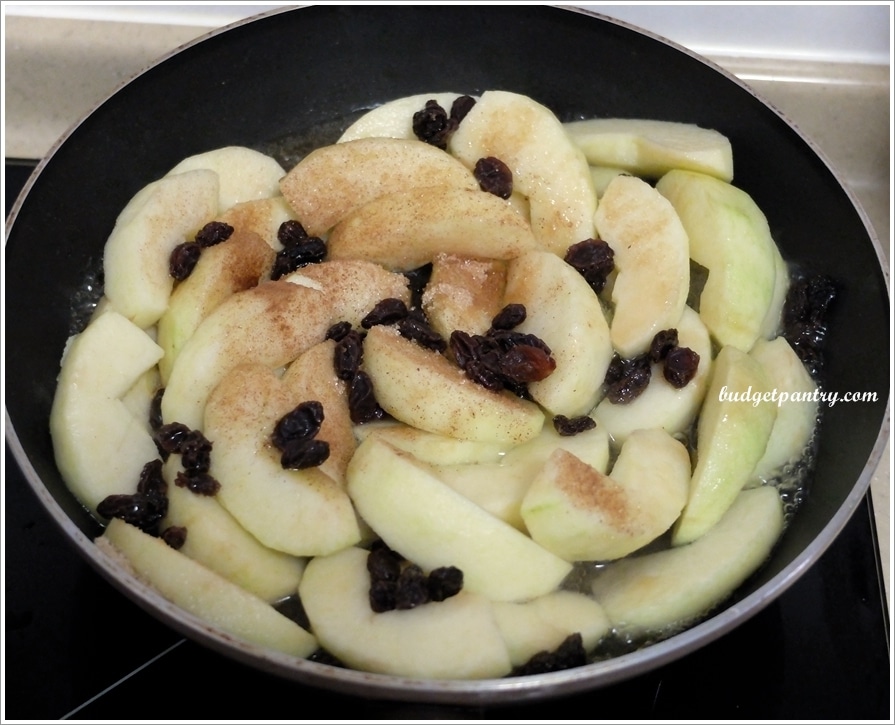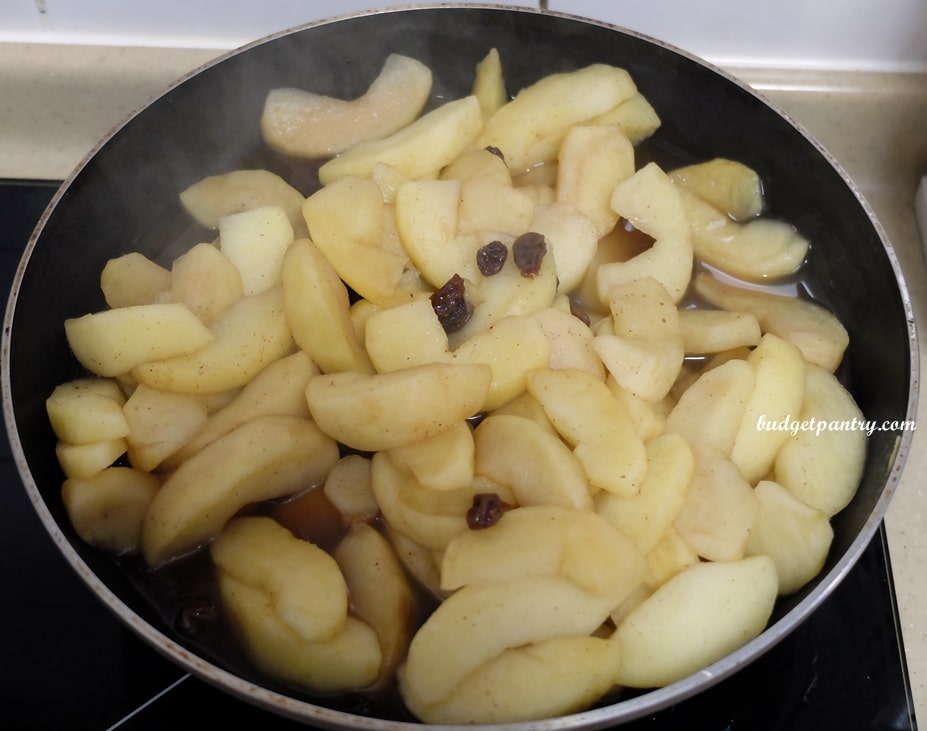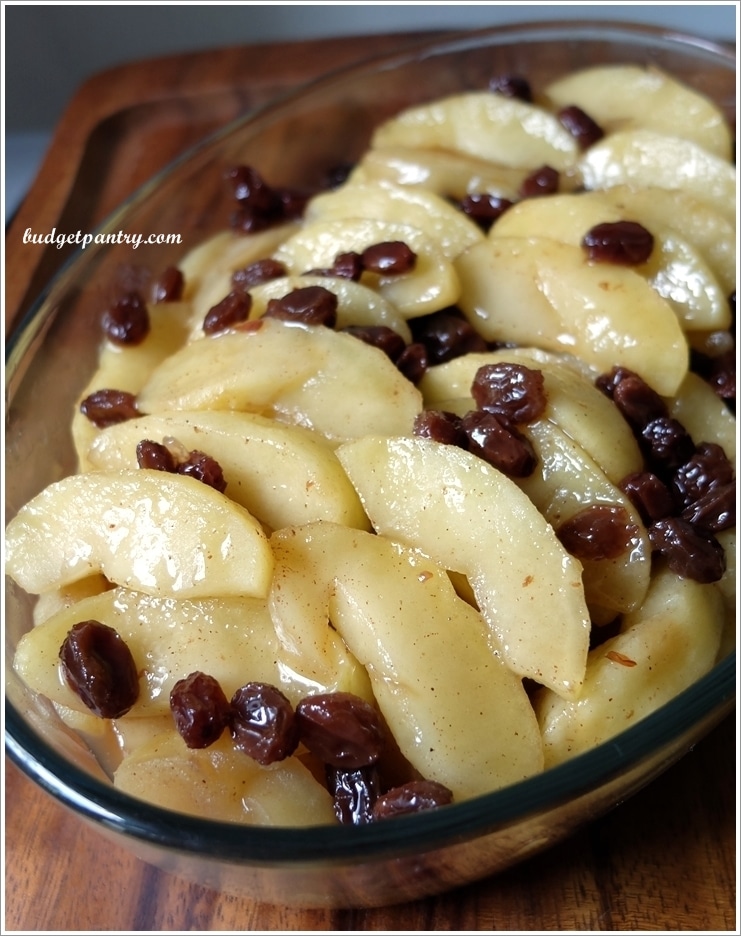 3. Prepare the crumble topping: In a large bowl or mixing bowl, combine the flour (no need to sift) and sugar with a fork or whisk. Rub in the cubed butter with your fingertips til the mixture resembles breadcrumbs. Spoon on top of filling and bake for 30 minutes or until the crumble is crisp and slightly brown.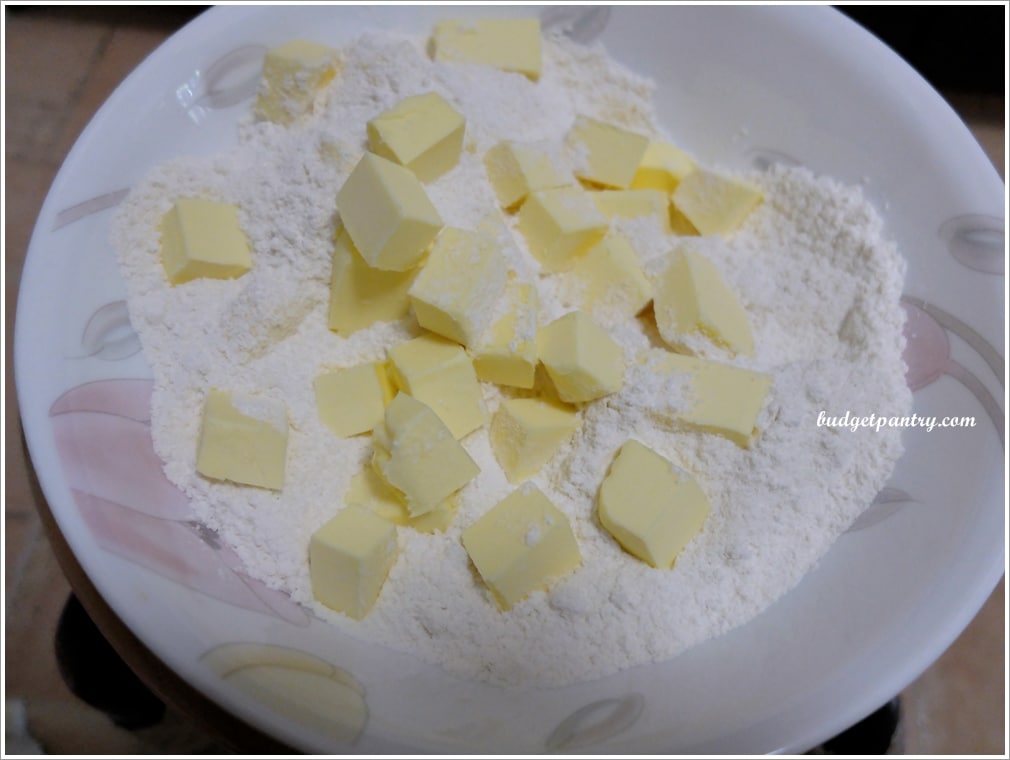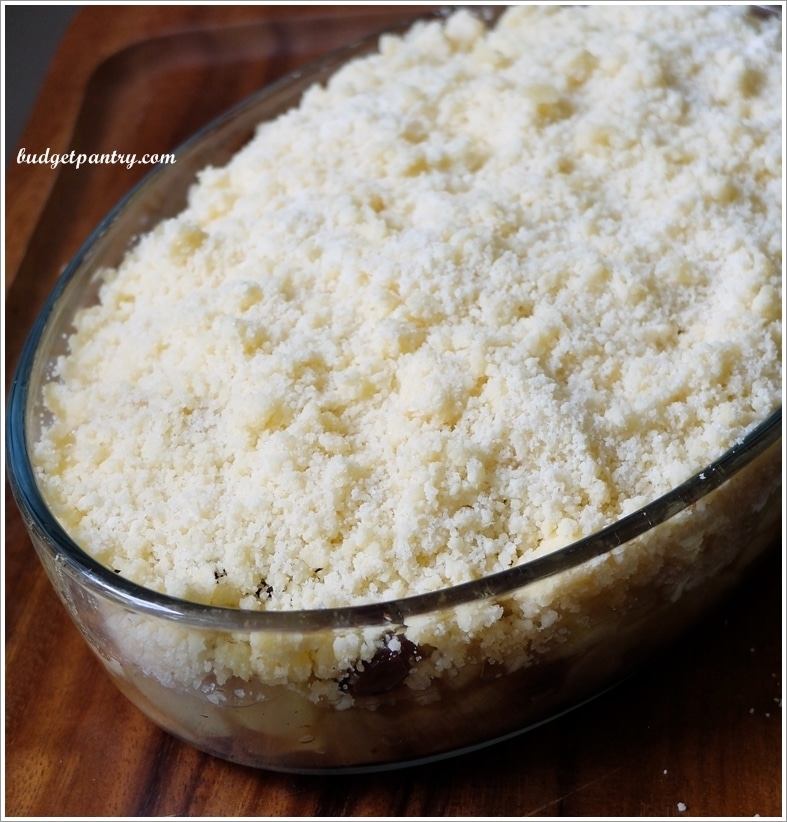 4. In the meantime, prepare the blueberry compote: In a small pot, combine blueberries, sugar and lemon juice and cook for about 5 minutes under low heat til the blueberries have slightly burst and the compote starts coming together. Set aside.
5. Prepare the custard according to package instructions.
6. When the apple crumble is done, spoon a portion into a bowl and top with warm custard + a spoonful of blueberry compote.
7. Thank me later! And you're always welcome :)
How much I spent:
The apples were free
$5 for blueberries
$1.60 for butter (I got my SCS unsalted butter for $3.90 on promotion)
$1.50 for custard powder (which can last you forever)
$0.70 for milk
Everything else from my pantry