Hawker Staple: Bak Chor Mee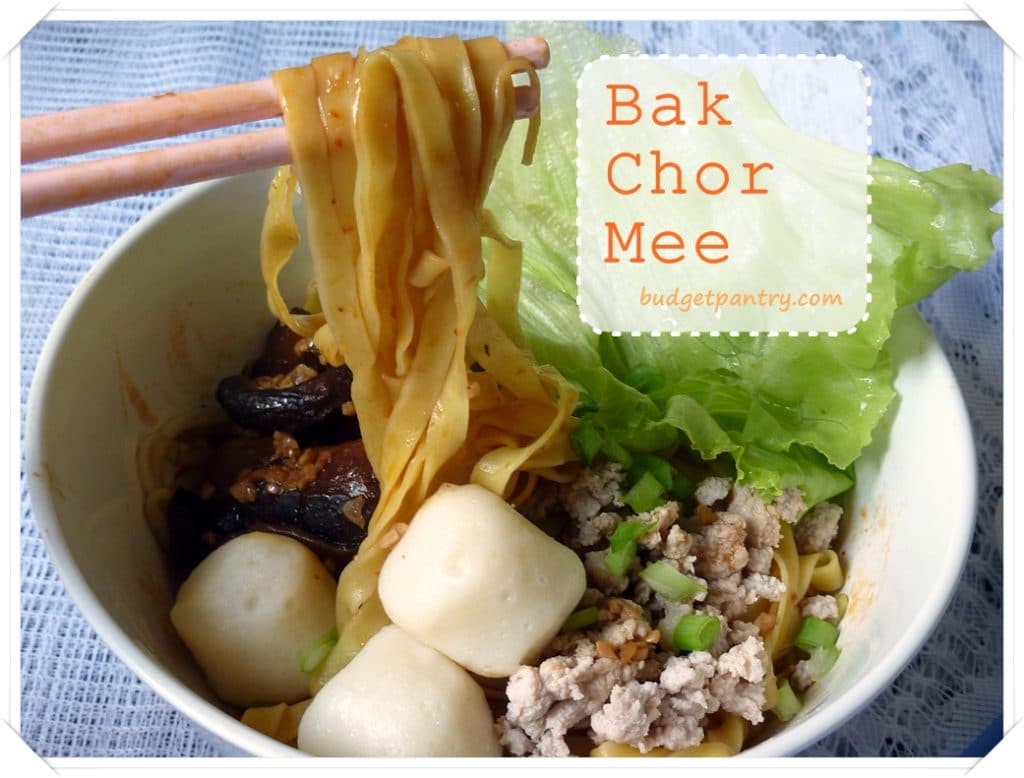 This bowl of noodles blew me away because I couldn't believe how close to "the real thing" it was. Really, this recipe should be in anyone's survival kit, you know, just in case you get stranded in some unthinkable place away from Bak Chor Mee, at least you won't die (or feel like dying).

I was surprised at how easy it is to cook bak chor mee! The noodle sauce is something that can be prepared easily with common Asian sauces and the ingredients are easy to find in any supermarket. If you want it more savoury, add some mushroom braising liquid. If you want it more spicy, up the sambal chilli. Don't fancy ketchup? Reduce the amount. Love your ketchup noodles? Add more! This is the Sing Long sambal chilli that I used, available at most supermarkets: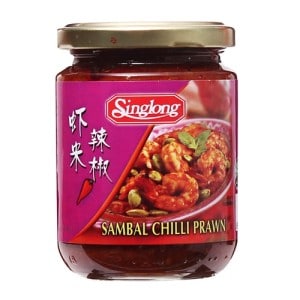 You can also use Taho sambal belacan chilli, my new love! This is an extremely versatile dish that you can whip up in your kitchen. The bak chor mee you eat outside usually have fried lard and lard oil added.. I chose to go the healthier route. It was still delicious! Jason asked for bak chor mee again the next day and I told him to eat it at the kopitiam. Haha!
Hawker Staple: Bak Chor Mee
(budgetpantry.com)
Serves 4
Cost per serving: $1.23
What you need:
4 x 70g mee pok (I bought Fortune brand from NTUC)
12 fishballs (you can also add meat balls, chilli fishballs, fried wanton, etc)
A handful of beansprouts
Spring onions, chopped
Lettuce leaves
For braised mushrooms:
6 dried chinese mushrooms (washed and soaked in 300ml room temperature water overnight, then sliced at an angle)
1 teaspoon minced garlic
1 teaspoon olive oil
1 tablespoon light soy sauce
1 teaspoon sugar
300ml reserved mushroom liquid
Half teaspoon dark soy sauce
For the minced pork:
150g minced pork (or chicken)
1 teaspoon light soy sauce
A dash of pepper
1 teaspoon sugar
For the sauce (per bowl of noodles):
Half tablespoon oil (I just used olive oil)
2 teaspoons ketchup
1 teaspoon chilli sauce (you can use whatever brand of sweet chilli sauce)
1 teaspoon sambal chilli (I used Sing Long's Sambal Chilli Prawn. Picture below.)
1 teaspoon of black Chinese vinegar
3 teaspoon stock from boiling minced pork (see step 2)
Steps:
Prepare the mushrooms. Heat up a teaspoon of oil and add the minced garlic. Fry for 2 minutes, then add in all the seasonings and reserved mushroom liquid. Bring to boil and lower heat. Simmer for 20-30 minutes til mushrooms are soft.
Prepare the minced pork. Marinate pork with all seasonings for 30 minutes. Heat up a pot bit enough to cook noodles (later) in. Bring water to boil and drop in the fishballs and meatballs (if using). Cook minced pork in a sieve (so that they don't get dispersed around). Keep moving your spoon or ladle back and forth to ensure pork gets cook thoroughly. If your pot or sieve is too small, cook in batches. Drain the meat, scoop out the fishballs, meatballs and set aside.
Prepare the sauce for noodles. In a noodle bowl, combine all the sauce ingredients + 1 tablespoon of meat stock from step 2. Mix well.
Prepare the noodles. In the same pot, place noodles and beansprouts in a sieve and cook portion by portion. First, dunk in the sieve for 20 seconds. Quickly remove and run under tap water. Return to pot and cook for another 30 seconds. Be sure to keep twirling the noodles with chopsticks to keep things going.
Drain the noodles quickly and drop into prepared bowl. Mix and coat well with chopsticks. Arrange mushrooms, minced pork, fishballs, meatballs and lettuce and sprinkle chopped spring onions on top. Enjoy your bak chor mee!
How much I spent:
$1.85 for mee pok
$1.60 for fishballs
$1.50 for minced pork
Everything else from my pantry