Food Review: Nam Nam Noodle Bar at Raffles City SC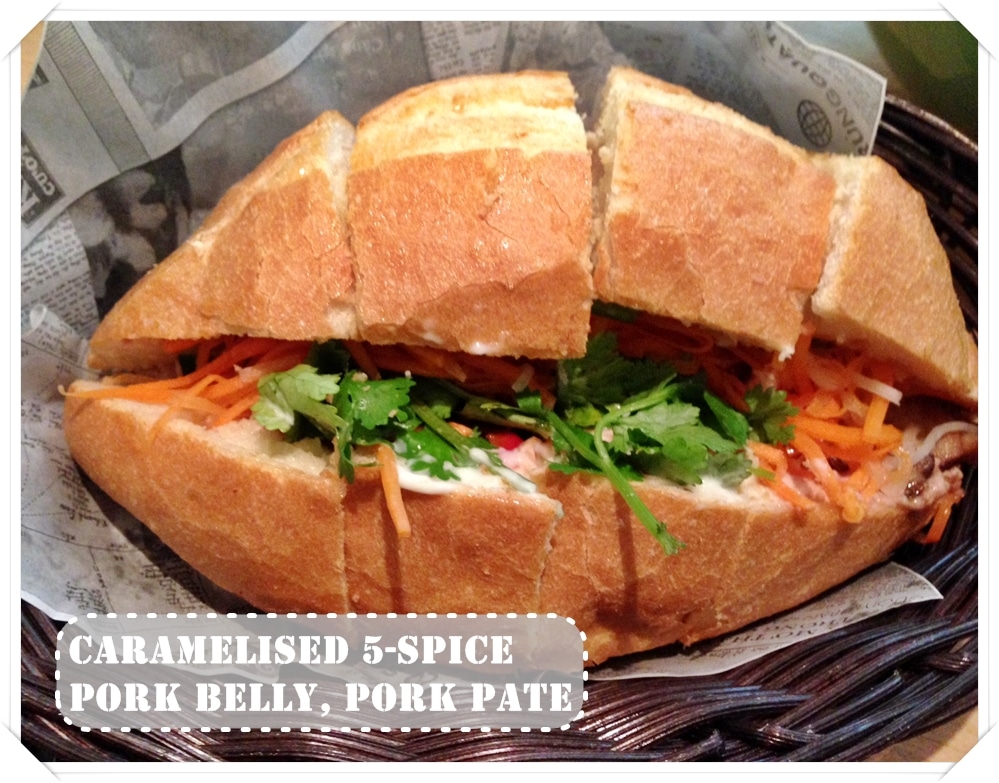 Ok, I've decided to start this post with the best picture of the lot. Beware! All pictures after this (and the next) are crap. It was an impromptu lunch with my two beloved crazy kick-ass brothers on a Monday afternoon, and Slimer (the second crazy ass) suggested Nam Nam. We were going to my wedding rehearsal and were somewhere in Raffles City Shopping Centre. Slimer was jumping around like a teenager (he's 34) when he spotted Nam Nam, and dictated at once that we should dine there. There is no democracy in my family.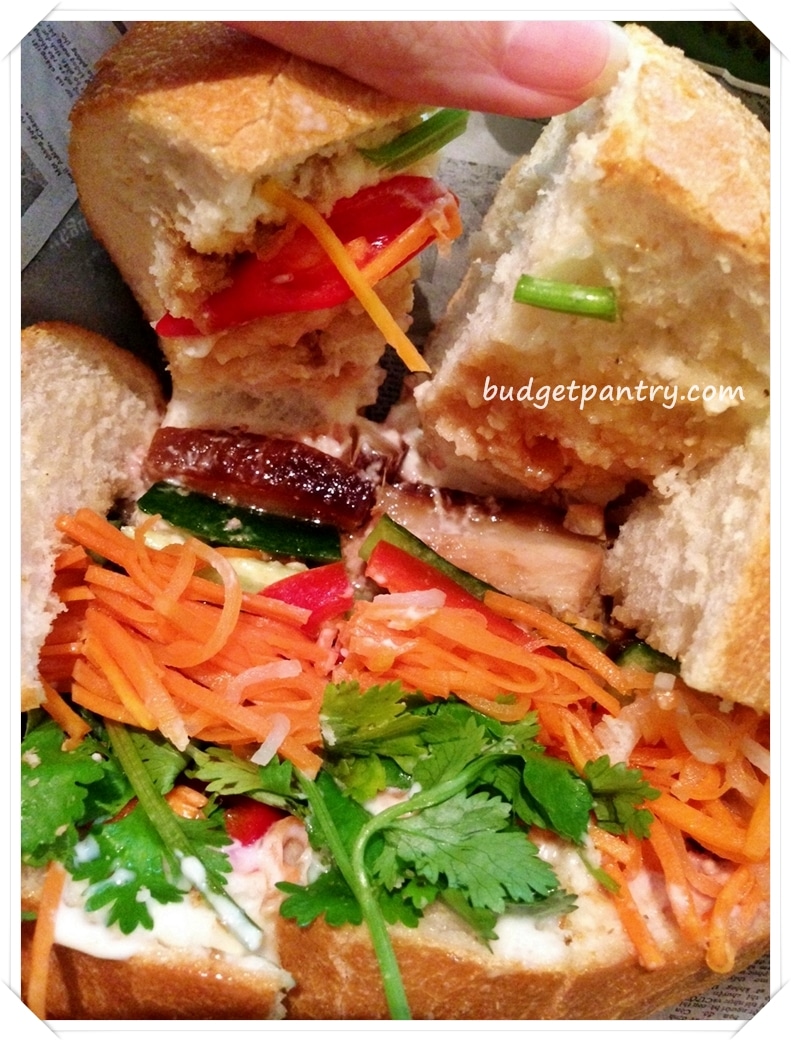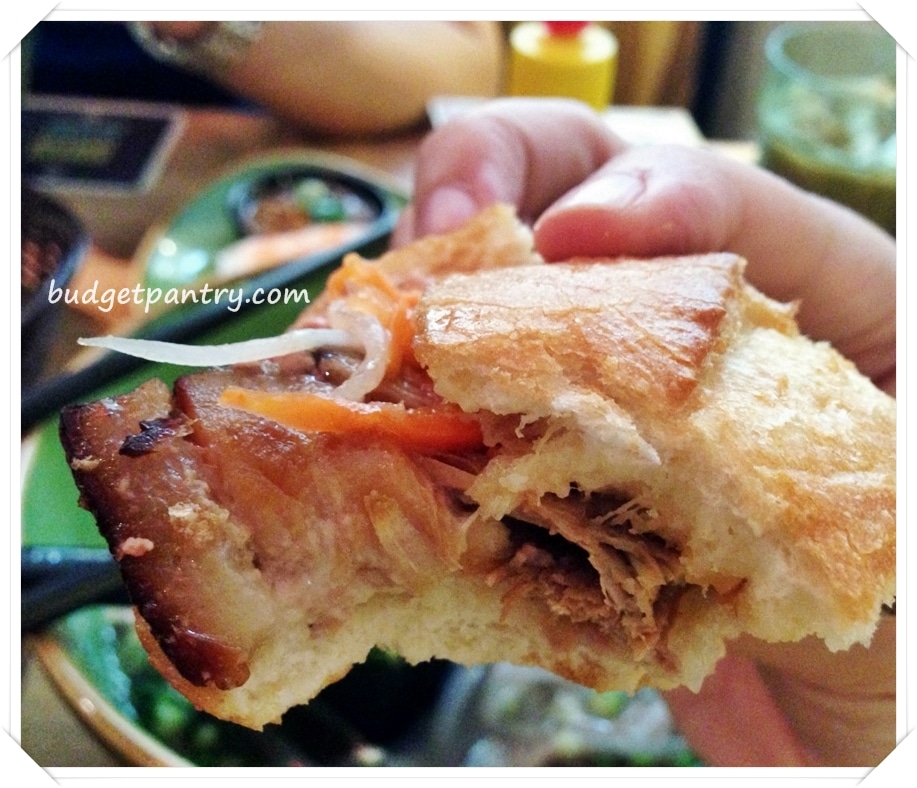 We didn't regret it! I have had Nam Nam once before at Wheelock, but because I was on a diet (as usual. it's kinda hard to keep track), I don't even remember what I ate.
The best baguette I've ever had was from a makeshift stall in Ho Chi Minh City. I remember having omelette and cream cheese, and onions on warm, crusty, crispy baguette.. it was simply delicious. To relive the experience (that's a lie. we had no other choice), we ordered the Caramalised 5-Spice Pork Belly baguette ($5.90) on Slimer's (highest) recommendations. He shared a story of the time when he was truly broke, and with a few dollars in his pocket, he went for this $5.90 baguette, and it tasted like the next best thing to heaven. My first thought was, with a few dollars why you so stupid didn't eat chap cai png? But I held that comment back because he was going to pay for my lunch.
My second brother's right. This pork belly baguette was one of the best baguettes I've ever tasted. The portion of meat might look little in the pictures, but they're really quite substantial. The carrots, peppers, parsley, (not-so-fatty) pork and sauces were a perfect combi with the crusty (please, no chewy!) baguette and I can't wait to try the rest of the baguette choices. Max thumbs up.

The next best thing we had that day was the Dry Stewed Beef Noodles ($8.90). I didn't even feel like water-marking the pictures because they were so bad. The lighting was terrible and I took it with the IPHONE 5 YOU HAVE FAILED ME. I really should start bringing my real camera around. This was Alex's main dish. These noodles came with a rich, savoury braised beef sauce, and lots of meaty beef chunks. You really do quite get your money's worth. There were at least 5 large pieces of beef in our bowl which was extremely good value.

I liked the stewed beef, but not so much of its combination with pho. The pho was not substantial enough to soak up all the glorious sauce.. a bit wasted. I was wishing for a bowl of rice! Not bad though, it was my second favourite dish.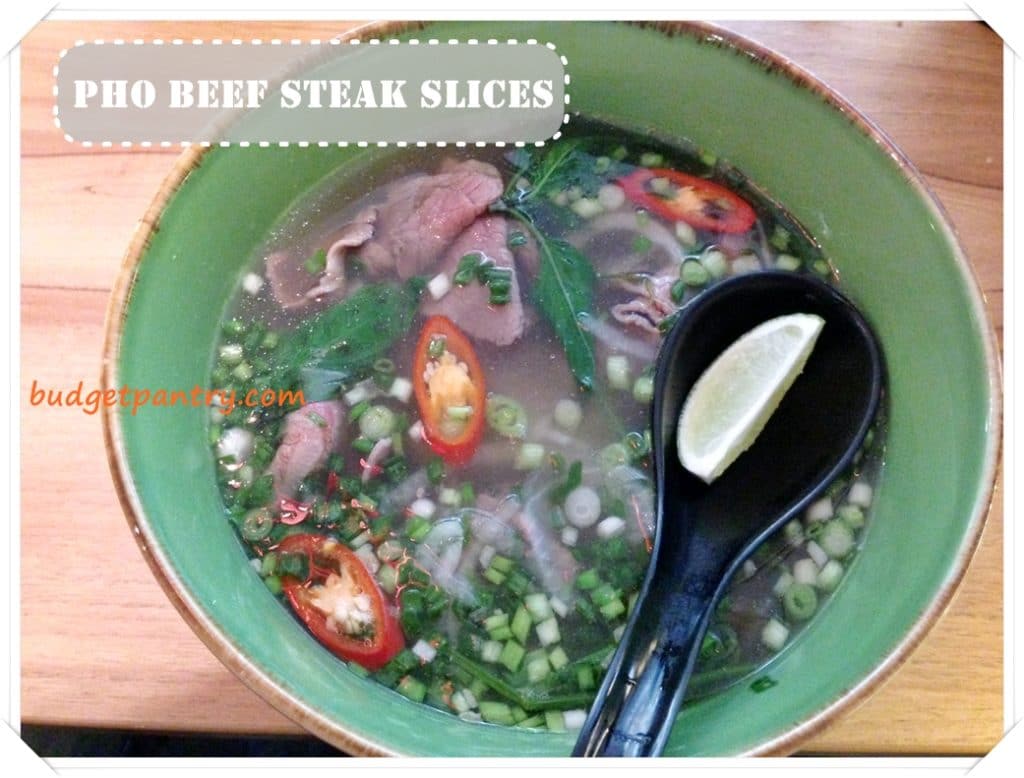 The Pho Beef Steak Slices was part of a lunch set with rice rolls and iced coffee for $9.90. If you order it ala-carte, it would have been $8.90. Which idiot would order ala-carte like that right? I was not a fan of this.. the beef slices were a bit tough but the broth was good. Light but beefy with a slight sweetness.. the soup would be good for sick-days, and I mean it in a good way.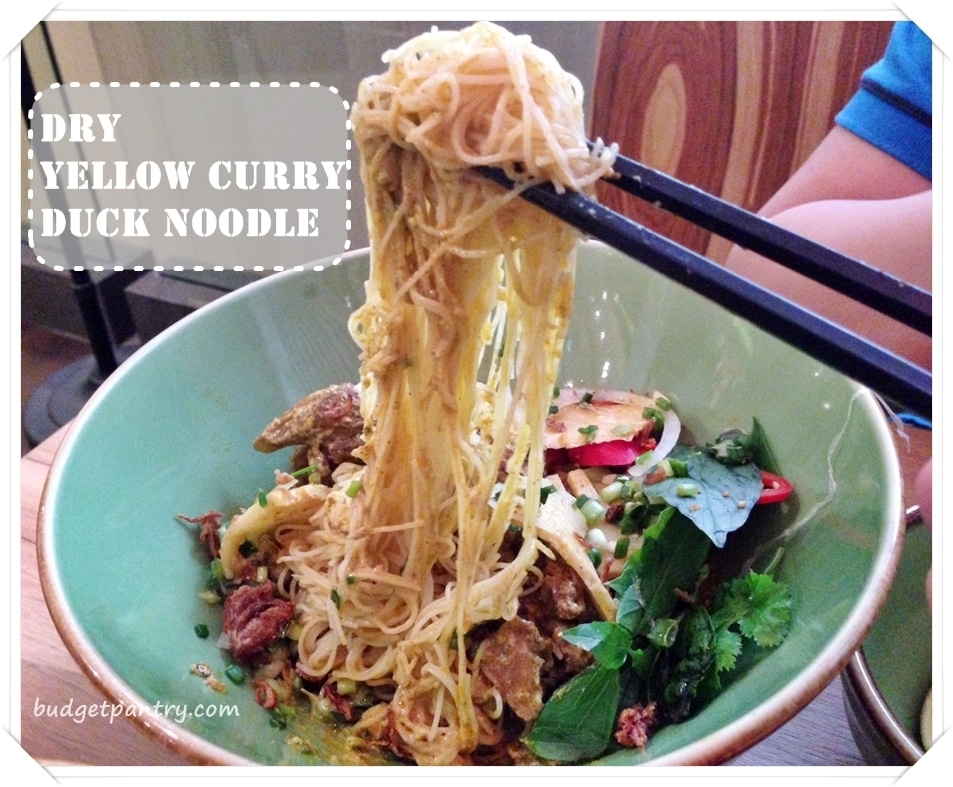 Before you guys start getting confused, ("eh, I thought she said she had lunch with her two brothers which makes it three of them?!"), yes, there were three of us but we ordered for 5. These two fatties are insane. When they got the bill, they were like, "See, still cheap what." $46 is cheap if it is for 5 people. $46 is not cheap for 3 people. We could have just paid $8 each! Never mind, not that I mind, really. I didn't pay anything. Thanks bros! You guys rock.
The yellow curry duck noodles was really bee hoon, and it was also tasteless. Disappointing to say the least, I was most looking forward to this. I'd like to believe they left out some salt or soy sauce, because it takes skill to cook tasteless curry and Nam Nam has ingeniously mastered it in this dish.
There were hits and misses to this meal but I would still go back again to try the rest of the baguettes. You would never have guessed it but this reasonably priced eatery is managed by the Da Paolo group. Very successful foray I would say, judging by the endless stream of office workers waiting in line for a seat. The food gets served quickly, is pretty delicious with an interesting menu, and its selection is very much pocket-friendly. Check out their menu below and let me know if you have something to recommend for my next visit!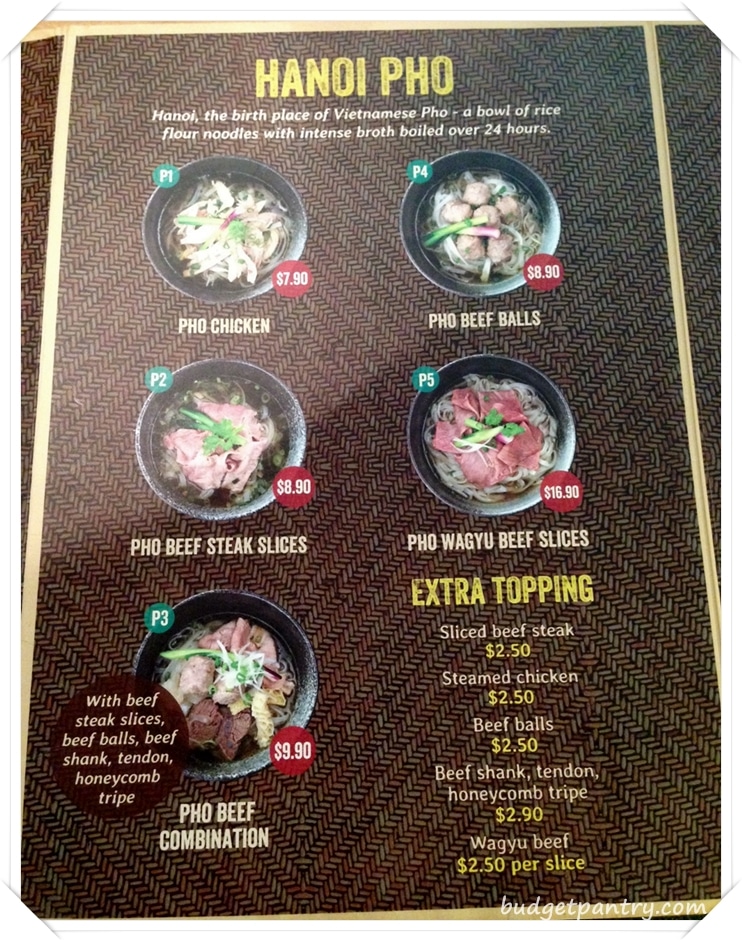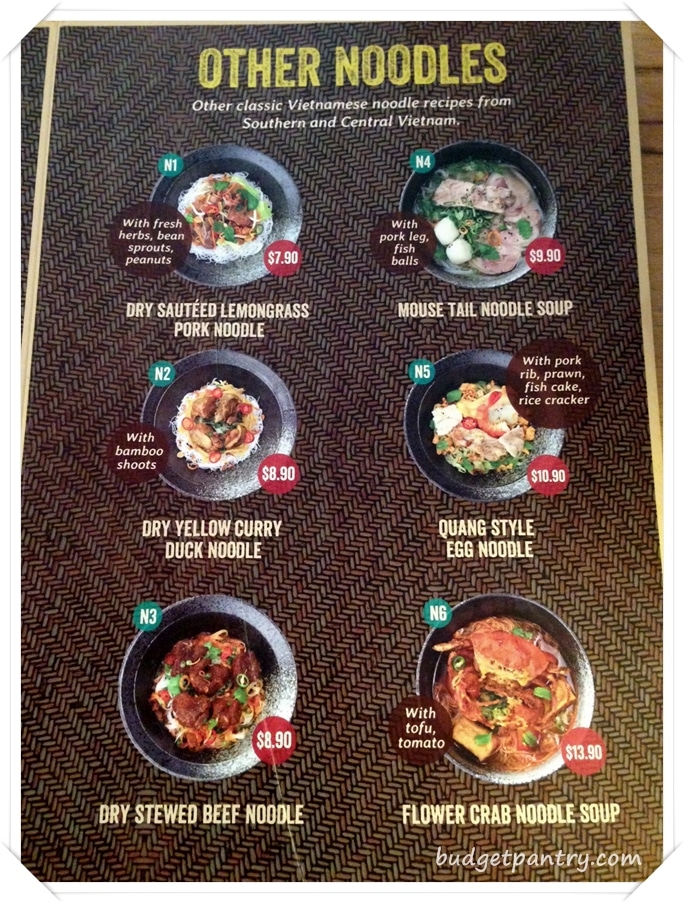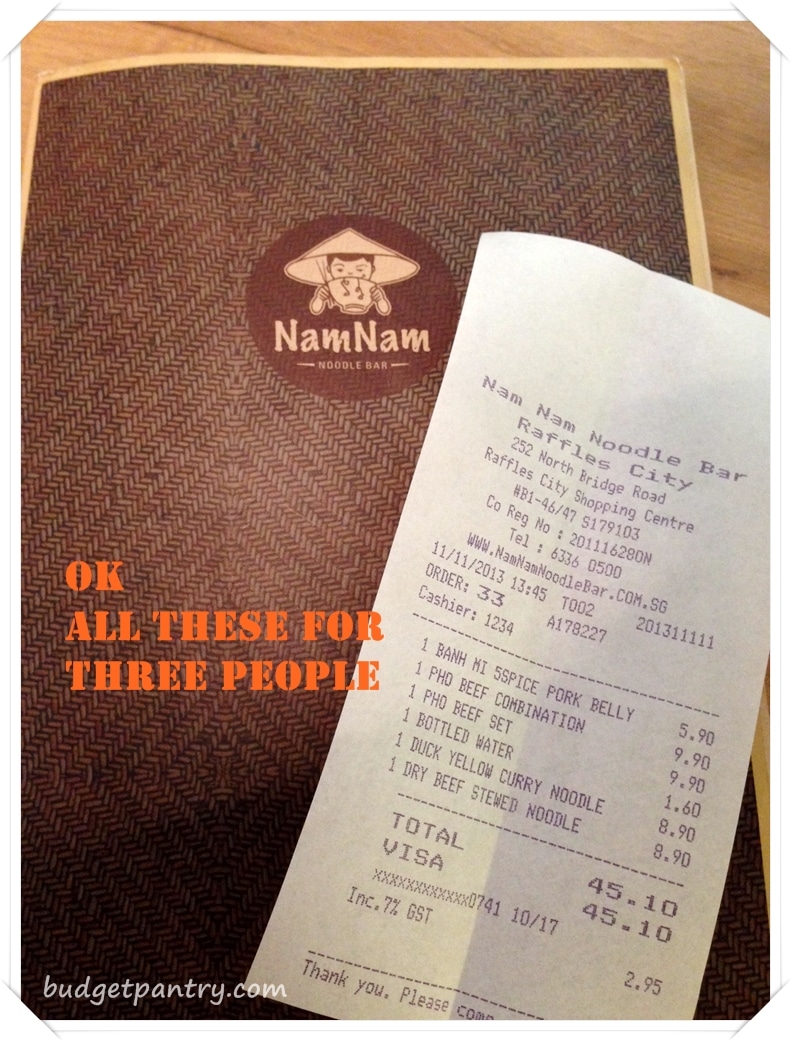 Nam Nam Noodle Bar
http://namnamnoodlebar.com.sg/
Raffles City
252 North Bridge Road, #B1-46/47,
Raffles City Shopping Centre, Singapore 179103
Tel: 6336 0500
Wheelock Place
501 Orchard Road #B2-02,
Wheelock Place, Singapore 238880
Tel: 6735 1488
Suntec City
#B1-131, Lot 510 TS 11
At Temasek Boulevard
Singapore 038983
Tel: 6884 5677